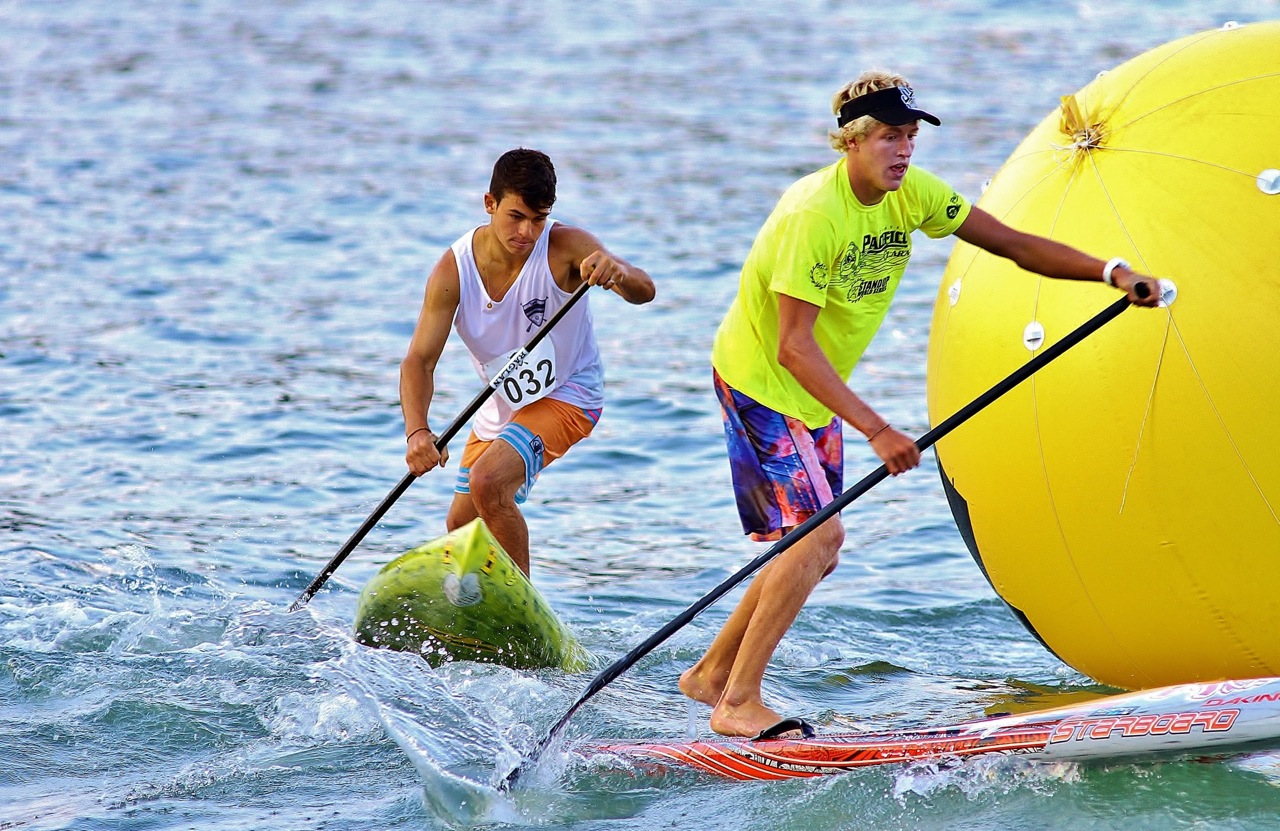 April 29, 2013
by Christopher Parker (@wheresbossman)
Connor Baxter In His Own Words: How I Won The Stand Up World Series In Brazil
Boss Man's note: Seems like it's Connor Baxter day here on SUPracer.com…
Connor has just cleaned up at the Ubatuba Grand Slam SUP races in Brazil, where the young Maui charger took out both the Sprint and Long Distance races during the second event of the 2013 Stand Up World Series. The victory, along with that in Chile last month, gives Connor an early lead over rivals such as Kai Lenny, Mo Freitas, Zane Schweitzer, Kody Kerbox and Casper Steinfath in the World Series rankings.
So what's it like to be one of the fastest stand up paddlers on the planet? Find out with Connor's personal race recap from Brazil…
MORE FROM THE UBATUBA GRAND SLAM:
>>> Stand Up World Series Brazil RESULTS
>>> Stand Up World Series Brazil Sprint Race VIDEO
>>> Stand Up World Series Brazil Long Distance Race VIDEO
Stand Up World Series Brazil – Race Recap by Connor Baxter
The 2013 Ubatuba Grand Slam was by far the biggest turnout on the Standup World Series. From the first day of the sprints to the last seconds of the event when they took the tents down, there were a lot of spectators there to support and cheer us on.
The first day they started it off with grueling sprint races, which had an amazing course and epic conditions. And from me winning the Patagonia Chile Event – it meant I got the bright yellow jersey with #1 – and the target on my back.
Like always, the sprints had the heat format and I was in the first heat of the men's elite. I made sure to get to the start line right after the skippers meeting and got my spot on the start line. In my first heat there were mostly all Brazilians – so my strategy was not to paddle all out but just hard enough to get first and to make it to the next round. But I have to say I had to paddle pretty hard to stay in front of all the Brazilians. I got first which landed me into the quarterfinals. From there the heats got a little bit harder and more stacked with good people.
In the semi-finals I had Mo Freitas and Noa Ginella from Hawaii who are amazing paddlers and five other people. For this heat I knew I had to have a good start and make sure I got to the first buoy in first place. So when the horn blew I ran down the beach as fast as I could and jumped onto my board and sprinted to that first buoy. I ended up getting to that buoy first so I knew I could let off the throttle and make sure I just made it to the next round. I came in first place and secured my spot in the finals.
When it came time for the finals I got my prime positioning on the start line and put my head down and visualized me winning. I knew what I had to do and I was not going to do anything different. I had to paddle my heart out and make sure to come in first place. The anticipation was building up as we got ready for the start. The finals ended up to be all the Hawaiians – Me, Zane Schweitzer, Mo Freitas, Noa Ginella, Kody Kerbox and Kai Lenny.
Boards in our hands as well as our paddles we got ready for the countdown. Once that horn blew I sprinted down the beach and hit the water with one thing on my mind, WIN!!! So, I paddled my hardest full throttle to that first buoy. It was all left-hand turns, which meant Kai and all the regular footed people in the race had an advantage, but I was not going to let that stop me.
I made it to that first buoy in first and did a good buoy turn. I was not going to let anybody pass me, so I kept paddling as hard as I could. I kept my lead to the second and third buoy. As I rounded the third buoy and heading for the last buoy, I manage to get a lead on Kai, who was in second. I knew once I turned that last buoy there was a little bit of swell running in so I was going to try to catch a bump and secure my first place. So I kept my head down and whipped around the last buoy and actually ended up catching a little wave most of the way into the beach and ran up with my board in first place.
Hearing the crowd cheering me on as I road that wave in was by far the best feeling in the world. Also winning the first day of the event made me super stoked and kept me positive for the next day.
That night we had a huge plate of pasta and a good night sleep which got me ready and prepared for the distance race.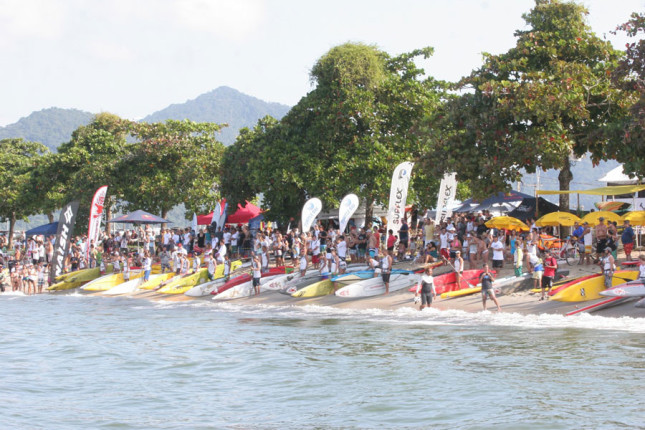 I woke up and already had butterflies thinking about what I had to do for the distance race. We had a later start for the distance race which meant we could stretch, eat and prepare ourselves for the 8 mile battle.
When it came time and all of us were lined up on the beach ready to go, all I could think about is paddle hard and don't give up. We all had our boards and paddles in our hands ready for that horn to blow. And when it finally blew I sprinted to the water and headed for that first buoy. When I rounded it I was in second place behind Leonard from Italy and in front of Kai Lenny.
We all stuck in a train until the second buoy. When we rounded that buoy Zane made a move and tried to pull into third place behind me. Kai was not letting him in so I decided to sprint out to the lead and gave Zane an opportunity to squeeze in. That gave me a chance to get out in front and a bigger lead on Kai.
After a little bit of leading a swell came by and I ended up catching it all the way to the next buoy and when I rounded it and looked back at the other guys, I had a comfortable distance ahead of them.
So I got into a steady rhythm and kept my distance and lead on the pack. I had one more lap to go and I kept my lead to the first, then the second, and then to the third buoy. I had a substantial lead of about 200 yards and maintained it for the rest of the race. I rounded that third buoy and put my head down until I got to that last buoy and home stretch into the finish line.
As I got closer and closer to the beach all I could hear was the crowd screaming and the announcer. This made me want to paddle a lot harder and kept me motivated to hit that beach.
Once again I ran up with my board in 1st place securing my overall win at the 2013 Ubatuba Grand Slam.
I want to thank my sponsors for all their support – Starboard, Maui Jim, Rainbow Sandals, Trident Sports, Rista Fins, Dakine, GoPro, OnIt Pro, Waterman's Sunscreen, Igloo Coolers, Sunrite Maui, Hammer Nutrition, iDcard, EFX and Hi-Tech Sports.
Also a big Mahalo to all the event organizers and volunteers – and great spectators!!
Aloha,
– Connor Baxter
MORE FROM THE UBATUBA GRAND SLAM:
>>> Stand Up World Series Brazil SUP Race RESULTS
>>> Stand Up World Series Brazil SUP Sprint Race VIDEO
>>> Stand Up World Series Brazil Long Distance SUP Race VIDEO
(all photos below © Renato Leonardi / Waterman League)