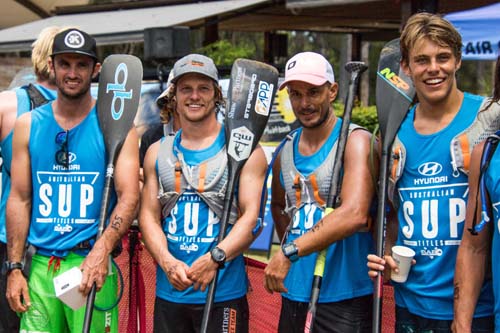 November 15, 2018
by Christopher Parker (@wheresbossman)
Your morning briefing: Titou spoils the party at the Aussie Titles.
The Aussie Titles wrapped up yesterday in Queensland. Here's how it went down for one of the most competitive paddling nations on the planet.
These results effect the 2019 team selection; the 2018 squad for China has already been decided…
FRANCE SPOILS THE PARTY
World number three Titouan Puyo has shown why the French will likely start favourites at the Worlds in China later this month. Titou took out the marathon race at the Australian titles in Queensland yesterday, defeating world champ Lincoln Dews, world number two Michael Booth and other top-ranked athletes including James Casey and Ty Judson.
Titou actually lives much closer to Australia than France (at least the France you're probably thinking of). He grew up and still resides on the tiny pacific island of New Caledonia, a semi-autonomous region of France (the island actually voted against full independence earlier this month). New Cal is just a three hour direct flight from Queensland, which makes it a lot easier for Titou to visit the Aussie Titles than the French.
Boothy was the top Australian yesterday, which earns him the national title after his disappointing fourth-place finish in the surf race. James Casey impressed again to back up the national title he won two days ago, with NSP's Ty Judson right on his tail until the end.
The contest was a 20km battle that included an ocean/downwind stretch before finishing in the flat waters of Currumbin Creek–a paddling mecca that has produced a disproportional percentage of the world's top paddlers over the years.
MEN'S MARATHON
1st: Titouan Puyo (1:34:19) France/NSP
2nd: Michael Booth (1:35:21) WA/Starboard
3rd: James Casey (1:38:09) NSW/Sunova
4th: Ty Judson (1:38:09) NSW/NSP
5th: Lincoln Dews (1:42:46) QLD/Deep
6th: Tim Cyprien (1:43:08) QLD
7th: Jackson Maynard (1:43:09) QLD
8th: Nathan Cross (1:43:44) NSW/Blue Planet
9th: Paul Jackson (1:44:28) New Zealand
10th: Sam McCullough (1:44:47) WA/Starboard *top junior
---
TERRENE TAKES THE TITLE
After setting for the silver against veteran Karla Gilbert in the beach race, Terrene Black went one better.
It was a solid win for Terrene, with the world number six pulling over two minutes clear of yesterday's champ to comfortably claim the crown.
Terrene, along with this week's surfing champ Shakira Westdorp, will be pulling a heavy load in China where she'll be repping in all three racing events (beach race, marathon and sprints) as well as the surfing.
The ISA Worlds opening ceremony is November 23 in Hainan, China.
1st: Terrene Black (1:56:45) NSW/Sunova
2nd: Karla Gilbert (1:59:15) QLD/Naish
3rd: Jade Lane (2:09:07) WA
4th: Susanah Wilson (2:11:58) WA
5th: Allison Fullagar (2:14:56) QLD
6th: Christiana Chessa (2:06:10) WA
7th: Chloe Walkerdene (2:18:59 QLD
8th: Vanessa Smith (2:23:18)
9th: Melissa Cedelland (2:32:26)
10th: Savannah Fitzsimons (2:44:36)
---