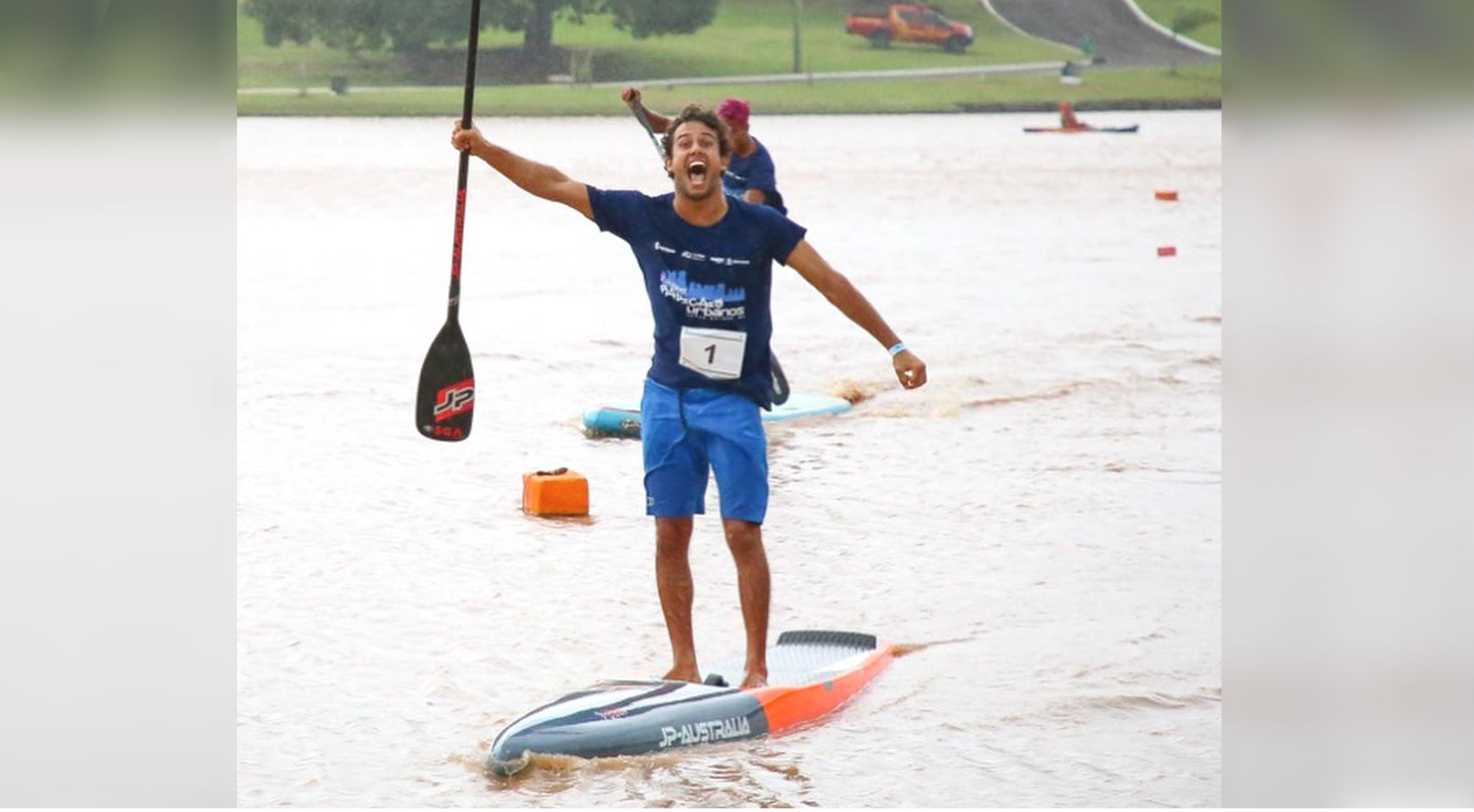 October 20, 2018
by Christopher Parker (@wheresbossman)
Your breakfast briefing: Brazil, Boyard and post-season belt buckles.
Good morning and welcome back to Brekkie Bites.
Here's your daily briefing for Saturday, October 20.
(update: see Sunday's Brekkie Bites for Antonio de la Rosa's "Pacific Crossing")

VINNI WINS BRAZIL
Vinnicius Martins has been crowned 2018 Brazilian champion after a season-long domestic series.
Vinni held off a last-minute challenge from PPGs hero and ultimate dark horse Guilherme dos Reis to claim the 2018 crown at the final event of the series–a 200 metre event won by 2017 ISA sprint bronze medalist Arthur Santacreu.
Considering "Vinni" has been Brazil's international representative for half a decade now, you may be surprised to hear it's his first national title. That's partly due his travel schedule, partly due to Brazil having so many damn good paddlers.
It'd be difficult to find a nicer or more deserving champion than Vinni. The humble athlete has earned a reputation of being one of the nicest guys off the water and one of the hardest-working guys on it (his good vibes made him a local celebrity in Greece during this year's EuroTour).
Lena Ribeiro won the women's title but won't be traveling to China for this years ISA Worlds. Neither will young Gui. So far the team looks to be Vinni and Arthur in the men's racing along with Caio Vaz, Luiz Diniz and Nicole Pacelli in the surfing. The full team will be announced shortly.
It'll be a bitter-sweet Worlds for the Brazilians: They were supposed to be the hosts until the ISA was forced to move the event halfway round the world to China (due largely to a local mayor that didn't fulfill his promises).
https://www.instagram.com/p/Bo6pYONgSR4/
---
FORT BOYARD: BUCKET LIST
In a new series I like to call "Races You May Have Missed While I Wasn't Doing My Job," I'm going to start highlighting some of the great events that I never got round to posting this season.
The first is the Fort Boyard Challenge, a unique race in France that took place a month ago (Sept 22/23).
This looks like yet another one for your bucket list. The premise sounds pretty rad: competitors take a ferry straight out to sea, jump overboard (literally) and then paddle back to land. There's also windsurfing, outrigger and foil divisions.
The weather was a little challenging this year, with Saturday's offshore downwinder turning into an inlander due to safety concerns, but apparently this spot is a downwind paradise when it's firing. Sure enough, the wind returned to the right direction on day two.
Titouan Puyo and Amandine Chazot claimed the overall titles after two days of racing. Watch the great videos below for a closer look.
[device]videos not loading? Watch directly on YouTube[/device]
---
POST-SEASON BATTLES
While the "season" wrapped up at the PPGs two weeks ago, let's face it: The SUP season never really ends.
I like to call it the post-season — those few months after California and before the new year. And there are plenty of great post-season races around the world including half a dozen big ones.
First up is one of the most beloved events in the sport: The 31-mile (50km) "Chattajack" river marathon in Chattanooga, Tennessee, aka the Inland Molokai. Chattajack has become a pilgrimage for "weekend warriors" across the States, and many paddlers return year after year in the same vein as the 11 Cities.
There's good reason, too: If you complete five Chattajacks in a row, you earn yourself a priceless belt buckle that is no doubt worn with pride by those who earn it.
The event sells out all 500+ entries within hours of registration opening.
Here are all the big post-season battles to watch out for.
– Chattajack, Tennessee (October 28)
– Red Bull Heavy Water (waiting period open)
– Aloha Spirit Festival, Brazil (November 23-25)
– ISA Worlds, China (late November)
– King of the Cut, Australia (December 1/2)
– Paris Crossing, France (December 9)
Check back tomorrow at 07:07 GMT for more Brekkie Bites.
https://www.instagram.com/p/BpK7JktASSv/

---