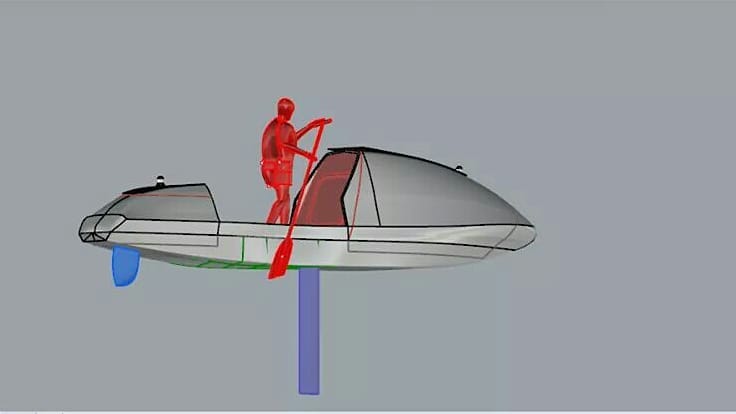 October 21, 2018
by Christopher Parker (@wheresbossman)
Your breakfast briefing: Crossing the Pacific, "professional" paddlers and the latest from Oz.
Good morning and welcome to ep. #004 of Brekkie Bites, your daily fix of news from the world of SUP.
Here's what's been happening lately.
(see yesterday's Brekkie Bites for the Fort Boyard vid)
PADDLING THE PACIFIC
Spanish adventurer Antonio de la Rosa is aiming to paddle an extraordinary 5000 kilometres (3100 miles) across the Pacific Ocean from North America to Hawaii.
The adventurer plans to depart from either San Francisco or Mexico and hit the Hawaiian Islands about three months later.
Antonio first announced his grand voyage a month ago but has already been laying the groundwork for over a year. Today he and the board designers from Kundaka said they're "90% complete" with the virtual designs.
https://www.instagram.com/p/BoMmqHwBi9r/
The crossing is in a similar vein to Chris Bertish's pioneering Transatlantic Paddleboard Crossing (which covered 6500kms over 93 days).
Even the board looks similar, however there's one key difference: Kundaka wants to design a board narrow enough that Antonio can paddle on both sides without moving his feet (as Bertish had to do on his relatively wide craft). The "Pacific Crossing Peanut" is going to be 39 inches wide at the narrowest point — you can see in the 3D image below that it looks like a peanut from above.
In case you're wondering whether Antonio will make it, this ain't the guy's first rodeo: he's already completed several epic expeditions including paddling the entire coast of Spain, exploring the isolated waters of Greenland and cross-country skiing for a month through remote Scandinavia.
The expedition should begin some time in 2019.
---
"PROFESSIONAL" SUP ATHLETES
In case you still thought being a SUP athlete meant the easy life, this short piece in SUP the Mag contains some good insights about the realities of the sport.
Travis Grant, Mo Freitas, April Zilg and others share what it means to be a "professional" stand up paddler (read: earning money somewhere else).
"A lot of people from the outside think we are all professional athletes. There are some full-time professional SUP athletes but not many. I personally work full-time. I paddle before or after work–I've done it that way my whole life." – Travis Grant
In a timely coincidence, Distressed Mullet penned an open letter speaking about how difficult it is earning a living in the SUP media world (I hear ya, John).
---
GOLD COAST CLASSIC
Tim Cyprien won the Gold Coast Classic in Queensland yesterday, claiming the open ocean race in light downwind conditions ahead of veteran Paul "Jacko" Jackson and fellow Aussie dark horse Nathan Cross (Jacko took great delight in beating his board designer from Team ONE, Ben Tardrew).
Former surf life saving queen and Team Australia representative Karla Gilbert won the women's ahead of Kate Baker and local junior Chloe Walkerdene; the Gold Coast's other international woman, Angie Jackson, is still walking around in a moon boot following her nasty injury in Japan.
This time of year may be the "post-season" on the international stage, but the Gold Coast Classic is essentially a "pre-season" race in Australia. The most prestigious events begin in December with the King of the Cut followed by a couple of big ones in February and March (including the 7th Annual "12 Towers" Ocean Race).
Gold Coast SUP has more pics of yesterday's race.
https://www.instagram.com/p/BpLMXl2AbrP/
---
DOHENY VLOG
Finally, Mike Jucker from Stand Up Magazin is back with one of his excellent behind-the-scenes vlogs.
Mike was on the shores of Doheny for this year's Pacific Paddle Games and his edit gives a nice look at what goes on at the "Superbowl of SUP."
…but is it still the Superbowl? Anybody else notice how empty the beach was this year?
While the show on the water was highly entertaining, there were far fewer spectators, vendors and athletes (both open and amateur) at Doheny than ever before. While Europe is booming and Asia is on the rise, there's been a noticeable drop in participation (and the number of events) in the "spiritual home" of the sport, California.
[device](video not loading? watch directly on YouTube)[/device]

We'll be back with more Brekkie Bites tomorrow at 7:07am GMT. You can also catch up on yesterday's snack: "Brazil, Boyard and post-season belt buckles."
---