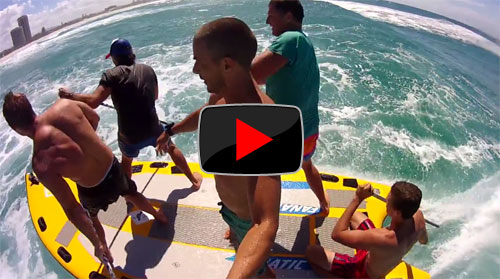 WATCH: Five Famous Paddlers + One Giant Inflatable SUP Board + Waves = Fun
Apparently it's the week for awesome SUP videos… After the epic downwinder in South Africa we posted a couple of days ago, here's another insta-classic clip. This video really has nothing to do with SUP racing (apart from featuring a couple of famous paddlers) but I don't care, it's awesome and everyone should see it. If this doesn't get you stoked to go paddling I'm not sure what will.
This is what happened when the crew from Gold Coast SUP bought a giant inflatable board and then took it out for a surf. I've been on this board myself and it's absolutely massive… you could fit about twelve paddlers on there if you wanted. Oh and it has no fins, so you've gotta steer it like an outrigger canoe. In short: It's really hard to surf but, as you can see from this clip, it's also a whole lotta fun.
Featured in this video are the Fanatic boys of Jake Jensen and Paul Jackson, former ASP world #2 (and now devoted stand up paddler) Luke Egan, former Ironman king Trevor Hendy and local Gold Coast legend Steve "Wild Man" Walker. Not exactly your average paddling group…