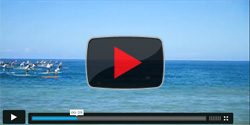 April 26, 2013
by Belar Diaz
Belar Diaz's Puerto Rico Recap (Rincon Beach Boy Classic)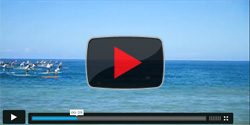 Boss Man's note: Last week's Rincon Beach Boy Classic SUP Race looked to be a great event, with plenty of international paddlers hitting Puerto Rico for the race. One of those was Belar Diaz, the Fanatic International team rider and nomadic Spaniard who seems to pop up at almost every major SUP race around the world.
So check out some insights from Belar (who paddled a very solid race) below and then scroll down to watch the excellent highlights video that's just been released…
Rincon Beachboy SUP Race Recap
words by Belar Diaz / photos © Mason)
After spending part of the winter surfing and training in Puerto Rico, coming back to the island wasn't a hard decision; I had to go to Miami the week after the contest for work so a couple of last minute changes and I was on the way. The Rincon Beach Boy was on its 5th edition this year, and everybody I met on the island told me it was a very well-run event. I was already very impressed by the Paddle Royal organization back in December and the Beach Boy was held on the other side of the island in beautiful Rincon, home to some of the best waves in Puerto Rico.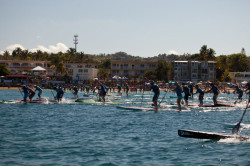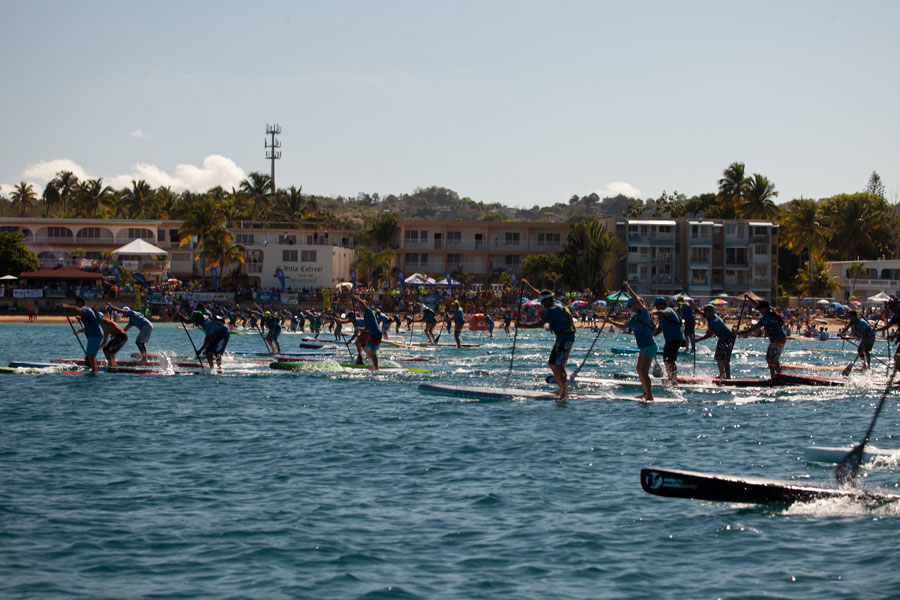 This year the organizers really stepped it up with a $16,000 prize purse, so there was definitely an incentive. The money was spread out through both 14' & 12'6, but instead of playing the game of "who is going on what" all the Elite racers competed in 14', leaving the locals for the 12'6 glory; a good move in my opinion as you had all the top guys in one class.
The organizers of the event Hector Ruiz from from Villa Antonio and Tito from Villa Confressi took really good care of all the racers coming from outside of the island, and really made an effort to make us feel right at home.
Saturday morning was the day for the 8 mile long distance race and the turnout was unbelievable. A total of 265 racers showed up, making the biggest turnout in Puerto Rico's racing history and definitely impressive for an island in the Caribbean. The organizers lined up everybody on the beach with the boards behind them and it was a sight. It was a water start with a spread field between the two buoys and a pretty straight forward course with only three buoys before the beach finish.
3,2,1 and we were off…
Right at the start Ryan Helm sprinted out of the gates and took the lead, paddling his impressive, brand new 14' MHL custom that's a mere 22.5″ wide. The recent Florida State Champion Chase Kosterlitz was not far behind, followed closely by Nick Leason (also with MHL), Anthony Vela, Thomas Maximus and myself.
The course went parallel to the coast and even though we had a slight breeze against us, the decision was to either stay very close to shore on the very shallow reef or take an outside line to go directly to the half-way buoy. Ryan opted for an outside line, only to see his healthy lead disappear as both Chase and Nick caught up to him by the time they got to the buoy, staying close to shore and benefiting by the current. Chase turned the buoy and took the lead, only to catch a rail from a wake from one of the organization boats and fall in. Ryan again took the lead and never looked back, showing great form. Chase finished in second place followed by an always in form Nick Leason in 3rd.
Behind the top three, Thomas Maximus was very strong from the start and set a great pace. I managed to stay with him and we worked together for most of the race. Anthony opted to take more of an outside line and was always close to us. On the way back, we were able to catch a few bumps and get some glides that helped with the really hot and humid conditions. Even though it was "only 8 miles" you definitely could feel the heat.
Amazing that guys like Ryan & Nick went full on for over an hour without water (I sure drank my whole 1ltr Vest pack). Towards the end of the race Thomas broke away from me, and I could feel Anthony breathing down my neck on a full on sprint. No time for distractions so I also sprinted to the last buoy.
Right before reaching the buoy, Thomas caught a rail but somehow managed not to fall. I made the last buoy and looked back to make sure that Anthony wasn't on a wave or if it was going to come down to a beach sprint, where he would have gotten me for sure; (I still remember his fearless performance at last years' HB Surf Race to Victory where, even though he got beaten by Eric Terrien, he definitely stole the show getting through the line-up).
In the end I managed to stay in front of AV and I was able to hang onto a podium spot, in what was a great battle.
In the women's race Gail Vento from MHL showed great form and won comfortably over Kym Freeman & Dawn Ehman. In the 12'6 it was an all local affair with Charles Jaudon from MHL in first followed by Ron Gossard and Adrian Garcia in 3rd.
FULL RESULTS >>> 2013 Rincon Beachboy SUP Race Results
The race organizers did a great job, with a very professional organization and a great award ceremony hosted by Greg Carson from Shipwreck's, plus of course a great party afterwards (There's a drink call "Pirata" that will wake you up for sure). Next year they already told us that the event will be bigger and better; so I will say for sure to mark this race on your calendars. The trip from the US is an easy one and also fairly inexpensive if you plan a little bit ahead.