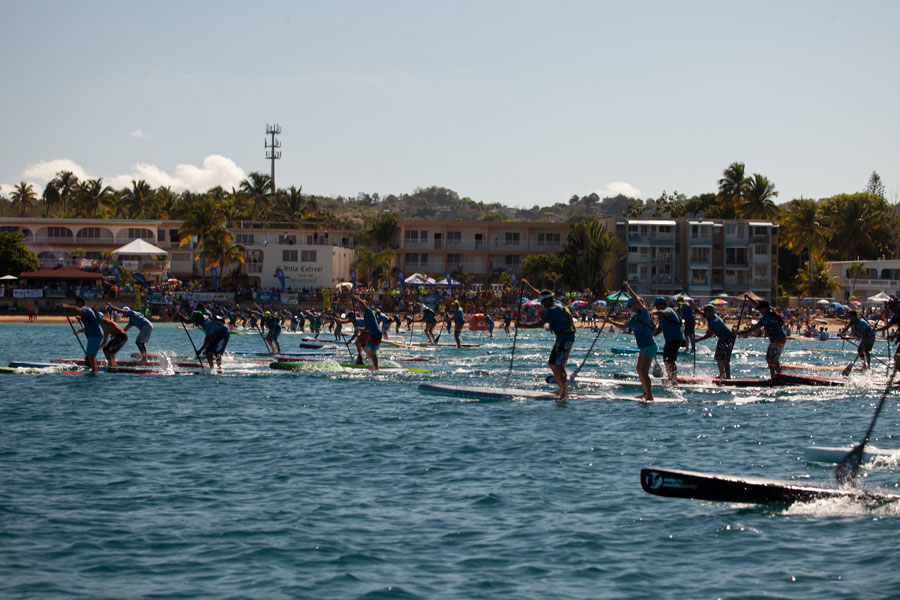 April 13, 2013
by Christopher Parker (@wheresbossman)
Ryan Helm Wins The $16,000 Rincon Beach Boy Classic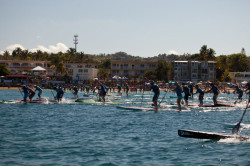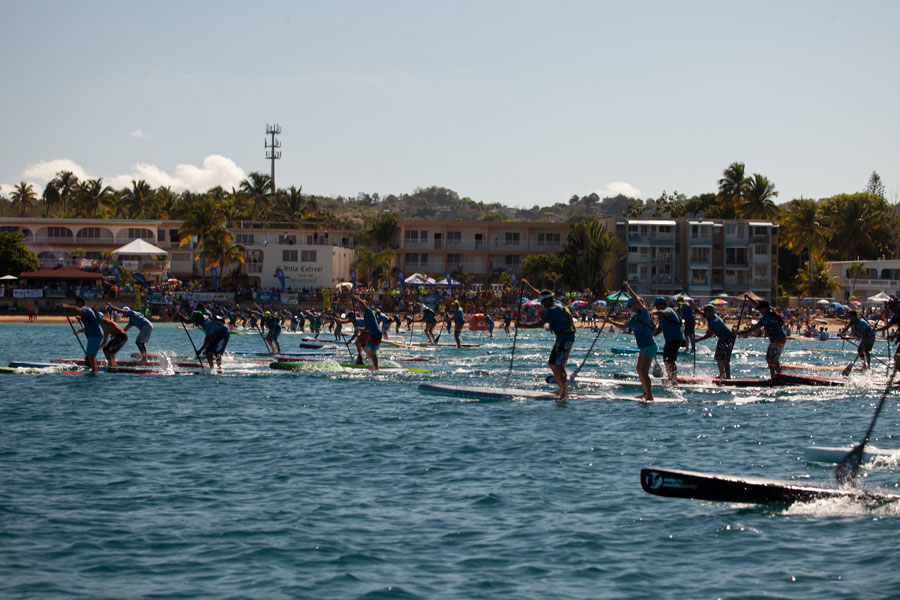 Ryan Helm has just taken out the Elite Distance Race @ the Rincon Beach Boy Classic, an event that drew plenty of big names to Puerto Rico to chase the $16,000 prize money that was on offer.
The field was very solid, with Ryan coming home ahead of Chase Kosterlitz (2nd), Nick Leason (3rd), Thomas Maximus (4th), Belar Diaz (5th) and Anthony Vela (6th). Meanwhile Gail Vento was the women's champ, finishing in front of Kym Freeman.
Ryan Helm has been in great form the past six months, making the Battle of the Paddle top 10, paddling strong at the Paddle Royal and then smashing the field at the recent Punta Sayulita Distance Race. The ex-Floridian, who now resides in Mexico, was paddling a brand new MHL 22 1/2″ wide race board, a design that clearly does the job. Third-place getter Nick Leason was also on an MHL, a brand that often flies under the radar but clearly produces some solid equipment.
We'll have a full race recap shortly courtesy of one of the elite paddlers themselves, but in the meantime check out the results and photos (thanks to Morgan Mason) from Puerto Rico below. From all reports this was an awesome race, so pencil the Rincon Beach Boy Classic in to your 2014 race schedule…
*****
2013 Rincon Beach Boy Classic RESULTS
Men's Elite Distance Race
Distance: 8 miles
Board class: 14′
1st: Ryan Helm (1:10:27)
2nd: Chase Kosterlitz (1:11:11)
3rd: Nick Leason (1:12:20)
4th: Thomas Maximus (1:15:15)
5th: Belar Diaz (1:15:25)
6th: Anthony Vela (1:15:56)
7th: Nat Ford (1:17:24)
8th: Adrianne Butler (1:19:32)
9th: Colin Butler (1:20:30)
10th: Xavier Lay (1:20:40)
11th: Alberto Colon (1:20:43)
12th: Michael Leason (1:22:48)
13th: Greg Carson (1:22:55)
14th: Tito Laffitte (1:23:21)
15th: Armando Soto (1:24:15)
16th: Hector Rivera (1:26:06)
17th: Enrique Padre (1:26:24)
18th: Patrick Lopez (1:26:38)
19th: Carlos Gonzales (1:27:36)
20th: Jose Terrassa (1:28:38)
21st: Stanley Ferrer (1:30:06)
22nd: Pablo Cabral (1:31:21)
23rd: Luis Mandez (1:37:05)
24th: Miguel Martinez (1:37:24)
25th: Federico Muskus (1:42:14)
26th: Alexis Bird (1:42:18)
27th: Mario Ruiz (1:42:54)
28th: Janson Colberg (1:46:26)
29th: Gustavo Baguz (1:52:14)
30th: Jose Fomales (1:54:20)
31st: Eduardo Tirado (1:58:44)
32nd: Dennis Farrell (2:09:21)
Women's Elite Distance Race
Distance: 8 miles
Board class: 12'6″
1st: Gail Vento (1:23:46)
2nd: Kym Freeman (1:31:32)
3rd: Dawn Ehman (1:33:33)
4th: Diana Carrero (1:36:38)
5th: Andrea Baibeche (1:41:24)
6th: Aribelle Soto (1:46:29)
7th: Naomi Soto (1:48:34)
8th: Amy Chen (2:18:13)
Men's Open Distance Race
Distance: 8 miles
Board class: 12'6″
1st: Charles Jaudon (1:18:22)
2nd: Ron Gossard (1:18:26
3rd: Jorge Garcia (1:19:52)
4th: Miguel Boltran (1:21:26)
5th: Alex Maldomado (1:21:52)
6th: Brandon Rambo (1:22:27
7th: Helnom Class (1:22:47)
8th: Jack Sauve (1:23:01)
9th: Meldrick Valez (1:23:58)
10th: Juan Loyola (1:24:20)
11th: Joaz Merced (1:27:23)
12th: Emiard Rivera (1:28:53)
13th: Jorge Quintana (1:30:14)
14th: Jose Rafela (1:30:57)
15th: Miguel Alvarez (1:35:40)
16th: Frankie Bonnin (1:42:31)
17th: Jaime Barcelo (1:45:41)
18th: Edgar Padre (2:01:16)
Click here for the complete raw results, including all of the open divisions
Photos © Morgan Mason