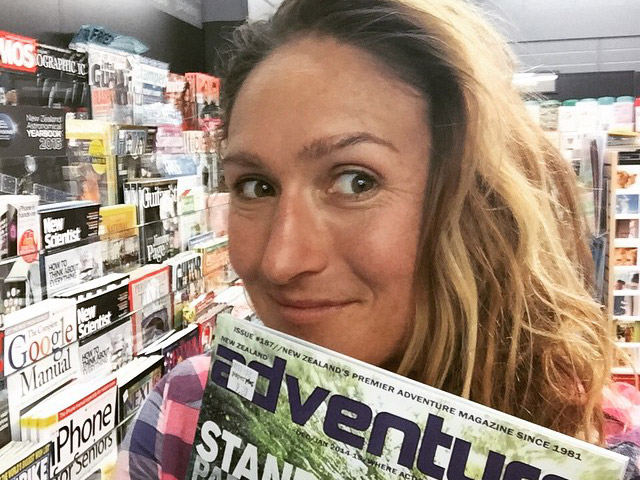 December 24, 2014
by Christopher Parker (@wheresbossman)
In A Move That Surprises Few, Annabel Anderson Officially Joins SUP ATX / Lahui Kai

The above post just appeared on SUP ATX's Facebook page and confirms what we all suspected: That the world's undisputed #1 woman is joining the Lahui Kai race team.
After announcing her departure from long-time sponsor Starboard last week, Annabel Anderson officially joins the Lahui Kai team today and will be paddling the new Brian Szymanski-shaped race boards in 2015.
The Lahui Kai brand was bought by SUP ATX almost two years ago now, in a bid to reinvigorate SUP ATX's presence in the racing scene. That instantly brought the likes of perennial BOP podium-getter Kelly Margetts to the team, along with rising stars Lincoln Dews and Jayden Jensen.
The team was further bolstered when Brian Szymanski and John Becker crossed from Starboard to Lahui Kai. John is an industry insider who's been around since day one, while Brian is one of the most respected paddleboard shapers on the planet. It was this development that virtually sealed Annabel's destiny.
The Kiwi, currently ranked #1 in the world, always ordered her custom Starboard race boards directly from Brian. Annabel also worked very closely with John, so after he and Brian departed we all got the feeling it was only a matter of time before Annabel followed suit.
This is a big signing for Lahui Kai / SUP ATX. While race boards are only a small percentage of the overall sales for most brands, they are a very significant way to build prestige, brand awareness and an image of quality. In the early days, SUP ATX seemed quite content to be known as a mass producer of mid-range boards, however the past year or two has seen a rapid change in the brand's image, largely due to Lahui Kai's rise through the ranks.
Even before Annabel's signing, the Lahui Kai crew racked up some impressive results. The most notable of which was "winning" the Battle of the Brands at the BOP California two months ago, where the entire Lahui Kai race team – Kelly Margetts, Lincoln Dews, Jayden Jensen and Sondra Purser – placed inside the top 10.
And now, with Annabel Anderson on board, we can expect a lot more podiums for the SUP ATX / Lahui Kai brand in the future.
So well done Lahui Kai for snapping up the fastest woman on the water, and congratulations to Annabel on a fresh new start in 2015. The New Zealander has had to fight for her place in the sport a lot harder than most people realise. While at times she's so competitively focused and determined that we get the wrong impression, I believe Annabel is just a girl that wants to train hard, race hard and have fun playing around on the water.
http://instagram.com/p/wkbpUfRDiS/