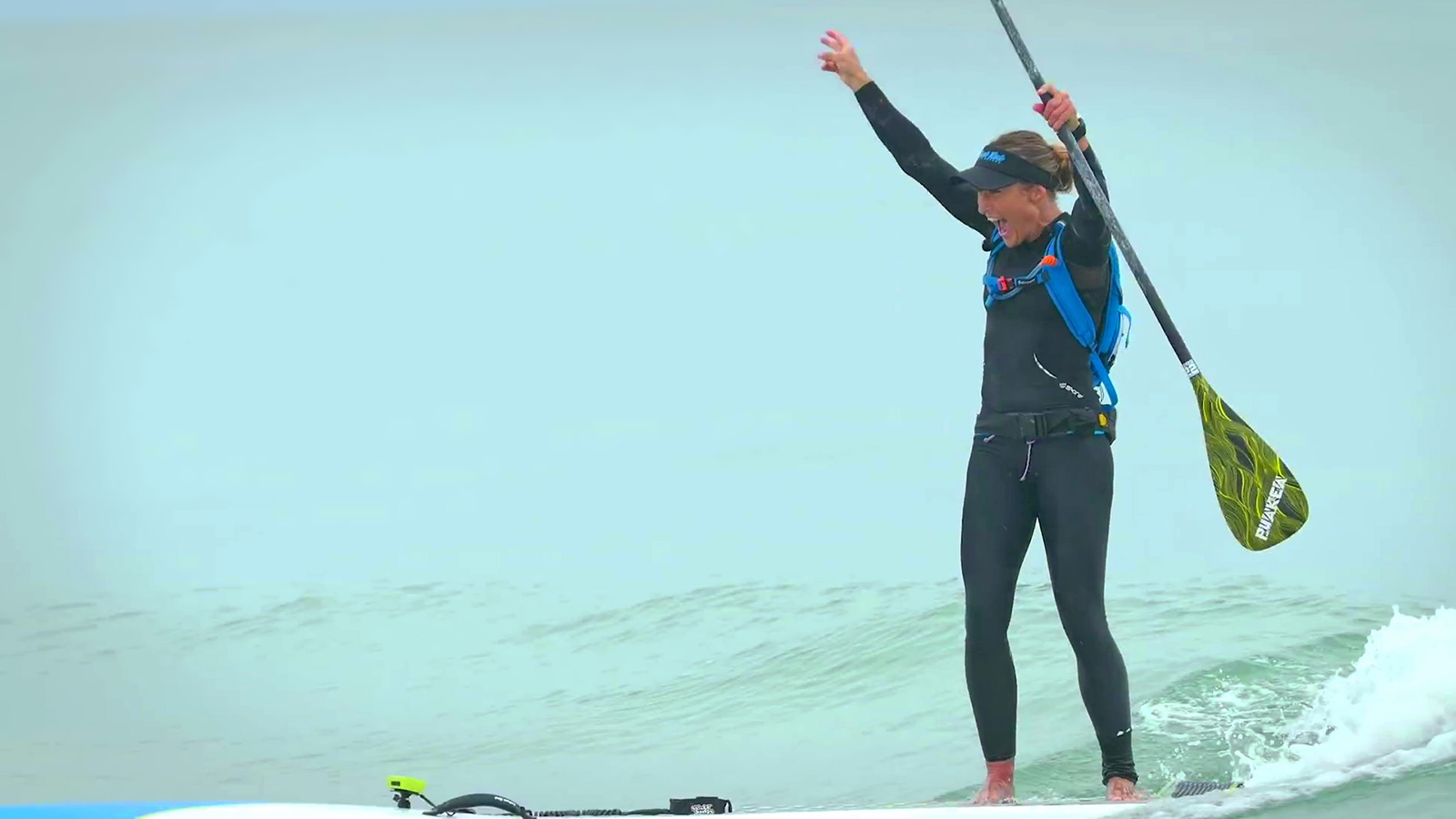 April 15, 2017
by Christopher Parker (@wheresbossman)
By the Numbers: Annabel Anderson Doesn't Just Win the Carolina Cup, She Destroys It
We're only a week away from the first major race of the season, the West Marine Carolina Cup in Wrightsville Beach, North Carolina.
We'll previewing the big event all week in the lead-up to our race day Facebook Live stream presented by Quickblade, but in the meantime let's take a look at some more stats from previous editions.
(Also check out: "Every Winner of the Carolina Cup from 2011-2016")
Given the level of elite talent in our sport these days, just winning a big race would be seen as a big achievement. But when it comes to the Carolina Cup: Annabel Anderson doesn't just win this event, she absolutely destroys it.
The world number one is on a four-year hot streak at Carolina. Apart from 2014 (where a fast-finishing Jenny Kalmbach got within six seconds of the champ), Annabel has absolutely dominated the 13-mile Elite Graveyard Race by paddling about 4% faster than the next best.
Four percent may not sound very large, but when you consider the Carolina Cup is a 2 hour+ paddle marathon, that 4% translates into mammoth winning margins of around five minutes. And given that she's got nobody pushing her when she's out front on her own, you could argue that Annabel probably isn't even going 100% in these performances.
For some context: the average winning margin in the men's race over the past three years has been just 38 seconds, while there's been three different men's winners at the past three Cups.
In fact, Annabel has been so dominant that the real story often becomes who can get closest to her rather than who actually wins the race–Annabel's victories are almost taken as read these days. This belies just how hard the proud Kiwi trains and competes, though it does highlight just how dominant she's been at Wrightsville Beach over the past four years.
But if Annabel can claim a fifth straight Carolina crown next weekend – whether it's by 5 minutes or 5 seconds – it will be an almighty achievement, and it'll surely produce a few headlines in the SUP world and beyond.
For the trivia buffs: Annabel already holds the record for longest winning streak in one of the four majors thanks to her Carolina Cup heroics, while she's second in all SUP races behind only Andrea Moller's freakish seven-peat at OluKai from 2009-2015.
On a related topic: Could the New Zealander (or anyone else) complete a "Calendar Grand Slam" and win all four majors in a single season – Carolina, Molokai, the Gorge and the PPGs?
This achievement is the holy grail of tennis, which also has four majors per year, and I'd love to see it become a prestigious quest in our sport as well.
Given the contrasting conditions between the four major races plus the depth of talent on the start lines these days, I think it would be just as difficult to accomplish in the SUP world as it in tennis (the last Calendar Slam winner was Steffi Graf in 1988).
But if anyone could do it on the women's side of our sport surely it's Annabel Anderson.
Anyway that's a post for another day. For now, take a look at Annabel's stats below, and stay tuned to Carolina Central over the next seven days as SUP Racer continues to preview the first major race of the season.
The Numbers Behind Annabel Anderson's Carolina Cup Dominance
2016
Annabel's winning time: 2:17:07
Runner-up: 2:22:32
Margin: 5 minutes 25 seconds
Percentage: 3.96% faster than next best
2015
Annabel's winning time: 2:21:49
Runner-up: 2:26:48
Margin: 4 minutes 59 seconds
Percentage: 3.51% faster than next best
2014
Annabel's winning time: 2:49:13
Runner-up: 2:49:19
Margin: 6 seconds
Percentage: 0.06% faster than next best
2013
Annabel's winning time: 2:32:32
Runner-up: 2:39:58
Margin: 7 minutes 26 seconds
Percentage: 4.87% faster than next best

Footnote: The fluctuation in finishing times can be explained by the ever-changing tide and wind conditions at Carolina, with some years being much faster than others; 2014 was a particularly brutal race where competitors paddled against the current in the hopes of scoring a downwind run over the last few miles that never materialised.