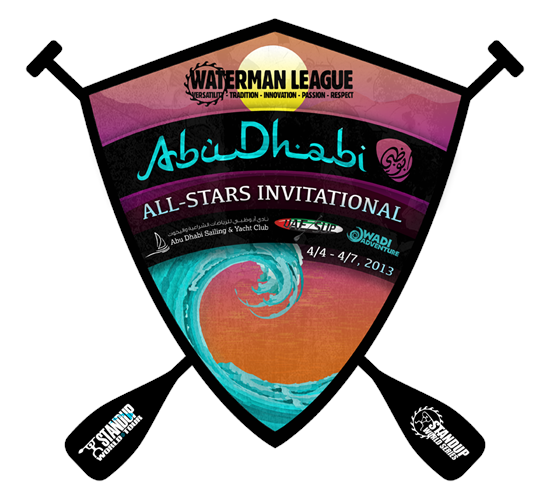 March 25, 2013
by Christopher Parker (@wheresbossman)
Meet The SUP Stars Set To Duke It Out In The Desert Next Week…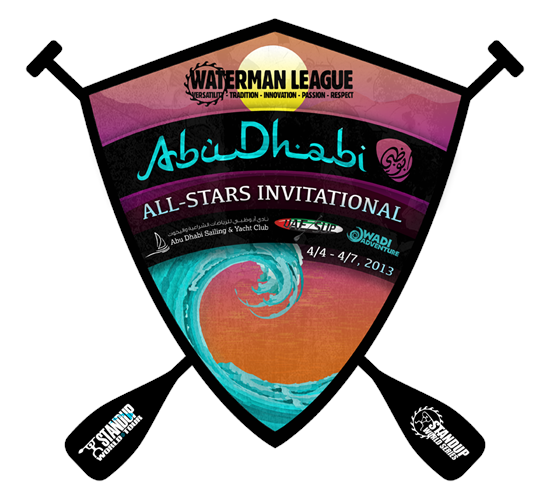 The final list of stars competing in next week's Abu Dhabi All Stars Invitational SUP event has just been announced, with 18 of the world's best Stand Up Paddlers set for a surfing/racing showdown.
This exhibition event will combine both the Stand Up World Tour (SUP surfing) and Stand Up World Series (SUP racing), meaning there's quite a few names on the list we've never seen before here on SUPracer.com. Though there's still plenty of regulars, such as Jamie Mitchell, Connor Baxter, Paul Jackson, Fernando Stalla, Ryan Helm, Kody Kerbox, Zane Schweitzer, Noa Ginella and more.
There's $20,000 on the line for the overall top finishers at the Abu Dhabi All-Stars, with 75% of the final ranking coming from the SUP surfing event (to be held in the wave pool @ Wadi Adventure) and 25% from the SUP racing, which is a knockout sprint format where everybody will be on 12'6 inflatables.
With the surfing event being more heavily weighted, it'll definitely favour the Stand Up World Tour regulars. The racing specialists will have to pull off a respectable finish in the wave pool and then crush it in the sprints to be in with a chance. So I'm putting it out there right now that Zane Schweitzer is my pick. The Maui gun blows up in waves of any size, and has shown regularly that he's a capable SUP racer, especially over sprint distances.
>> More posts about "stand up paddling" and "pool" – check out SUP polo
But really any one of these guys could win it. Jamie Mitchell rips and is very rarely beaten in a race. Connor Baxter flies and is pretty handy on the waves too. Then there's someone like Kody Kerbox, who put in some insane SUP racing performances over the past 12 months before making the final of the SUP surfing event at Sunset earlier in the year. Plus of course there's the dozen or so SUP surfing specialists; they'll be favourites in the pool but dark horses in the racing, so anything could happen.
2013 Abu Dhabi All-Stars Invitational
Kody Kerbox (Hawaii)
Connor Baxter (Hawaii)
Jamie Mitchell (Australia)
Paul Jackson (Australia)
Fernando Stalla (Mexico)
Ryan Helm (Mexico)
Zane Schweitzer (Hawaii)
Noa Ginella (Hawaii)
Beau Nixon (Australia)
Kieren Taylor (Australia)
Daniel Hughes (USA)
Remi Quique (France)
Leco Salazar (Brazil)
Sean Poynter (USA)
Caio Vaz (Brazil)
Benoit Carpentier (France)
Ian Vaz (Brazil)
+ one more athlete to be announced
Missing is Kai Lenny. With his SUP surfing skills and new found love of racing, Kai would have started favourite for sure. Word is the young gun is on some uber-secret Red Bull mission that weekend though, which will rob the event of a clear favourite and make the field even more wide open.
It's not all about the pros though, with the "Abu Dhabi Beach Games" giving locals a chance to race against the world's elite. In the lead-up to the All-Stars knockout sprint race, there will be an Open Race offering main event wildcards to the fastest locals.
The main event runs from the 4th-6th April and will be LIVE WEBCAST right here on SUPracer.com, with the SUP surfing in the wave pool on Thursday and Friday before the SUP racing finishes it off on Saturday.
The Abu Dhabi All-Stars Invitational is going to be a different event, but I think it's also going to be very exciting and a big moment for the sport. The United Arab Emirates is home to some of the most over-the-top and incredible sporting events on the planet, so for a major Stand Up Paddling event to find it's way in there is very cool.
That's why I've just booked a ticket to Abu Dhabi and will be bringing you live updates through SUPracer.com all week long. So stay tuned next week and find out who's going to be the first ever All-Stars champion…