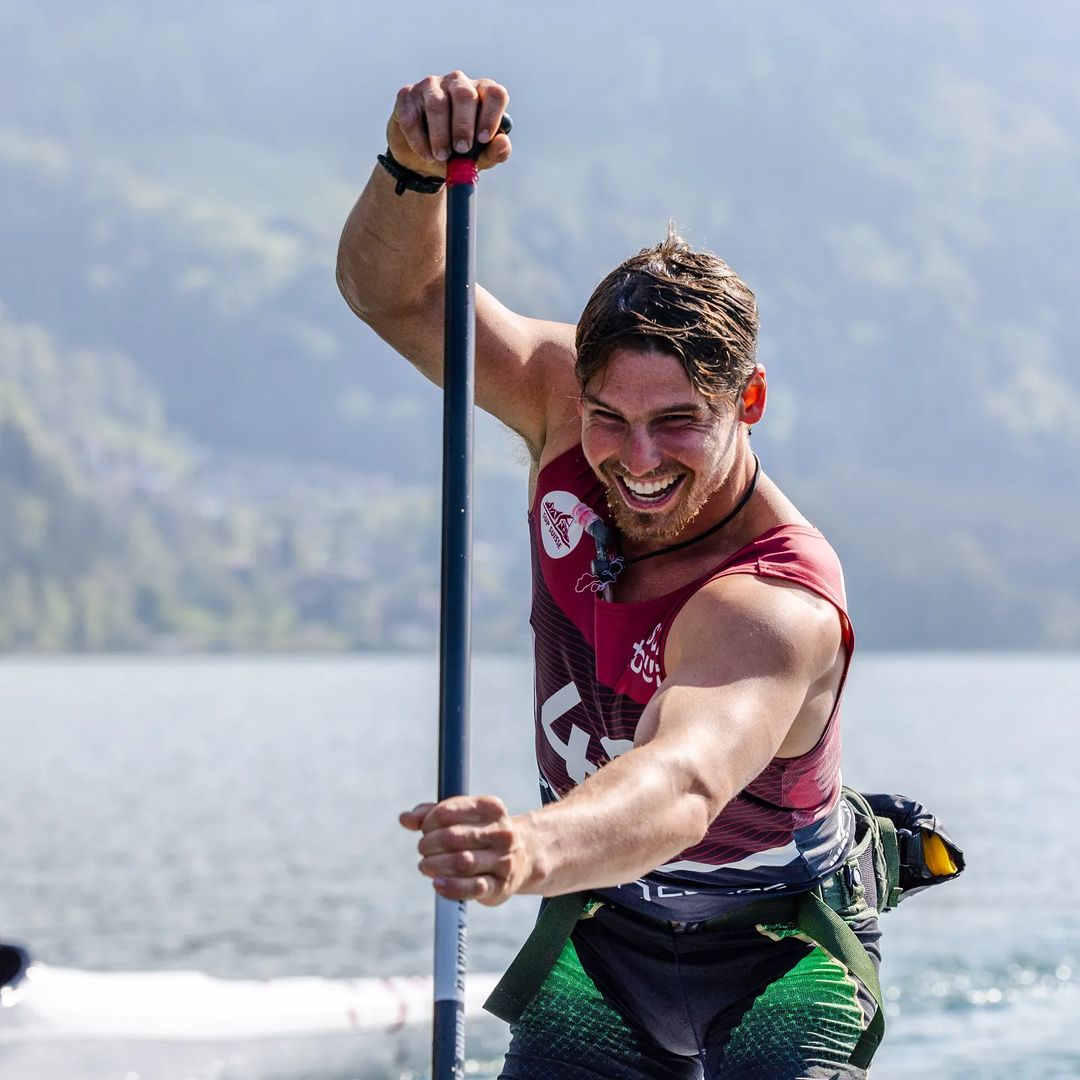 May 6, 2023
by Christopher Parker (@wheresbossman)
Anna Tschirky, Kaelan Lockhart win the ICE Race in Switzerland and remind us there are actually some race boards without Starboard or NSP stickers
Aussie-turned-Belgian Kaelan Lockhart and the Swiss Miss Anna Tschirky have taken out the 2023 ICE Race in Thun, Switzerland, a well-known event on the early-summer calendar that drew over 150 paddlers to the line this time.
In a dominant display that reminds us why we called him SUP Racer's official dark horse back in season 2020, Kaelan finished two minutes clear of Germany's Manuel Lauble. Anna won the marathon with a near-identical margin ahead of veteran Susanne Eder-Meyer.
Impressive victories from two highly underrated athletes.
The results also remind us there are race boards out there without Starboard or NSP stickers though you'd be forgiven for thinking otherwise these days.
Anna, who finished fourth at the World SUP Festival in Spain last week (aka the most competitive race so far this season), has tried five different race boards in the first five months of the year. Formerly with Fanatic – a brand that's essentially abandoned its race program – but now enjoying the freedom to ride whatever she likes, Anna has been seen on NSP, Fanatic, Starboard and SIC before hopping on the hollow BR1 at the ICE Race (the same board used by Bruno Hasulyo).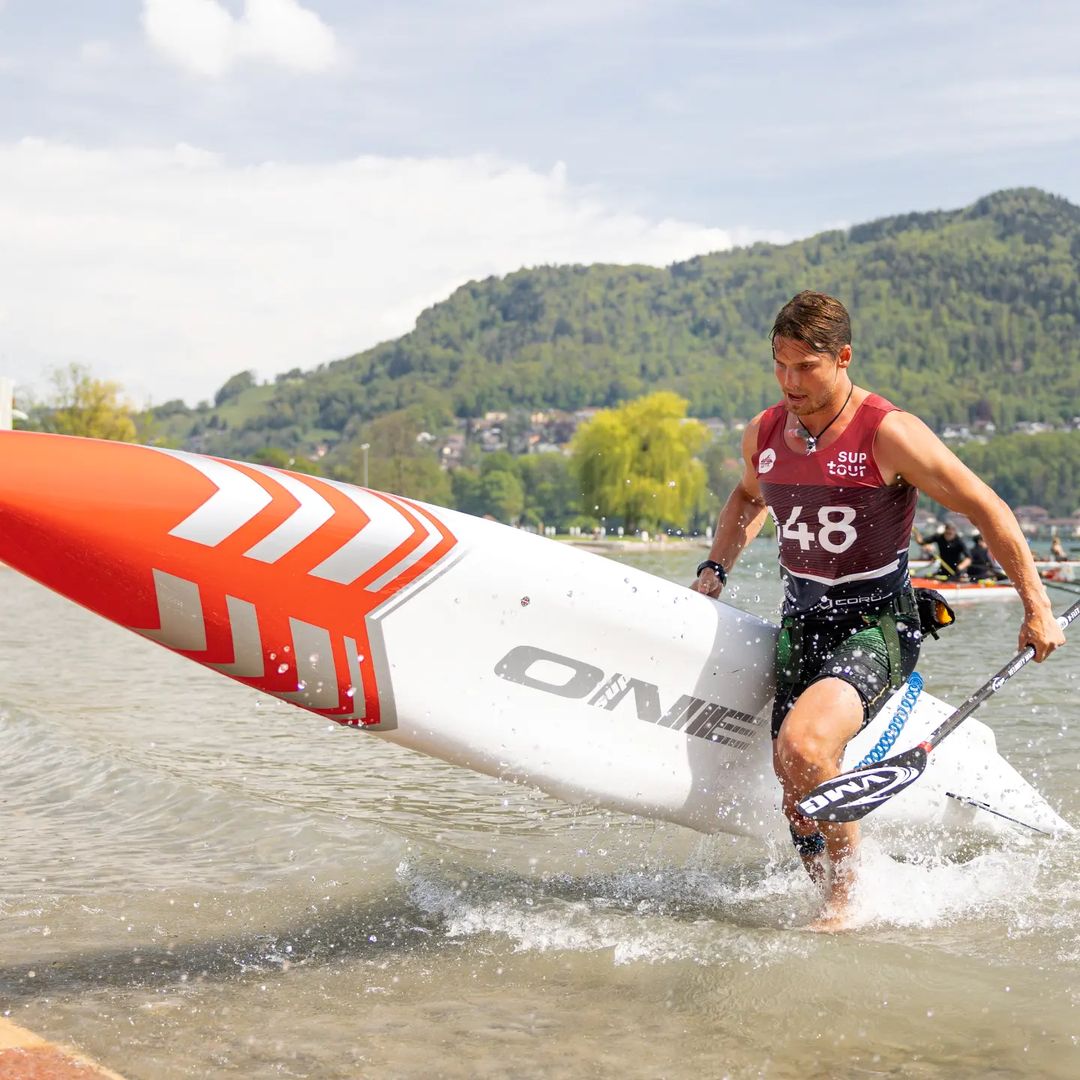 Meanwhile, Kaelan – born and bred in Australia but now living in Europe and riding for Team Belgium via his matriarchal lineage – won the race on a ONE board he seems to have taken a liking to this season. ONE has been known for pushing the boundaries in race board design and making boards that are competitive with the two big blue teams, and on the weekend Kaelan paddled to victory on the funky-tail Edge Pro 2.0 (aka the "Rocket Ship") that debuted a few years ago and which I was lucky enough to paddle at the 11 Cities (it's a bloody fast board).
Although Thun didn't host an all-star field, the victories for ONE and BR1 add to Kim Barnes' win for Team Flying Fish in Carolina last weekend and give us hope that we may have something more than a barren duopoly on the podiums this year. As much as Starboard and NSP do for SUP racing (a lot), the more teams we have being represented by top riders the better it is for the sport.
The ICE Race has attracted a lot of attention over the past few years, first being part of the Euro Tour then as an official stop of the ICF series. It now seems to be an independent event as it was in the beginning. The 2021 ICE Race was famous for being Fiona Wylde's only defeat of that season — to none other than Espe Barreras who now seems unbeatable. Time will tell if Lake Thun is once again a harbinger of bigger results to come…
Anyway here are the top finishers from the weekend.
1st: Kaelan Lockhart (1:40:52)
2nd: Manuel Lauble (1:42:40)
3rd: Bastian Grimm (1:43:54)
4th: Koman Natapat (1:47:37)
5th: Guido Donzé (1:48:10)
6th: Maximus Sijrier (1:48:34)
7th: Olivier Comazzi (1:49:10)
8th: Michel Kezrsmaekers (1:49:22)
9th: Stéphane Guillermin (1:51:28)
10th: Gerd Weisner (1:52:32)
1st: Anna Tschirky (1:55:10)
2nd: Susanne Eder-Meyer (1:57:09)
3rd: Andrea Forrer (2:00:36)
4th: Florence Julen (2:00:59)
5th: Sabine Fischer (2:01:39)
6th: Yvi Mahoney (2:02:10)
7th: Petra Pyffrader (2:03:00)
8th: Emmanuelle Marcon (2:03:23)
9th: Nicole Angéloz (2:15:26)
10th: Rachel Masserey (2:19:10)

FULL RESULTS