August 21, 2019
by Christopher Parker (@wheresbossman)
"Innovation isn't dead" — ONE launches new 'rocket ship' flat water race board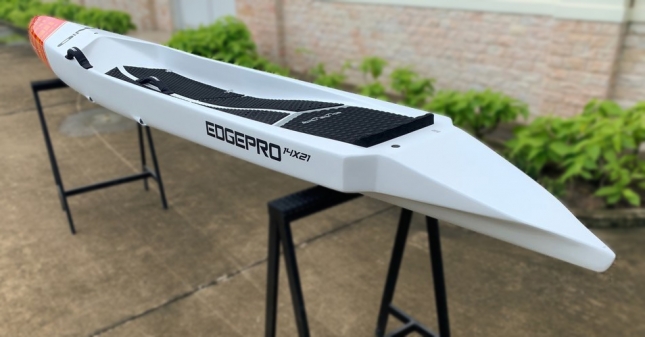 Just when we thought race boards were starting to all look the same again, Aussie brand ONE Ocean Sports has come up with something else entirely.
ONE recently teased pics of a space-ship-inspired flat water race board on Instagram, and like an automaker showing off a crazy concept car at the Detroit Motor Show, this thing looks like it comes from the future.
But apparently it's going to start shipping from ONE's manufacturing facility in Vietnam as early as next month.
Known officially as the 'Edge Pro 2.0,' the new board features a unique pin-tail design that should, at least in theory, reduce resistance and increase speed/efficiency. The spaceship board is available in 21.5 or 23.5 inch widths.
It's clearly designed as a flat water, straight-line weapon, though apparently it handles pretty good in small ocean bumps as well.
The Edge Pro 2.0 will be competing against the long-time gold-standard of flat water race boards, the Starboard Sprint, along with competitive offerings from the likes of NSP (the Ninja), Sunova (the 'FAAST') and the newly-established, Nelo-backed Lightcorp.
I actually train with the ONE crew here in Australia, so I've had plenty of time to chat with brand founders Paul & Angie Jackson and chief designer Ben Tardrew about their boards.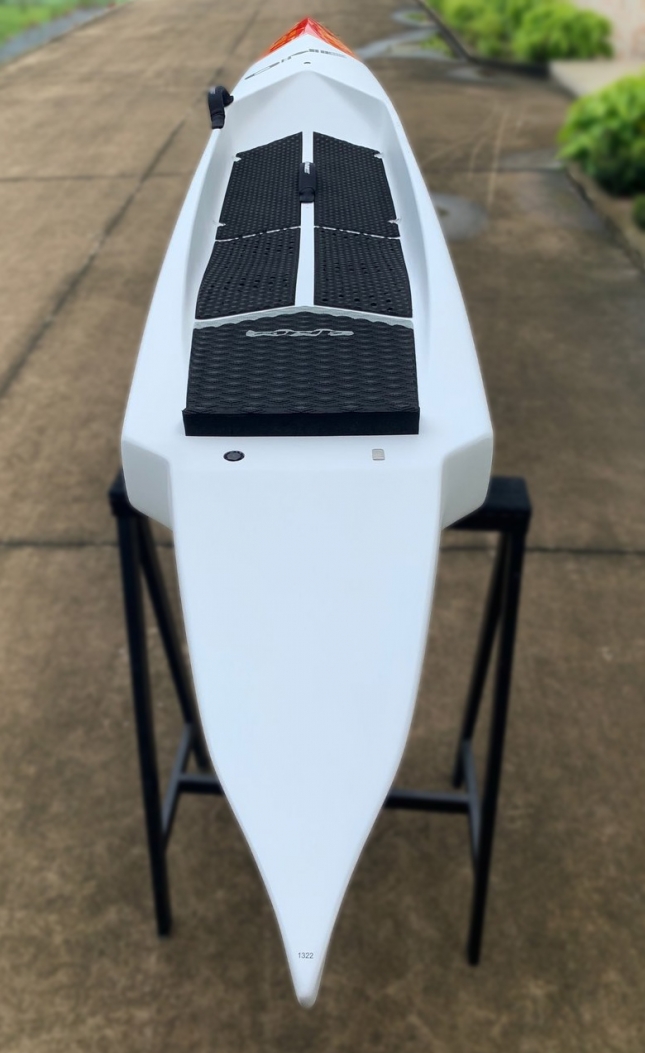 Benny summed up the thinking behind the new design:
"The number one priority with the Edge Pro 2.0 was flat water speed, so I made it a pure pin-tail without worrying about how it would perform around a buoy turn.
Everything sounds great in theory, but the speed and glide of this particular design really surprised me. I come from an ocean paddling background so this is definitely the most excited I've been on a flat water board! I was frothing after our first session.
The bonus of the pin tail is that it actually goes downwind (and up-wind) in small bumps much more efficiently than a square-tail design. So we ended up with a board that was not only extremely quick in the flat but also very competitive in light ocean conditions.
But… the first design couldn't really kick-turn at all. So then we added some elevated "wings" that don't impact the board when it's gliding but do add plenty of stability when you stand back and sink the tail.
All round we're pretty stoked with how it turned and out and can't wait to see paddlers' responses!"
Brand co-founder Angie Jackson was straight to the point when I asked her for a quote: "I'm so excited for these to start shipping! Innovation isn't dead huh?"
The board is also headed to Japan's number one paddler and ONE team rider Kenny Kaneko who tested the prototype alongside Ben and was apparently very impressed.
Apart from sporting a uniquely-styled rear-end, ONE's Edge Pro 2.0 will also be hollow.
ONE isn't the first brand to make hollow race boards, but the Australian brand is making a big push with hollow models across its entire race board range. I'm a little surprised the technology hasn't already taken off in the SUP world considering it's the de facto standard for surfskis. It's definitely lighter and, some would argue, it's actually stronger than the traditional foamies.
So not only is this rocket ship fast (at least in theory), it's also incredibly light. Exactly how light and how fast is something we'll need to test when we get our hands on one, but hopefully that'll be sooner than later 😉
So what do you think? Could this be the race-winning design of the future or is it just a crazy concept board? Feel free to leave your comments on the original Facebook thread.