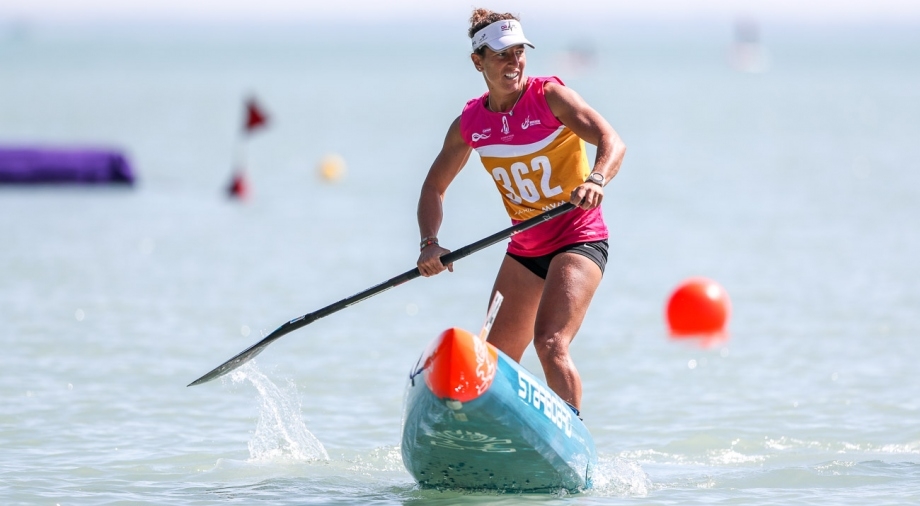 May 5, 2023
by Christopher Parker (@wheresbossman)
Catch me if you can: Espe Barreras looks unbeatable
Another race in Europe, another victory for the undisputed number one, Espe Barreras. When it comes to distance racing Espe is in a league of her own. The only question is whether the Spaniard goes through Season 2023 undefeated or not.
It's not just that Espe is winning – she was doing that for most of last season, too – it's that she's destroying the field. The Starboard rider finished two minutes clear in Santa Pola following a massive five-minute victory in Sevilla a fortnight earlier.
Those are equal or perhaps even greater than the times of other dominant women: The 2021 Fiona, 2019 Olivia, 2018 Sonni, and, dare we whisper it, even getting close to the realm of undisputed marathon GOAT Annabel Anderson who was unbeatable circa 2013-2017.
While the surf races, short courses and sprints are another topic entirely, when it comes to anything above 10km I don't think anyone is getting close to Espe this year. Unless there's a pure flat water race where one or two contenders can stick to her wash and try to sneak past at the end. But even then it'll be a stretch.
Unfortunately, given the perennially disjointed nature of the international calendar, there may only be one or two chances to see the best athletes compete this year. While the mid-season Euro Tour stop in Scharbeutz looks set to be very competitive, I doubt we'll see virtually every top paddler in one place until the ICF Worlds in Thailand mid-November.
Until then we can only speculate, so here are the paddlers that will be chasing Espe the hardest…
Duna Gordillo
Duna famously defeated Espe to win gold at the ISA Worlds in Puerto Rico late last year, a result that produced not only an upset but arguably the photo-of-the-year as the shocked young Spaniard crossed the finish line.
Duna wasn't able to keep pace with Espe in the first two rounds of the Euro Tour but she has age and time on her side. Whether that means parity this season or in another year or two remains to be seen.
April Zilg
Probably the strongest distance paddler on the water outside of Spain, April may have what it takes to return Team USA to the top of women's racing this season. That's if we can convince her to actually stand up…
April has long been a distance powerhouse but this season it's her sole focus as she prepares for the Va'a World Championship in American Samoa, an event that alternates between sprint and distance years. This year it's the latter, which means April should be in fine form come Thailand time.
But as we saw in Carolina, April's first love and focus is canoe racing. If she does appear at the ICF Worlds in Pattaya she may be Espe's biggest threat.
Fiona Wylde
Two years is a long time in SUP racing and that's especially true if you're sitting injured on the sidelines. Fiona's long-awaited return to racing ended with a sixth-place finish in Santa Pola. She bounced back in fine form the following day to win the sprints, but when it comes to the marquee distance events the former number one has some serious training to do.
It would of course be ridiculous to judge Fiona's long distance chances on her first in two years, but the result shows just how dominant Espe has become since these two last competed in 2021.
Alba Frey
SUP Racer's official dark horse selection for season 2023 lived up to her billing by claiming second place at the World SUP Festival last week. Alba was the closest woman to Espe in Santa Pola and a month earlier at the season opener in Ceuta was second-closest. There's still a big gap, but given Alba's meteoric rise – she only decided to start racing seriously 12 months ago – anything is possible.
Alba's strength and maturity means she may be able to match Espe's power sooner than the younger generation that are still developing.
Cecilia Pampinella
Speaking of the next generation, Cecilia looked very impressive finishing third at the World SUP Festival's 12km ocean race. Team Italia's great hope was only 20 seconds shy of Alba but still more than two minutes behind Espe.
Cecilia is of a similar age and speed as Duna – and in fact she out-paddled the young Spaniard at one stop of last year's Euro Tour – but like her fellow rookie, the Italian probably needs another season or two to match Espe's endurance abilities.
Kim Barnes
The "don't call her a dark horse" dark horse, Kim Barnes finally claimed a much-deserved Carolina Cup title by outlasting Candice Appleby and overpowering Duna last week in Wrightsville Beach.
Whether she's competing in Thailand at what will be the most-competitive race of the season is a big question. If she does, we may finally have to stop calling Kim a dark horse.
Candice Appleby
Candice was just seconds away from a maiden Carolina victory last weekend but interestingly finished almost a minute ahead of Duna – who is often viewed as Espe's biggest rival.
Counting against Candice is her own desire to win the PanAm Games gold medal. That's a surf race, so despite her evergreen form in Carolina I don't think Candice is focused on training for a marathon this year. I'd also be surprised if we see the Californian at the ICF Worlds given her strong preference for ISA events, so the question may be moot.
Anna Tschirky
Another young European to keep an eye on for both her noticeable improvement and pure passion for racing.
Anna won GlaGla earlier this year, which is one of the most popular distance races in the world. The Swiss miss claimed a Euro Tour podium in Sevilla but just like the rest of the chase pack that day was five minutes behind the Spanish power. Anna probably won't have the strength to close that sort of gap this season but her results are becoming hard to ignore.
Finished fourth at the World SUP Festival – easily the most-competitive race so far this season – just 13 seconds behind third-place Cecilia in a race where drafting was almost impossible and each paddler was ultimately judged on their own strength.
The rest of the field
I don't think it's a stretch to argue that women's racing is more exciting than ever. With several famous faces making comebacks, dark horses rising out of seemingly nowhere and a new generation impatient to reach the top, the podiums are harder to pick than ever and soon just making the top 10 will be a huge achievement in a sport that's often lacked depth on the women's side.
So whether anyone catches Espe this season doesn't ultimately matter. To borrow that old cliché, the women's sport will be the real winner.