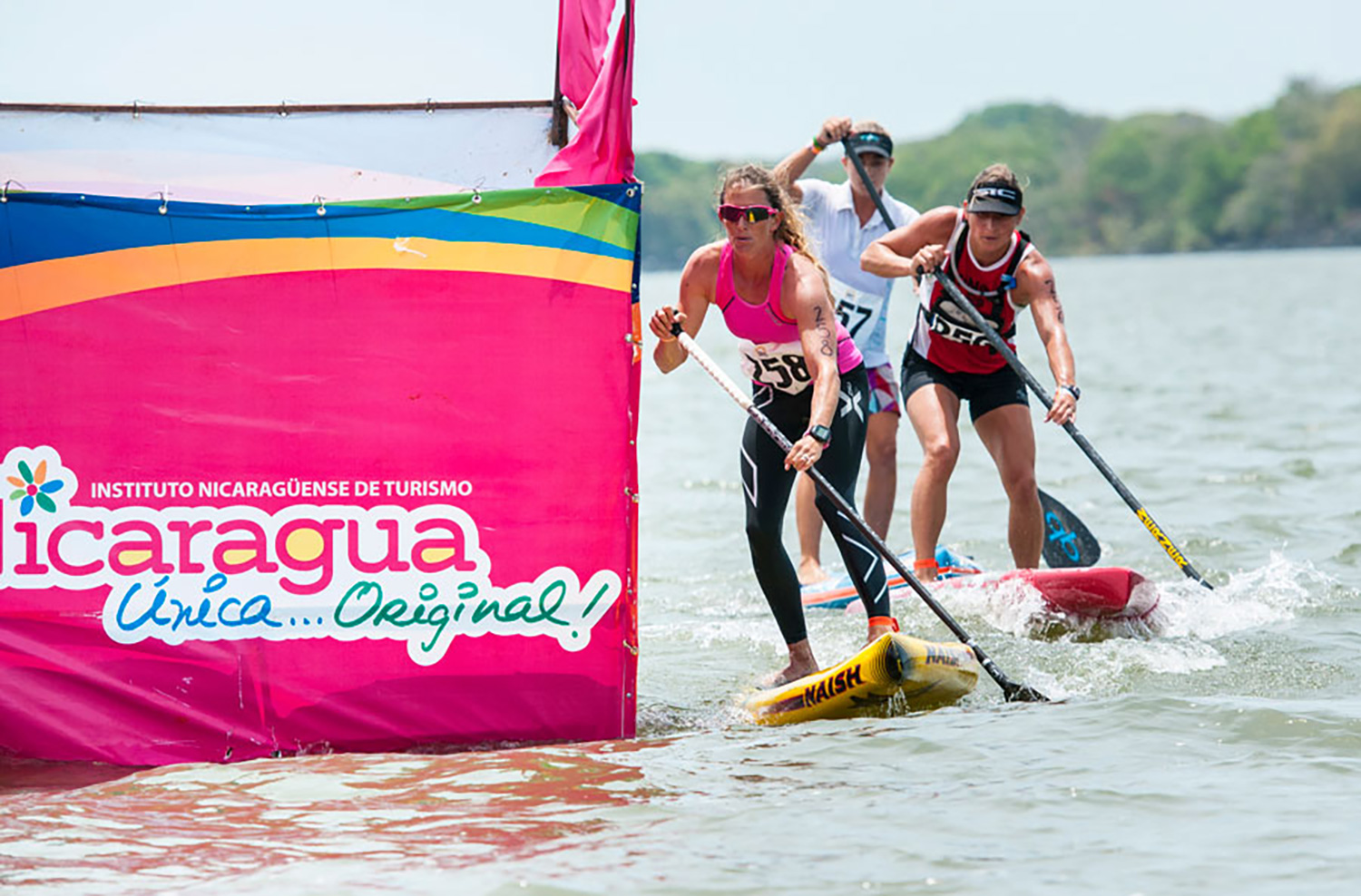 October 28, 2022
by Christopher Parker (@wheresbossman)
As the ISA Worlds begin in Puerto Rico, so too does a generational shift in women's racing
Duna Gordillo was just five years old when Jenny Kalmbach won the 2008 Battle of the Paddle, the event that kickstarted modern SUP racing. This week, the two women will verse each other at the ISA Worlds in Puerto Rico where young guns will do battle with living legends amid a clear storyline of generational shift.
Duna, now aged 19 and representing the increasingly-powerful Team Spain, has been one of the standout performers on the European circuit this season. The Spaniard heads to Puerto Rico a serious medal contender after taking silver in the juniors at the 2019 ISA Worlds in El Salvador. Jenny, more than double Duna's age at 39, hasn't raced competitively in years and by her own admission only started training on a race board again 12 weeks ago. But there's little substitute for experience when it comes to surf racing, so if we get some waves then anything's possible.
Jenny will be joined in Puerto Rico by several other OGs of women's racing in what has suddenly become a reunion of sorts. The "Comeback Queens" include former world number two and ISA gold medallist Lina Augaitis, who comes out of retirement to represent Team Canada, and the original force in women's paddling, Candice Appleby from Team USA. Jenny and Lina fought over the medals eight years ago at the ISA Worlds in Nicaragua, while Candice was the 2010 & 2011 BOP champion as well as 2015 ISA gold medallist in Mexico.
There are another five national champs competing this week who are more than twice the age of Duna, including 2019 Pan-Am gold medallist and ageless competitor Lena Ribeiro from Brazil, aged 41. One of the other young guns to watch, Italy's Cecilia Pampinella, will compete against women three times her age as she tackles both the junior and open races. Sofia Finer of Mexico, also competing in both junior and open, was only six months old when Jenny won the BOP. Soryn Preston from Team USA wasn't even born yet.
This generational shift is particularly evident in the women's events but can also be seen in the men's races: 16-year-old Shuri "Shrimpy" Araki has skipped the junior races and will compete directly in the open class where, incredibly, he'll still be a hot medal favourite. Shuri was just nine-years-old when Mexico's Bicho Jimenez – making a comeback in Puerto Rico – famously won the silver medal at ISA 2015 behind Danny Ching on his home beach in Sayulita.
I was curious to see how the ISA Worlds would fare after a three year hiatus and another far-off location. I feared the worst after this long, packed, post-pandemic season has already drained travel budgets and competitive desire. But with some very familiar names making a welcome comeback and the next wave ready to assert their generational dominance, I'm very excited to watch the racing in Puerto Rico over the coming week.
It's hard to make predictions but I'd comfortably say the favourite for next Friday's distance race is Espe Barreras of Spain (the defending champ from three years ago and dominant on this year's Euro Tour) followed by her teammate, Duna, along with Team USA's April Zilg and perhaps an Amandine Chazot for the podiums.
Saturday afternoon's 200 metre "in-and-out" sprints will be a coin flip, though if I'm being bold I'd pick Cecilia as the unheralded medal contender — she knocked off Duna at one of the Euro Tour stops this season and paddles far beyond her years.
For the tech race I think we're just all hoping for waves to provide a true "Battle of the Paddle" style battle of the generations as the likes of Jenny and Candice try to hold off the kids from Europe. If I had to pick, my heart says Duna and my head has trouble disagreeing.
Finally, my official dark horse pick comes neither from Europe nor the Americas but halfway round the world in New Zealand. Brianna Orams was just hitting her competitive stride when covid ground the sport to a halt. Now 21-years-old, the Kiwi will be a serious medal contender in Puerto Rico especially if waves come into play during the tech race.
Predictions are uncertain but one thing's for sure: the women's racing has just as many storylines as the men this year, if not more. So tune in to the live stream – full schedule below – because Puerto Rico may be the last opportunity to see some of your favourite athletes score a medal before the kids really take over.
---
ISA 2022 Schedule
Saturday 29 October: Sprints (medal event)
– April Zilg, Amandine Chazot, Aline Adisaka, Juliette Duhaime, Cecilia Pampinella, Lina Augaitis will medal favourites among the field of 16
– in the men's field of 17 you could throw a blanket over more than half of them — watch out for Connor Baxter, Christian Andersen, Noic Garioud, Itzel Delgado, Rafa Sirvent, Gio Gomez, Bicho Jimenez, Claudio Nika and David Leao
– official heat draw
Sunday 30 October: Tech race qualifiers
– the contenders will simply try to avoid any silly mistakes as they look to safely secure a berth in the final
Monday 31 October: Tech race finals (medal event)
– can Duna Gordillo seal the generational shift?
Friday 4 November: Distance race (medal event)
– will Espe Barreras make it a Spanish women's double?
– The big battle between Boothy, Noic, Ty and Titou could be a repeat of the top four finishers at the World SUP Festival in June, which was probably the biggest race of the year outside a world championship
You can watch the live webcast on isasurf.org
---
…and to highlight the incredible variety of ages on show at the Worlds, here are some of the ages I pulled up from the official teams list for the women's sprints, tech and distance races
Shannon Bell: 48 (Canada)
Stephanie Shideler: 47 (USA)
Juliana Gonzalez: 45 (Argentina)
Mariana Carrasco: 44 (Mexico)
Giannisa Vecco: 43 (Peru)
Lina Augaitis: 41 (Canada)
Lena Ribeiro: 41 (Brazil)
Maria Jose Fontichelli: 40 (Argentina)
Jenny Kalmbach: 39 years old (Costa Rica)
Stevie Bodden: 39 (Panama)
Esperanza Barreras: 38 (Spain)
Candice Appleby: 37 (USA)
April Zilg: 34 (USA)
Amandine Chazot: 31 (France)
Mariecarmen Rivera: 29 (Puerto Rico)
Juliette Duhaime: 24 (Argentina)
Aida Ponce: 23 (Mexico)
Brianna Orams: 21 (New Zealand)
Caroline Küntzel: 20 (Denmark)
Laura dal Pont: 19 (Italy)
Duna Gordillo: 19 (Spain)
Alma Coletta Spada: 19 (Argentina)
Daniela Garcia Montoy: 17 (Mexico)
Sonia Caimari: 17 (Spain) *junior race
Cecilia Pampinella: 16 (Italy) *junior AND open race
Sofia Finer: 14 (Mexico) *junior AND open race
Rosara Davis: 14 (New Zealand) *junior AND open race
Soryn Preston: 13 (USA) *junior and an alternate for the open race
---