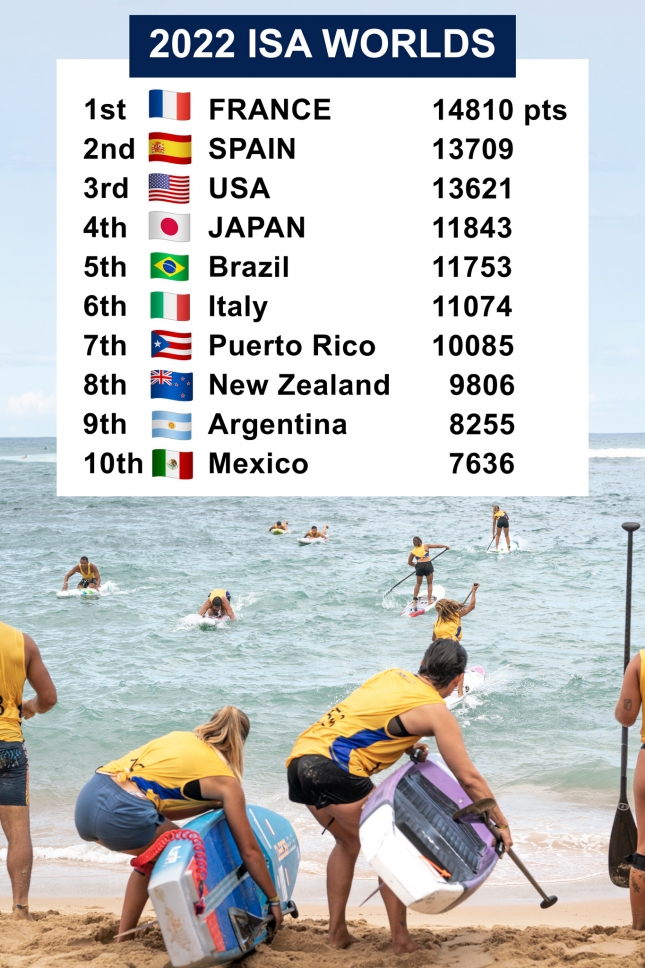 Final day in Puerto Rico: Team France claimed gold in today's mixed team relay to cement their spot on top of the team standings. Featuring Melanie Lafenetre on the women's SUP leg and anchored by superstar Noic Garioud – who won his fourth medal of the championships – France vanquished their rivals to claim a second overall ISA title (matching their result at the last ISA Worlds in El Salvador 2019).
Featuring their new hero Shrimpy on the anchor leg, Team Japan capped off their epic week by winning the relay silver to jump ahead of Brazil into 4th on the overall leaderboard — easily their best ever result at the Worlds.
Spain finished their extraordinary ISA campaign with a bronze in the relay that saw them jump ahead of star-studded Team USA to claim a well-deserved second place on the team standings. The United States could have held on for the team silver but were DQ'd and lost all their relay points after missing a flag on the beach run.
Click here for the complete results sheet from each event.