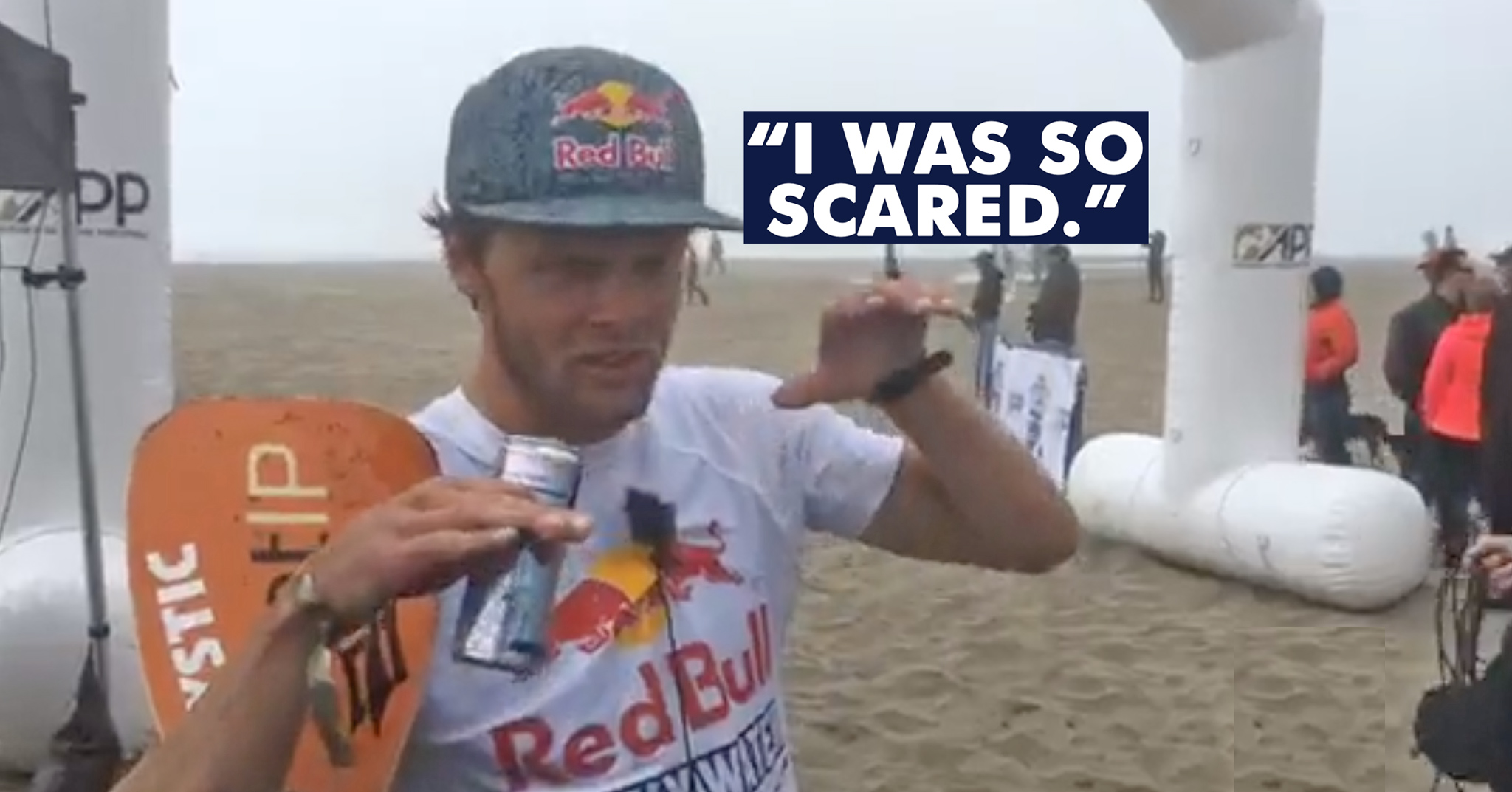 October 18, 2019
by Christopher Parker (@wheresbossman)
"I was so scared." Danish Viking Casper Steinfath survives fog and chaos to defend Red Bull Heavy Water title in San Fran; Terrene Black women's winner (UPDATED)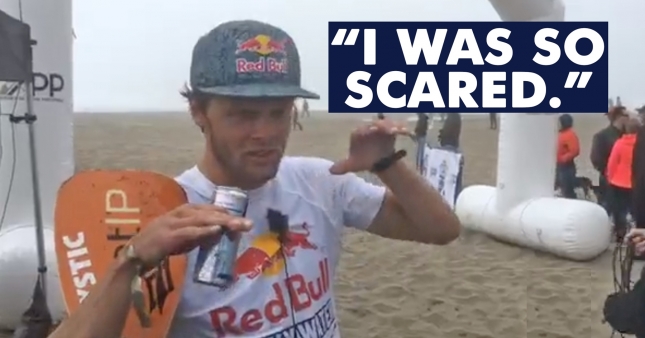 The "Danish Viking" Casper Steinfath has defended his Red Bull Heavy Water title in San Francisco today after surviving what is surely the gnarliest and most chaotic race the sport has ever seen.
The event certainly lived up to its name as the small but highly-elite band of competitors battled stiff headwind, strong ocean currents and 8-10ft waves. But the biggest obstacle was the fog, which rolled in mid-race and reduced visibility at the Ocean Beach finish line to virtually zero.
The athletes couldn't even see the beach when they were turning the first outside buoy, nervously paddling like "gorillas in the mist" through one of the heaviest surf breaks in California.
UPDATE: Only 8 out of 16 guys officially finished the race and all five women were forced to retire. Terrene Black declared women's winner. Scroll down for provisional results and rolling updates.
At one point, Dave Boehne from Infinity had to yell for his team rider, Tyler Bashor, to go left around the outside buoy. Tyler was paddling back out to sea after becoming disoriented in the thick blanket of fog. Indeed, even the crew on the media boat were debating where the beach was, such was the totality of the white haze.
Conditions were so chaotic that questions will probably be asked about competitor safety after this race (white jerseys and white buoys weren't a good choice, either 😅). With some competitors still out in the water as I write this, we hope everyone makes it back to the beach safe and sound (update: everyone is safe but Connor Baxter and Martin Vitry suffered hypothermia).
One thing's for sure: "Heavy Water" has certainly lived up to its name…
The crazy fog reminds me of that 2013 ISA race in Peru where a total white-out descended onto the distance course and those of us in the live stream booth couldn't see what was happening until the final minute of the race. That was the race, coincidentally, where Casper announced himself as a genuine international athlete.
This year's Red Bull extravaganza, which saw a reversed course (the race used to start in the surf and finish in San Fran bay), started inside the bay near the Golden Gate Bridge and began with a 12km (7 mile) grind through merciless headwind and swirling ocean currents.
"There was a four-knot current going against us," is what I heard from Fiona post-race.
The difficulty was highlighted by the relative slow times: It took the paddlers at about two hours to reach the surf zone when they'd normally complete that distance in a little more than one.
Casper was actually outside the top five when he hit the beach for the first time, having hung on during the long distance section (which he admits is his least favourite form of raing) but still ceding at least five minutes to Connor Baxter who had established a commanding lead.
After that it became a roll of the dice as paddlers tried to negotiate both the surf and the fog. They were literally paddling off the beach into the unknown.
Connor got hammered by set after set and heartbreakingly broke his paddle, which sent him from odds-on favourite to outside the top five as he returned to the beach desperately searching for a replacement.
Further highlighting how heavy the surf was, Aussie James Casey had not one but two leash plugs ripped out of his board when he got cleaned up by a set, which sent him from a podium chance to well outside the top five after he spent the next 15 minutes swimming back to the beach to find his board.
Casper was right next to Jimmy when that macking set rolled through but just scraped past it and found himself out front with Arthur Arutkin.
Casper and Arthur had the best of it in the waves and moved into the top two spots for the second and final in-and-out mission through the surf. The Frenchman held a slight lead as they punched back out through the whitewater and into the abyss.
And then, for the next 10 minutes, nobody had any idea what was happening. It was as if the athletes had disappeared into another dimension.
With die-hard supporters on the beach cheering him on (Casper has extended family in California and was probably the best-supported athlete in the race despite hailing from Denmark), it was the Viking who emerged first from the mist on a wave that he surfed to the sand to seal his second Red Bull title.
Casper's first words upon crossing the line were simply "FUCK YEAH!" before he went on to describe how he couldn't see anybody else in the fog and was genuinely scared to approach the heavy surf with a total lack of visibility.
"I was so scared. I was so scared on the last part of the distance, we were coming around the corner and there was all this current. Then we got to the waves and I swear everybody's pace went down, nobody was fighting anymore.

The waves … if you've just paddled for two hours you're going to feel pretty dead. I dunno how we survived these waves…"
Arthur crossed about three minutes later to claim runner-up and earn a pretty sizeable chunk of the record $75k purse. That would cap off a huge season for Arthur who has been a perennial podium-getter.
From what I hear Mo Freitas rounded out the top three. This would be a huge result for Mo considering he's hardly raced this year (has he raced at all?) but he obviously knows how to handle himself in the surf and probably would have relished the chaotic conditions as it would have taken away the advantage of the stronger distance paddlers.
18-year-old Christian "Polar Bear" Andersen – Casper's protege from Denmark – beat plenty of more experienced athletes to cross in fourth and continue his meteoric rise.
Zane Schweitzer used his lifetime of ocean knowledge to wind back the clock to his racing days and secure a top five finish.
There was actually some confusion about who was even out there. The all-star lineup of athletes that was hyped-up by the race promoters last week was apparently just the invite list, not the actual start list — many of the names we expected to be racing weren't even there. We'll have to wait for the final results to see who was even competing (I do know a few paddlers failed to finish).
The women were competing at Red Bull Heavy Water for the first time this year but we haven't heard any results yet (they may still be out in the water).
I believe there were five competitors in the field: Fiona Wylde, Shakira Westdorp, April Zilg, Annie Reickert and Terrene Black. Last update I got, nobody had even seen them due to the extreme fog but I'll update this post once I hear the final placings.
UPDATE: The five bold women were forced to retire after four hours due to the gnar-gnar conditions.
I spoke to Fiona post-race and she said it was the toughest thing she's ever done in the ocean. The women were forced to retire after almost an hour of trying to get back out through the surf but continually getting lost in the fog and beaten down by the waves.
"Very humbling" and "brutal" was how Fiona summarised it.
It's been hard to get many updates on the women's race (I wasn't actually at this event) but it sounds like all five of them put up a pretty good fight before succumbing to mother nature. Terrene made it further along the course in the surf section and was therefore deemed the winner.
I'll update as we hear more.
Fortunately the surf wasn't too big today, otherwise it would have gone from "gnarly" to downright dangerous. It was *big* but but XXL big. Looks like it was slightly smaller than last year's Heavy Water (it was probably "only" about 8ft-10ft today — still pretty heavy).
The drama wasn't reserved for the paddlers, either. I wasn't at the event, but I hear that the media boat had a rough ride — not only did they get lost in the fog but one of the production crew unfortunately lost a drone into the ocean after narrowly missing an emergency landing on the boat.
As for the much-hyped "Delayed Live Broadcast" (isn't that an oxymoron?) … don't hold your breath. With the drone apparently going for a swim and fog reducing visibility to virtually zero during the most exciting part of the race, I'm not sure what they're actually going to show. The winner today, apart from Casper, was clearly mother nature.
Update: Sounds like the APP is still going to try to produce something. The "live" broadcast was originally set for 2pm but then got moved to 3pm then 4pm and now it's scheduled for Saturday morning, so I guess they'll work on a highlights package overnight. I know what it's like trying to cover a race in difficult weather and I feel sorry for the production crew, but why on earth the race promoters decided to hype up a "live delayed" broadcast is beyond me (and beyond a bunch of angry Facebook fans as well). Between that and the confusion with the results, it's safe to say this event could have been run a little smoother. Fortunately the athletes put on a brave show on the water.
For the best insights you should actually watch a replay of the Facebook Live stream that Casper's media manager, Ole Svarrer from Denmark, was running at the finish line in the final 30 minutes of the race. Ole did quite a good job of trying to figure out what the hell was going on out in the water amid all the fog and chaos.
That was gnarly.
https://www.facebook.com/Caspersteinfath/videos/410038289927419/
2019 RED BULL HEAVY WATER: FINAL RESULTS
Update 1: We're getting mixed reports from the beach but here are the *provisional* results.
Update 2: I'm hearing only eight men's finishers. All others abandoned race.
Update 3: Getting reports all five women were forced to retire.
Update 4: Sounds like all five women either abandoned the race or were forced to retire. Hearing reports some paddlers pulled out due to risk of hypothermia or simply because they couldn't get through the surf.
Update 5: Ok. The race is over but there's still a lot of chaos 😅 Here's the latest.
I believe everyone outside the top five men is officially a 'DNF' after competitors were forced to retire.
Many paddlers had already abandoned the race due to the extreme conditions while a few of the others, including Connor Baxter, were forced to retire due to a risk of hypothermia. I just spoke to Connor's wife and she told me "Connor is huddled in his van wrapped in five blankets."
And it sounds like all five women were forced to retire but they *might* be awarding placings and prize money based on their mid-race positions. Fiona Wylde was leading the race I believe.
Update 6: Official results are finally confirmed. Only the top five guys finished. All five women were forced off the water but Terrene Black was declared the winner based on mid-race positions. The other four ladies will be equal second and we presume will split the rest of the prize money.
Update 7: We're actually still not sure what the official results are or how many guys officially finished. The APP updates on Facebook have been a little vague, but here's a quick recap from James Casey via Instagram:
"Well the Red Bull Heavy Water was GRUELING ☠️ 13km with incoming tide out through San Francisco Bay with a head wind took us about 1 hour 45 minutes 🌬️ We were then greeted with thick fog and 10-12ft surf. While it wasn't the biggest ever it was unrelenting. Coupled with the Fog it was a true shit shoot trying to get out 🌊🌊🌊 I almost got out when still battling for the podium only for two leash plugs to get pulled out of my board onn the outside bank @conbax, @_mofreitas and I got pounded but they got out after the set while I had to swim in find my board and attach my leggie to the handles. I finally finished about an hour later in 3 hours 37 minutes, a total of 24.5km, in a sprint finish with @kodykerbox for 6th and 7th. Well done to @cj_steinfath 🥇@arthurarutkin 🥈@_mofreitas 🥉@christian_k_andersen 4th @zaniac1 5th @kodykerbox 6th and @fernandostalla 8th. I was stoked to finish let alone place 7th 🙏"
So there you have it. It was officially gnarly.
Update 8: Ohhhhhh kayyyyy, I think we've got it now. The top 8 guys will get an official result and the rest will be listed as "equal 9th place." Bloody hell… it took organisers longer to decide on a dozen placings than it did for the guys to paddle the entire race 😅
MEN: FINAL RESULTS
1st: Casper Steinfath (Denmark) 2:28:36
2nd: Arthur Arutkin (France) 2:32:30
3rd: Mo Freitas (Hawaii) 2:36:06
4th: Christian "Polar Bear" Andersen (Denmark) 2:42:51
5th: Zane Schweitzer (Hawaii) 2:43:45
6th: Kody Kerbox (Hawaii)
7th: James Casey (Australia)
8th: Fernando Stalla (Mexico)
DNF: Connor Baxter (Hawaii)
DNF: Itzel Delgado (Peru)
DNF: Tyler Bashor (USA)
DNF: Martin Vitry (France)
DNF: Riggs Napoleon (Hawaii)
DNF: Slater Trout (USA)
DNF: John Hadley (USA)
DNF: J. Stephens (Hawaii)
DNF: Mark Alfaro (USA)

WOMEN: FINAL RESULTS
1st: Terrene Black (Australia)
=2nd: Fiona Wylde (USA)
=2nd: Shakira Westdorp (Australia)
=2nd: April Zilg (USA)
=2nd: Annie Reickrt (Hawaii)