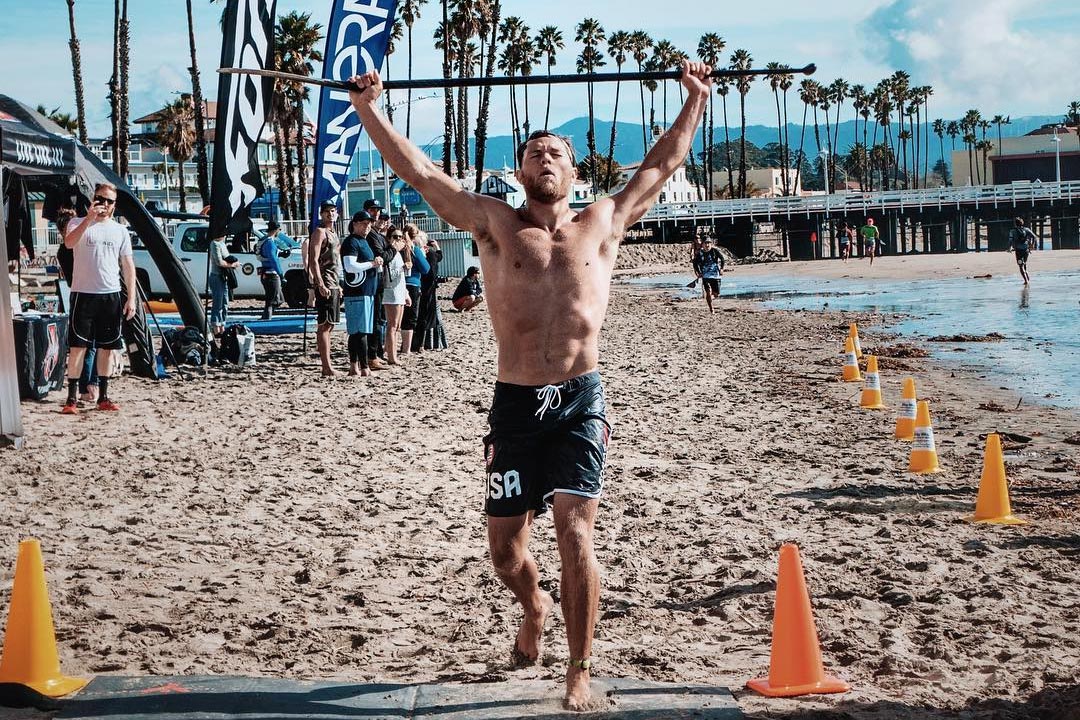 April 6, 2017
by Christopher Parker (@wheresbossman)
Last Week: 'Speed Freak' Slater Trout Triumphed in Santa Cruz; Fiona Wylde Women's Champ
https://www.instagram.com/p/BSKYBSGhTvI/
In brief: Slater Trout took out the 2-star Santa Cruz Paddlefest ahead of a small but highly competitive field last week, with the Infinity 'Speed Freaks' team rider returning to the top of the podium and showing early form ahead of a big race season to come.
The move sends Slater back inside the exclusive top 20 club on the World Rankings.
Rising star Ryan Funk was almost equally impressive, crossing the line seconds after Slater but ahead of world number three Mo Freitas and the supremely talented Josh Riccio, while Noa Hoppper and Giorgio Gomez rounded out the top half dozen spots.
Fiona Wylde was too strong in the women's, comfortably beating home a trio of future stars in Jade Howson, Genna Flinkman and Kali'a Alexiou.
This event happened during SUP Racer's brief hiatus, hence the delay in reporting.
---
Elite Race Results – Men
| # | Athlete | Time | Age | Points |
| --- | --- | --- | --- | --- |
| 1 | Slater Trout | 0:57:25 | 22 | 20.00 |
| 2 | Ryan Funk | 0:57:35 | 16 | 15.00 |
| 3 | Josh Riccio | 0:57:45 | 27 | 12.00 |
| 4 | Mo Freitas | 0:57:58 | 19 | 10.00 |
| 5 | Noa Hopper | 0:59:03 | 17 | 8.50 |
| 6 | Giorgio Gomez | 0:58:25 | 21 | 7.00 |
| 7 | Poenaiki Raiha | 1:00:15 | 20 | 6.00 |
| 8 | Tyler Bashor | 1:00:40 | 15 | 5.00 |
| 9 | Dave Boehne | 1:02:43 | 40 | 4.50 |
| 10 | Rodney Ellis | 1:04:36 | 43 | 4.00 |
| 11 | Yan Lavletta | 1:09:17 | 25 | 3.60 |
| 12 | Barry Wicks | 1:11:27 | 35 | 3.20 |
| 13 | David Wells | 1:07:03 | 47 | 3.00 |
| 14 | Pete Gauvin | 1:08:24 | 48 | 2.80 |
| 15 | John Hadley | 1:08:56 | 49 | 2.60 |
| 16 | John Alexiou | 1:10:46 | 52 | 2.40 |
| 17 | Justin Van Dyck | 1:11:36 | 48 | 2.20 |
| 18 | MacRae Wylde | 1:12:19 | 53 | 2.00 |
| 19 | Phil Tresenrider | 1:13:34 | 58 | 1.80 |
| 20 | David Waynar | 1:13:52 | 36 | 1.60 |
| 21 | John Walsh | 1:14:12 | 41 | 1.50 |
| 22 | Mark Alfaro | 1:16:19 | 45 | 1.40 |
| 23 | Brett Simpson | 1:17:33 | 32 | 1.30 |
| 24 | Dustin Minor | 1:19:31 | 46 | 1.20 |
| 25 | Caio Vegner | 1:20:45 | 37 | 1.10 |
| 26 | Matthew Hartman | 1:22:36 | 45 | 1.04 |
Elite Race Results – Women
| # | Athlete | Time | Age | Points |
| --- | --- | --- | --- | --- |
| 1 | Fiona Wylde | 1:07:13 | 20 | 20.00 |
| 2 | Jade Howson | 1:09:49 | 14 | 15.00 |
| 3 | Genna Flinkman | 1:11:41 | 30 | 12.00 |
| 4 | Kali'a Alexiou | 1:11:54 | 16 | 10.00 |
| 5 | Carter Graves | 1:12:45 | 25 | 8.50 |
| 6 | Izzi Gomez | 1:14:28 | 17 | 7.00 |
| 7 | Hannah Hill | 1:15:46 | 17 | 6.00 |
| 8 | Kristin Thomas | 1:18:25 | 54 | 5.00 |
| 9 | Kristy Morris | 1:15:23 | 40 | 4.50 |
| 10 | Mel Wygal | 1:23:12 | 40 | 4.00 |
Full results from all divisions on the official site