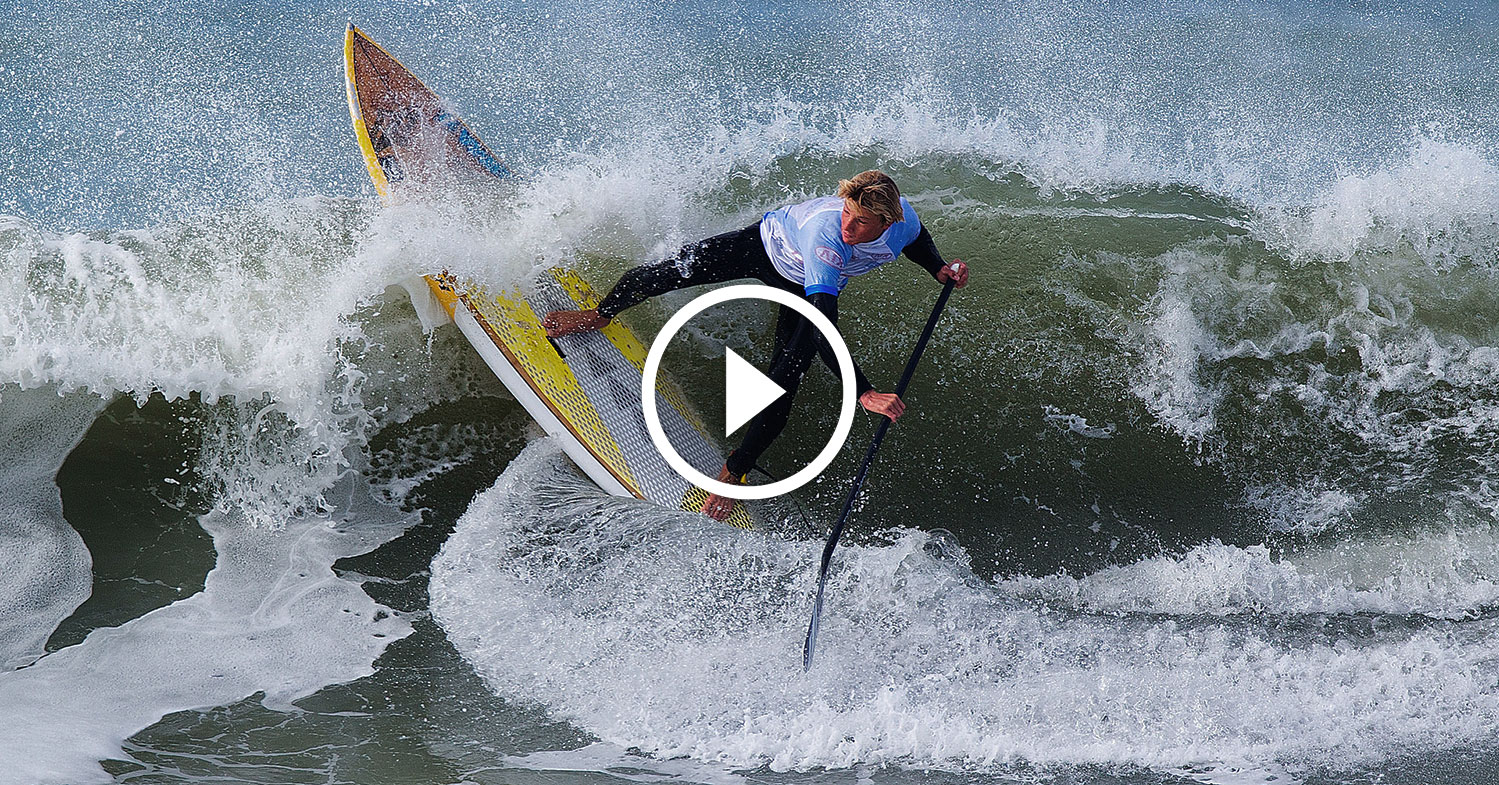 December 17, 2015
by Christopher Parker (@wheresbossman)
COPENCOLD HAWAII: Denmark Launches Bid to Host 2017 ISA Worlds, Bring Championships to Europe for the First Time
Denmark has just launched its bid for the 2017 ISA Worlds, aiming to become the first European nation to host the world championship event.
With the country's most famous SUP export, Casper Steinfath, leading the charge, Denmark announced the "COPENCOLD HAWAII" project today, promising to deliver a unique mix of urban and country locations for the international paddling community.
COPENCOLD HAWAII is a mashup of the nation's capital, Copenhagen, and "Cold Hawaii," the nickname for the surfing mecca of Klitmøller. If the bid is successful, the surfing (and perhaps surf racing) events would be held in the small west coast town, while the main racing would go down in the city of Copenhagen in the east.
It's not surprising to hear that Casper is helping spearhead Denmark 2017. The 2x gold medalist (who actually lives in Klitmøller) is one of our sport's top young ambassador, while he also holds the title of Honourary Vice President within the ISA itself. That final connection will no doubt give Denmark a big advantage as it competes with other potential hosts.
As you can see from the clip above, Denmark has no shortage of beautiful waters to paddle in. Copenhagen is one of the coolest cities in Europe, while Klitmøller is one of the region's most under-rated surfing destinations. Although it probably wouldn't even register on the global SUP radar if it wasn't for Casper's heroics, the Scandinavian country actually has a rich history of canoe paddling and windsurfing, while the growing stand up paddling community is nothing if not passionate.
I've spent a lot of time in Denmark myself – I lived just over the bridge in Sweden for several years, and could actually see Copenhagen across the narrow "Öresund" strait every time I went paddling – and can vouch for this place being a potential world class host.
I (and many others in the community) have long called for the Worlds to be held in Europe. Not only is the region a hot-spot of paddling activity, it would make complete logistical sense. There are probably 25 serious paddling nations that could drive to Copenhagen, while there is such a strong industry presence across the continent that no athlete would need to worry about getting their board on a plane (an issue that has plagued the Worlds in previous years).
If Denmark wins, I'd expect it will set a new record number for the number countries participating. We may see a couple of the minnows from South America fall off, but all the big international teams would be there, and then you'd get a bonus dozen or so emerging nations from within Europe competing for the first time.
No previous World Championship has gone above 25 teams, however Denmark could realistically push towards (and perhaps even above) 40 nations. The press release is similarly bullish, stating that as many as 50 nations would compete in 2017.
That would really put the "world" in World Championship.
My only concern is that it's much harder to maintain a great community atmosphere with a "split venue" event (which was clearly highlighted in Nicaragua last year), so I hope the Danes will come up with a plan to help ease that.
It is slightly odd that Denmark has been announced as a potential host for the 2017 ISA World Championships before the 2016 event has been finalised. Indeed, the ISA's delay in confirming next year's Worlds has become a point of contention for athletes (and other events) that are trying to schedule their season.
I did speak with the Association this week and they hinted that a big announcement should be out before Christmas, so hopefully the wait is almost over. Either way, we clearly won't have this problem in another 12 months: The ISA will reportedly announce the 2017 host nation in April. And while Denmark won't be the only candidate for 2017, I've got a feeling they'll take a commanding lead by launching such a professional and public bid this far in advance.
I'm sure a few other nations will still throw their hat in the ring though…
Earlier in the year I heard Fiji was nearly 100% confirmed to host the 2016 event, however that's since fallen off the radar. So unless Fiji is our surprise Christmas present from the ISA next week, they'll probably regroup and create another bid for 2017. You can also look at the other three potential hosts of the 2016 Worlds – China, Mexico and Argentina – to keep trying if they miss out next week.
But while we wait for the 2016 Worlds to be announced (hopefully) next week, and the 2017 Worlds to be confirmed a few months after that, let me be the first to send a huge congratulations to Denmark and the COPENCOLD HAWAII team for producing such a professional bid campaign. If these guys spend even half as much time organising the event as they have creating their bid, I'm sure the paddling world is in for a fantastic show.
On a side note: This is actually the first time a nation has publicly announced their bid for the stand up paddling world championships, which lends an added layer of credibility and Olympics-style authority to the whole process. Hopefully Denmark has set a precedent that other countries will follow in years to come.
In the meantime, here's the full announcement hot off the press:
Denmark has become the first country to announce a bid for the 2017 ISA World StandUp Paddle & Paddleboard Championship. If successful, Denmark would become the first European country to host the World Championship.

The ISA World StandUp Paddle & Paddleboard Championship has never been staged outside of Latin America, so Denmark is hoping to play a leading part in showcasing the exciting and developing sport to a European audience.

"Personally, it would be a dream homecoming for me if Denmark host the 2017 world championship; professionally I think it would a huge leap forward for our sport," Casper Steinfath, Denmark's two-time ISA StandUp Paddle world champion (2013 and 2014), said. "We want to raise awareness of the sport in Denmark and the rest of Europe and show that SUP is a global sport. Having grown up surfing and paddling in Cold Hawaii and competed several times in Copenhagen Harbour I know COPENCOLD HAWAII will deliver."

By voting this week in favour of supporting the bid, Thisted Municipality provided another vital piece of the funding for the event. It comes a few days after Sport Event Denmark and Wonderful Copenhagen also backed the event. Collaboration between and financial guarantees from local and central government have been a hallmark of Denmark's bids for international events.

Denmark has successfully hosted many major sporting events in the last decade on and off the water, including the 2011 World Road Cycling Championships, the 2014 World Half Marathon, the 2014 Men's Handball European Championships, and the 2014 World Badminton Championships. Last year, Aarhus, the host of many world and European class sailing championships, won the bid to host the 2018 ISAF Sailing World Championships.
COPENCOLD HAWAII will be a unique collaboration between Copenhagen and Cold Hawaii, in Thisted Municipality. Copenhagen Harbour will host the long-distance racing, standup paddle and prone paddleboarding whilst Cold Hawaii host the SUP Surf, Technical Racing and the Relay Race.

The major 12-day event would see between 280 and 300 athletes from 50 countries competing across the two venues.

"By choosing Copenhagen and Cold Hawaii we are combining the best Denmark has to offer the SUP and prone paddleboarding community," Lars Lundov, CEO of Sport Event Denmark, said. "The combination of the two venues will provide a the perfect settings for an ISA SUP World StandUp Paddle World Championship in Europe."

COPENCOLD HAWAII was the idea of the Friends of Cold Hawaii, the Danish Surf & Rafting Federation and Copenhagen Water Sports in collaboration with Sport Event Denmark, Wonderful Copenhagen and Thisted Municipality.
"For us, the 2017 ISA SUP World StandUp Paddle & Paddleboarding Championship in Denmark would be about exchange and collaboration; bringing the championship to Europe and linking Copenhagen and Cold Hawaii will inspire not only a growing Danish SUP community but also the SUP community in the rest of Europe," Finn Jorsal, president of Friends of Cold Hawaii, said.

"We're sure that the athletes will love Copenhagen, the event capital of Scandinavia, and Cold Hawaii; Casper Steinfath is testament to that already – this is an opportunity to grow our reputation as a city and as a nation of water activities," Lars Vallentin, head of events at Wonderful Copenhagen, said.

"Every day we experience a growing interest for SUP," Jakob Færch, chairman of the Danish Surf and Rafting Federation, said. "By hosting an event like this on home water we have the chance to promote and further establish the sport as another important branch in a proud Danish watersports tradition."

Bidding process:
Submit Security Deposit: January
Submit Bid Application: End of January/beginning of February
Bid Applications Evaluated by ISA: March
Site Survey By ISA: March/April
Bid Application Approved/Final Decision Made: End of April
Hosting Agreement Signed/Sanction Fee Due: May
Guarantee Deposit Due: June