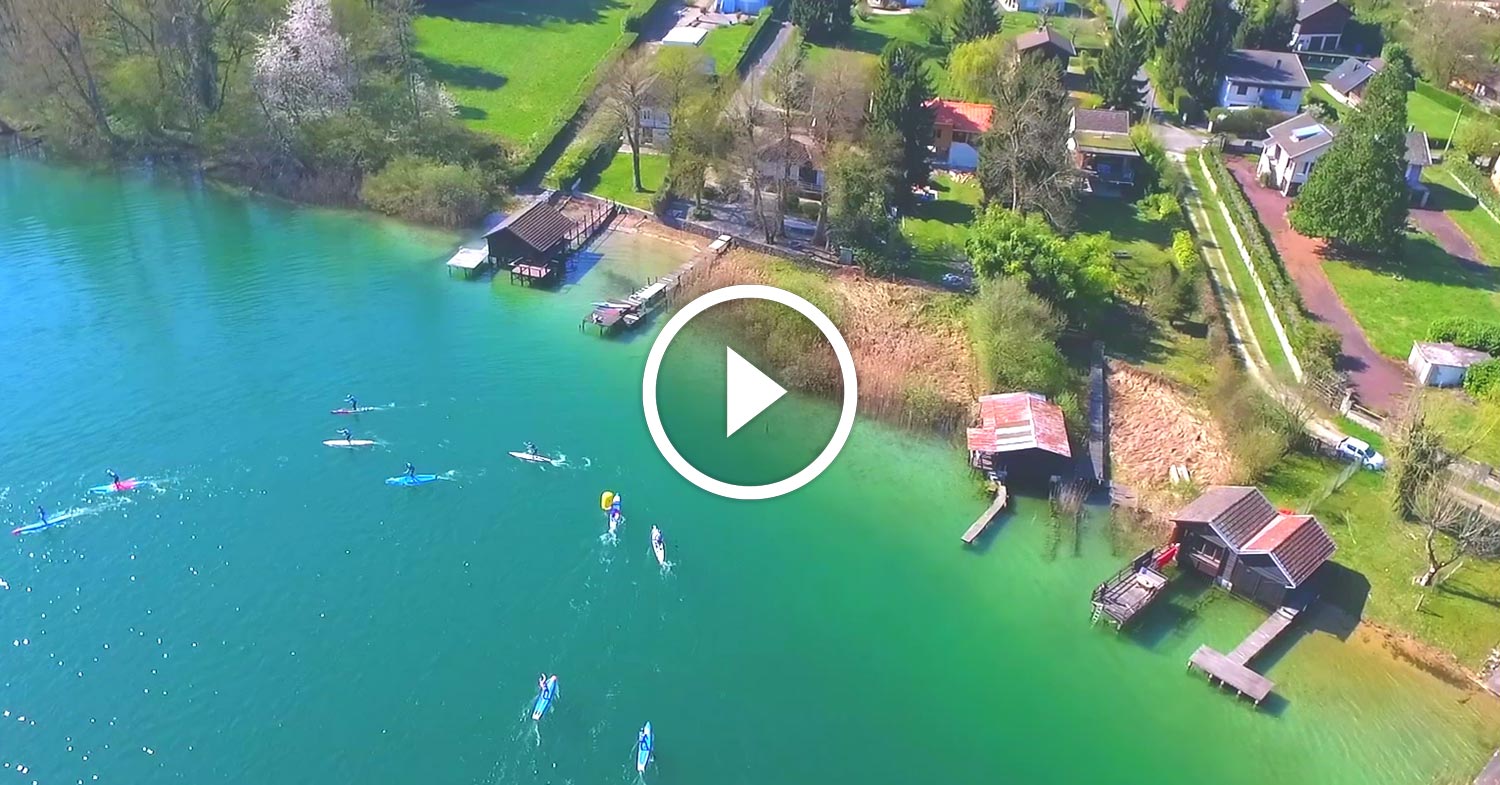 April 11, 2017
by Christopher Parker (@wheresbossman)
Alpine Lakes Tour, Stage 2: The Teulade Brothers Dominate a "Very Flat Race" in France
[notdevice][fbvideo link="https://www.facebook.com/supracerr/videos/1326823737401674/" width="645″ height="363″ onlyvideo="1″][/notdevice][device][fbvideo link="https://www.facebook.com/supracerr/videos/1326823737401674/" width="322″ height="181″ onlyvideo="1″][/device]
Following the massive success of the GlaGla race back in January, the second stage of the 2017 Alpine Lakes Tour took place on the weekend at Lake Aiguebelette (no, I can't pronounce it either) in the French Alps.
Aiguebelette is a famously quiet lake in a nature reserve where the wind hardly blows and motorboats are forbidden, which makes for dead flat water conditions. It's actually famous for its rowing events with the world championships taking place here a couple of years ago.
Considering how calm the water is, the second stage of this year's Tour was appropriately named the 'Very Flat Race'.
The nature reserve has strict regulations, which meant a limit of just 100 competitors for the race. Tickets sold out in three days more than two months ago.
Five races were scheduled for the day, from the main 15km distance race around the lake to a 5km short course, kids races, an elite 'Beach Race' and of course the funnest format in the sport right now: The Red Dragon showdown.
The Teulade Brothers from France were far too strong all day, with Jeremy leading home brother Ludovic in the long course before the results were flipped in the beach race. Peter Tritten from Switzerland rounded out the podium in the marathon, while Italian Lorenzo Marchetti took the third step in the technical event.
On the women's side of the draw, Sigrid Baumgartner from Austria won the long distance, while Lidvina Champendal from Switzerland took out the beach race.
By the looks of things, all competitors enjoyed a fairly magic day in the Alps, with blue sunny skies and not a breath of wind on the lake.
The next stage of the Alpine Lakes Tour will be held on Lake Embrun in the Southern Alps and part of the Outdoor Mix Festival (May 5-10), before the Tour returns to the home of the GlaGla Race, Lake Annecy, on June 11th. Registration for both events is open on the official site, and these races usually all sell out ahead of time so you probably should get on it now.
In the meantime, here are all the podium finishers from the weekend in Aiguebelette…
Men's Long Distance (14′)
1st: Jérémy Teulade (France)
2nd: Ludovic Teulade (France)
3rd: Peter Tritten (Switzerland)
Women's Long Distance
1st: Sigrid Baumgartner (Austria)
2nd: Lidvina Champendal (Switzerland)
3rd: Cécile Jan (France)
Men's Beach Race
1st: Ludovic Teulade (France)
2nd: Jérémy Teulade (France)
3rd: Lorenzo Marchetti (Italy)
Women's Beach Race
1st: Lidvina Champendal (Switzerland)
2nd: Emmanuelle Marcon (France)
3rd: Barbara Grollimund (France)
Men's Long Distance (inflatables)
1st: Wolfgang Guetg (Switzerland)
2nd: Jérémy Laugerat (France)
3rd: Yvan Tacher (France)
Men's Long Distance (12'6 hard boards)
Ugo Clay (France)
Leandro Cruz (Brazil)
Loïc Cros (France)
Junior Long Course
1st: Samuel Carbillet (France)
2nd: Ugo Clay (France)
Women's Short Course (hard boards)
Emmanuelle Marcon (France)
Barbara Grollimund (France)
Banu Roger (Switzerland)
Women's Short Course (inflatables)
1st: Sandrine Genet (France)
2nd: Manuelle Bonhomme (France)
3rd: Emilie Piffeteau (France)
Men's Short Course (hard boards)
1st: Laurent Guyout (France)
2nd: Titouan Ropiot (France)
3rd: Alain Morotti (France)
Men's Short Course (inflatables)
1st: Nabil Laradji (Algeria)
2nd: Bryan Bachelard (France)
3rd: Franck Douard (Switzerland)
Junior Short Course
1st: Titouan Ropiot (France)
2nd: Nicolas Morelle (France)
More info and results on the official site