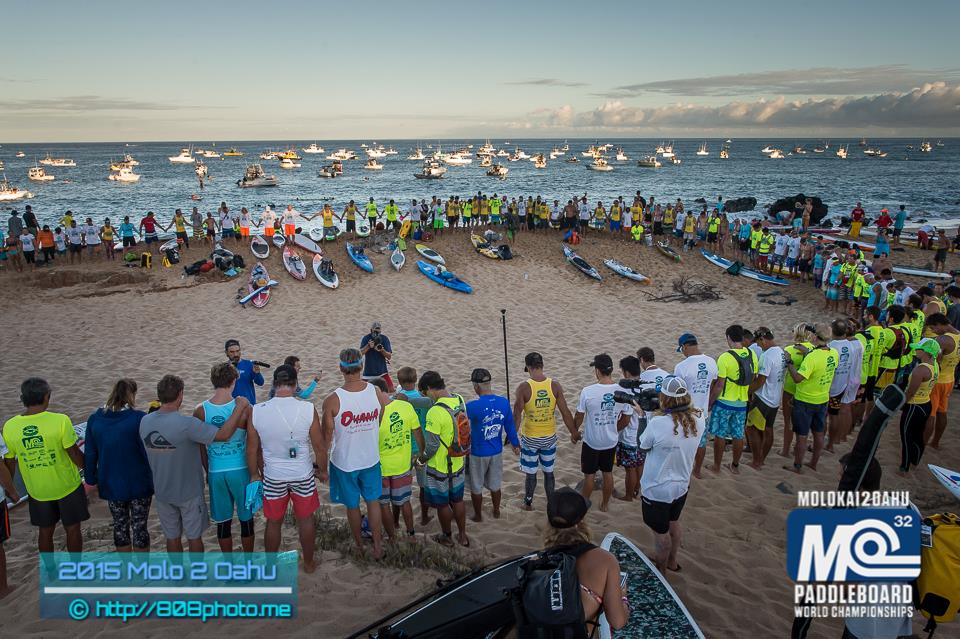 November 5, 2015
by Christopher Parker (@wheresbossman)
Dates Confirmed for 2016 Molokai 2 Oahu Race, Paddleboarding's "Pilgrimage to Mecca"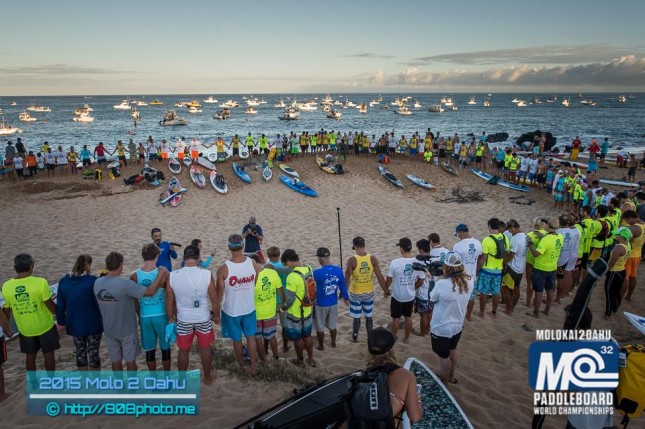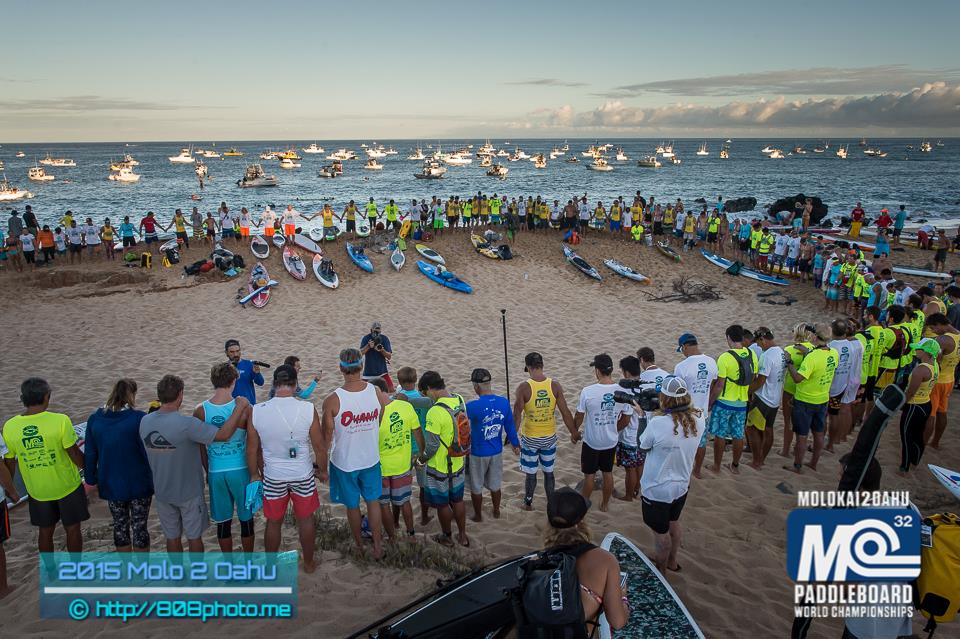 [notdevice] [/notdevice]
The season is winding down and the SUP world has already begun looking towards 2016, so we're currently in the middle of rounding up dates for all of next year's main events. And no date is bigger, or rather, no date is more prestigious than that of the Molokai 2 Oahu Paddleboard World Championships.
The M2O has taken on mythical proportions in recent years. The 32 mile crossing of the Ka'iwi Channel, aka the Channel of Bones, has become one of the pillars of the international racing season, while the winners become instant legends within the community.
Molokai is an incredible event that seems to produce endless stories of heroics and hardships every July. And while the race doesn't necessarily attract quite the same depth of talent as the majors like Carolina or the PPGs, it does attract more interest and attention than any other event. So here are the dates for next year's big dance:

Molokai 2 Oahu 2016: Sunday, 31st July

No real surprise with the dates – that's Molokai's usual end-of-July time slot, and will cap off the traditional "Downwind Month" of races that run through July in Hawaii.
(The dates aren't up on the official site yet but I chatted with organisers directly and got it confirmed.)
The 2016 Molokai 2 Oahu race should be extra special, as next year marks the 20th annual edition of this classic event. Molokai started out as a traditional paddleboard contest in 1997 but has since become equal parts SUP and prone.
[notdevice] [/notdevice]
[notdevice] [/notdevice]
Molokai 2 Oahu 2015 was one for the ages, with brutal conditions creating very slow times and dozens of mid-Channel retirements. Travis Grant famously won this year's main event, the "Solo" division, after a David and Goliath-style battle with Kai Lenny.
There was also a very impressive cameo from third-place finisher Lincoln Dews, as well as vindication for 4th placed finisher Vinnicius Martins, who was, heartbreakingly, forced to retire with a broken rudder in 2014. Travis Baptiste showed once again that he's an absolute freak in the ocean, dominating the stock (14′) division despite a complete lack of wind.
In the women's it was back-to-back titles for the supremely under rated German, Sonni Honscheid, with Annabel Anderson finishing runner-up on a stock board.
While the conditions out in the Ka'iwi Channel were totally flat this year, the finish line was anything but, with a solid south swell hammering Oahu and producing some all-time photos near the finish.
And no photo got more attention than this shot of Travis surfing his brand new Alain Teurquetil-designed unlimited board towards the finish line, where he would claim his second Molokai title in the space of just 24 months.
[notdevice] [/notdevice]
[notdevice] [/notdevice]
When I asked Travis Grant to lend a quote to this story, the two-time champ pretty much summed up what most paddlers think of Molokai:
"I'm not looking forward to it, but I am…"
Molokai is not easy. Not only is the race itself incredibly demanding on both a physical and mental level, but even just getting to the start line is hard work. On top of months of serious training, paddlers have to organise boat crews, figure out how to get a 17 or 18 foot board over to Molokai, find a place to stay the night before the race and so on. And that's if you actually get a ticket into the event.
Two years ago the race sold out in record time, which prompted organisers to introduce a ballot system in 2015. There was far greater demand than supply, so many paddlers unfortunately had to miss out. I asked organisers if the ballot system would remain in place for 2016 and will update the story once I hear back, but I'm quite certain it will be the same deal as this year.
So if Molokai is such a difficult event, why exactly is it so damn popular?
I'll let Travis explain…
"The training and preparation for Molokai is so mentally and physically draining that I'm really not looking forward to it. But as soon as you finish your channel crossing, when you pass the finish line with your arms triumphantly raised above your head, doesn't matter if you finish 1st or 51st, that moment right there makes it all worth it.

Nobody can ever take that moment and that feeling away from you. That feeling is what you're looking forward to before and during the race. And, for me at least, there's simply no other way to get that feeling in the world of stand up paddling. Molokai is something very unique and very special."
In other words: Molokai has become the paddling world's pilgrimage to Mecca. And it's not only the prone and stand up paddleboarders that treat the Ka'iwi Channel with the utmost respect, as it seems almost every ocean paddling sport has its own version of Molokai.
In the world of ocean surf ski, the race between Molokai and Oahu is one of the classics on the calendar, while even more relevant to us in the SUP world are the big Molokai to Oahu outrigger races. The "Molokai Solo" one-man outrigger race is the pinnacle of the sport, while the Molokai Hoe, the uber-prestigious six-man outrigger race held every October, is even bigger.
If you want to be part of this grand event then keep an eye out for the ballot system to open next March. Oh and perhaps start training now, because as Dave Kalama once said: "This isn't the kind of race where you can just wake up and say 'Oh I'm not doing anything this weekend, maybe I'll do the Molokai.'"
So there you go. Sunday 31st July. The mid-year pillar of the SUP racing season is in place, while the rest of the year is starting to lineup as well.
The Carolina Cup (23rd April) and the Pacific Paddle Games (most likely 1st/2nd October) will act as the book-ends, with Molokai the big highlight in the middle. Surrounding that you've got other majors such as the Euro Tour (May-June) and the Gorge (August 20/21), and then the specialty events such as the ISA Worlds and the World Series.
It's going to be another big year.
[notdevice] [/notdevice]