July 30, 2015
by Christopher Parker (@wheresbossman)
The Story Behind Travis Grant's Magic Molokai Board
One of the biggest talking points around Molokai this year was boards. And no board has raised more curiosity than the winning stick of Travis Grant, so I wanted to take a closer look at this "Magic Molokai Board" and find out what makes it so special.
Travis, who is clearly the best paddler in the world right now regardless of what the current World Rankings say, unleashed one of the all-time greatest performances to claim his second Molokai 2 Oahu crown on Sunday.
Molokai is widely regarded as the most prestigious race in the world.
In what can only be described as horrible conditions – a hot day with virtually no wind – Trav broke superstar Kai Lenny to win by 16 minutes. Other contenders such as Connor Baxter didn't even make the finish – the defending champ (and several other elite athletes) had to retire with severe cramps and dehydration – while Danny Ching didn't even make it to the start line of the main solo division.
It was a brutal race but Trav made it look easy.
And while the humble Aussie has one of the smoothest and most efficient styles in the sport – it rarely looks like he's trying even when paddling at 100% – the new board certainly helped make the 32 mile channel crossing easier.
So what exactly was Travis paddling?
[notdevice] [/notdevice]
[notdevice] [/notdevice]
While three-quarters of the field was on the iconic SIC Bullet, the guys at the pointy end were mainly on customs or prototypes.
Kai was paddling a very familiar-looking Billy Robello design (more on that tomorrow), with Connor on his new 17'4 custom that I believe came out of the original SIC factory on Maui.
Meanwhile Danny Ching was supposed to race on a custom 404 unlimited, however he switched out of the competitive solo division and into the team relay at the last minute, perhaps in search of line honours glory. The revelation of this year's race, Lincoln Dews, competed on a borrowed SIC Bullet.
But it was Travis' board that triumphed.
[notdevice] [/notdevice]
[notdevice] [/notdevice]
The board comes from Travis' sponsor NSP, and while it's only a prototype at this stage, it'll become a full production rig in the next few months.
As a side note: NSP can now lay claim to a rather unique title. Travis was the first Molokai winner to cross the line on a board from his actual sponsor. Few brands manufacture unlimiteds, so the vast majority of Molokai competitors hop on an SIC Bullet or a similar custom shape. All previous winners (at least in the men's solo unlimited division) have been competing on a different brand from their primary sponsor. Even when Trav first won Molokai in 2013 he was paddling a Robello custom despite being sponsored by NSP.
This year was the first time Travis has raced from Molokai to Oahu on an NSP. He raced an earlier prototype design at this year's OluKai race, with this great shot from 808photo.me highlighting the board design (this photo is definitely NOT from Molokai… slightly different conditions!).
[notdevice] [/notdevice]
[notdevice] [/notdevice]
The board Trav eventually used in Molokai is 17'10" by 24.5″ and comes in at 350 litres, while I believe the production version will be 17'10" by 26″ @ 372L.
(UPDATE: Both the 24.5″ and 26″ inch wide boards will be in production and available to purchase. So now you can paddle the exact same board Travis Grant used to win Molokai.)
The magic stick was designed by Alain Teurquetil, shaped by Dale Chapman (aka "DC") and produced by NSP.
Alain has collaborated with Travis for many years now. Originally from France, Alain lives in Australia just down the road from Travis' old home on the Gold Coast (Trav has since relocated to Oahu).
Alain computer designs the boards and sends the file to Dale, who then cuts and shapes the boards at NSP's factory in Thailand.
[notdevice] [/notdevice]
[notdevice] [/notdevice]
(Dale was actually on Travis' support boat this year, so he got to see his handy work triumph up close.)
From Thailand, the board is shipped to Hawaii, where Travis rigs up the steering himself using a modified OC-1 system, before christening the board near his home on Oahu.
I've spoken with Alain many times about designing boards for Travis – I actually paddled one of the early Molokai prototypes in Hawaii last year – and got some sense of what drives him.
I believe Alain's sole motivation in designing boards for DC/NSP has been to create a board that would help Travis win Molokai. And now he's done just that.
[notdevice] [/notdevice]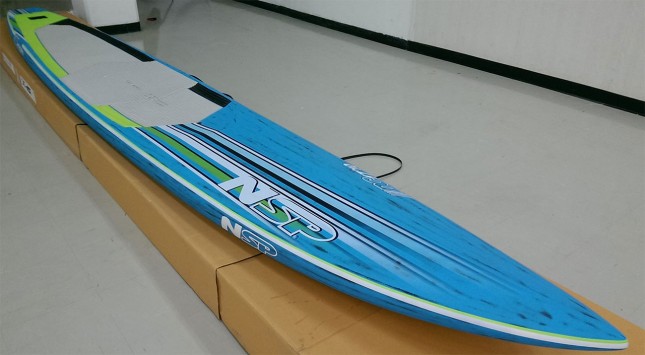 [notdevice] [/notdevice]
Travis was his characteristically-understated self when describing how the board performed on the weekend.
"Performed unreal." Trav began, before going to say that while the conditions sucked, he'd been mentally preparing for a long, flat, hot race and was confident his new NSP board (and signature Quickblade "Trifecta" paddle) would do the job.
"I'd never actually tested this board in flat conditions, but I knew it would work. I can move the steering pedal up and down the deck, so when I saw it would be flat, I moved it forward and that seemed to help."
Alain chipped in by adding "When I saw the flat conditions, I knew Travis would win."
The magic board was designed specifically for Molokai, a race that can throw up any sort of conditions. For that reason, the board has been built to work in both wild ocean downwinders as well as the lighter bumps that we saw on Sunday. The bumps really were tiny in this year's Molokai, bordering on non-existent, however Travis still managed to find and milk runner after runner all the way across the Ka'iwi Channel.
[notdevice] [/notdevice]
[notdevice] [/notdevice]
Beyond the board, Travis also gave me some insights into his race strategy:
"I went out hard at the start. I wanted to break Kai and Connor early. I never race like that but the plan seemed to work. Lincoln was amazing, he went with me all the way to the mid channel mark and was actually leading for a while. Kai was never far behind and made a big surge with around 10 miles to go, but I had some added motivation not to let him catch me this year. In the final hour of the race I really tried to gap him."
He didn't just try, he succeeded. After being just one minute ahead of Kai at the halfway mark, Travis eventually won by 16 minutes.
(The added motivation that Trav alluded to involves the particular board Kai used in this year's crossing. We'll have more on that tomorrow, but let's just say the "Battle of the Boards" was a fascinating sub-plot to what was an already fascinating race.)
In another interesting twist to the race, Trav's support crew – which consisted of his wife Blair and her twin sister Carly, shaper Dale Chapman, and Travis' 9-5 day job boss Tim (yep, Travis had to go in to work on Monday morning) – were blasting music and screaming at Trav for most of the crossing, in order to keep him from drifting out of focus in the lifeless conditions.
The Aussie's support crew was minimal compared with some of his rivals (Kai Lenny, who definitely didn't have to go in to work on Monday morning, had two escort boats, a trainer, nutritionist and camera crew on board), but seemed to carry more spirit and passion than any other boat in the channel. While Travis is a world-beating paddler and his board is clearly a world-beating design, his support crew also deserves huge credit.
[notdevice] [/notdevice]
[notdevice] [/notdevice]
The winning board that Trav used on the weekend is just the second generation NSP unlimited. While some brands go through a dozen different designs to find a winning formula, Alain and Dale's work clearly paid off immediately. This current version dates back to an early prototype Alain designed in February 2014. Originally the board was a 17'4, wider and with less rocker.
Amazingly, given the complexities and cost of testing unlimiteds, Alain says the team have only just started scratching the surface of unlimited board design. The early prototype computer designs were "rushed" and there was little time for ocean testing between each generation. Some of the testing even had to be done on 14 foot prototypes, given the expense of shaping and shipping 17/18 footers.
Now that he's helped DC/NSP create a winning Molokai board, Alain is eager to design something that would suit the more pure downwind conditions of Maui 2 Molokai or the Maliko run.
If you want to see it up close, Travis' winning Molokai board will be on display at the NSP booth during the massive Outdoor Retailer trade show in Utah next week.
Though you'll hardly be the first to see it: The photo I posted up top, the epic shot of Trav surfing the wave towards the finish line, has become the single most-liked photo I've ever posted on both Instagram and Facebook.
Here's another shot from that same sequence, which gives us a nice look at the board's rocker profile:
[notdevice] [/notdevice]
[notdevice] [/notdevice]
With his win on the weekend, Travis Grant is clearly the best paddler in the world right now. The Aussie superstar has won the two most prestigious races of the year so far, the Carolina Cup and Molokai 2 Oahu. He was also undefeated in Europe and finished runner-up to Connor against an all-star field at OluKai (where Connor is unbeatable and it's always a race for second).
Trav's amazing form has actually highlighted a flaw in my own SUP Racer World Rankings, with the "Race Index" algorithm deeming Molokai to be worth far fewer points than it should be. That's something I'll talk more about later this week.
But no matter what the current leaderboard says I don't think there's any doubt: Travis is not only the world's most in-form paddler at the moment, he's now one of the all time greats in our sport, period. Let's not forget Travis has also won the BOP Elite Race, the BOP Distance Race and has a gold medal from the inaugural ISA Worlds to boot. It only adds to his legend that he's one of the nicest and most humble guys off the water as well as on it.
I'll leave you with this before and after: Travis Grant with his winning board on Molokai the night before the race, then at the finish line with his second Molokai crown on his head.
Congratulations champion.
[notdevice] [/notdevice]