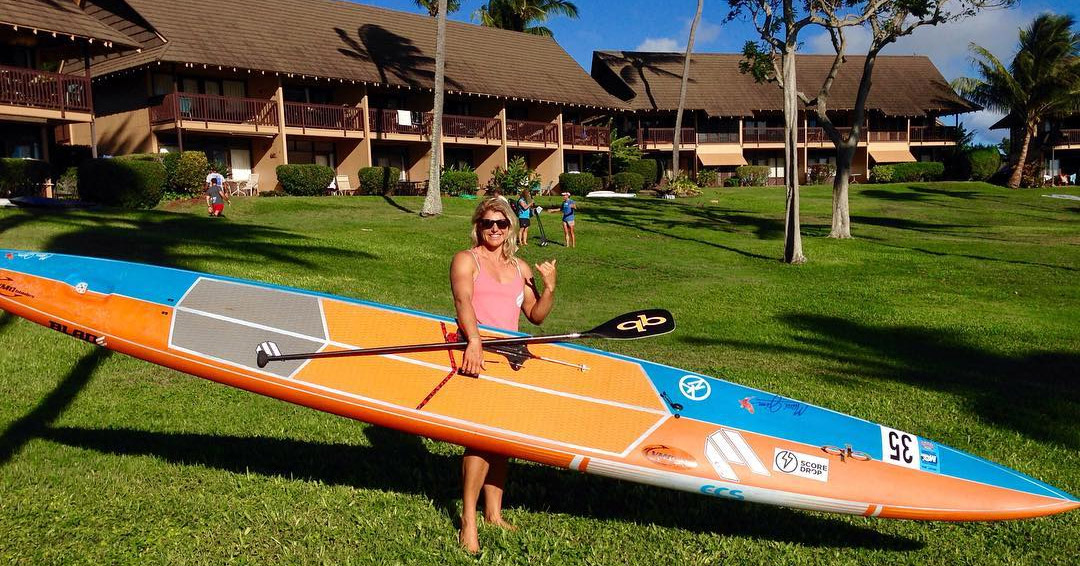 July 30, 2016
by Christopher Parker (@wheresbossman)
#M2O: Pre-Molokai Musings from 43 of the World's Best Paddlers
UPDATE: Kai Lenny WINS Molokai!
MORE >> 2016 Molokai 2 Oahu live results
---
In just a few hours' time, many of the world's best paddlers will gather on the western shores of Molokai for the start of the 20th annual channel crossing over to Oahu.
On the eve of the race, many of the competitors took to Instagram to share some final thoughts. Some offered deep, personal reflections about what this journey means to them, while others simply expressed how stoked they are to be part of this great race.
So to keep you entertained before the live race coverage begins later today, here's a collection of Insta Molokai insights from some of the biggest names in the sport.
The 2016 Molokai-2-Oahu Paddleboard World Championship is shaping up to be a big one — when you've finished browsing through the shots below, be sure to check out our Molokai race preview & predictions in case you missed it yesterday.
Also be sure to follow the official @molokai2oahu for plenty more great preview shots (and live photos from right across the channel). Also keep an eye on @standupmagazin for some mid-channel photos.
The most popular tags are #molokai2oahu and #M2O.
Oh and of course make sure you're always following @supracer…
---
Kelly Margetts, Australia
https://www.instagram.com/p/BIgB69uDvRC/
---
Terrene Black, Australia
https://www.instagram.com/p/BIgsei9DyGy/
---
Sonni Hönscheid, Germany
https://www.instagram.com/p/BIgfpcrALyi/
---
Talia Decoite, Hawaii
https://www.instagram.com/p/BIgEw6tAVkN/
---
James "Jimmy" Casey, Australia
https://www.instagram.com/p/BIhLWzvAAlG/
---
Morgan Hoesterey, USA
https://www.instagram.com/p/BIhJoNpAp-t/
---
Kai Lenny, Hawaii
https://www.instagram.com/p/BIfory2gK6S/
https://www.instagram.com/p/BIf4EdlAgiv/
---
Kody Kerbox, Hawaii
https://www.instagram.com/p/BIbdIc1hFxr/
---
Chuck Patterson, USA
https://www.instagram.com/p/BIfnMK6gy0I/
---
Jamie Mitchell, Australia
https://www.instagram.com/p/BIffmstgre0/
---
Matt Nottage, Australia
https://www.instagram.com/p/BIg8lDMhppW/
---
Vinnicius "Vinni" Martins, Brazil
https://www.instagram.com/p/BIf0fkRAhvy/
---
Mariko Strickland-Lum, Hawaii
https://www.instagram.com/p/BIhETVfBTKq/
---
Andrew Logreco, Hawaii
https://www.instagram.com/p/BIgzyxGAFrN/
---
Kenny Kaneko, Japan
https://www.instagram.com/p/BIgFGlwj-jh/
---
Josh Riccio, Hawaii
https://www.instagram.com/p/BIV6jFbgIT5/
---
Toby Cracknell (aka Jesus), Australia
https://www.instagram.com/p/BIUO3jojweY/
---
Tomoyasu "Tomo" Murabayashi, Japan
https://www.instagram.com/p/BIg86XPhWQa/
---
Armie Armstrong, New Zealand
https://www.instagram.com/p/BIgWtmzAqWO/
---
Harry Lee, Australia
https://www.instagram.com/p/BIhG37ajtT_/
---
Anthony Vela, USA
https://www.instagram.com/p/BIg9whhBRsf/
---
Jonas Letieri, Brazil
https://www.instagram.com/p/BIgIR7eADX8/
https://www.instagram.com/p/BIeP02PBCYc/
---
Noa Hopper, USA
https://www.instagram.com/p/BIgqv3Pj7As/
---
Ryland Hart, USA
https://www.instagram.com/p/BIgder5Dut3/
---
Chuck Glynn, USA
https://www.instagram.com/p/BIaYmArg6Zz/
---
Travis Baptiste, Hawaii
https://www.instagram.com/p/BIg74nThXlH/
---
Danny Ching, USA
https://www.instagram.com/p/BIfp9kkj7E2/
---
Ethan Koopmans, South Africa
https://www.instagram.com/p/BIbvCleg8bo/
---
Sam Thom, New Zealand
https://www.instagram.com/p/BIGh1GIgcLH/
---
Braly Joy, USA
https://www.instagram.com/p/BIhD6kAhwiP/
---
Trent Carter, USA
https://www.instagram.com/p/BIhEV9JAEYF/
---
Annabel Anderson, New Zealand
https://www.instagram.com/p/BIfm_pYBMvQ/
---
Lara Claydon, Hawaii
https://www.instagram.com/p/BIg7PhSh2Fv/
---
Kali'a Alexiou, Hawaii
https://www.instagram.com/p/BIgs2wNDaPS/
---
Will Schmidt, USA
https://www.instagram.com/p/BIdzqYNjNZW/
---
Belar Diaz, Spain
https://www.instagram.com/p/BIg52nlhKh1/
---
Lena Ribeiro, Brazil
https://www.instagram.com/p/BIdoYKugM1M/
---
Lincoln Dews, Australia
https://www.instagram.com/p/BIgLtG8gy32/
---
Jordan Mercer, Australia
https://www.instagram.com/p/BId16pfDRwy/
---
Mick di Betta, Australia
https://www.instagram.com/p/BIglPhtAOxa/
---
Brad Gaul, Australia
https://www.instagram.com/p/BIhD9OgD0kH/
---
Travis Grant, Australia
And while our pick for the overall victory, Travis Grant, is famously apathetic about posting on Instagram, Mike from Stand Up Magazin got this quick little interview on race eve (if you don't get the reference, see Trav's Molokai Facebook post that won the internet yesterday)
https://www.instagram.com/p/BIgzQ_EjPkT/

&bsp;