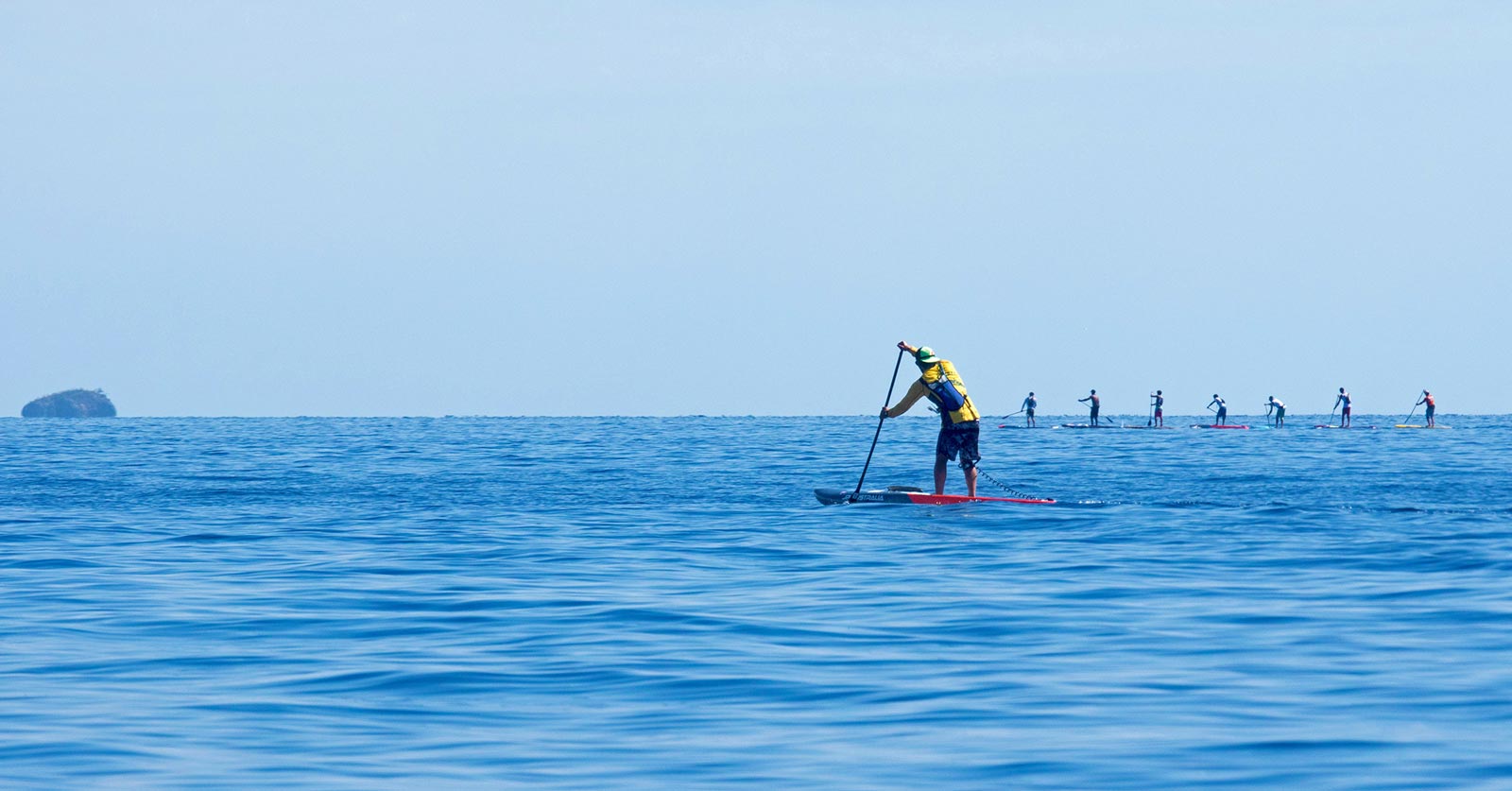 November 16, 2016
by Christopher Parker (@wheresbossman)
Michael Booth Overpowers Titouan Puyo and Star-Studded Field to Claim Marathon Gold for Team Australia in Fiji
https://www.instagram.com/p/BM41TPcDZQ1/
Michael Booth has cemented his reputation as the world's best distance paddler, outlasting France's Titouan Puyo and a star-studded field to win gold for Team Australia in the marathon race here at the Fiji ISA Worlds today.
Boothy helped control the pace in the lead pack along with Titou, Georges Cronsteadt, Kai Lenny and Vinni Martins, before breaking away with roughly 3km left in the 17km course. The race proved to be a grueling affair, with an almost complete lack of wind and sunny blue skies draining paddlers both physically and mentally.
After a messy start at Cloudbreak, where the very strong current whipped up what looked like a cross between downwind bumps and rapids, a pack of seven guys broke away, with the names above being joined by Arthur Arutkin from France and impressive Brazilian youngster Guilherme dos Reis.
https://www.instagram.com/p/BM56sc6jS16/
The magnificent seven stuck together as the course wound past the iconic islands of Tavarua and Namotu, then along the long, flat water stretch towards the finish line at Musket Cove on the Malolo Islands. After having a horror start where he got his leash caught on the first buoy along with Japan's Kaneko, Aussie James Casey rolled the dice and tried to take his own line closer to Namotu but couldn't reel in the leaders.
Boothy tried to break on several occasions but couldn't shake the other contenders before finally breaking the train and paddling clear. Titou tried to go with him but couldn't reel him in, while Arthur and Georges battled for bronze as the Brazilian duo gave desperate chase. Kai faded in the final kilometre after having led the race early, with the superstar commenting post race that it was the flattest/hottest race he's done in a very long time.
Arthur was sitting in the bronze medal position until the final 50 metres, when the ISA webcast boat got way too close to the leaders and created a perfect little wave that Georges couldn't have avoided if he tried, allowing the Tahitian to surf straight past the Frenchman and claim third place (and make me look like Nostradamus on the predictions). There was a protest from Team France but it failed (for some reason) and the result stands.
(UPDATE: The results have been amended; Arthur and Georges now finish equal third, which I think is a fair result considering the screw up by the ISA boat.)
Once again it was Australia, New Zealand and France dominating the team points, with the trio taking a solid lead on the overall teams leaderboard. The Aussies are in the box seat to reclaim their crown, however New Zealand has been particularly impressive and France has a solid all-round team.
---
[notdevice][fbvideo link="https://www.facebook.com/supracerr/videos/1170232693060780/" width="645″ height="363″ onlyvideo="1″][/notdevice][device][fbvideo link="https://www.facebook.com/supracerr/videos/1170232693060780/" width="322″ height="181″ onlyvideo="1″][/device]
---
| # | Athlete | Nation | Time | ISA Points | World Rankings |
| --- | --- | --- | --- | --- | --- |
| 1 | Michael Booth | Australia | 2:00:18 | 1000 | 40.00 |
| 2 | Titouan Puyo | France | 2:00:47 | 860 | 30.00 |
| 3 | Georges Cronsteadt | Tahiti | 2:00:50 | 730 | 24.00 |
| 3 | Arthur Arutkin | France | 2:01:02 | 730 | 24.00 |
| 5 | Vinnicius Martins | Brazil | 2:01:30 | 610 | 17.00 |
| 6 | Guilherme Reis | Brazil | 2:01:33 | 583 | 14.00 |
| 7 | Kai Lenny | Hawaii | 2:02:05 | 555 | 12.00 |
| 8 | Kenny Kaneko | Japan | 2:04:38 | 528 | 10.00 |
| 9 | Marcus Hansen | New Zealand | 2:04:39 | 500 | 9.00 |
| 10 | Zane Schweitzer | Hawaii | 2:05:02 | 488 | 8.00 |
| 11 | Giorgio Gomez | USA | 2:06:56 | 475 | 7.20 |
| 12 | Chuck Glynn | USA | 2:08:13 | 462 | 6.40 |
| 13 | Casper Steinfath | Denmark | 2:08:23 | 450 | 6.00 |
| 14 | James Casey | Australia | 2:09:06 | 438 | 5.60 |
| 15 | Pepe Oltra | Spain | 2:09:30 | 425 | 5.20 |
| 16 | Dylan Frick | South Africa | 2:11:22 | 413 | 4.80 |
| 17 | Itzel Delgado | Peru | 2:14:40 | 400 | 4.40 |
| 18 | Pau Ybarra | Spain | 2:14:42 | 395 | 4.00 |
| 19 | Nico Schenk | Switzerland | 2:14:44 | 390 | 3.60 |
| 20 | Chris Couve | South Africa | 2:15:48 | 385 | 3.20 |
| 21 | Damian Warner | Great Britain | 2:18:11 | 380 | 3.00 |
| 22 | Mike Darbyshire | Canada | 2:19:48 | 375 | 2.80 |
| 23 | Ricardo Avila | Puerto Rico | 2:20:03 | 370 | 2.60 |
| 24 | Pete Kosinski | Ireland | 2:20:19 | 365 | 2.40 |
| 25 | Francisco Giusti | Argentina | 2:20:39 | 360 | 2.20 |
| 26 | Michael Hastie | New Zealand | 2:21:58 | 355 | 2.08 |
| 27 | Jason Bennett | Canada | 2:22:46 | 350 | 1.96 |
| 28 | Andreas Svensson | Sweden | 2:25:55 | 345 | 1.84 |
| 29 | Jorge Quintana | Puerto Rico | 2:27:37 | 340 | 1.72 |
| 30 | Paul Simmons | Great Britain | 2:28:17 | 335 | 1.60 |
| 31 | Sebastian Barbero | Argentina | 2:30:15 | 330 | 1.52 |
| 32 | Sekar Patchai | India | 2:32:03 | 325 | 1.44 |
| 33 | Camilo Marmol | Colombia | 2:35:07 | 320 | 1.36 |
| 34 | Avisai Tibinaliva | Fiji | 2:35:08 | 315 | 1.28 |
| 35 | Johnny O'Hara | Ireland | 2:51:50 | 310 | 1.20 |
| 36 | Niko Waqaliva | Fiji | 3:07:54 | 305 | 1.12 |
| DNF | Raul Delgado | Peru | DNF | 0 | 0.00 |
---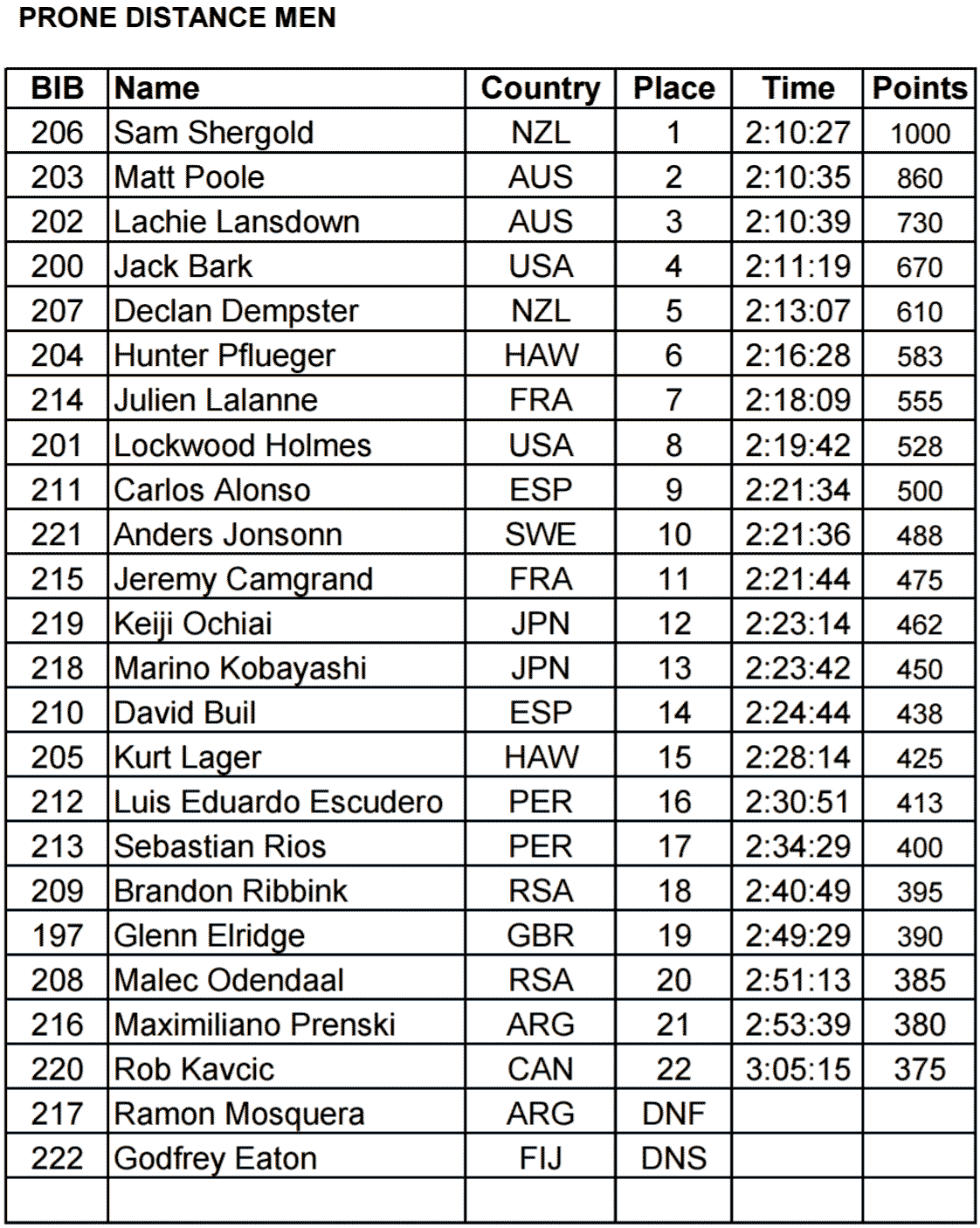 ---
[notdevice][fbvideo link="https://www.facebook.com/supracerr/videos/1169645359786180/" width="645″ height="363″ onlyvideo="1″][/notdevice][device][fbvideo link="https://www.facebook.com/supracerr/videos/1169645359786180/" width="322″ height="181″ onlyvideo="1″][/device]
---