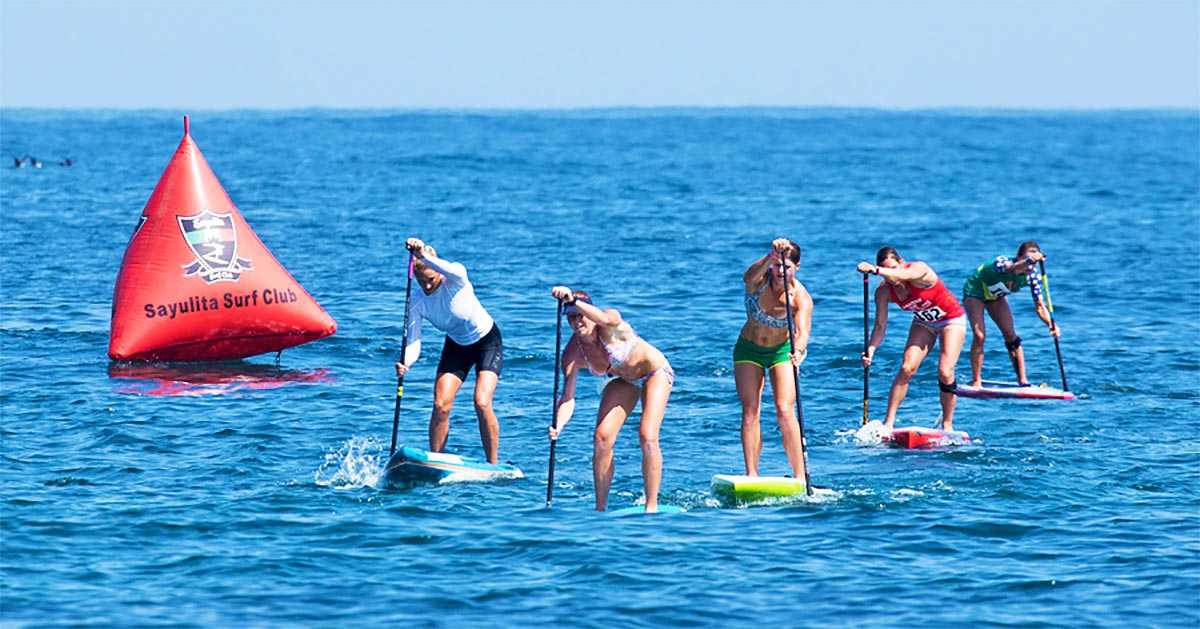 November 14, 2016
by Christopher Parker (@wheresbossman)
Fiji ISA Worlds: Heat Draws for Wednesday's Surf Race at Cloudbreak
It's a lay day here in Fiji today (Tuesday), which means the teams get to have a nice little rest before the opening day of racing kicks off tomorrow.
The action returns on Wednesday with the short course surf racing out at Cloudbreak for both SUP and prone. Thursday it's the men's marathon from Cloudbreak to Musket Cove, Friday it's the women's distance race, then on Sunday we've got the team relay (the finals of the SUP surf contest are on Saturday).
The surf race is going to have an interesting format, at least on the men's side, with 4x qualifying heats of 9 or 10 paddlers and only the top 4 finishers progressing straight into the 16-man final. There are a couple of stacked heats that are going to be cut-throat; one or two big names won't make it through to the final.
Check out the course maps for a closer look, then get your 'Fiji Form Guide' with our predictions for the 2016 ISA Worlds.
Catch the official Fiji LIVE WEBCAST from 8am local time on Wednesday morning (that's 11am California time — click the webcast link for more time zone info).
Note: Both the qualifying rounds and the finals of the surf race will be held Wednesday.
---
MEN'S SURF RACE
– The course is 3x laps of just over 1km each (~3.5km total) at Cloudbreak
– View the Fiji course maps for more
– And check out SUP Racer's 'Fiji Form Guide' for some race predictions
– Total of 39 competitors
– The seeding was based on the overall team standings from the 2015 ISA Worlds. That means some of the top ranked guys have a low seed, which in turn has created a couple of lopsided heats. Athletes are listed in each heat in order of their seed from highest to lowest.
The top 4 finishers from each heat progress straight into the 16-man final; everyone else is eliminated (no second chance round)
Race day update: names in bold have qualified for the final
QUALIFIER 1/4
Slater Trout (USA)
Cormac McCullough (New Zealand)
Chris Couve (South Africa)
Jurgi Zulaika (Spain)
Sebastian Barbero (Argentina)
Ryan Knysh (Canada)
Glenn Eldrige (Great Britain)
Johnny O'Hara (Ireland)
Nico Schenk (Switzerland)
QUALIFIER 2/4
Chuck Glynn (USA)
Marcus Hansen (New Zealand)
Dylan Frick (South Africa)
Pepe Oltra (Spain)
Arthur Arutkin (France)
Mike Darbyshire (Canada)
Damian Warner (Great Britain)
Pete Kosinski (Ireland)
Lesi Navuwai (Fiji)
Camilo Marmol (Colombia)
QUALIFIER 3/4
Lincoln Dews (Australia)
Zane Schweitzer (Hawaii)
Guilherme Reis (Brazil)
Georges Cronsteadt (Tahiti)
Kiko Bustamante (Peru)
Mariano De Cabo (Argentina)
Casper Steinfath (Denmark)
Jon Hjertstrom (Sweden)
Eroni Fotofili (Fiji)
Sekar Patchai (India)
QUALIFIER 4/4
Toby Cracknell (Australia)
Kai Lenny (Hawaii)
Vinicius Martins (Brazil)
Itzel Delgado (Peru)
Titouan Puyo (France)
Kenny Kaneko (Japan)
Andreas Svensson (Sweden)
Joseph Cerdas (Costa Rica)
Sergio Rosa (Puerto Rico)
Luis Lopez (Puerto Rico)
---
WOMEN'S SURF RACE
– Top 8 finishers from each semi go into a 16-woman final
– The course is 3x laps of just over 1km each (~3.5km total) at Cloudbreak
– View the Fiji course maps for more
– And check out SUP Racer's 'Fiji Form Guide' for some race predictions
– Total of 20 competitors
SEMI-FINAL 1
Candice Appleby (USA)
Penelope Armstrong (New Zealand)
Alejandra Brito (Mexico)
Brissa Malaga (Peru)
Olivia Piana (France)
Lina Augaitis (Canada)
Marie Buchannan (Great Britain)
Arieta Lalabalavu (Fiji)
Charlotte Piho (Cook Islands)
Tanvi Jagadish (India)
SEMI-FINAL 2
Karla Gilbert (Australia)
Annie Reickert (Hawaii)
Tarryn King (South Africa)
Laura Quetglas (Spain)
Juliana Gonzalez (Argentina)
Takayo Yokoyama (Japan)
Nicoline Rasmussen (Denmark)
Maya Persson (Sweden)
Nimsay Garcia (Puerto Rico)
Manca Notar (Slovenia)
---
MEN'S PRONE SURF RACE
– Same course as the SUP race
– Top 8 finishers from each semi go into a 16-man final
– Total of 23 competitors
SEMI-FINAL 1
Jack Bark USA
Matt Poole AUS
Hunter Pflueger HAW
Scott Cowdrey NZL
Brandon Ribbink RSA
David Buil SPA
Sebastian Rios PER
Jeremy Camgrand FRA
Maximiliano Prenski ARG
Keiji Ochiai JPN
Rob Kavcic CAN
SEMI-FINAL 2
Lockwood Holmes USA
Lachie Lansdown AUS
Kurt Lager HAW
Nick Malcolm NZL
Malec Odendaal RSA
Carlos Alonso SPA
Luis E. Escudero PER
Julien Lalanne FRA
Ramon Mosquera ARG
Marino Kobayashi JPN
Anders Jonsonn SWE
Godfrey Eaton FIJ
---
WOMEN'S PRONE SURF RACE
– Same course as the SUP race
– Straight up final (no qualifying round)
– Total of 12 competitors
Abby Brown USA
Harriet Brown AUS
Leane Darling HAW
Dannielle McKenzie NZL
Candice Murray RSA
Itzial Abascal SPA
Vania Torres PER
Flora Manciet FRA
Aixa Sanchez ARG
Mao Ito JPN
Alison Wood CAN
Ella Jane Rasau FIJ
---