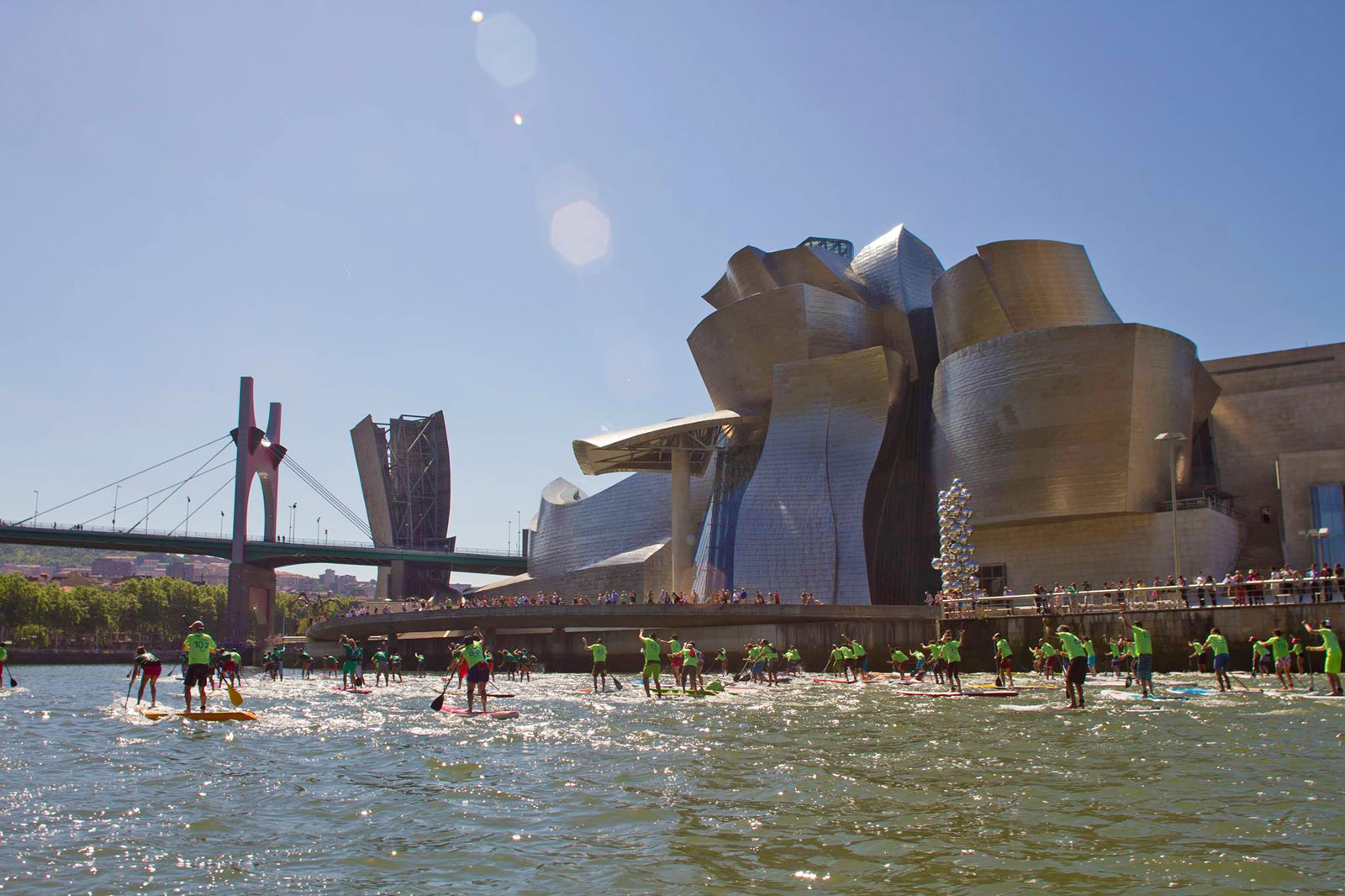 June 3, 2016
by Christopher Parker (@wheresbossman)
EuroTour Week 5: Preview of the Big Race in Bilbao (+ Countdown to the Starboard Live Stream)
The Basque Country: You'll come for the paddling, you'll stay for the pintxos and patxaran.
Welcome to Week 5 of the 2016 EuroTour presented by Starboard, which brings us to the beautiful Basque Country for two big back-to-back weekends of racing. First up is the Iberdrola Bilbao World SUP Challenge, which will see plenty of top ranked international and European athletes – including EuroTour top three Michael Booth, Connor Baxter and Titouan Puyo – battling it out for the Tour's biggest prize purse.
And once again we'll have our Starboard Live Stream presented by VMG Blades to offer you a window into the race on Saturday afternoon.
Then next week we drive half an hour down the road to the awesome seaside town of San Sebastian where the fun and festivities continue. We'll also be in San Sebastian to bring you all the action as it happens, but first let's take a look at what's coming up this weekend at the big race in Bilbao.
Now in its fourth year, Bilbao has established itself as one of the main stops on the European Summer of SUP, always attracting a solid turnout of both international and European elite athletes, along with plenty of weekend warriors and first timers. With just over 24 hours until the race begins, the event has received 200 race registrations from 16 different nations.
With a world class event setup from the BWaters organising team, solid prize money and one of the coolest host cities in the world, the Bilbao World SUP Challenge has become a favourite for many of the athletes. Oh and how about that backdrop? The race begins in front of the iconic Guggenheim Museum, which always makes for some awesome photos (see the shot up top for example).
The main event this year is the long distance race on Saturday, which will hold all of the prize money and all of the points for both the EuroTour Leaderboard and the SUP Racer World Rankings, with the second half of the weekend being a Sunday fun day featuring the awesome Red Paddle Co. inflatable sprint showdown.
(Bilbao is an elite 3-star race this year, meaning it carries a guaranteed minimum of 30% for the World Rankings, though it'll comfortably surpass that score on the men's side — my early calculations peg the event at approximately 38% on the men's Race Index.)
Saturday's distance race is pegged at approximately 14km, a slight increase on last year's 12k'er, and will see competitors wind their way along the river that runs through the heart of Bilbao for approximately 2.5 "laps" that will allow paddlers to pass by the Guggenheim Museum no less than five times.
As always, SUP Racer will be there with our Starboard Live Stream presented by VMG Blades, who are giving you the chance to win an elite race fin if you can pick the winners. The race is schedule to begin at 4:30pm local time on Saturday (there's something about Europe and afternoon racing), and we'll be live on air around 10 minutes before that to bring you a quick preview show before the horn blows.
---
---
Who to look out for? Just some of the top names that will be in Bilbao include:
Connor Baxter, Titouan Puyo, Michael Booth, Mo Freitas, Leo Nika, Jake Jensen, Trevor Tunnington, Beau O'Brian, Arthur Arutkin, the Hasulyo Brothers, Martin Letourneur, Noa Hopper, local hope Roman Frejo, all of the dark horses from Team Italy (Davide Ionico, Martino Rogai, Giordano Capparella)… the list goes on. In the women's race, it looks like EuroTour leader Sonni Honscheid is finally taking a break after winning five races in five weekends, so that opens the door a little more for the likes of Fiona Wylde, Seychelle Hattingh, April Zilg, Kim Barnes and Laura Quetglas.
It'll be a fascinating battle out front, with Bilbao offering a notoriously difficult course for breaking the field (for F1 fans, this is kind of like the Monaco Grand Prix of SUP racing). That means getting a fast start will be critical, so even though it's a 14km race we'll probably see an all-out sprint over the opening 500 metres.
For the remainder of the race, strategy will be key: You need to be sitting right near the front of the train in order to make a move when a rare opportunity arises, but you don't want to be driving the train or you'll be wasting energy for the 500m "sprint" from the final buoy turn to the finish line.
There will be a lot of jockeying, jostling and bumping of rails the whole way — I doubt the pace will really have a chance to settle down too much as there will be a solid 20 odd guys capable of staying in the front pack. I expect to see a fair of bit of "side wash riding" instead of the old single-file draft trains we're accustomed to.
---
Course map for the ~14km elite division – click here to open the full size map
---
I can't wait to see the battle between Connor, Boothy and Titou continue; These guys were top three at both St. Maxime and the Lost Mills, and will no doubt be the favourites on Saturday afternoon.
However Jakey boy may have something to say about that, with the Aussie rediscovering his fine form in Germany. Also particularly impressive last weekend were Leo Nika and Beau O'Brian, while this course will probably favour the fast-starts of Bruno and Daniel Hasulyo. Then you've got the French connection including Martin Letourneur and Arthur Arutkin, who have the talent to do anything, and let's see what California's Noa Hopper can produce after showing glimpses of his very best in Bavaria last weekend.
Should be a great showdown, and we'll try and deliver you a good view of the action with our Starboard Live Stream presented by VMG Blades.
Unlike the "country style" internet we had to rely on in Bavaria, we'll have full strength 4G for you this weekend. And because this is such a tight course, we should be able to run alongside and never be too far away from the paddlers. Or that's the plan anyway — we'll do our best to bring you a front row seat, just don't expect an ESPN style broadcast 😉
See you on Saturday…
[notdevice]
---
Starboard Live Stream presented by VMG Blades
Iberdrola Bilbao World SUP Challenge (EuroTour Week 5)

[tminus t="2016-06-04 04:30:00″ style="hoth" omitweeks="true" /]
[/notdevice]
---
Note: We use "Facebook Live" for our streaming, which means the show will be happening over on our Facebook page, not here on supracer.com. So make sure you're following SUP Racer on Facebook to catch the race this weekend (and all of our other live streams this year).
The Bilbao distance race starts at 4:30pm local time on Saturday. That's 10:30am Saturday on the East Coast USA, 7:30am West Coast USA, and just after midnight Saturday night on the East Coast of Australia (Google "What's the time in Bilbao right now?" to calibrate with your own time zone).
Be sure to tune in and leave a comment on the live stream with your race predictions: If you can correctly predict both the top guy and the top girl, you'll have a chance to score an elite race fin from VMG Blades (get more info about the new VMG Blades predictions contest).