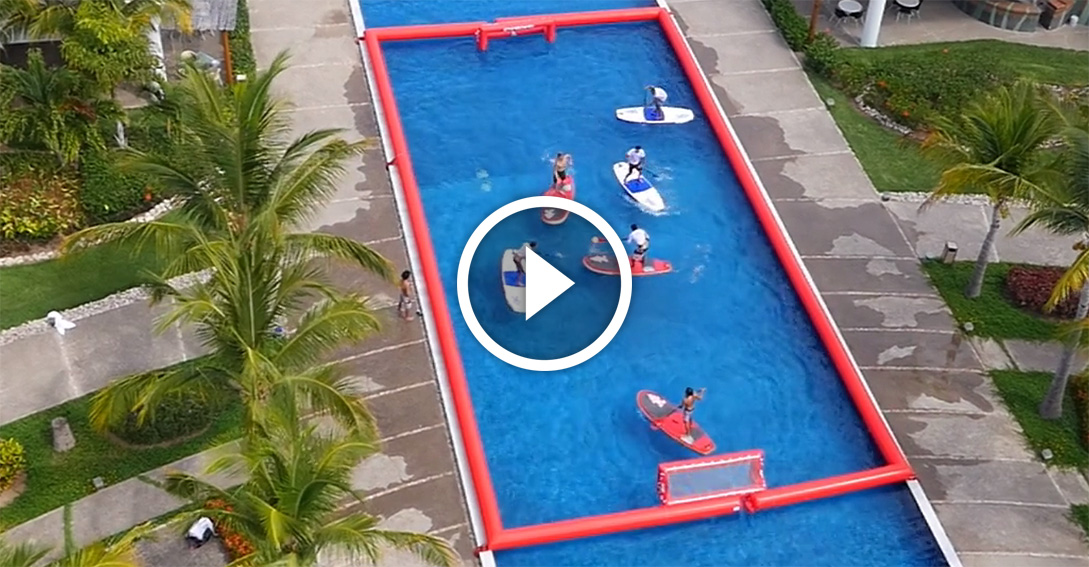 May 9, 2015
by Christopher Parker (@wheresbossman)
SUP Polo World Games Set To Be An Entertaining Sideshow To The ISA Worlds
If you're here in Sayulita for the ISA Worlds then you're invited to compete in one of the most novel/entertaining stand up paddle events of the year: The SUP Polo World Games, Mexico Edition.
For the uninitiated, SUP Polo is one of the whackiest things you can possibly do with a stand up paddleboard. It's also one of the funnest. A cross between water polo and lacrosse, SUP polo games are short, sharp and mildly chaotic affairs. The sport was popularised by Starboard earlier this year, and now the brand is embarking on an international series of "SUP Polo World Games" events.
The Mexico edition is being hosted by the crew from Surf Mexico at the very ritzy La Tranquila Resort in Punta de Mita (10 minutes drive from Sayulita). And with so many of the world's best paddlers in town for the ISA Worlds, we should be in for some pretty hectic competition.
I was lucky enough to get a preview of Stand Up Paddle Polo in Thailand earlier this year, while a few of us snuck in a warm-up at the host resort here in Mexico the other day. Takes you a couple of games to get the hang of it, but once you know what you're doing it's a blast.
The rules of SUP Polo are pretty simple: Teams of three, 2x five minute halves, no using your paddle as a weapon. The games are also fairly intense – you're definitely feeling it by the end of the game (one of the guys described it as "Ice hockey on SUPs" after our practice run).
The Starboard/Surf Mexico SUP Polo World Games are happening May 13th & 14th from 5pm. If you're super eager, there are warm-ups on Monday and Tuesday night as well. Teams are limited to 32 and I've heard there are already about 20 spots filled, with several ISA World Championship competitors already on board.
So if you're here in Sayulita come and join in the fun. And if you're not, I'm sure there'll be some pretty slick video footage coming out after the event (and I'm pretty sure there'll be a lot more of these things happening round the world in the months to come).
Oh and just in case "fun" isn't enough motivation for you, here's the host venue, La Tranquila Resort. Yeah…