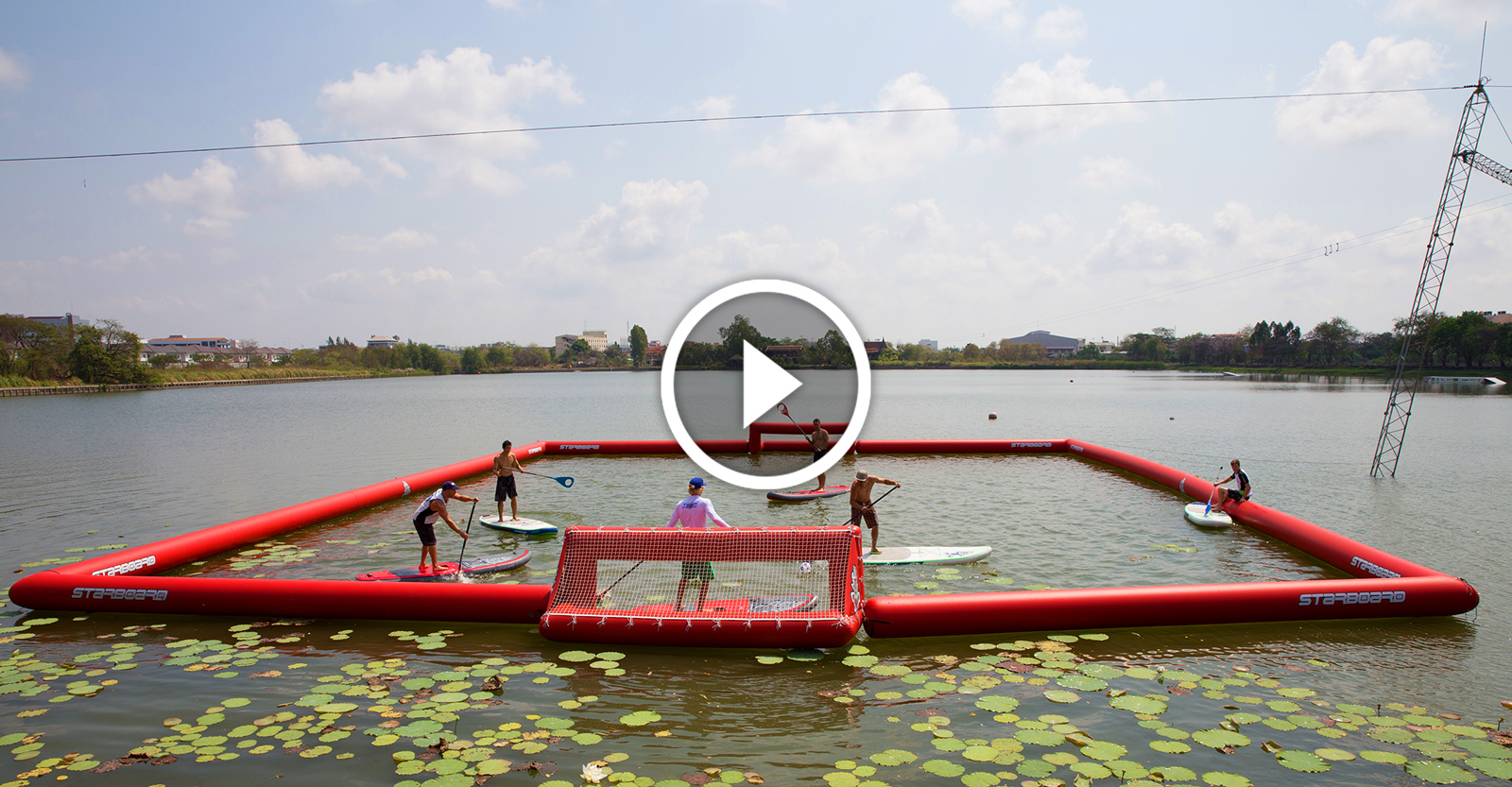 March 5, 2015
by Christopher Parker (@wheresbossman)
Introducing "SUP Polo" From Starboard: Is This The Most Fun You'll Ever Have On A Stand Up Paddle Board?


This may just be the funnest / whackiest / craziest thing to happen to the world of stand up paddling since race boards met waves.
Stand Up Paddle Polo, or just SUP Polo, is a new sport being introduced by Starboard that does exactly what it says: Combines water polo with stand up paddling.
And it's fun. Really, really fun.
SUP Polo is best described as a cross between water polo, lacrosse and a destruction derby, all played out on inflatable boards inside an inflatable field. As you can see from the clip above, the game is short, fast, mildly chaotic and awesomely entertaining.
I was very lucky to be there at the opening two SUP polo tournaments/destruction derbies. First at Costa Brava in Spain last September, where Starboard originally unveiled the game at their annual meeting. Back then we played in a pool with a basic prototype version of the paddle.
Then just last week, when I was in Thailand to visit Starboard HQ along with Connor Baxter, the team unveiled the full kit. The complete package includes the awesome inflatable field & goals along with very special (and as you can see above: very strong) SUP polo paddles. There's even a specialised SUP Polo board design in the works.
You can get the whole set from Starboard and by the sounds of it, quite a few SUP stores/clubs/events have already jumped onto this emerging sport. So I think we can expect to see a lot more of this crazy game in the near future.

In our SUP games we used standard inflatables, however Starboard has actually developed a unique new blow up board to compliment their special paddles. The "Astro SUP Polo" model is 9'5″ by 36″ and has twin tips – i.e. there is no nose or tail so you can paddle in both directions, which will come in very handy with the amount of maneuvering you have to do in this game.
However it's the paddles that really make this game. Developed by a Swiss inventor and licensed to Starboard, they're unlike anything you've ever seen and allow you to control the ball with surprising accuracy. And, despite having a giant hole in the middle, they actually paddle fairly well too.
They'd be horrible in a race, however on the relatively small SUP Polo field – where the farthest you'll ever paddle is a 20m sprint – these blades do the job. We found ourselves constantly switching sides with the blade, sometimes opting to shoot the ball forward and other times doing a backwards flick.
The rules of SUP Polo are pretty simple: The field is 25×20 metres and it's three-a-side. You've gotta use your paddle to get the ball into the net in order to score. You can't handle the ball while you're on your knees or in the water, which is an important point to note because you WILL be in the water during SUP Polo.
The halves are usually around 5 minutes each, which sounds short but will seriously tax your lungs: This game is not only fun, it's also a hell of a good workout. I was puffing hard by the end of our demo match.
The rules on physical contact are kinda vague. Apparently you're not meant to deliberately ram your opponents or use your paddle as a weapon. However those laws went weight straight out the window in our game, which descended into organised chaos fairly quickly. But that's half the reason it's so much fun. SUP Polo is chaotic/crazy/fast. I really think it's one of the funnest things you can do with a stand up paddle board…
So there you go. SUP Polo by Starboard. A new sport* is officially born. Forget Molokai, forget the Battle of the Paddle, forget the Olympics, this is the future of our sport right here 😉
(* Yes, there have been some home style versions of SUP polo floating around for a few years already, however this is definitely the most legit version to date. The Starboard crew have brought it all together into one awesomely fun package.)