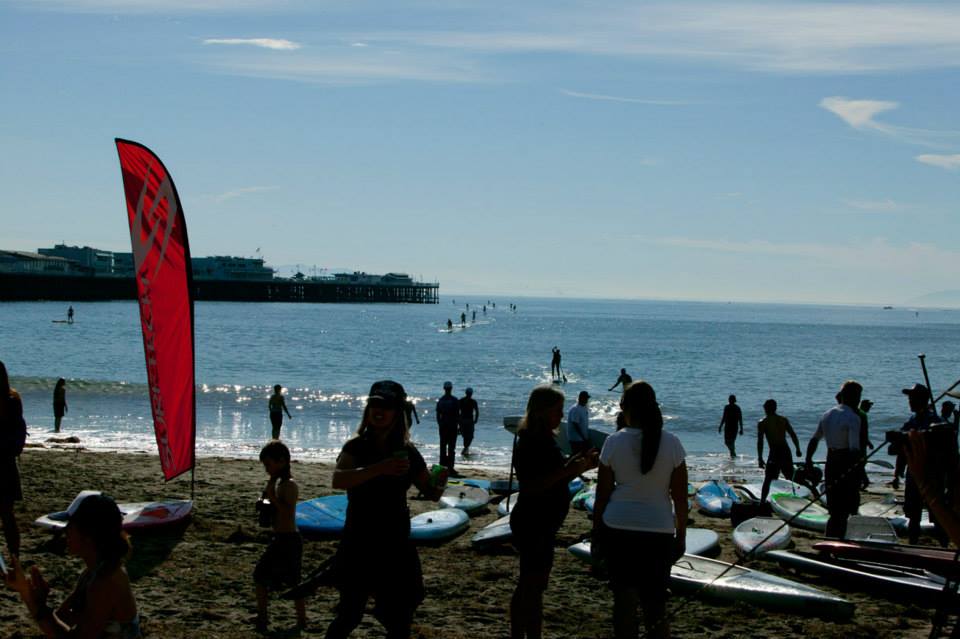 March 16, 2015
by Christopher Parker (@wheresbossman)
Candice Appleby, Mo Freitas Win The Santa Cruz Paddlefest
Mo Freitas and Candice Appleby have been crowned King and Queen of the Santa Cruz Paddlefest after taking out the elite SUP race and also performing strongly in the surfing event.
The 29th Annual Paddlefest was held from Friday to Sunday and mixed SUP racing, SUP surfing and some oldschool kayak surfing as well. Not sure how that all fits but it did look like it was a super fun weekend, and the event featured many of the sport's most recognisable faces.
In the 6.2 mile elite Covewater Surf City SUP Race, it was current world #6 Mo Freitas and women's world #2 Candice Appleby who stole the show. Mo didn't have it all his own way though, coming home just one second ahead of Chuck Glynn after almost an hour of paddling.
Rounding out the top three with a time of one hour flat was rising star Noa Hopper, while surfer-turned-racing-darkhorse Giorgio Gomez and Tucker Ingalls rounded out the top five.
On the women's side it was a vintage performance from Candice, with the sitting BOP Queen finishing two minutes clear of young guns Fiona Wylde and Shae Foudy.
Brennan Rose and Izzi Gomez were ripping in the surfing, taking out the elite shootout ahead of the respective runners-up Dave Boehne and Candice Appleby in what looked to be some nice waves at Steamer Lane.
Anyway SUP the Mag was on the ground covering the event so check them out for a full recap of the action:
– Full results from the SUP races
– Weekend recap + photo gallery
Here are the top finishers…
2015 Santa Cruz Paddlefest SUP Race Results
Women's Long Course
1st: Candice Appleby (1:04:31)
2nd: Fiona Wylde (1:06:03)
3rd: Shae Foudy (1:06:35)
4th: Jen Fuller (1:09:07)
5th: Kristin Thomas (1:10:31)
Men's Elite Long Course
1st: Mo Freitas (0:59:27)
2nd: Chuck Glynn (0:59:28)
3rd: Noa Hopper (1:00:00)
4th: Giorgio Gomez (1:00:59)
5th: Tucker Ingalls (1:01:04)
6th: Keith McConnaughay (1:01:04) [14′]
7th: Brennan Rose (1:01:08)
8th: Mike Tavares (1:01:09) [14′]
9th: Anthony Vela (1:01:44)
10th: Jedd Hasay (1:02:21) [14′]