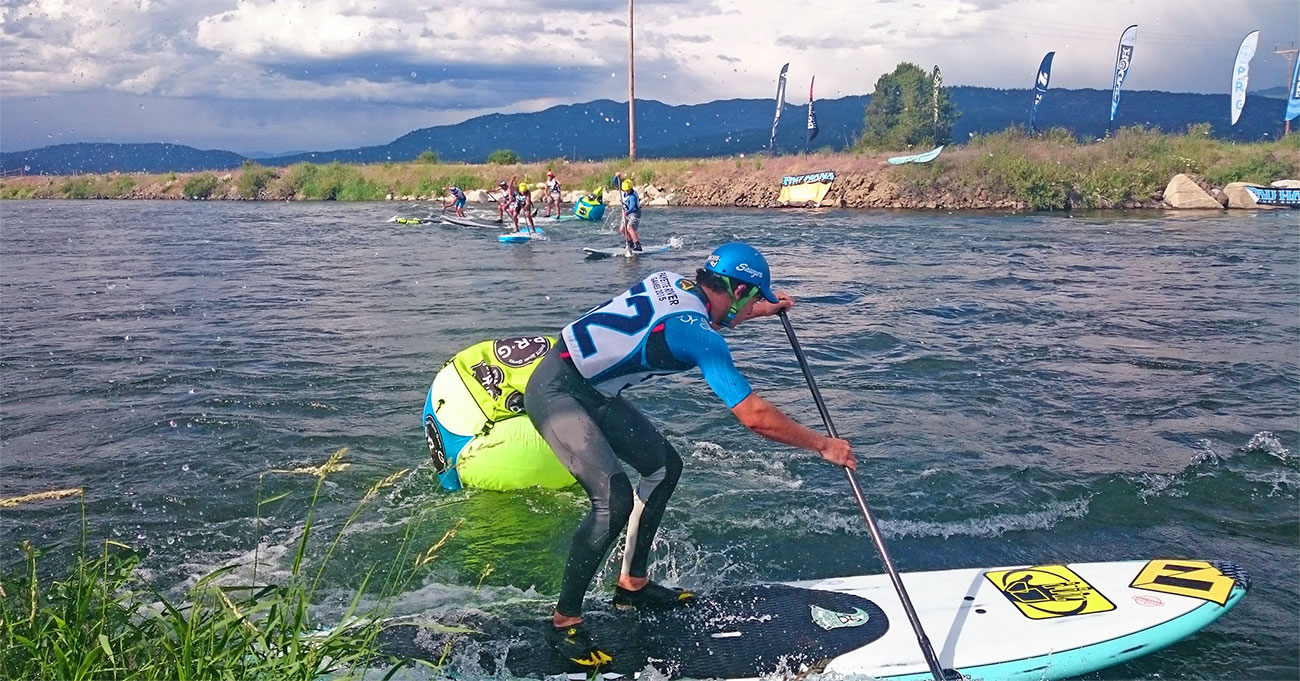 June 21, 2015
by Christopher Parker (@wheresbossman)
Payette River Games: Mo Freitas, Rebecca Giddens Reign Supreme On The River (Updated Results)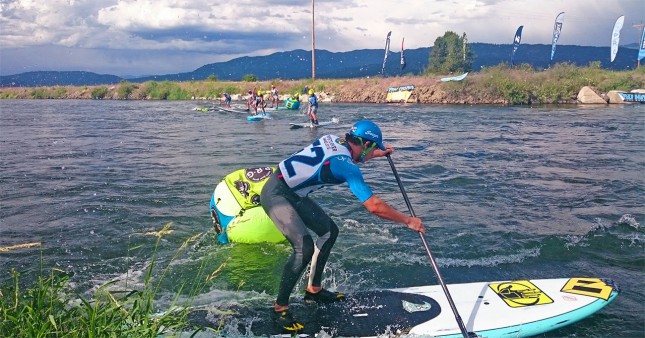 Mo Freitas and Rebecca Giddens have just won the 2015 Payette River Games following a hugely entertaining three days of racing here in Idaho.
In one of the best all round performances we've ever seen, Mo made it a clean sweep by claiming both the super technical "SUPer G" time trial and the mildly chaotic SUP Cross event. Giddens, a former Olympian and mother of two, matched this extraordinary result by sweeping the women's events.
Full results below. Recap/photos/videos to follow.
---
RESULTS: 2015 Payette River Games
Overall Event Standings
(Combined points from the SUP Cross and SUPer G events)
Men's Champion: Mo Freitas (40 points)
Runner-up: Dane Jackson (33)
3rd: Zane Schweitzer (31)
Women's Champion: Rebecca Giddens (40 points)
Runner-up: Fiona Wylde (37)
3rd: Izzi Gomez (34)
| # | Name | Event Points | World Ranking Points |
| --- | --- | --- | --- |
| 1 | Mo Freitas | 40 | 22.00 |
| 2 | Dane Jackson | 33 | 16.50 |
| 3 | Zane Schweitzer | 31 | 13.20 |
| 4 | Sean Poynter | 31 | 11.00 |
| 5 | Eric Giddens | 29 | 9.35 |
| 6 | Slater Trout | 29 | 7.70 |
| 7 | Bernd Roediger | 27 | 6.60 |
| 8 | Masayku Takahata | 26 | 5.50 |
| 9 | Toby Cracknell | 25 | 4.95 |
| 10 | Fernando Stalla | 24 | 4.40 |
| 10 | Giorgio Gomez | 24 | 4.40 |
| 12 | Noa Ginella | 17 | 3.52 |
| 13 | Mike Tavares | 16 | 3.30 |
| 14 | Spencer Lacy | 16 | 3.08 |
| 15 | Luke Hopkins | 13 | 2.86 |
| 16 | Chuck Glynn | 12 | 2.64 |
| 17 | Mike Harvey | 7 | 2.42 |
| 18 | Bradley Hilton | 5 | 2.20 |
| 19 | Kelly Margetts | 4 | 1.98 |
| 20 | Peter Bartl | 4 | 1.76 |
| 21 | Gaetan Sene | 3 | 1.65 |
| 22 | Noa Hopper | 2 | 1.54 |
| 23 | Chris Cragtmans | 2 | 1.43 |
| 24 | Ryan Helm | 1 | 1.32 |
| 25 | Brennan Rose | 1 | 1.21 |
| 26 | Chase Kosterlitz | 0 | 1.14 |
| 27 | Charlie Cindric | 0 | 1.08 |
| 28 | Anthony Vela | 0 | 1.01 |
| 29 | Josh Riccio | 0 | 0.95 |
| 30 | Dave Boehne | 0 | 0.88 |
| 31 | Bodhi Harrison | 0 | 0.84 |
| 32 | Miles Harvey | 0 | 0.79 |
| 33 | Jaramie Vaine | 0 | 0.75 |
| 34 | Brice Barnes | 0 | 0.70 |
| 35 | Chuck Patterson | 0 | 0.66 |
| 36 | John Pearce | 0 | 0.62 |
| 37 | Peyton Banks | 0 | 0.57 |
| 38 | MacRae Wylde | 0 | 0.53 |
| 39 | Jon Burak | 0 | 0.48 |
| 40 | Adam Cumming | 0 | 0.44 |
| 41 | Chris Cindric | 0 | 0.42 |
| 42 | Brett Saguid | 0 | 0.40 |
| 43 | Todd Caranto | 0 | 0.37 |
| 44 | Matt Gagen | 0 | 0.35 |
| 45 | Christopher Parker | 0 | 0.33 |
| 46 | Mike Grant | 0 | 0.31 |
| 47 | Belar Diaz | 0 | 0.29 |
| 48 | Abraham Wilson | 0 | 0.26 |
| 49 | Matt Chebatoris | 0 | 0.24 |
| 50 | Jonas Lettieri | 0 | 0.22 |
| # | Name | Event Points | World Ranking Points |
| --- | --- | --- | --- |
| 1 | Rebecca Giddens | 40 | 41.00 |
| 2 | Fiona Wylde | 37 | 30.75 |
| 3 | Izzi Gomez | 34 | 24.60 |
| 4 | Annabel Anderson | 32 | 20.50 |
| 5 | Sage Donnelly | 32 | 17.43 |
| 6 | Candice Appleby | 28 | 14.35 |
| 7 | Mariko Strickland Lum | 27 | 12.30 |
| 8 | Shakira Westdorp | 25 | 10.25 |
| 9 | Haley Mills | 24 | 9.23 |
| 10 | April Zilg | 22 | 8.20 |
| 11 | Natali Zollinger | 20 | 7.38 |
| 12 | Hannah Hill | 20 | 6.56 |
| 13 | Nadia Almuti | 17 | 6.15 |
| 14 | Anna Fischer | 13 | 5.74 |
| 15 | Jenny MacArthur | 13 | 5.33 |
| 16 | Lina Augaitis | 9 | 4.92 |
| 17 | Brittany Parker | 9 | 4.51 |
| 18 | Nikki Gregg | 8 | 4.10 |
| 19 | Sonni Honscheid | 7 | 3.69 |
| 20 | Evelyn Trosin | 2 | 3.28 |
(* tied points were split based on Friday's SUPer G times, except equal 10th which was left as a straight up tie)
---
MEN'S SUP CROSS
(1st place = 20 points, 2nd place = 19 points, 20th place = 1 point)
1st: Mo Freitas
2nd: Dane Jackson
3rd: Fernando Stalla
4th: Bernd Roediger
5th: Eric Giddens
6th: Sean Poynter
7th: Toby Cracknell
8th: Masayuki "Yacu" Takahata
9th: Zane Schweitzer
10th: Slater Trout
11th: Luke Hopkins
12th: Giorgio Gomez
13th: Spencer Lacy
14th: Mike Harvey
15th: Mike Tavares
16th: Chuck Glynn
17th: Peter Bartl
18th: Gaetan Sene
19th: Noa Hopper
20th: Brennan Rose
WOMEN'S SUP CROSS
(1st place = 20 points, 2nd place = 19 points, 20th place = 1 point)
1st: Rebecca Giddens
2nd: Sage Donnelly
3rd: Fiona Wylde
4th: Annabel Anderson
5th: Izzi Gomez
6th: Nadia Almuti
7th: Haley Mills
8th: Mariko Strickland Lum
9th: Candice Appleby
10th: Hannah Hill
11th: April Zilg
12th: Natali Zollinger
13th: Shakira Westdorp
14th: Jenny MacArthur
15th: Nikki Gregg
16th: Anna Fischer
17th: Brittany Parker
18th: Sonni Honscheid
19th: Lina Augaitis
20th: Evelyn Trosin
MEN'S SUPER G FINAL
(1st place = 20 points, 2nd place = 19 points, 20th place = 1 point)
# / Name / Best Time
1 Mo Freitas 02:50.01
2 Zane Schweitzer 02:53.13
3 Slater Trout 02:54.41
4 Noa Ginella 02:55.56
5 Sean Poynter 03:04.01
6 Giorgio Gomez 03:06.19
7 Dane Jackson 03:07.13
8 Masayuki 'Yacu' Takahata 03:07.61
9 Eric Giddens 03:07.61
10 Toby Cracknell 03:08.28
11 Michael Tavares 03:09.14
12 Bernd Roediger 03:09.17
13 Spencer Lacy 03:09.57
14 Chuck Glynn 03:11.57
15 Fernando Stalla 03:13.61
16 Bradley Hilton 03:15.54
17 Kelly Margetts 03:20.25
18 Luke Hopkins 03:26.04
19 Chris Cragtmans 03:34.61
20 Ryan Helm 03:37.43
Note: Top 20 raced on Sunday, Top 43 raced Saturday, entire field raced on Friday
WOMEN'S SUPER G TOP 20
(1st place = 20 points, 2nd place = 19 points, 20th place = 1 point)
# / Name / Best Time
1 Rebecca Giddens 03:32.25
2 Fiona Wylde 03:44.22
3 Izzi Gomez 03:53.12
4 Shakira Westdorp 03:57.23
5 Candice Appleby 04:00.30
6 Annabel Anderson 04:07.19
7 Mariko Strickland Lum 04:16.08
8 Sage Donnelly 04:16.65
9 April Zilg 04:20.89
10 Natali Zollinger 04:49.43
11th: Haley Mills
12th: Hannah Hill
13th: Anna Fischer
14th: Lina Augaitis
15th: Jenny MacArthur
16th: Brittany Parker
17th: Sonni Honscheid
18th: Nikki Gregg
19th: Nadia Almuti
20th: Evelyn Trosin
Note: Top 10 raced on Sunday, Top 15 raced Saturday, entire field raced on Friday