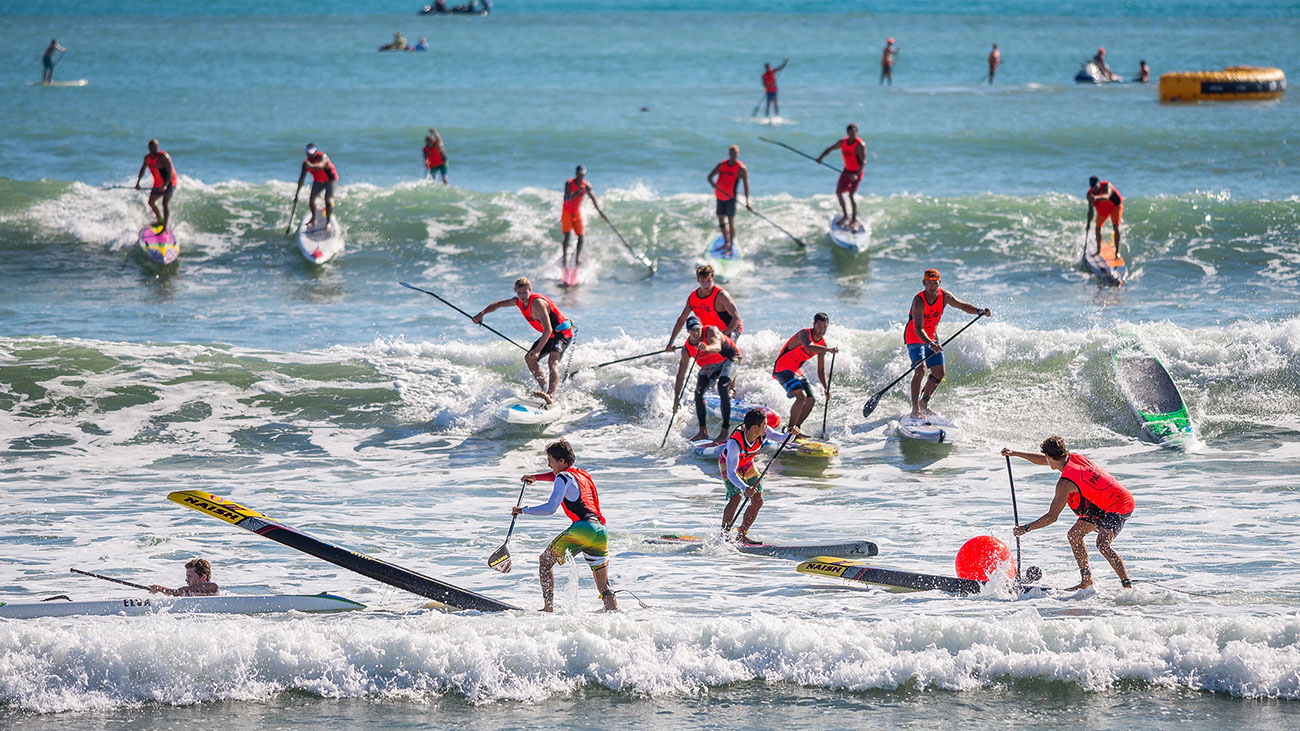 October 11, 2015
by Christopher Parker (@wheresbossman)
Connor Baxter, Candice Appleby Win the Pacific Paddle Games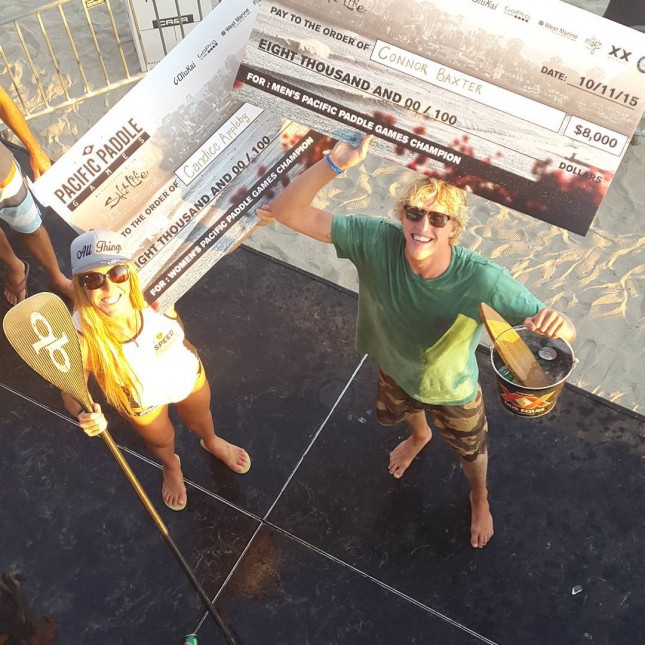 Connor Baxter and Candice Appleby have won the inaugural Pacific Paddle Games at Doheny State Beach in Dana Point, California.
After an amazing weekend of racing, Connor just edged past Casper Steinfath for the overall win, with a heroic Mo Freitas in third after he blitzed it in the course race final. Meanwhile Candice made it a clean sweep of the women's ahead of Annabel Anderson and Fiona Wylde.
---
---
Early on Sunday it was a five way battle in the women's distance race, with Candice, Annabel, Fiona, Angie Jackson and Shae Foudy on the same train and in a race of their own for much of the five miles. The order stayed that way until the final 50 metres, when a wave totally changed up the order in the dying seconds. Candice held on for the win but Annabel slipped to 4th, with Angie sneaking through for 2nd, Shae 3rd and Fiona settling for 5th.
The win gave Candice a big edge going in to the final, where she only needed to finish top three to deny Annabel the overall win. But Candice didn't play it safe, charging back from a mediocre start to first reel in Annabel, and then gap the world number one over the dying stages to make it two from two. The double victory gave Candice a perfect score of 2,000 points on the overall leaderboard, handing her the $8,000 check and title of inaugural Pacific Paddle Games champion.
Annabel had looked super strong all weekend but a combination of bad luck and a few mistakes at critical times cost her in both the distance and course races. The Kiwi's preparation wasn't helped by America's strict visa rules, which only allowed her to fly in 48 hours before the race.
But you can't take anything away from Candice, who has been in career best form this year and has now taken out the most competitive race of 2015. After reclaiming her BOP title last year at Salt Creek, Candice is now the Queen of Doheny as well, putting a massive stamp on the end of a very fine season. It's also a massive result for the small but highly elite Infinity team, which is, rather symbolically, located just half a mile from Doheny.
Young gun Fiona Wylde was consistent all weekend to finish third overall, while young Shae Foudy firmly announced herself as a future star, finishing fourth overall ahead of incredibly strong ladies such as Terrene Black, Angie Jackson and Sonni Honscheid.
---
---
The men's distance race was absolutely hectic. Titouan Puyo looked good but an early fall cost him dearly. Travis Grant, Danny Ching and Aussie dark horse Michael Booth were setting a mean pace, with the top pack eventually whittled down to a dozen as they approached the final buoy for a sprint to the beach.
Just as with the women, the men's race was punctuated by a set of waves that mixed up the order. Connor, who had played it smart and sat 6th or 7th the whole race, got on to the first wave with Danny and beat the 404 front man in the sprint up the beach. Casper followed a similar route as Connor, sitting inside the top 10 before pouncing at the death to claim 3rd ahead of Jake Jensen, Travis Grant and Arthur Arutkin.
Many favourites for the overall crown finished well down the order, including Kai Lenny who faded to 17th, Kelly Margetts in 20th and Lincoln Dews in a very uncharacteristic 33rd place.
(Kai's weekend didn't get much better in the course race final in the afternoon: After looking one of the prime contenders all weekend, he was unlucky to get caught up in the carnage at the mini hammer buoy. He then made matters worse for himself by getting penalised one minute for unsportsmanlike conduct, which bumped him out of the overall top 10.)
After the draining distance race, next up it was the men's surf race semi-finals, with most of the big names going through to the 30-man final, though notable absentees included Jake Jensen and Slater Trout who narrowly missed a qualification spot.
---
---
With Jake out of the final and out of contention, the overall title became a contest between Connor, Danny, Casper and Travis.
And then it was the final…
After an amazing two days of racing we didn't think the amp could be turned up any higher, but someone found the button that turned it up to 11.
Mo Freitas and Titouan Puyo got out early and rounded the inside buoy on the first lap side-by-side, but on the very next wave we saw something rather historic that changed the entire weekend: There were 23 guys surfing the one wave, all headed towards the tiniest little turning buoy on the course.
It was mayhem.
Several of the top guys, including Kai, Danny and Connor, got pushed back into the middle packs as carnage and chaos swept the course. Titou was unlucky to get held up in the destruction, but Mo managed to escape and pull well clear.
I cannot wait to see photos of that wave. It was all time.
With a slight lead, Mo never looked back, pulling ahead at every buoy turn and making his own luck to score wave after wave at the right times. It was a monumental performance from the youngster, and after just 29 minutes he was crossing the line to claim one of the greatest wins we've ever seen in the sport.
To highlight just how incredible Mo's performance was: He was ore than one and a half minutes clear of the runner-up. Considering this weekend had attracted virtually every single one of the world's top paddlers, that kind of dominance is absolutely unheard of.
Mo's heroics were somewhat matched by Connor, who stormed back from 15th place to finish on the same wave as the guys battling for positions 2nd through 6th. Connor eventually took 4th after a photo finish sprint up the beach that was won by Casper Steinfath, with Kody Kerbox 3rd, Travis Grant 5th and Zane Schweitzer, who had been in second at one point of the race, took 6th. Another early contender in the race was Chuck Glynn, who sat in a clear second in the opening half of the race but got caught by the pack and eventually settled for 7th.
That string of results produced an amazing finish on the overall leaderboard, with Connor taking a win by the narrowest of margins over Casper, while Mo was 3rd, Travis 4th and Danny, who had a hapless surf race final that included getting stuck on one of the buoys, ended up 5th overall.
The points were so close between Connor and Casper that neither knew who had one, and although the Maui boy eventually got the win, Casper's performance this weekend shows the Danish Viking belongs on the very top tier of our sport.
I was also very impressed by Titouan Puyo, who put himself in a position to win both races but made a couple of little mistakes at critical times that sent him tumbling out of the overall top 10. Make no mistake though, this guy will be the best paddler in the world in another couple of years.
---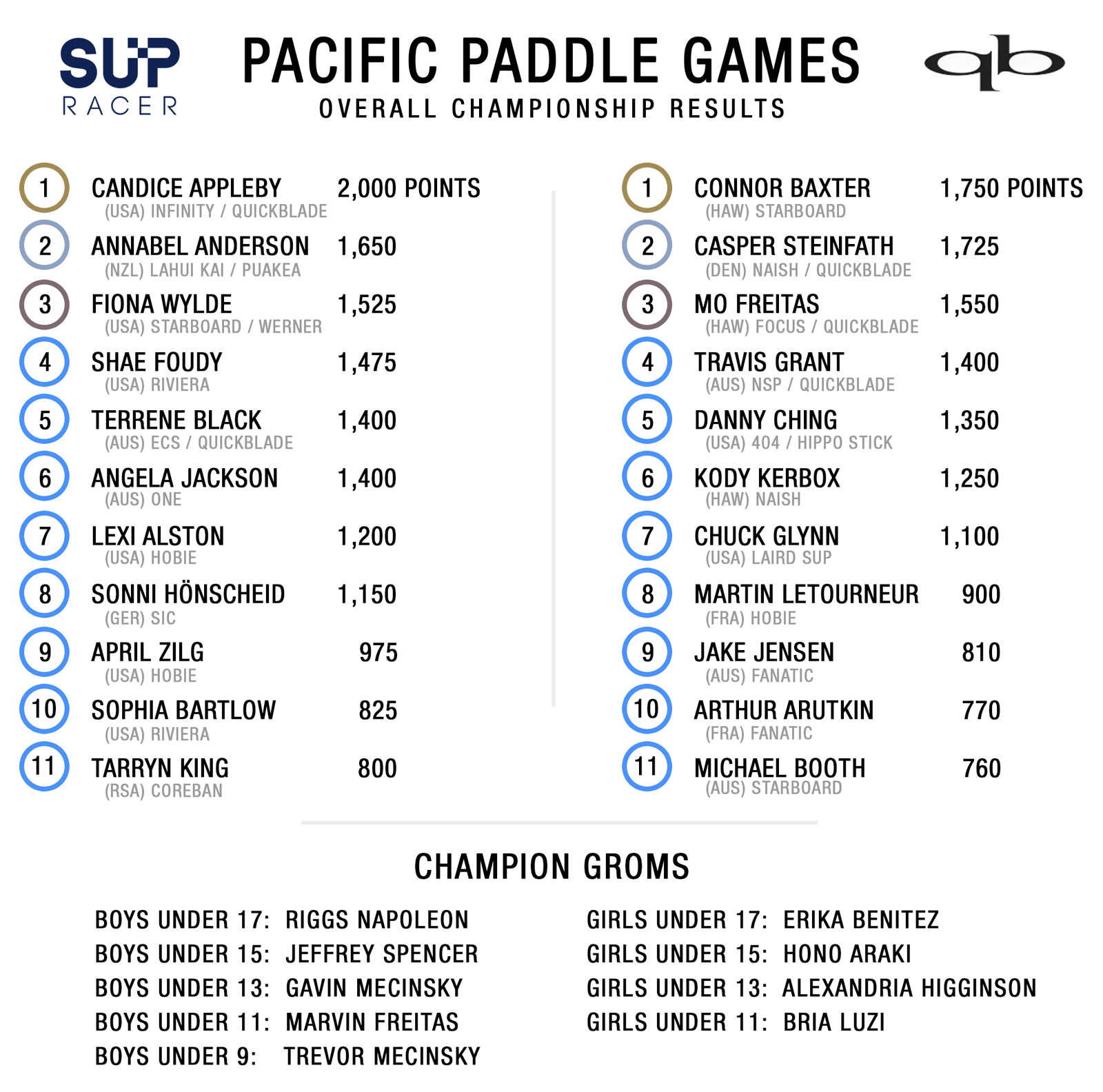 ---
We'll have full results and photos shortly, in the meantime here are the top 10 overall. You can also scroll down to relive our live coverage. Oh and here's a replay of Sunday's webcast. Hoped you enjoyed the show as much as we did in the booth.
Special mention to the amazing kids that showed their skills this weekend. Young Shae Foudy and Lexi Alston starred in the top 10 of the uber-strong women's field, while dozens of future champions gave us an amazing show in the Junior and Grom Races yesterday. Those waves were absolutely macking on Saturday, yet all of those boys and girls, some as young as eight-years-old, were absolutely charging.
Big shout out to Beau Hodge and Pat Parnell for holding down the booth, as well as Chuck Patterson and Jamie Mitchell for providing us plenty of colour and flair. And thank you to webcast producer Jody Nelson for making it look so good.
Massive thanks to Quickblade Paddles for presenting our coverage of the event, as well as all the sponsors, including the headliner Salt Life, who put up the bucks to make this big weekend possible.
Finally, thanks to the organisers and officials for pulling off an amazing event that will surely help elevate our sport. It wasn't perfect – there were plenty of loose ends that definitely need to be tied up before next year – but surely that was the best event our young sport has ever had.
---
[notdevice]
Please enable Javascript to watch this video
[/notdevice][device]
Please enable Javascript to watch this video
[/device]
---
UPDATE: Full results have just been posted…
– 2015 Pacific Paddle Games Results