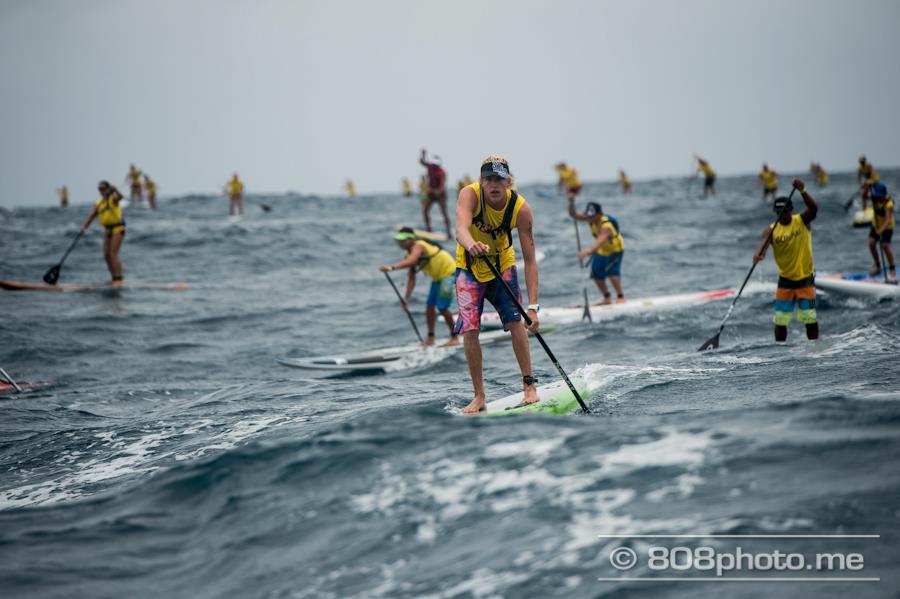 April 30, 2015
by Christopher Parker (@wheresbossman)
OluKai Preview: Will Andrea Make It Seven Straight? And Can Anyone Catch Connor?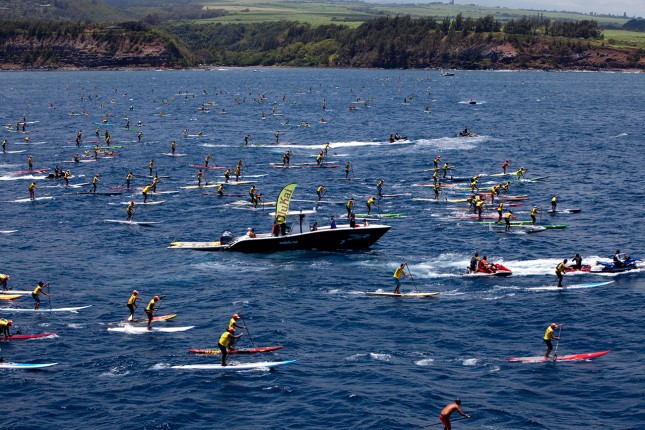 We're still coming down from the high that was Carolina, however there's no rest for the world's best as we move straight into the next big race of the season.
A solid group of stand up paddling's top guys and girls have descended on Maui this week, where in 48 hours they'll be hitting the famous Maliko downwind run for the 7th annual OluKai Ho'olaule'a.
The OluKai race is one of those classic big standalone events, which attracts dozens of the world's best alongside hundreds of weekend warriors in a true celebration of the sport. In fact the name means just that: Ho'olaule'a is Hawaiian for celebration or festival.
Since the inaugural edition way back in 2009, OluKai has become one of the biggest, best and longest-running SUP races in the world. The 8-mile race starts at the iconic Maliko gulch and heads down the coast, past the iconic Ho'okipa and on to the finish line at Kanaha Beach Park.
This year it looks like paddlers will have great conditions on race day. The wind has been firing all week – just look at this Insty shot from Paul Jackson yesterday – and is currently forecast to be blowing in the right direction, albeit a few knots lighter, on Saturday morning. There may even be a bit of storm swell leftover on the weekend, which could switch up the order a little.
The level of competition at this year's OluKai is set to be the strongest Maui has ever seen. The race won't go quite as high as Carolina on our Race Index, however it won't be too far off. This year's Ho'olaule'a will definitely be more competitive than the 2014 edition, which means there's a bounty of world ranking points up for grabs for both the men and women. I'm predicting it'll score around 35% on the men's Race Index and around 25-30% on the women's.
Can Connor Baxter go four-in-a-row? And will Andrea Moller continue her supreme dominance of Maliko and claim an amazing seventh straight OluKai title? Let's take a look at the contenders to their respective crowns…
The new world number two Danny Ching is in town, fresh off the plane from Carolina and ready to bust out the brand new 404 unlimiteds. Danny finished 5th at OluKai 2014 but will surely feel confident of a top 3 spot this weekend to match or improve his result at OluKai 2013.
SIC's raging bull, Georges Cronsteadt, will be hoping to improve on his 3rd place finish at Carolina and continue his quest for a Top 5 world ranking. Georges will be riding the same board that 90% of the field is going to paddle this weekend: The iconic "Bullet" that was born on Maui and helped turn SIC into a household name.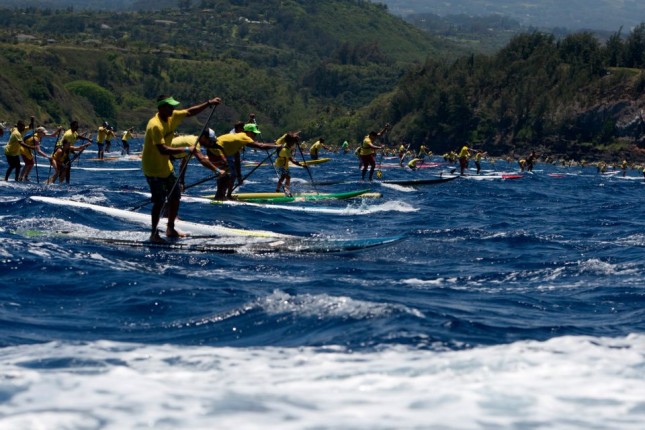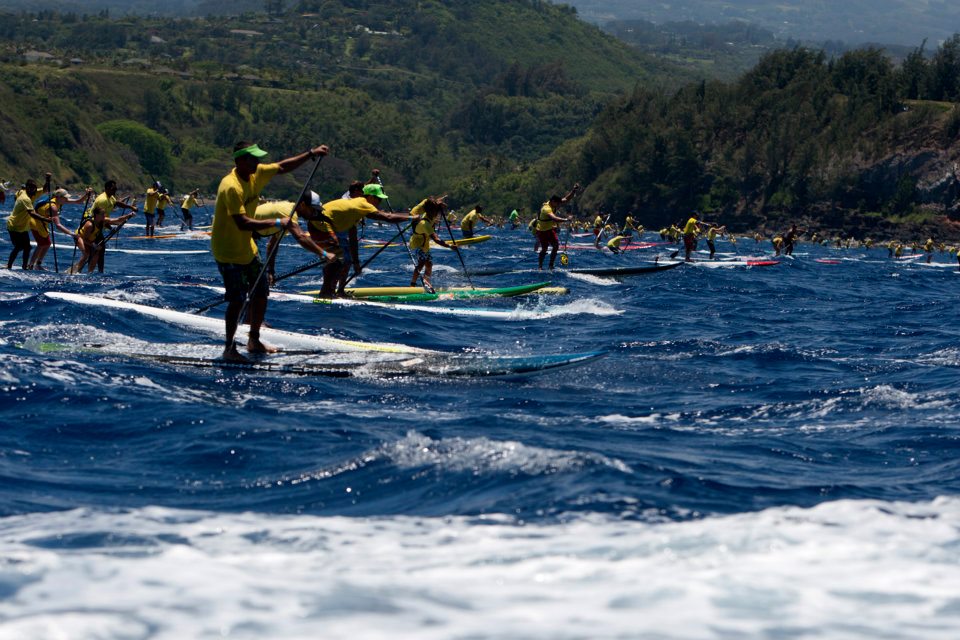 Fellow SIC team rider and Maliko supremo Jeremy Riggs will look for a repeat of his top 3 finish from last year. There's probably no other paddler as experienced out at Maliko as Jeremy. If you're ever on Maui, take one of his Paddle With Riggs downwind lessons. This guy knows his stuff…
Kody Kerbox is gearing up for his first big clash of the season. Kody is focusing on surfing more than racing this year, but if his 4th place @ OluKai 2014 is anything to go by he'll be up the pointy end of the results on Saturday. Hopefully Kody's dad, Buzzy, will be out on the ski again to capture some unique footage. Kerbox senior had one of the best views of the 2014 race from his jetski, the result of which you can see down below.
Another Maui local that is a very safe bet for the top spots whenever the bumps are running is 2010 OluKai champ Livio Menelau. Yet another SIC team rider (can you see a theme emerging here?), Livio excels when the wind is blowing hardest. If the bumps come up on Saturday (as is predicted), look for Livio to give the podium a solid nudge.
A couple of the strongest contenders are still deciding on going stock (14′) or unlimited this weekend. Travis Baptiste, the reigning Molokai stock champ and all-round downwind boss, only just got his hands on the new 404 unlimited via Danny Ching and may not have enough time to break it in before the race. (Update: I just spoke to Trav and he said "Unlimiteds are working really well but still more comfortable on the 14, so I'll be doing stock this weekend.")
Another hugely under-rated talent is Josh Riccio, the Maui 2 Molokai stock champ and star of the most-watched video we've ever posted. Similar to Trav, Josh only got his hands on the new Rogue unlimited this week and will make a last-minute call on stock/unlimited.
But it seems all these top guys are racing for the runner-up position. Because surely, there's nobody that can match Connor Baxter at Maliko. Connor is always one of the quickest competitors no matter where in the world a race is held, however OluKai is practically in his backyard, which makes him even faster. Connor has done hundreds and hundreds of Maliko runs and knows this stretch of water like the back of his hand. The world number one has claimed three-straight OluKai titles and will be odds on favourite to go four-in-a-row.
Though one guy who may have something to say about that Travis Grant. The runner-up from last year's OluKai (and 2013) will take a lot of confidence into this weekend after his heroic win at Carolina. Trav is one of the world's best bump riders and famously went toe-to-toe with Connor during the closing stages of Molokai 2014. If there's anyone that can stay within shouting distance of Connor on Saturday, this is your guy.
Dave Kalama is another name in that very exclusive club of paddlers that can stick with Connor for any length of time. However Dave is in Fiji right now (break out the violins) and may not be getting back to Hawaii in time.
Another unknown starter is Kai Lenny. The superstar is back home on Maui (sporting a shiny new watch) and hopefully we'll see him compete, perhaps using OluKai as a warm-up in his determined quest to claim the Molokai crown.
The names above are just a small selection of the elite talent that's assembled on Maui right now. We've got plenty of other big names from around the world who are set to make OluKai 2015 one of the races of the season. Niuhiti Buillard, fresh from his top 10 finish at Carolina, will probably be on a 404 unlimited alongside Danny Ching. Beau O'Brian is on Maui getting in some valuable unlimited training before his assault on Molokai later in July. Beau's fellow Aussies Paul Jackson, Sam Parker, Dave Kissane, Matt Nottage and James Casey are also on the island and will certainly turn a few local heads. Jacko actually only decided to jump on the plane to Hawaii at the very last minute – he and his wife Angie were ready to fly home from Carolina to Australia but couldn't resist the lure of Maliko.
Speaking of the women, this year's OluKai is set to witness the most competitive women's lineup yet. Everyone will be chasing the Queen of Maliko, Andrea Moller, however she'll be pushed very hard by a few of the world's top 10 females.
In one of the most amazing stats in our sport, Andrea Moller has never lost this race. The Brazilian turned Maui local won the first OluKai Ho way back in 2009 and has successfully defended her title every year since. This is undoubtedly the longest winning-streak in the sport of stand up paddling.
But can Andrea make it seven-in-a-row on Saturday?
Andrea's fellow SIC team rider Sonni Honscheid is probably her biggest threat. The German was less than a minute behind Andrea at OluKai 2014, and if Sonni's form last weekend at Carolina is anything to go by she may even start the slight favourite on Saturday.
As mentioned, world number five Angie Jackson is in town on a spur-of-the-moment ticket. Angie will be on an unlimited this weekend, which is unfamiliar territory for the Aussie, however she's one of the best bump riders on the women's scene and will have had a few practice runs to get accustomed to her 16 footer by Saturday.
Another top ranked paddler that is accustomed to the shorter boards is Fiona Wylde. The Hood River native, who put in one of the bravest efforts last week in Wrightsville, will be stepping up to the big boards and using this weekend's OluKai as a practice run for July's big M2O. As she showed in the first 3 miles at Carolina, Fiona is a master in the bumps and if she can get the rudder system working in her favour will be a very strong contender for the podium on Saturday (UPDATE: Sounds like Fiona wasn't comfortable enough with the rudder and is stepping back down to stock 14).
Then you've got a plethora of local dark horse talent, including names such as SIC's Devin Blish and the new Rogue team member Rachel Bruntsch, who are all Top 10 certainties and be able to push for a Top 5 berth. Look out for Kathy Shipman in the stock class. Hopefully we see local gun and 2012 Molokai champion Talia Decoite back on the race board as well.
Whatever happens, this year's OluKai Ho is set to be an absolute classic. With plenty of points on offer for the SUP Racer World Rankings, we'll be sure to deliver you the results as soon as the winners cross the line on Saturday.
Until then, enjoy this unique recap from OluKai 2014 thanks to Buzzy Kerbox: