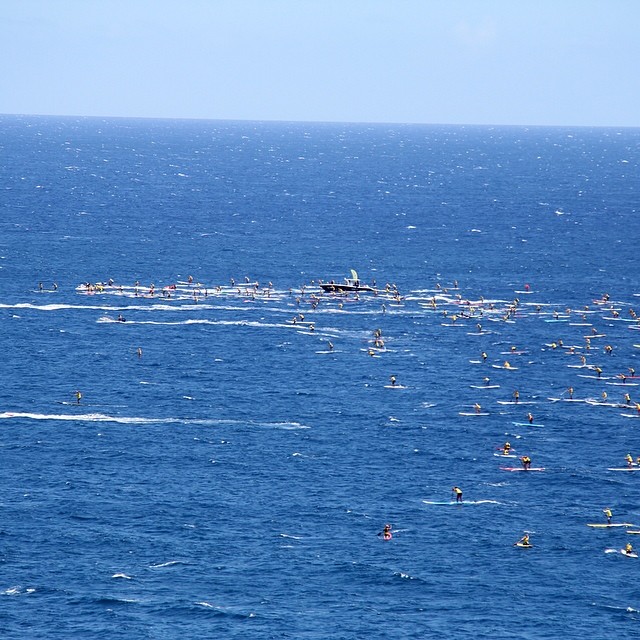 May 10, 2014
by Christopher Parker (@wheresbossman)
RESULTS: Andrea Moller, Connor Baxter Win Olukai (Again…), Travis Grant, Sonni Honscheid 2nd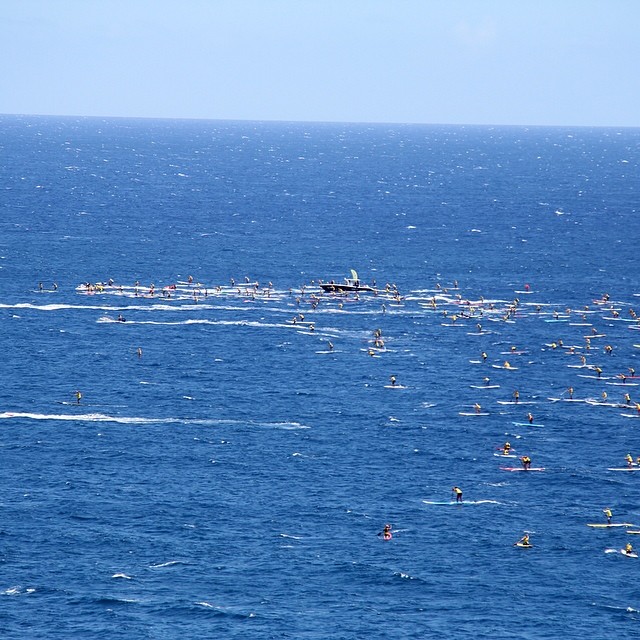 Connor Baxter and Andrea Moller have reasserted their dominance of the Hawaiian downwind scene, taking out the 2014 OluKai Ho'olaule'a in surprisingly good conditions on Maui today. Despite Facebook being flooded with messages such as "Hey does anyone have a flat water board I can borrow?!" over the past 48 hours, the wind along the famous Maliko downwind run turned on just in time for the start of the race.
Connor showed once again that he's the King of Maliko, finishing in a very solid time of 51 minutes, over two minutes clear of the only guy who got within shouting distance of him, Aussie Travis Grant. Maliko stalwart Jeremy Riggs put in a good effort to take home third, while Kody Kerbox came home in 4th ahead of Danny Ching and Livio Menelau.
Connor also did his customary superman finish by the looks of things.
Over in the women's it was Andrea Moller claiming the win for the umpteenth time, though her SIC team mate Sonni Honscheid was only a minute behind (a repeat of last week's Paddle Imua race).
With close to 300 paddlers on the line, including several of the biggest names in the sport, the event itself has shown it's one of the world's premiere races.
However there was some controversy at the start, with reports suggesting the gun went off 8 minutes early. It's possible that as the helicopter buzzed the start line to get some cool photos/video, it created some confusion and set off a few paddlers, which caused a domino effect as everybody started paddling. The organisers then didn't or couldn't call everybody back. This early start caught several paddlers off guards and left a couple of big names out of contention…
We'll have a full recap, results and photos soon, but here are the top finishers:
UPDATE: Here are the full results
1st: Connor Baxter (0:51:07)
2nd: Travis Grant (0:53:24)
3rd: Jeremy Riggs (0:54:54)
4th: Kody Kerbox (0:55:05)
5th: Danny Ching (0:56:31)
6th: Livio Menelau (0:56:31)
7th: Travis Baptiste (0:57:26)
8th: Georges Cronsteadt (0:58:04)
9th: Josh Riccio (0:58:36)
10th: Kaeo Abbey (0:59:26)
11th: Ralf Sifford (1:00:04)
12th: Bart de Zwart (1:01:13)
13th: Kai Bartlett (1:01:20)
14th: Scott Trudon (1:01:32)
15th: Riggs napoleon (1:01:38)
16th: Andrea Moller (1:01:59 [1st female]
17th: Armie Armstrong (1:02:03)
18th: Amir Arbel (1:02:14)
19th: Sonni Honscheid (1:02:52) [2nd female]
20th: Thomas Maximus (1:03:14)
21st: Bullet Obra (1:04:00)
22nd: Ryan Murphy (1:04:05)
23rd: Justin Gordon (1:05:51)
24th: Talia Gangini Decoite (1:06:03) [3rd female]
25th: Todd Sera (1:06:04)
26th: Chris Pagdilao (1:06:15)
27th: Scott Gamble (1:06:27)
28th: Art Aquino (1:06:50)
29th: Remy Lavie (1:07:25)
30th: Masao Fukayama (1:07:41)
31st: Braly Joy (1:07:54)
32nd: Gregg Leion (1:08:33)
33rd: Jack Wygal (1:09:01)
…
292nd: …
---
The OluKai Ho is part of our SIC Downwind Month feature. The first half of May is "Mini Downwind Month" on Maui, with last week's Paddle Imua and today's big race combining to kick off the downwind season. Coming up in July we've got the real Downwind Month, when the paddling world descends on Hawaii for three or four weeks of big races.