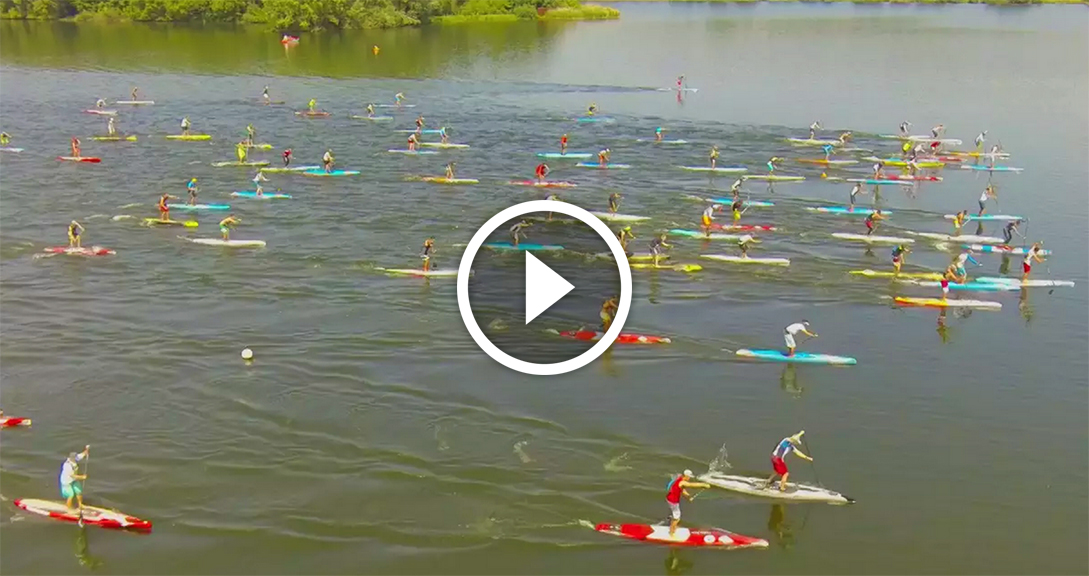 June 7, 2015
by Christopher Parker (@wheresbossman)
Mass Start: Awesome Drone Footage From The Lost Mills Race In Germany. Hectic…
Check out this great aerial video from yesterday's Lost Mills race, the big showdown in Germany that was won by Connor Baxter and Sonni Honscheid. With 91 guys on the line, including many of the world's best, it was always going to be a hectic start to the race…
[notdevice]Viewing on desktop? Click here to view directly on Vimeo (where you can set it to full HD).[/notdevice]
As you can see there was plenty of jockeying for position in the opening 5-10 minutes. Things didn't settle down until the 3km mark, at which point the inevitable "single file" draft train started to take shape. But for the opening 15 odd minutes we got to witness complete chaos, as paddlers tried to out-muscle their rivals and work their way to the pointy end of the train.
It's interesting to see paddlers sprint off the line in these types of races. Yesterday we had a hot, humid 18km distance event, yet if you watch this two minute clip you'd think it was a short little sprint race. That's the cruel beauty of these kind of contests: You have to conserve energy to ensure you can hold a solid race pace for two hours, but you also have to push yourself to the edge and sprint like mad at the start to ensure you don't get left behind.
The drone kind of loses its way halfway through, but that raw footage from the mass start is unreal. Thanks to Stephan Gölnitz/SUP-mag.de for capturing the action.
MORE >> Lost Mills 2015 Results/Recap/Photos
Lost Mills 2015
1st: Connor Baxter
2nd: Titouan Puyo
3rd: Trevor Tunnington
4th: Arthur Arutkin
5th: Georges Cronsteadt
1st: Sonni Honscheid
2nd: Angie Jackson
3rd: Celine Guesdon
4th: Carol Scheunemann
5th: Fiona Wylde
View the FULL RESULTS from Lost Mills 2015