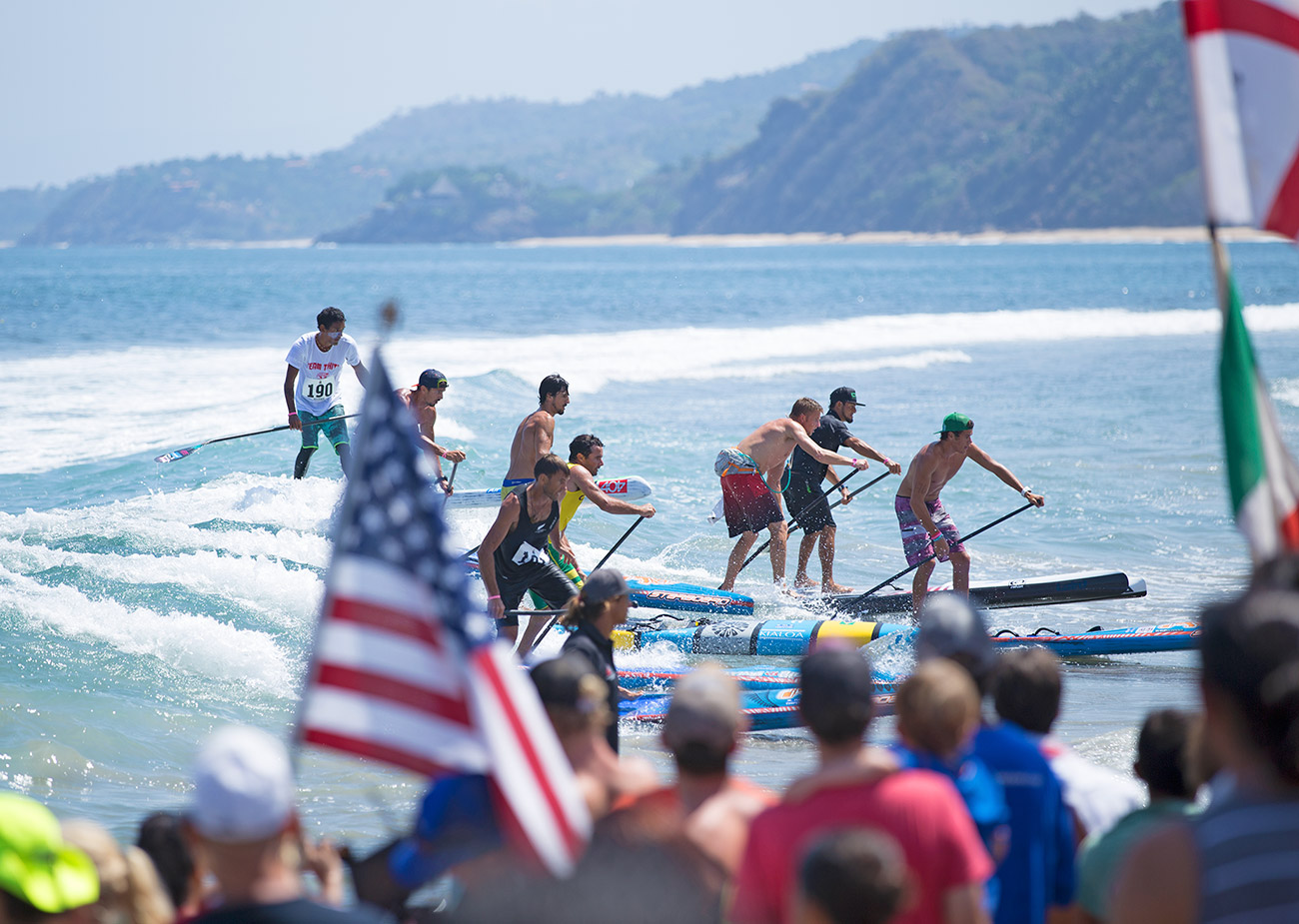 May 17, 2015
by Christopher Parker (@wheresbossman)
CONGRATULATIONS TEAM USA – Winners Of The 2015 ISA World Stand Up Paddle And Paddleboard Championship In Mexico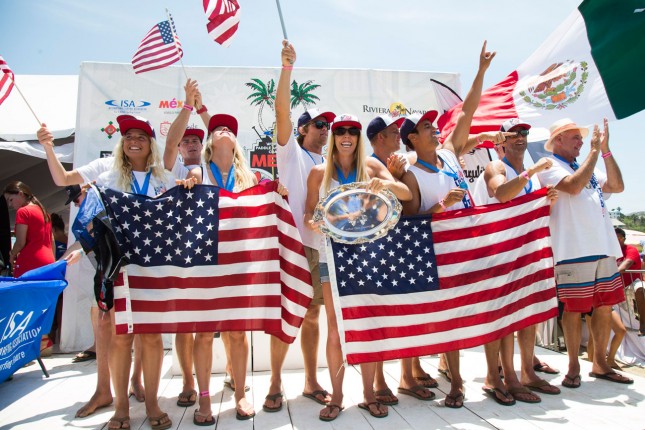 [notdevice] [/notdevice]
Team USA has won the 2015 ISA World Stand Up Paddle and Paddleboard Championship here in Mexico, claiming two more gold medals on the final day to run away with the Team Champions Trophy. After three straight years of Green & Gold dominance, Australia had to settle for the team silver medal this year.
Candice Appleby and Jack Bark won the Women's SUP Course race and Men's Prone Course Race respectively, killing any small hope the Aussies and Hawaiians had of closing the gap on the leaderboard.
Australia and Hawaii did show plenty of pride and fighting spirit on the final day though: Team Oz claimed its fourth straight Team Relay gold after an exciting finish with the Kiwis – 15 year old Ollie Houghton put in a heroic performance for the All Blacks but fell a metre or two short of Toby Cracknell at the line – before Jordan Mercer backed it up with her second individual prone gold. In the final event of the Championship, Hawaii boys Connor Baxter and Mo Freitas took gold and silver with a one-two finish in an uber-competitive Men's SUP Course Race.
---
Skip straight to results: Team Champions Leaderboard | Medal Table | Men's SUP Course Race | Women's SUP Course Race | Men's SUP Distance Race | Women's SUP Distance Race | Men's Prone Course Race | Women's Prone Course Race | Men's Prone Distance Race | Women's Prone Distance Race | Men's SUP Surfing | Women's SUP Surfing
---
The men's BOP-style race in and out through the surf proved a fitting finale to what has been a supremely entertaining week here in Mexico.
Connor and Mo paddled the perfect race for Team Hawaii. Slater Trout, Casper Steinfath and Leo Nika from Italy were setting the pace early while Connor recovered from a bad start, but the world number one soon took charge. When Connor made his inevitable break only Mo, who had set himself into a good position near the front of the main pack, could go with him.
Connor then played the team game and allowed Mo to sit comfortably on his wash; if it was a competitor from another team he would have done everything to shake him. The two worked together at the buoy turns to ensure a smooth second half of the race and an amazing one-two finish for this proud nation.
[notdevice] [/notdevice]
[notdevice] [/notdevice]
The waves definitely made this race, which also made it super exciting for everyone watching. Sayulita resembled old school Doheny State Beach, with long, slow, fat rolling waves offering just enough to spice up the race without turning it into a salt creek carnage-fest. Connor was the first to take advantage of the bumps, sprinting over the top of a wave that nobody else could scratch into, instantly giving himself a gap on the field. Mo worked the small bumps hard on the next lap and was able to catch back up, but nobody else could match the Hawaiians.
Behind the Hawaiian domination, France's Titouan Puyo, who had surged from mid-pack to medal contention on the second of four laps, just edged out two-time defending champ Casper Steinfath from Denmark in a photo finish. Casper was in the top four positions literally the entire race, and takes home a well deserved medal. Titouan had a lot more work to do though, getting caught up in the middle of the lead pack and having to patiently work his way up to the front.
Brazil's Vinnicius Martins was only a metre or two outside the top four podium, having surfed the same wave to the beach as Titou and Casper. Bicho Jimenez, the hometown hero from the distance race, finished a solid 6th place to cap off a stellar week. Though such was the level of competition in this race, anyone who was in the final to begin with deserved a medal.
[notdevice] [/notdevice]
[notdevice] [/notdevice]
Jamie Mitchell and myself, watching the action from the commentary booth directly in front of the course, mentioned several times how the pack was tight from 1st through to 24th. Even on the second lap, the guys sitting in last place were still only about 30 seconds behind the leaders. The accordion effect eventually came in, with the field spreading on the third and fourth legs, however the level of competition was so high that last place came in a 2 minutes behind Connor at the finish.
This tight field made for some great entertainment both on and off the water. Inspired by the Battle of the Paddle, this year's ISA course race saw a chicane run through the sand at the end of each lap, with board caddies working overtime in the transition area.
Half an hour earlier, Candice took America's 6th gold medal by outlasting Terrene Black (Australia), Penelope Strickland (New Zealand) and Lina Augaitis from Canada. The reigning BOP champ started hot favourite and lived up to the billing, going out hard and creating a big lead by the second lap. But in a swift turn of events, the chase pack caught a lucky set wave at a key moment and surfed all the way up to the leader, with the top four hitting the beach together at the end of the second lap. Suddenly the race was back on.
The drama didn't end there though: In an amazing twist, Candice reversed her fortunes on the very next lap, managing to just stroke into a similar kind of set wave of her own, with the three girls on her tail just missing out and having to paddle all the way in to the beach. This created an insurmountable lead that produced Candice's second individual gold and the team's sixth.
It was a vintage performance form Candice, who has shown why she's one of the all time greats in our sport.
[notdevice] [/notdevice]
[notdevice] [/notdevice]
Outside the medals there were great performances all the way through the field. It was tough just qualifying for the women's final, with only 12 spots on offer. One paddler that's really impressed me this week is Brazil's Lena Ribeiro, who finished 5th today to back up her 6th place in the distance race.
Lena's 5th place matches the excellent 5th place finish from Vinni in the men's final, with those two performances enough to secure Team Brazil 5th place on the overall Team Champions Leaderboard, narrowly ahead of the host nation.
Another standout today was Team Mexico representative Erika Benitez. Cheered on by the vocal crowd, Erika took off the line like a rocket and managed to sit in second place right behind Candice for much of the first lap. Eventually Erika tired and finished 9th, but that's understandable when you consider she's only 14 years old. Look for this name to regularly podium in the coming years.
With the event finally, Team USA streaks ahead on the Team Champions Leaderboard to claim the teams trophy, Australia settles for an unfamiliar team silver, Hawaii with the team bronze and New Zealand with the 4th placed team copper medal.
The 2015 ISA Worlds has also had a big impact on the SUP Racer World Rankings, with many national team representatives jumping well up the leaderboard.
Terrene Black moves up to world #7 after her two podium efforts, while Penelope Strickland and Rachel Bruntsch also moved to the pointy end of the Women's Top 50 Leaderboard.
With his silver medal performance, Mo Freitas drastically improved his overall points tally, moving to 136.75 and overtaking Georges Cronsteadt in the process.
[notdevice] [/notdevice]
[notdevice] [/notdevice]
In a cruel twist, Casper Steinfath actually drops two places despite his strong podium finish on Sunday. Casper's drop looks like an anomaly, perhaps even an error in the rankings, however it's actually quite simple: Casper was holding onto a big bag of points from his win in this event last year. Races are only kept in the rankings system for 12 months, so everybody who competed at the 2014 Worlds replaced their result this weekend. The level of competition has risen at the 2015 Worlds, meaning there were more points on offer in Mexico than Nicaragua, however Casper still needed to finish third just to tread water. He finished fourth, by a split second, and now he slides to world #10.
Casper's points tally only dropped by 4.25 points, but the battle for the Top 10 rankings is so tight that even just a few points was enough to drop two spots. Taking advantage of the Viking's fall are Beau O'Brian and Eric Terrien. Ironically Beau had an absolute shocker in this race, finishing 19th, while Eric didn't even race. So neither of those guys gained any points, but with Casper's slight fall it was enough to see them get a free ride up one spot.
Titou's bronze medal saw him move past his Starboard team mate Zane Schweitzer by the narrowest of margins. Titou is now on 98.48 points, while Zane sits on 98.00. In fact you could throw a blanket over all the guys ranked #8 through #12, with just 6.50 points separating Beau, Eric, Casper, Titou and Zane.
Other big movers today were Niuhiti Buillard, who finally fills his minimum "five best results" and moves up to #32 as a result. Another big gain came from Canada's Tamas "Tommy" Buday Jr, with the former Olympian removing a couple of donuts this week and jumping inside the top 75 in the world.
Hometown hero Bicho Jimenez, who jumped six places to world #13 after his massive performance in Wednesday's long distance race, improved his points tally further with today's finish, and will now be ready for an assault on the Top 10 when he heads to Europe next week.
View the full SUP Racer World Rankings
The 2015 ISA World Stand Up Paddle and Paddleboard Championship has been an amazing event. The location, here in beautiful Sayulita, Mexico, was absolutely perfect, while the atmosphere on the beach during the day and in the streets and restaurants by night was incredible. I really don't want to leave this little slice of paradise on Tuesday.
The spirit of the event was summed up perfectly immediately following the final race. Team Mexico, who have been fantastic hosts this week, gave a short speech to the packed athletes tent, thanking everyone for coming and receiving a massive cheer that kickstarted about 12 straight hours of partying.
Yes, there were winners and there were losers this week, however more importantly: The spirit, energy and unity between the 27 assembled nations was inspiring. The ISA has done a great job to improve this event and I for one cannot wait for 2016. Let's start guessing where it'll be…
Awesome highlights reel of the final day thanks to Rogue SUP
---
Team Champions Leaderboard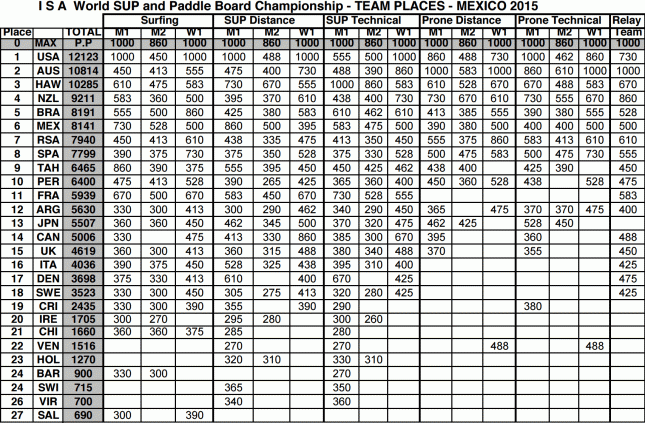 ---
Medal Table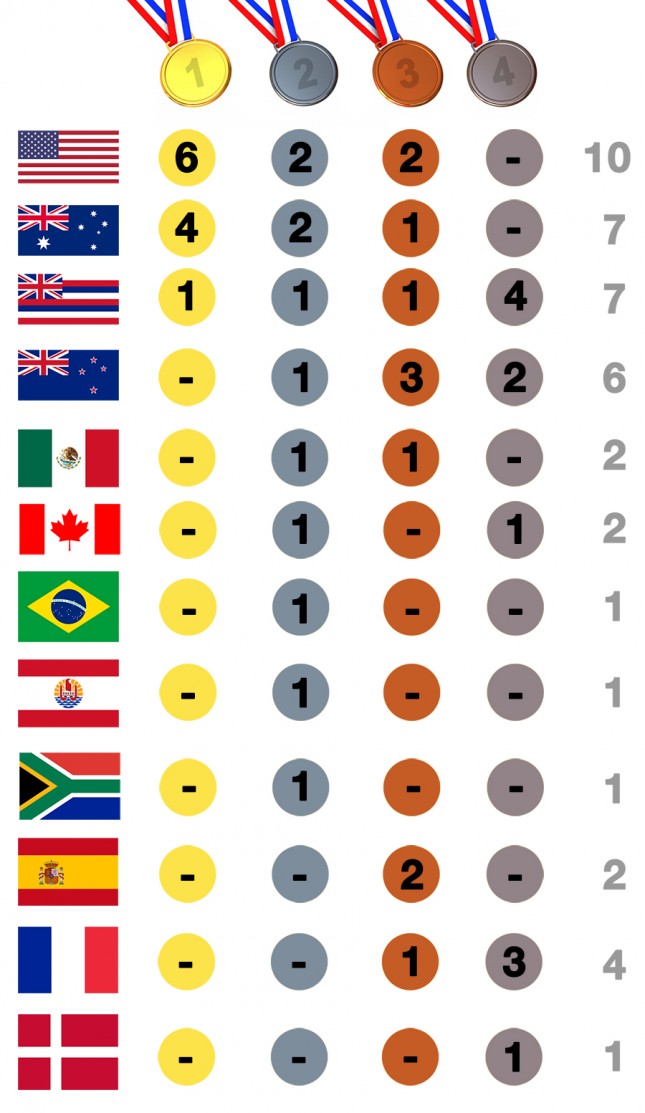 ---
Team Relay Final (Sunday)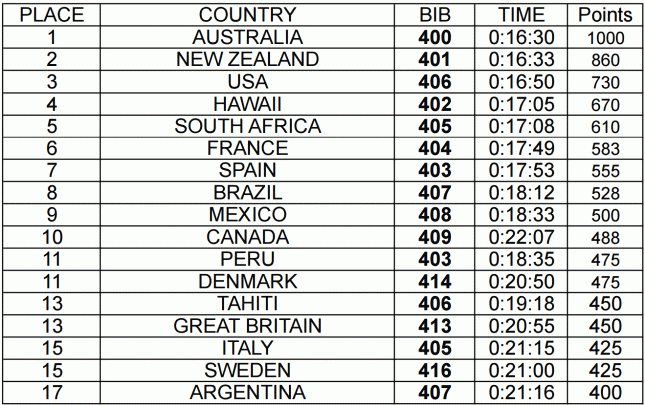 ---
Men's SUP Course Race Final (Sunday)
Only the top 24 raced in the final
View the updated SUP Racer World Rankings

| # | Name | Country | Time | ISA Points | SUP Racer Points |
| --- | --- | --- | --- | --- | --- |
| 1 | Connor Baxter | Hawaii | 0:22:24 | 1000 | 35.50 |
| 2 | Mo Freitas | Hawaii | 0:22:27 | 860 | 26.63 |
| 3 | Titouan Puyo | France | 0:22:38 | 730 | 21.30 |
| 4 | Casper Steinfath | Denmark | 0:22:39 | 670 | 17.75 |
| 5 | Vinnicius Martins | Brazil | 0:22:40 | 610 | 15.09 |
| 6 | Javier 'Bicho' Jimenez | Mexico | 0:22:51 | 583 | 12.43 |
| 7 | Slater Trout | USA | 0:22:58 | 555 | 10.65 |
| 8 | Arthur Daniel | France | 0:23:22 | 528 | 8.88 |
| 9 | Chuck Glynn | USA | 0:23:29 | 500 | 7.99 |
| 10 | Toby Cracknell | Australia | 0:23:31 | 488 | 7.10 |
| 11 | Felipe Rodrigues | Mexico | 0:23:35 | 475 | 6.39 |
| 12 | Arthur Santacreu | Brazil | 0:23:45 | 462 | 5.68 |
| 13 | Lorenzo 'Enzo' Bennett | Tahiti | 0:23:46 | 450 | 5.33 |
| 14 | Armie Armstrong | New Zealand | 0:23:47 | 438 | 4.97 |
| 15 | Niuhiti Buillard | Tahiti | 0:24:06 | 425 | 4.62 |
| 16 | Dylan Frick | South Africa | 0:24:08 | 413 | 4.26 |
| 17 | Ollie Houghton | New Zealand | 0:24:09 | 400 | 3.91 |
| 18 | Leonard Nika | Italy | 0:24:14 | 395 | 3.55 |
| 19 | Beau O'Brian | Australia | 0:24:20 | 390 | 3.20 |
| 20 | Tamas 'Tommy' Buday Jr | Canada | 0:24:22 | 385 | 2.84 |
| 21 | Ollie Shilston | Great Britain | 0:24:33 | 380 | 2.66 |
| 22 | Pepe Oltra | Spain | 0:24:39 | 375 | 2.49 |
| 23 | Kenichiro 'Kenny' Kaneko | Japan | 0:24:40 | 370 | 2.31 |
| 24 | Tamil Martino | Peru | 0:24:43 | 365 | 2.13 |
| 25 | Itzel Delgado | Peru | | 360 | 1.95 |
| 25 | Quintin Chiapperino | Switzerland | | 360 | 1.95 |
| 27 | Hakim Dridah | South Africa | | 350 | 1.74 |
| 27 | Wade Keet | Argentina | | 350 | 1.74 |
| 29 | Sebastian Barbero | Argentina | | 340 | 1.53 |
| 29 | Andy Joyce | Great Britain | | 340 | 1.53 |
| 31 | Jurgi Zulaika | Spain | | 330 | 1.35 |
| 31 | Martijn van Deth | Netherlands | | 330 | 1.35 |
| 33 | Andreas Svensson | Sweden | | 320 | 1.21 |
| 33 | Kiyomi Matsumoto | Japan | | 320 | 1.21 |
| 35 | Bart de Zwart | Netherlands | | 310 | 1.07 |
| 35 | Leonardo Toso | Italy | | 310 | 1.07 |
| 37 | Matt Abbott | Canada | | 300 | 0.92 |
| 37 | Keith McGuirk | Ireland | | 300 | 0.92 |
| 39 | Rolando Herrera | Costa Rica | | 290 | 0.78 |
| 39 | Mariano Rossini | Argentina | | 290 | 0.78 |
| 41 | Christophe Conry | Chile | | 280 | 0.67 |
| 41 | Jacob Westman | Sweden | | 280 | 0.67 |
| 43 | Carlos Martins | Venezuela | | 270 | 0.60 |
| 43 | Brian Talma | Barbados | | 270 | 0.60 |
| 45 | David Mangan | Ireland | | 260 | 0.53 |
| 46 | Claudio Puntarelli | Chile | | DSQ | 0.00 |
---
Women's SUP Course Race Final (Sunday)
Only the top 12 raced in the final
View the updated SUP Racer World Rankings

| # | Name | Country | Time | ISA Points | SUP Racer Points |
| --- | --- | --- | --- | --- | --- |
| 1 | Candice Appleby | USA | 0:24:56 | 1000 | 28.50 |
| 2 | Terrene Black | AUS | 0:25:25 | 860 | 21.38 |
| 3 | Penelope Strickland | NZL | 0:25:28 | 730 | 17.10 |
| 4 | Lina Augaitis | CAN | 0:25:35 | 670 | 14.25 |
| 5 | Lena Ribeiro | BRA | 0:26:15 | 610 | 12.11 |
| 6 | Rachel Bruntsch | HAW | 0:26:23 | 583 | 9.98 |
| 7 | Celine Guesdon | FRA | 0:26:28 | 555 | 8.55 |
| 8 | Laura Quetglas | SPA | 0:27:28 | 528 | 7.13 |
| 9 | Erika Benitez | mex | 0:27:46 | 500 | 6.41 |
| 10 | Marie Buchanan | UK | 0:28:00 | 488 | 5.70 |
| 11 | Takayo Yokoyama | JPN | 0:28:05 | 475 | 5.13 |
| 12 | Hinarii Yiou | TAH | 0:28:08 | 462 | 4.56 |
| 13 | Tarryn Kyte | RSA | | 450 | 4.28 |
| 13 | Juliana Gonzales | ARG | | 450 | 4.28 |
| 15 | Maya Persson | SWE | | 425 | 3.71 |
| 15 | Nicoline Rasmussen | DEN | | 425 | 3.71 |
| 17 | Erika Barausse | ITA | | 400 | 3.14 |
| 17 | Giannisa Vecco | PER | | 400 | 3.14 |
---
Men's SUP Distance Race (Wednesday)
View the updated SUP Racer World Rankings

| Place | Name | Country | Time | ISA Points | SUP Racer Points |
| --- | --- | --- | --- | --- | --- |
| 1 | Danny Ching | USA | 1:41:59 | 1000 | 43.00 |
| 2 | Javier "Bicho" Jimenez | MEX | 1:42:11 | 860 | 32.25 |
| 3 | Connor Baxter | HAW | 1:42:26 | 730 | 25.80 |
| 4 | Zane Schweitzer | HAW | 1:42:27 | 670 | 21.50 |
| 5 | Casper Steinfath | DEN | 1:42:28 | 610 | 18.28 |
| 6 | Titouan Puyo | FRA | 1:42:29 | 583 | 15.05 |
| 7 | Georges Cronsteadt | TAH | 1:42:30 | 555 | 12.90 |
| 8 | Leonard Nika | ITA | 1:42:33 | 528 | 10.75 |
| 9 | Fernando Stalla | MEX | 1:42:34 | 500 | 9.68 |
| 10 | Slater Trout | USA | 1:44:00 | 488 | 8.60 |
| 11 | Toby Cracknell | AUS | 1:44:20 | 475 | 7.74 |
| 12 | Kenny Kaneko | JPN | 1:44:40 | 462 | 6.88 |
| 13 | Eric Terrien | FRA | 1:45:06 | 450 | 6.45 |
| 14 | Ethan Koopmans | RSA | 1:45:29 | 438 | 6.02 |
| 15 | Arthur Santacreu | BRA | 1:45:42 | 425 | 5.59 |
| 16 | Tamas Buday Jr | CAN | 1:45:46 | 413 | 5.16 |
| 17 | Beau O'Brian | AUS | 1:46:53 | 400 | 4.73 |
| 18 | Armie Armstrong | NZL | 1:47:12 | 395 | 4.30 |
| 19 | Itzel Delgado | PER | 1:47:41 | 390 | 3.87 |
| 20 | Eric Leou-on | TAH | 1:47:43 | 385 | 3.44 |
| 21 | Vinnicius Martins | BRA | 1:48:00 | 380 | 3.23 |
| 22 | Pepe Oltra | SPA | 1:48:47 | 375 | 3.01 |
| 23 | JP Tobin | NZL | 1:49:13 | 370 | 2.80 |
| 24 | Hakim Dridah | SWI | 1:51:40 | 365 | 2.58 |
| 25 | Ollie Shilston | UK | 1:51:43 | 360 | 2.37 |
| 26 | Joseph Cerdas | CRI | 1:51:44 | 355 | 2.24 |
| 27 | Jurgi Zulaika | SPA | 1:52:51 | 350 | 2.11 |
| 28 | Koichi Matsumoto | JPN | 1:53:13 | 345 | 1.98 |
| 29 | Quintin Chiapperino | VIR | 1:53:33 | 340 | 1.85 |
| 30 | Joshua Robertson | RSA | 1:53:50 | 335 | 1.72 |
| 31 | Matt Abbott | CAN | 1:53:52 | 330 | 1.63 |
| 32 | Leonardo Toso | ITA | 1:54:05 | 325 | 1.55 |
| 33 | Bart de Zwart | HOL | 1:54:15 | 320 | 1.46 |
| 34 | Andy Joyce | UK | 1:54:30 | 315 | 1.38 |
| 35 | Martijn van Deth | HOL | 1:56:45 | 310 | 1.29 |
| 36 | Andreas Svensson | SWE | 1:57:30 | 305 | 1.20 |
| 37 | Mariano Rossini | ARG | 1:57:48 | 300 | 1.12 |
| 38 | David Mangan | IRE | 1:59:12 | 295 | 1.03 |
| 39 | Lucas Correa | ARG | 1:59:20 | 290 | 0.95 |
| 40 | Christophe Conry | CHI | 2:00:54 | 285 | 0.86 |
| 41 | Keith McGuirk | IRE | 2:01:38 | 280 | 0.82 |
| 42 | Patrick Boyum | SWE | 2:04:45 | 275 | 0.77 |
| 43 | Carlos Martíns | VEN | 2:05:32 | 270 | 0.73 |
| 44 | Oswaldo Velez | PER | 2:16:30 | 265 | 0.69 |
---
Women's SUP Distance Race (Tuesday)
View the updated SUP Racer World Rankings
| # | Name | Time | Nation | ISA Points | SUP Racer Points |
| --- | --- | --- | --- | --- | --- |
| 1 | Candice Appleby | 1:52:54 | USA | 1000 | 24.50 |
| 2 | Lina Augaitis | 1:54:29 | Canada | 860 | 18.38 |
| 3 | Terrene Black | 1:56:19 | Australia | 730 | 14.70 |
| 4 | Céline Guesdon | 1:56:27 | France | 670 | 12.25 |
| 5 | Penelope Strickland | 1:57:29 | New Zealand | 610 | 10.41 |
| 6 | Lena Ribeiro | 1:58:00 | Brazil | 583 | 8.58 |
| 7 | Rachel Bruntsch | 1:58:24 | Hawaii | 555 | 7.35 |
| 8 | Laura Quetglas | 2:01:21 | Spain | 528 | 6.13 |
| 9 | Takayo Yokoyama | 2:04:19 | Japan | 500 | 5.51 |
| 10 | Marie Buchanan | 2:07:27 | UK | 488 | 4.90 |
| 11 | Mishka Steyn | 2:08:04 | South Africa | 475 | 4.41 |
| 12 | Juliana Gonzales | 2:09:53 | Argentina | 462 | 3.92 |
| 13 | Hinarii Yiou | 2:10:33 | Tahiti | 450 | 3.68 |
| 14 | Erika Barausse | 2:13:50 | Italy | 438 | 3.43 |
| 15 | Gianissa Vecco | 2:15:21 | Peru | 425 | 3.19 |
| 16 | Maya Persson | 2:17:19 | Sweden | 413 | 2.94 |
| 17 | Nicoline Rasmussen | 2:17:50 | Denmark | 400 | 2.70 |
| 18 | Alejandra Brito | 2:20:03 | Mexico | 395 | 2.45 |
| 19 | Edith García | 2:22:46 | Costa Rica | 390 | 2.21 |
---
Men's Prone Course Race Final (Sunday)
Only the top 16 raced in the final

---
Women's Prone Course Race Final (Sunday)
No qualifying heats – straight up final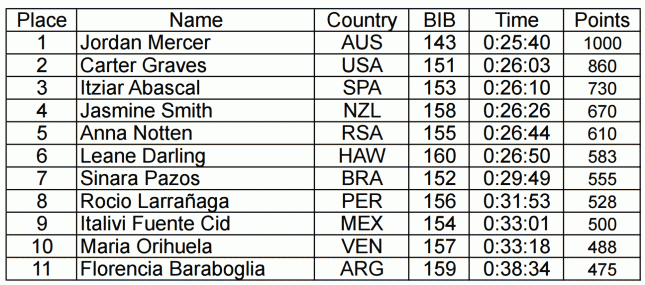 ---
Men's Prone Distance Race (Wednesday)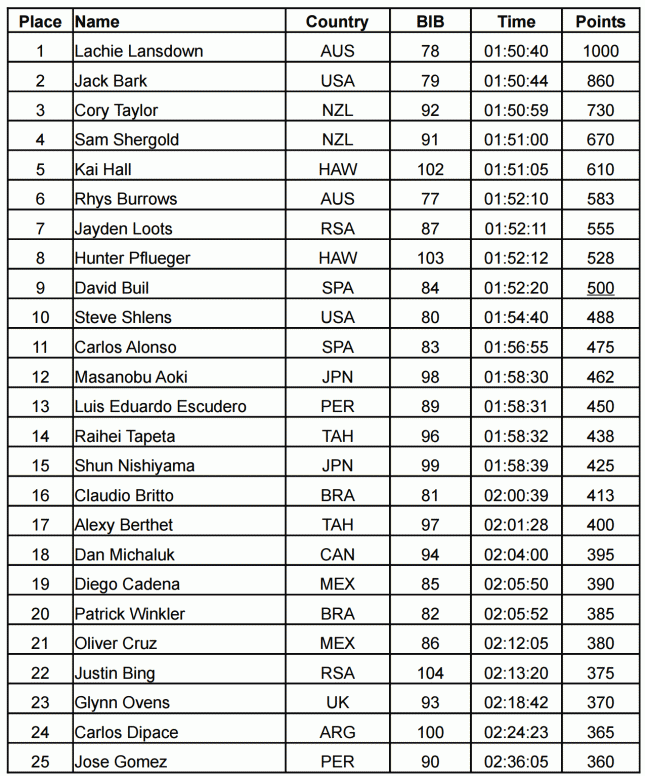 ---
Women's Prone Distance Race (Wednesday)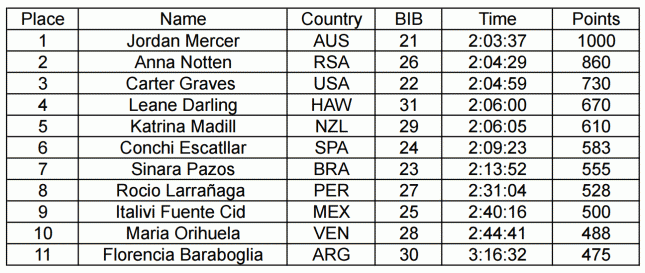 ---
Men's SUP Surfing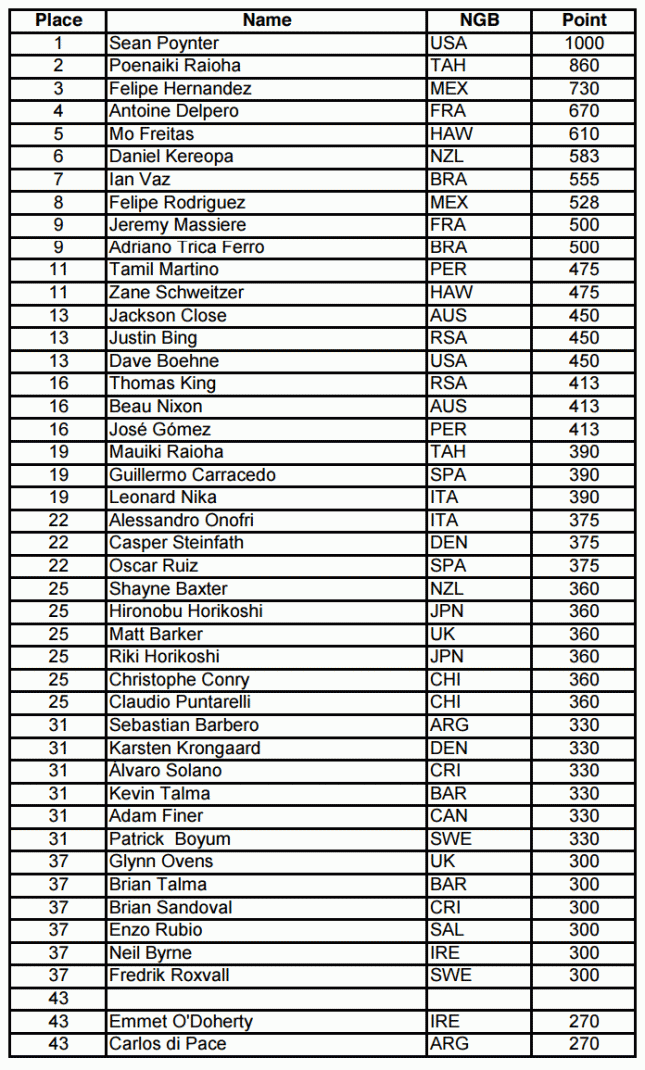 ---
Women's SUP Surfing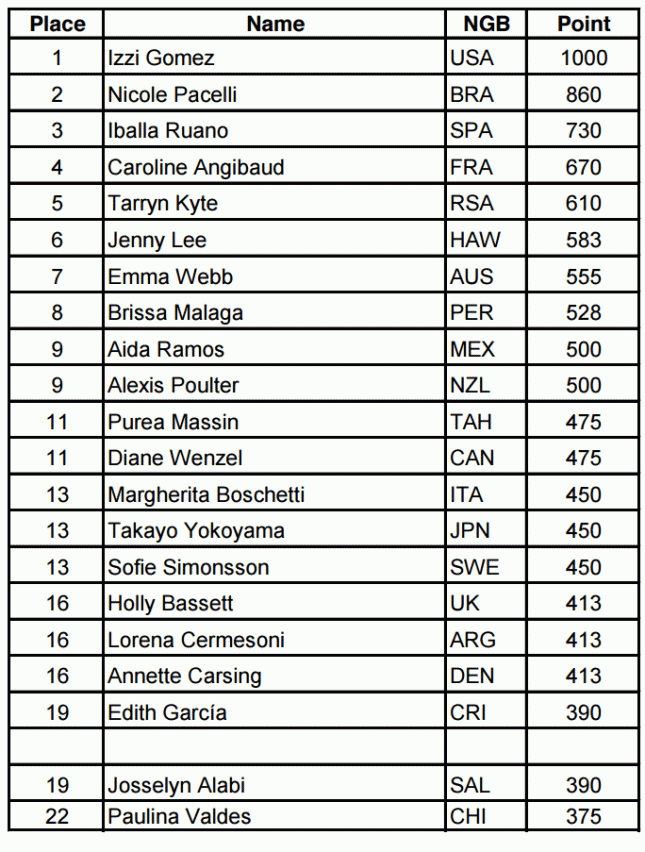 ---