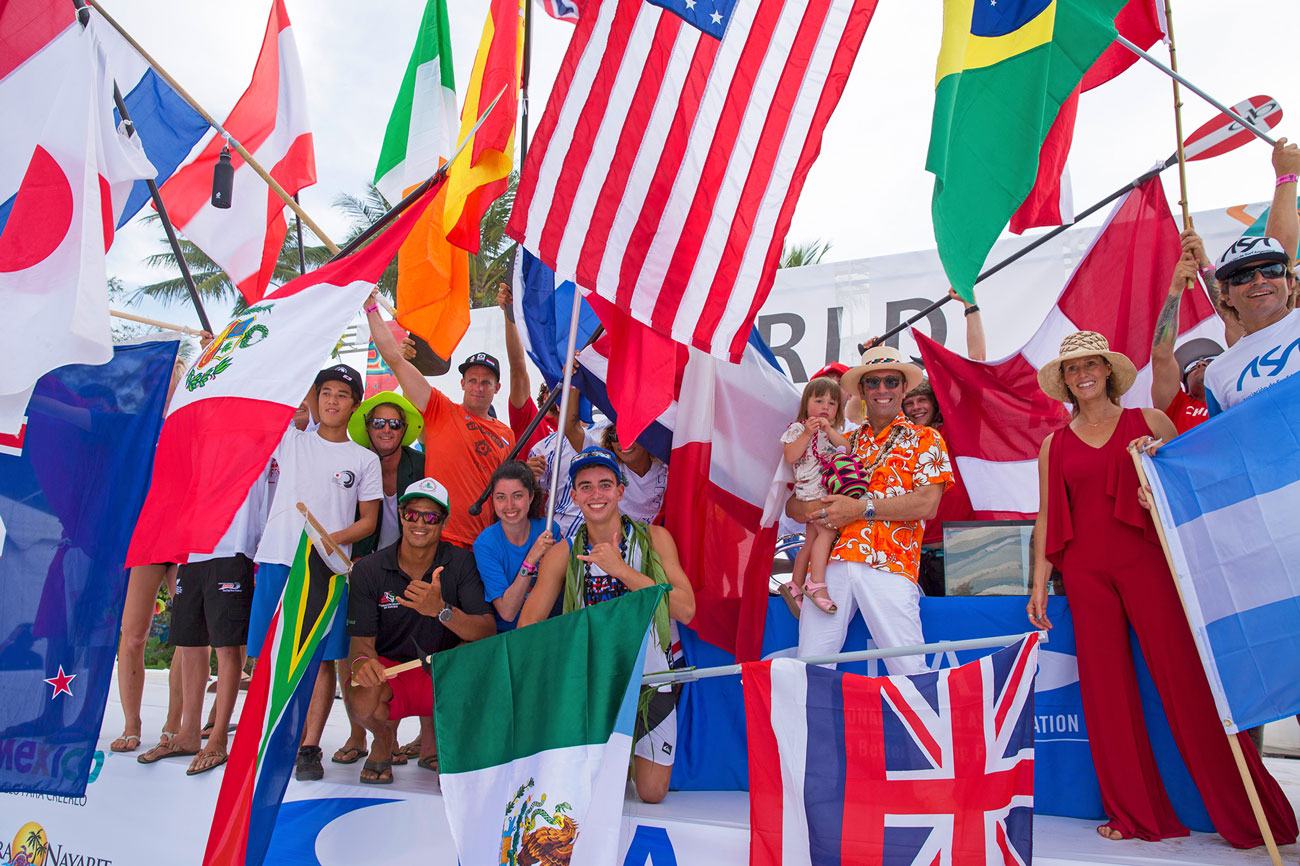 May 11, 2015
by Christopher Parker (@wheresbossman)
ISA World Championship Predictions: Is This The End Of Australia's Dominance?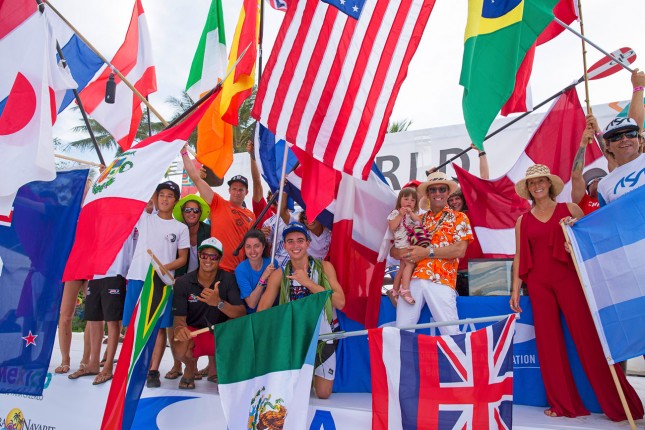 After yesterday's very colourful opening ceremony, the 2015 ISA Worlds have well and truly started here in Sayulita. We've got 27 nations assembled in Mexico for the 4th annual edition of this event, but some are looking stronger than others. With the highest level of competition we've ever seen at this event (by far), who will step up, stand out and walk away with the gold and glory when festivities conclude next Sunday?
While we've still got seven full days of competition ahead of us, let's look at the form guide and try to make a few bold predictions…
Today, Monday, is the first day of competition, with the early rounds of surfing filling the schedule. Tomorrow, Tuesday 12th, sees the first medals (and the first team points) awarded in the women's Distance Race, before the men hit the 20km course on Wednesday. Friday is the SUP Surfing finals, while Sunday we've got the Course Race and Team Relay deciders.
All up that's 11x gold medal events, with 1,000 points on offer for the winners. With two guys in each event, along with the team relay, the maximum points a team could possibly earn is 15,300.
Maximum team points on offer at the 2015 ISA Worlds
SUP Racing – Course
Guy #1: 1,000
Guy #2: 860
Girl #1: 1,000
SUP Racing – Distance
Guy #1: 1,000
Guy #2: 860
Girl #1: 1,000
Prone Racing – Course
Guy #1: 1,000
Guy #2: 860
Girl #1: 1,000
Prone Racing – Distance
Guy #1: 1,000
Guy #2: 860
Girl #1: 1,000
SUP Surfing
Guy #1: 1,000
Guy #2: 860
Girl #1: 1,000
Team Relay: 1,000 (half SUP/half prone)
Prone Racing: 6,220
SUP Racing: 6,220
SUP Surfing: 2,860
TOTAL maximum team points available: 15,300
With these numbers in mind, I've gone through every event and penciled in the results based on current form and recent results. There are a lot of variables, especially in the men's SUP racing events where the level of competition goes very deep this year (making it super hard to predict the top finishers), however I do believe we can a few general patterns emerging.
One of those patterns is quite clear: Australia's supreme dominance of this event is well and truly over. I'm not saying the Aussies can't win again this year, they certainly can, but the battle for the overall points is going to be much closer than ever before. In previous editions, Australia has won the overall title by a country mile, but this year it's going to be very tight atop the teams leaderboard.
In the quest for the team championship trophy it's going to be a three-way battle between the USA, Australia and Hawaii. The Aussies have won all three previous editions of the Worlds, however this year they're vulnerable. A couple of their top paddlers were unavailable for selection, but even more significantly: Team Hawaii is here for the first time and Team USA has sent their strongest team ever.
Suddenly we've got a real battle on our hands.
Australia still has the advantage in prone paddleboarding, which carries a surprisingly large weighting in the overall team points system, however the U.S. may be able to edge back enough points in the surfing and racing to overtake the Green & Gold. Team Hawaii has a similarly well-rounded team, anchored by world number one Connor Baxter, and will be the only other legitimate contender to Australia's crown.
These three powerhouses have a lock on the top three spots this week. I would be shocked if any other country finished top three. But outside this ruling triumvirate, the battle for the 4th and final spot on the teams podium will be intense (unlike the Olympics and their three-place podium, the ISA podium goes four deep: gold, silver, bronze, copper).
I can see six or seven nations fighting for that last step on the podium, though I don't think any of them will be fighting as hard as Team Mexico. The host nation is not only in their home country this week, they're in their home town. Team Mexico is basically Team Sayulita, with all bar one of their members living in (or very close to) this little town.
Will the local, and very vocal, support push Team Mexico to get those extra one or two places, which gets them those extra few points, which gets them over the line? I think so, but they'll face a very tough fight from the likes of Tahiti, South Africa, France, and several others.
Unfortunately, many teams that should be in contention for the teams podium are out of the running because they lack experienced prone paddlers (or any prone paddlers, period). Team France is on the border of becoming a "powerhouse" level nation in the stand up paddling world, however they have zero chance of reaching the teams podium as they're missing the prone division. With prone accounting for 40.65% of the total points on offer, France can only gain 59% as many points as the complete teams such as Australia, Hawaii and the USA. Even if France won gold in every single SUP event, they'd still lose the overall title.
This disparity in prone will probably put the event format under review after this year's festivities conclude, however for now it means one thing: Those teams with a complete squad have a huge advantage on the overall teams leaderboard. This advantage is amplified by the ISA's very generous points system, where finishing lower down the order gives you many more points compared to other sports (for example: finishing in 30th place at the ISA is worth 12x as many points as finishing 30th in most other sports). With relatively few competitors in the prone divisions, simply just having a person enter and finish the race will probably give your team an additional few hundred points.
But no matter what happens one thing is for sure: It's going to be a very exciting battle on the teams leaderboard this week. In many ways, the finishing position of your team is more important than the individual gold and glory on offer. Stand up paddling is usually an individual sport, however the ISA Worlds is very much a country-vs-country competition. That's what I love about this event. It's a mini Olympics, where athletes paddle for the pride of their nations first and foremost.
It's going to be a great week of competition, and you can watch it all right here on SUP Racer with our daily live webcast stream.
Now, time for some bold predictions…
---
Boss Man's "If I Was A Betting Man" Bold Predictions
NOTES:
– USA and Australia will finish almost tied on points, with Hawaii not far behind.
– There will be a large gap to fourth, with six or seven teams vying for the 4th and final spot on the teams podium.
– You could throw a blanket over Mexico, South Africa, Tahiti, France, New Zealand and Brazil.
– Teams with complete squads (i.e. prone paddlers) have a large advantage.
– You can view the full teams right here.
1st: Team USA
2nd: Team Australia
3rd: Team Hawaii
4th: Team Mexico
5th: Team South Africa
6th: Team New Zealand
7th: Team Tahiti
8th: Team Brazil
9th: Team France
10th: Team Spain
11th: Team Peru
12th: Team Canada
13th: Team UK
14th: Team Argentina
15th: …
It gets pretty random after this point…
---
UPDATE: But what about the individual results?
I hesitated to guess predict any of the individual race results, partly because there are so many different events at the Worlds and partly because it's so damn tough to predict the winners this year.
Though one form guide I will throw out there is the Men's Long Distance Race. This is going to be a supremely hard fought contest, with 8 of the top 12 world ranked men on the starting line. That includes world number one Connor Baxter, world #2 Danny Ching and #6 Georges Cronsteadt.
The Men's Distance Race is probably the hardest one to pick, so I thought I'd give it a stab…
My pick for the top five finishing positions (in no particular order):
– Danny Ching (USA)
– Georges Cronsteadt (Tahiti)
– Titouan Puyo (France)
– Connor Baxter (Hawaii)
– Beau O'Brian (Australia)
I'd be surprised if one of these guys *doesn't* win the gold medal, though I do expect a few surprises and upsets for the silver/bronze/copper medal positions.
There are nine other guys who have a chance of causing an upset and snagging one of the minor medals tomorrow. Keep a very close eye on local boy Bicho Jimenez.
Paddlers finishing 6th-14th (in no particular order):
– Toby Cracknell (Australia)
– Slater Trout (USA)
– Vinnicius Martins (Brazil)
– Eric Terrien (France)
– Fernando Stalla (Mexico)
– Bicho Jimenez (Mexico)
– Casper Steinfath (Denmark)
– Leonard Nika (Italy)
– Zane Schweitzer (Hawaii)
Other world class paddlers that will be pushing for a Top 15 finish (and possibly Top 10) include: Arthur Santacreu (Brazil), Ethan Koopmans (South Africa), Armie Armstrong (New Zealand), Ollie Shilston (UK), Tamas "Tommy" Buday Jr (Canada), Eric Leou-on (Tahiti), Kenichiro "Kenny" Kaneko (Japan), Bart de Zwart (Holland), Martijn van Deth (Holland). And there are surely a couple of dark horses that will emerge during the race.
This is going to be a very competitive and exciting race on Wednesday morning. Outside of the Battle of the Paddle and Carolina Cup (which have the
huge advantage of allowing more than 2x elite paddlers from each nation to compete), this year's ISA Worlds will be one of the "most competitive" races we've ever seen in the history of our sport.
Look for a "Race Index" score of approximately 44%.
So there you go. A few predictions to make the ISA Worlds a little more entertaining to follow. Check back on Sunday 17th to see how close I got.
In the meantime you can watch all the action right here on SUP Racer with our daily ISA live webcast stream.