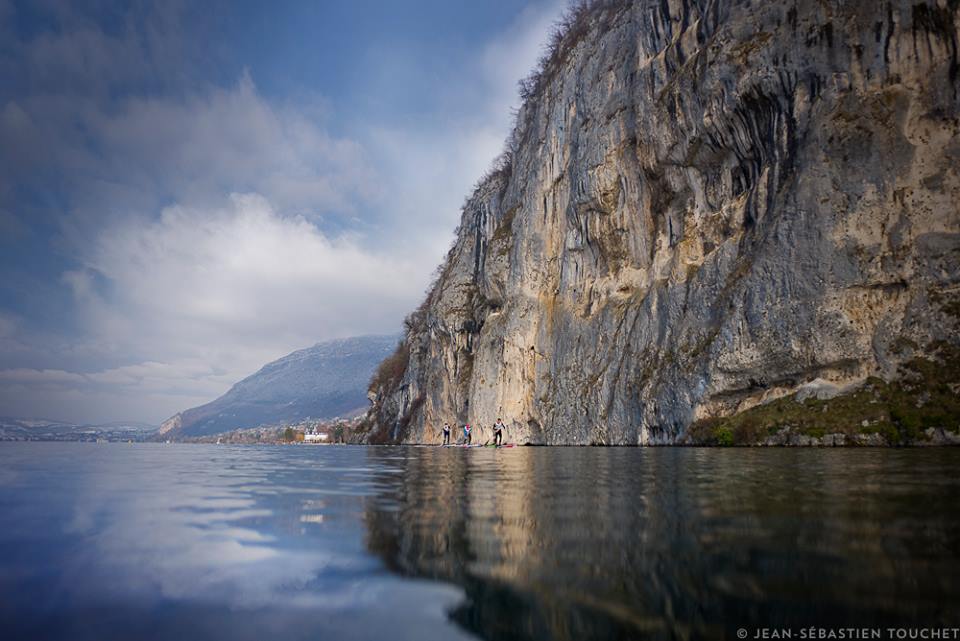 January 26, 2015
by Christopher Parker (@wheresbossman)
What Does "GlaGla" Mean In French? Bloody Cold…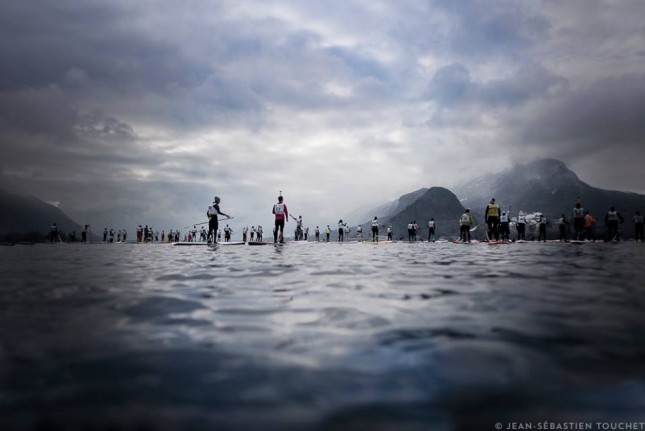 To France now, where apparently freezing cold temperatures and icy alpine waters are no deterrent to the hardcore local paddlers. Over 100 competitors braved the winter conditions for the "GlaGla" Race on Saturday, with cold water, snow and some rather breathtaking scenery making this a very unique and interesting event.
The GlaGla Race – named for the sound your teeth make (in French at least) when they're chattering in the freezing cold – drew paddlers to Lake Annecy, or lac d'Annecy, in the beautiful French Alps (Google Maps).
The 13km course took paddlers around the scenic lake, which included one section beneath some epic cliffs and another next to what could easily pass as the Dracula castle.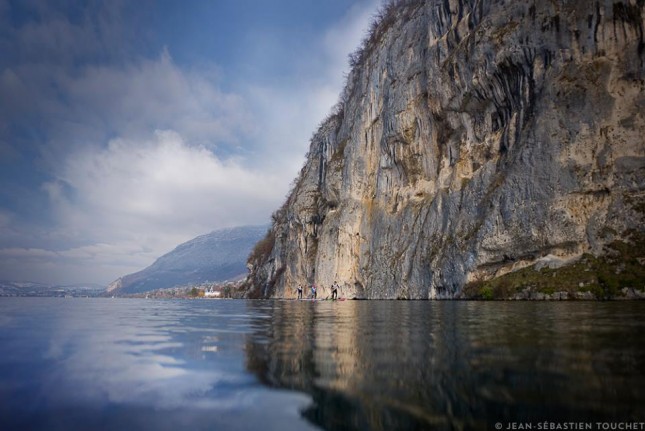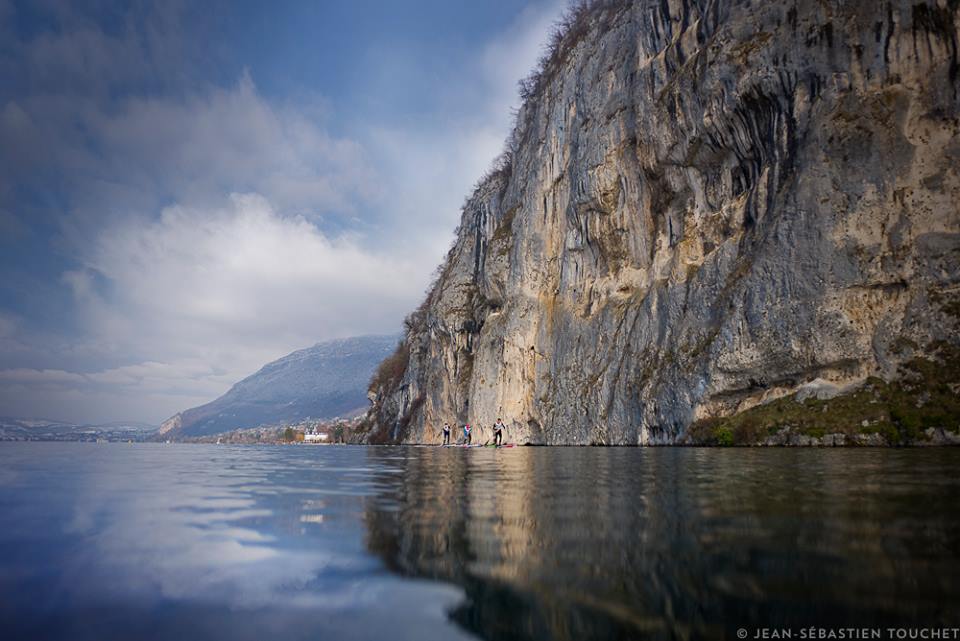 And it was cold. Very cold. Those I spoke to said this was actually a relatively mild day for the French mountains in winter, but I'm not buying it.
To give you an idea of how cold it was, the overall winner, Dani Reinhart from neighbouring Austria, paddled in a dry suit. Oh and the podium was covered in snow and ice. You know it's not your typical SUP race when the award winners are wrapped in scarves and beanies…
So the race certainly lived up to its name.

Great to see the Euro paddlers braving the weather and getting out for the first big alpine race of the year. There are plenty more where that came from too – the Alpine Lakes Tour will run all year with up to a dozen stops, while there's another similar tour called the SUP Alps Trophy. Apparently altitude racing is the new craze.
Big thanks to Alain Teurquetil (who finished a respectable 7th) and his daughter Tania for keeping us updated with results and photos as soon as they hopped off the lake.
The always-on-it Get Up SUP Mag was also on the scene and scored some great photos as well – check out the full gallery on Facebook. To give you an ide
Scroll down past the pics for the full results (these results are only from the 13km long course race, I'm told there were just as many lining up for the recreational 5km short course race).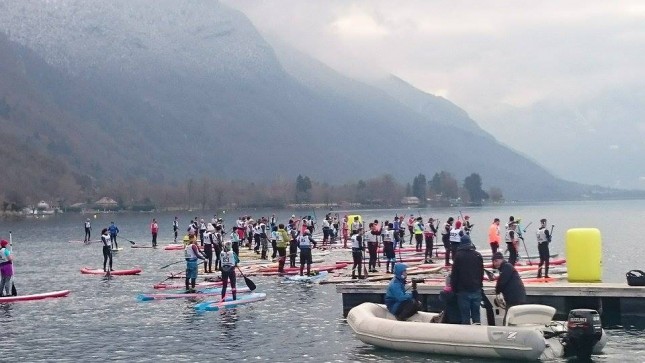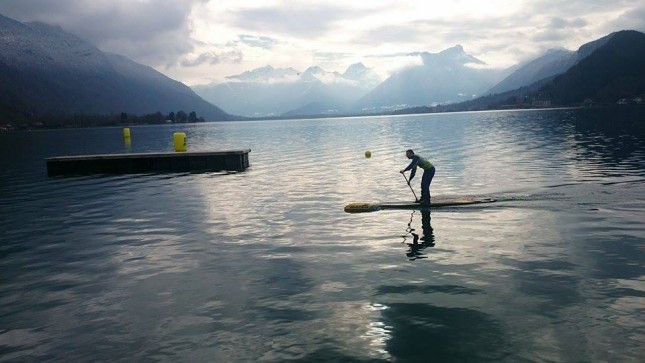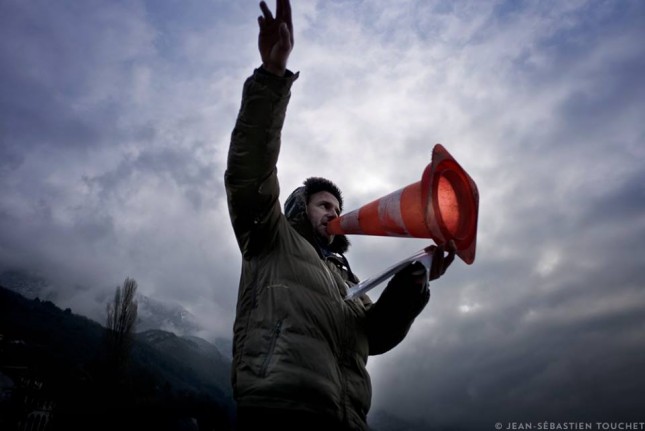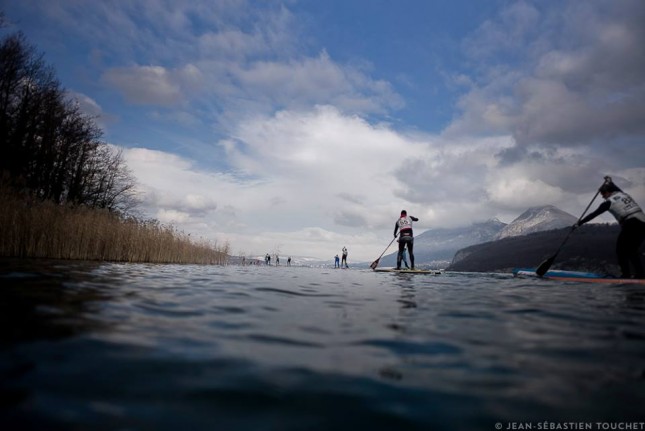 ---
2015 GlaGla SUP Race – Long Course Results
Click "Class" twice to view women's results

| # | Name | Time | Class |
| --- | --- | --- | --- |
| 1 | Dani Reinhart | 1:26:37 | 14 |
| 2 | Philippe Lachenal | 1:27:31 | 12'6 |
| 3 | Vincent Verhoeven | 1:27:37 | 12'6 |
| 4 | Ludovic Teulade | 1:28:58 | 12'6 |
| 5 | Kurt Bodenwinkler | 1:29:05 | 14 |
| 6 | Nicolas Carliez | 1:29:35 | 12'6 |
| 7 | Alain Teurquetil | 1:29:39 | 12'6 |
| 8 | Daniele Frattesi | 1:30:24 | 12'6 |
| 9 | Leandro Cruz | 1:32:06 | 12'6 |
| 10 | Hakim Dridah | 1:33:02 | 12'6 |
| 11 | Vincent Jouhanneaud | 1:34:05 | 12'6 |
| 12 | Stive Lener | 1:34:09 | 12'6 |
| 13 | Nicolas Fayol | 1:34:13 | 12'6 |
| 14 | Ugo Clay | 1:34:16 | 12'6 |
| 15 | Nick Crettona | 1:35:09 | 14 |
| 16 | Carol Scheunemann | 1:35:54 | F12'6 |
| 17 | Patrick Lamarre | 1:38:13 | 14 |
| 18 | Sebastien Ronfle | 1:38:21 | 12'6 |
| 19 | Stephane Leblond | 1:38:22 | 12'6 |
| 20 | William Canali | 1:39:45 | 12'6 |
| 21 | Pierre Guerre Beithol | 1:40:48 | 12'6 |
| 22 | Serge Senalada | 1:41:12 | 12'6 |
| 23 | Thierry Martinet | 1:41:21 | 12'6 |
| 24 | Tuan Lam | 1:41:33 | 12'6 |
| 25 | Alexandre Dallant | 1:42:10 | 14 |
| 26 | Gabriele Galeazzi | 1:43:08 | 14 |
| 27 | Devaux | 1:43:23 | 12'6 |
| 28 | Willy Basone | 1:44:07 | 12'6 |
| 29 | Stephane Launay | 1:44:10 | 12'6 |
| 30 | Rene Dague | 1:44:40 | 12'6 |
| 31 | Nicolas Lo Pinto | 1:46:31 | 12'6 |
| 32 | Philippe Ropiot | 1:46:43 | 12'6 |
| 33 | Gerard Normand | 1:46:54 | 12'6 |
| 34 | Virginie Samson | 1:47:12 | F12'6 |
| 35 | Michel Schnitzbauer | 1:47:53 | 12'6 |
| 36 | Loic Cros | 1:49:08 | 12'6 |
| 37 | Laurence Joubel | 1:49:37 | F12'6 |
| 38 | Yolaine Cler | 1:50:32 | F12'6 |
| 39 | Jean-Marc Bouis | 1:50:50 | 14 |
| 40 | Willy Lucas | 1:51:01 | 12'6 |
| 41 | Eric Fitamant | 1:54:47 | 12'6 |
| 42 | Julien Nicault | 1:54:51 | 14 |
| 43 | Cindy Journez | 1:55:37 | F12'6 |
| 44 | Manu Bouchel | 1:55:43 | 12'6 |
| 45 | Jerome Despres | 1:57:08 | 12'6 |
| 46 | Lua Di Silvestre | 1:57:08 | 12'6 |
| 47 | Michel Sapina | 1:57:30 | 12'6 |
| 48 | Philippe Millet | 1:57:40 | 12'6 |
| 49 | Cygne Du Lac | 1:59:38 | F12'6 |
| 50 | Carole Perron | 2:09:52 | F12'6 |
| 51 | Marc Nava | 2:16:13 | 12'6 |
| 52 | Thierry Travers | 2:16:13 | 12'6 |
| 53 | Karine Bargue | 2:29:34 | F12'6 |
| 54 | Mélissa Rey | 2:29:34 | F12'6 |
---