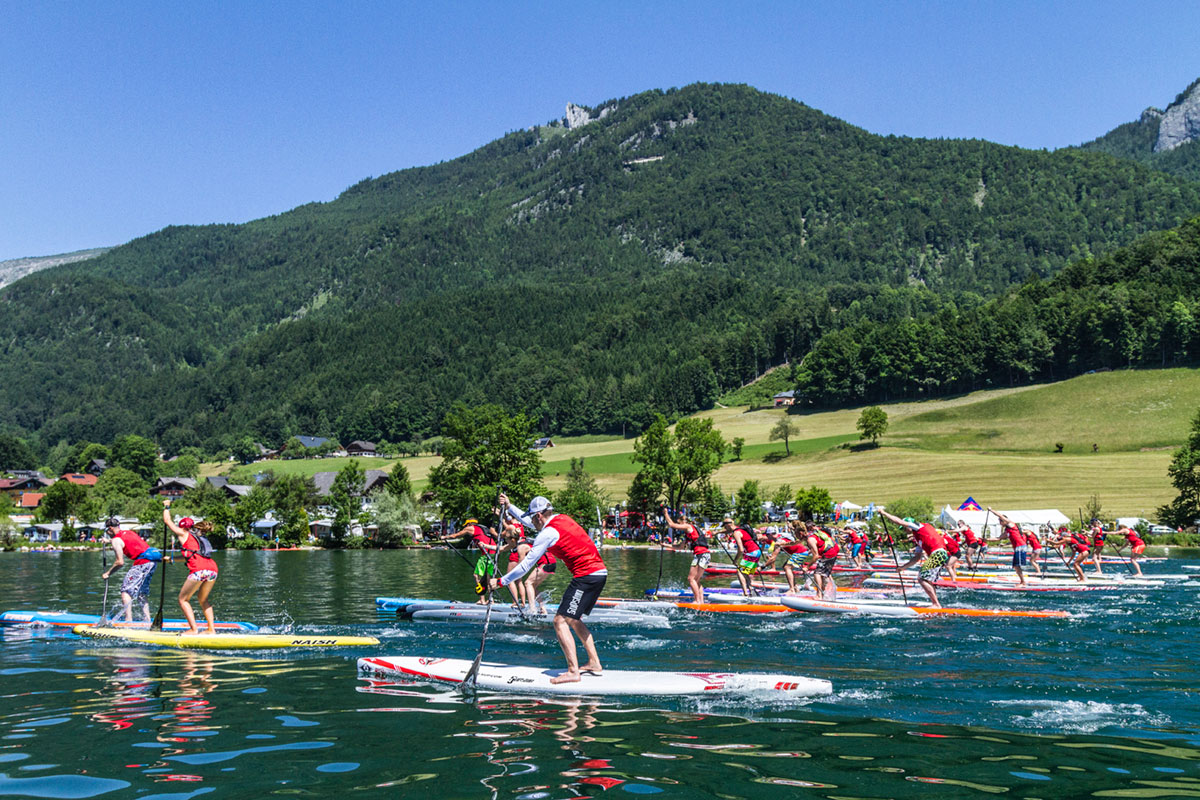 January 12, 2015
by Christopher Parker (@wheresbossman)
Is This The World's Most Beautiful SUP Race Series?
There are a lot of SUP races around the world but I don't think too many are as beautiful as these.
The SUP Alps Trophy, held high in the mountains of Europe, has just released its schedule for the new year and promises another stunning season of breathtaking scenery alongside serious racing.
The SUP Alps Trophy debuted in 2014 and quickly garnered a reputation for producing some of the finest imagery in the sport. As the name suggests, this series of long distance races is held on lakes high up in the Alps mountain range, which stretches along the borders between Germany, Italy, France and Switzerland.
Given how centrally-located these races are in Europe, each stop on the SUP Alps Trophy draws in paddlers from around 8-10 different nations. Plus each race will have 2,000 Euros ($2,400) on the line this year, which can't hurt.
But even more valuable than the prize money are the views: They're priceless. The lakes (or sees in German) that host the SUP Alps Trophy races are usually surrounded by crazy looking mountain ranges that could have come straight from a Sound of Music set.
As we highlighted in Beautiful Images From The Alps… last year, the biggest selling point for this whole race series is the scenery. The racing, which I'm told is not only getting more competitive but is also very well organised, is almost a bonus on the side.
Each event features a distance race of around 10-12km that's held on 14 footers, while there are also kids races on the side. Plus the first stop at Kalterer See will include a special SUPer Cross sprint race.
So if you live in (or are visiting) this part of the world, pencil in the SUP Alps Trophy and see the beauty of the Alps for yourself. Just try not to get too distracted by the scenery while you're racing…
2015 SUP Alps Trophy
Race #1: SUP Festival Kalterer See
Gretl am See, Italy, 1st-3rd May
Race #2: The Supskin Lake Crossing Wolfgangsee
Appesbach, Austria, 24th May
Race #3: SUP Terrassenhof-Cup
Tegernsee, Germany, 26th July
Race #4: Engadinpaddling St. Moritz
St. Moritzer, Switzerland, 22nd August
Race #5: Chiemsee Insel-Marathon
Chiemsee, Germany, 26th September
For more info check out the official site (Google translation)