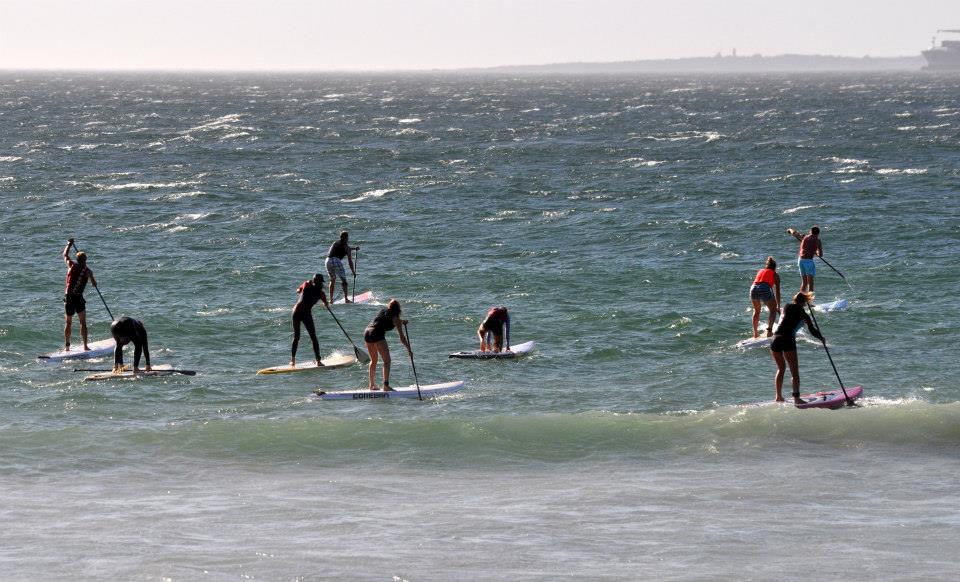 January 27, 2015
by Peter Petersen
Third Time Lucky As South Africa's Downwind Dash Continues To Roll Down The Cape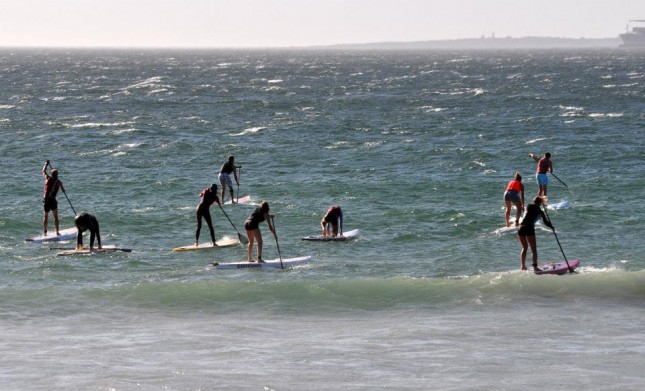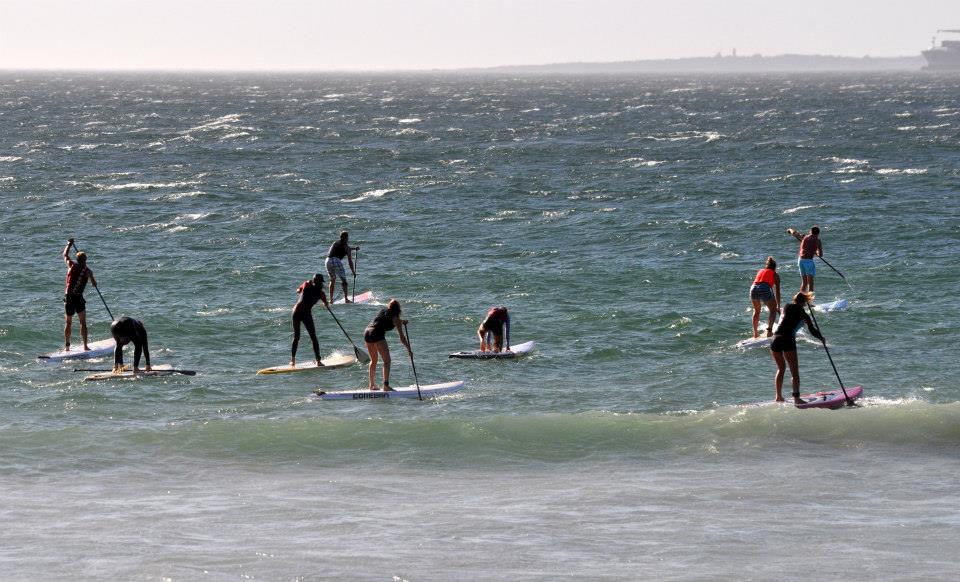 Last Wednesday night, January 21st, marked Week #3 in the new edition of the ten week PRIMI Naish Downwind Dash Series. And *finally* we had some well-timed wind here in Cape Town.
Dodgy Wind Guru forecasting and borderline calls by organisers had seen the past two Wednesday nights pass by without a race, despite there being some (arguably iffy) winds. We've actually been downwinding 4-6 times a week for the past couple of months, however the wind had been frustratingly absent on Wednesday race nights.
This week was different though: A solid Guru forecast got the Cape town downwind crew excited, leading to 45 SUPs and 26 Surfskis pitching up for what was looking like a cracker. By 4.30pm the wind was averaging 22knots with gusts up to 33knots and barely any swell – in other words: "Blerry perfect!"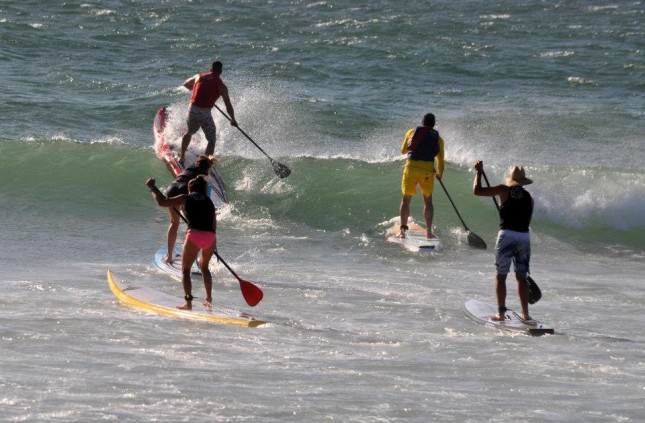 Ethan Koopmans had spent most of his x-mas holidays perfecting his kite-surfing skills and was a bit weary of Tom King who has been putting in the hours, often doing double-Miller Bay downwind runs, to get in perfect shape for the new series and for the ISA Worlds looming in May.
With no swell, everyone got out without mishaps (no repeat of the broken boards this week!) and once again, Ethan shot off to take the lead.
Ethan took an extremely tight inside line along the coast, while Tom went slightly wider and Greg Bertish gambled on the far outside run.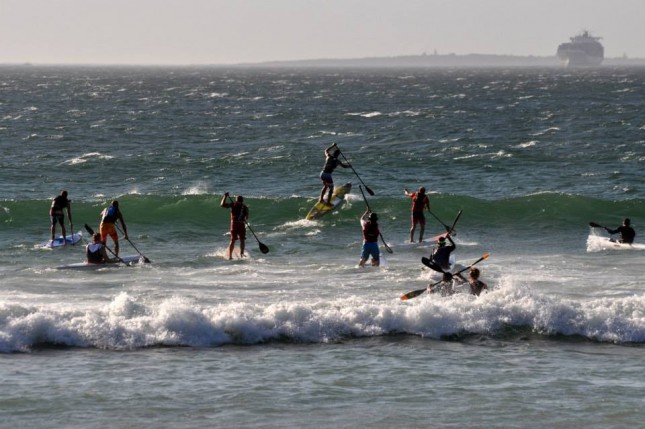 By halfway, Tom caught and overtook Ethan while Greg was looking really good on his outside line. At this point Ethan put on his game face and put down the hammer down along the second half of the course, managin to clear Tom by over a minute in the end. Greg's outside line got him 3rd a further 2 minutes adrift.
Fourth place was taken by German (SA resident) mountain biking World Champion Nico Pfitzenmaier. Nico has been downwinding for about a year and is now beginning to nail the technique. Combine this with a 6'3 frame only weighing 70kg plus an off-scale VO2 max figure and you have a potent package – as tonight's result proves!
In 5th and 6th we had our Juniors; Joshua Robertson and Kimon Dos Santos, 3rd Junior was Matthew Maxwell, whose dad, Dave, just managed to edge ahead of him for 15th and 16th in the overall placings. I'm sure Dave will cherish this one as there probably won't be many "Dad beat Son" reports left to enjoy the way Matthew is improving!
Tarryn Kite took the Ladies ahead of visiting Dutch Champion Emma Reimenjrink and Patricia Kohrs. Patricia felt she'd been in contention until the last section, where she couldn't stay with Tarryn and fell in the small waves to let Emma through. In total we had eight ladies on the water tonight.
Ethan's time of 45 minutes 9 seconds is quite decent considering the wind actually backed off for the race by about 5 knots, and especially considering the second half was not all-time by anyone's standard.
That time is also just three minutes outside the race record (which Ethan also holds). The boys have actually been edging closer to 40 minutes during practice runs lately – we hope we get a couple of crackers in coming weeks to see if the magic 40 min barrier can be broken.
The PRIMI Naish Series runs every Wednesday night (when there's wind…) until 11th March, so plenty more fun PRIMI Naish races on the cards!
---
Click to zoom in on the results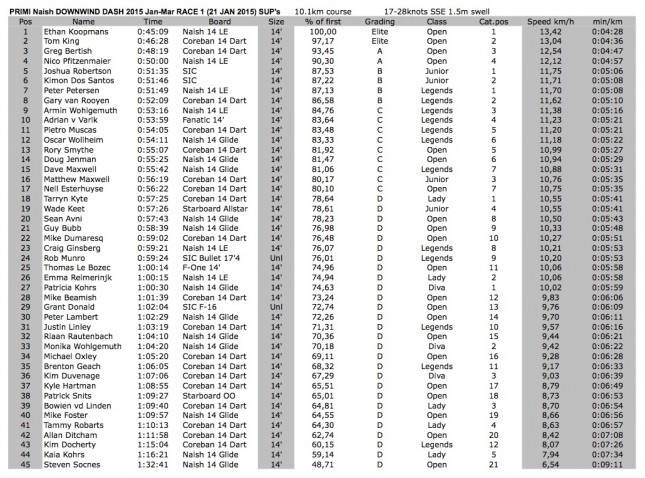 Credit for all photos: Jane bouwer Amory