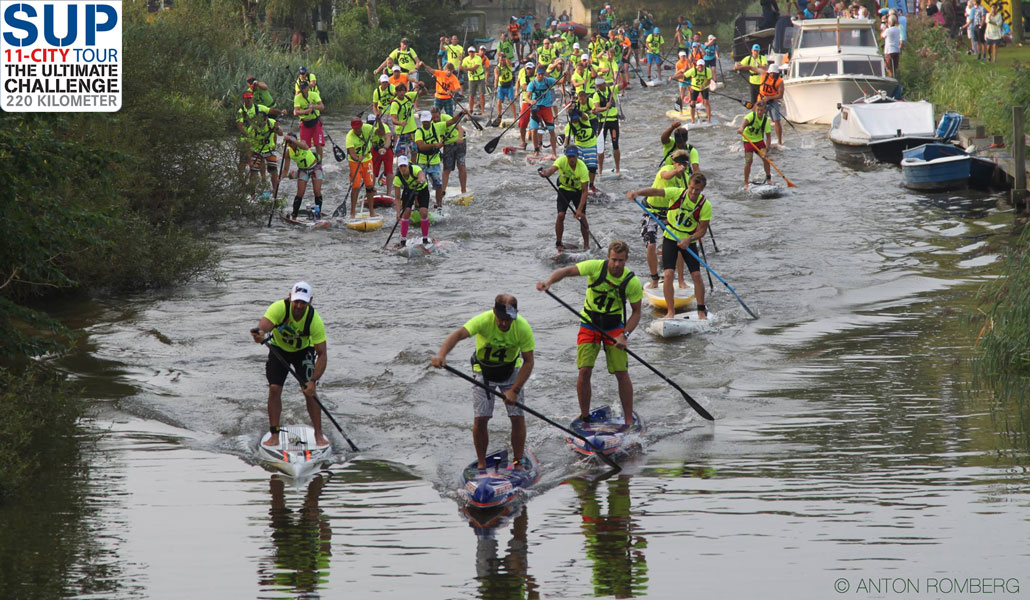 August 10, 2014
by Christopher Parker (@wheresbossman)
I'm Doing The "SUP 11 City Tour" This Year: Five Days, 220kms Of Paddling (And Pain) …Who Wants To Join Me?
So I'm doing the SUP 11 City Tour this year…
Yes, that SUP 11 City Tour. One of the most difficult (and by far the longest) races in the world of stand up paddling. Five days, 220 kilometres (136 miles) and lots and lots of pain. I'm not entirely sure I know what I'm getting myself into here, but I'm really excited about the challenge and adventure that awaits on September 3rd.
And now thanks to the support of Mistral SUP and the SUP 11 City Tour organising team, I'm going to give you an inside look at just how awesome/fun/challenging/crazy/painful this great race really is.
For those who aren't regulars on SUPracer.com, the SUP 11 City Tour is a five day stage race that stretches 220 kilometres (136 miles) through the towns and countryside of Friesland, a province in the northwest part of the Netherlands. The event runs each day between Wednesday September 3rd and Sunday the 7th, with most stages being around 40-45 kilometres (or 5-6 hours) in length.
The SUP 11 City Tour is basically the Tour de France of stand up paddling. It's a true epic.
In my opinion, the 11 cities is one of those grand races that every paddler should do at least once. Several of my close paddling friends have done it already and so now I guess it's my turn…

Not only is it the single longest SUP race in the world, the 11 cities is also one of the most brutal events you could imagine. Not so much for the physical or technical difficulty – it's almost all flat water paddling – but rather the mental challenge that five straight days of racing presents.
It's almost a Molokai a day, five days in a row.
If you're a really good paddler and the conditions are kind, you can finish in a combined time of around 24 hours. But if you're not so fast and the conditions are particularly menacing, you can be out there for nearly 40 hours in total…
The SUP 11 City Tour has always been on my bucket list.
Not because I think it would be particularly "fun" or that I would place very high on the results, but simply because I think it would be an awesome adventure and a huge challenge.
This is a long race. Especially for a paddler like me, who much prefers a 200 metre sprint over any kind of distance event. I'm not an endurance paddler. Racing 220kms is way out of my comfort zone.
And that's exactly why I wanna do it.
According to Bart de Zwart, the three time 11 City Tour champion and my biggest inspiration for taking the plunge this year, the 11 cities is much more of a mental race than a physical one. You're out there for hours and hours each day: Quite often your biggest competition isn't the guy or girl directly in front or behind you, but rather it's your own mind.
Staying focused and staying alert for five hours straight is difficult no matter what you're doing, let alone when you're trying to compete in a SUP race.

I'm also inspired by the great history of this event. The SUP 11 City Tour was born in 2008 by Anne-Marie Reichman, who was the first to complete the course on a stand up paddleboard. However the tradition of the 11 cities dates back hundreds of years before that…
The 11 City Tour (or "Elfstedentocht" in Dutch) can be traced to the 1700s, where in winter times ice skaters would travel between towns via the frozen canal ways. The first official race was held in 1909 but has only been run 14 times since, due to the requirement of an extremely severe winter that can produce a thick sheet of ice along the entire route.
For these reasons, the 11 cities is a very historic and proud tradition in the province of Friesland and the Netherlands in general. Now the SUP 11 City Tour continues writing that story, albeit when the water is a little warmer.
I've also heard so many great stories about the camaraderie and spirit of this race. Despite the exhausting nature of the event, competitors seem to bond over the week-long expedition. Most of the paddlers stay together on a large wooden boat that parks itself at the finish line of each day's stage (which also acts as the starting line the following morning).
Some have described it as the funnest week of their lives. Others have described it as something bordering on self-inflicted torture.
I've spent many hours chatting with Casper Steinfath (3rd in 2011, 2nd in 2012) about this race and the young Danish Viking always conveys a story of adventure and challenge.
I also remember when the Aussies did this race back in 2011: Paul Jackson said it was a nightmare while Jake Jensen had to retire on one of the stages due to hypothermia. September in the Netherlands can be rather chilly… In fact the SUP 11 City Tour is often an unpredictable roller coaster of weather, including both freezing cold wind & rain as well as beautiful, warm sunshine in the same year.

I'm not doing this race to try and win. I'll certainly be paddling as hard and fast as possible, but I have no illusions of being anywhere near the front. I'm not particularly fast at the best of times, so I'd be surprised if I'm even within an hour of the podium by the time we've finished the approximately 24 hours of racing over the five days.
Though I do love the idea of the races within the race.
The battle for 5th/6th/7th or between the paddlers fighting for 13th and 14th is often just as fun and intense as the battle for line honours. Because all of the competitors start each new stage at the same time, personal rivalries soon emerge.
You might have finished five minutes behind the guy in 10th place on Day 1, but then you beat him by six minutes on Day 2. So for the rest of the week you'll be shadowing your rival on the start line each morning, as the two of you are locked in a personal duel for the final spot inside the Top 10.
It's these kind of "races within the race" that make distance events so entertaining for all competitors, no matter what their level.

Despite the (very unenticing) option of doing the SUP 11 City Tour "Non-stop" this year (seriously: there's a new division this year where you can do the entire 220km race without stopping), I'm going to stick with the traditional route: The solo, five day race on a 14 foot board.
Oh and I'm also doing the race on an inflatable. Just to make it that little bit more of an adventure…
An Inflatable?!
I'm going to be racing in the 2014 SUP 11 City Tour on a Mistral inflatable race board. The 14′ x 25″ Equipe model, to be exact. It's the 2015 design. And it's INSANELY light weight.
I was motivated in part by Dave Kalama's guest post about the potential for inflatables. I've always been a board snob in the past but the more I think about it, the more appealing inflatables become.
However I was even more motivated by just how ridiculously light Mistral's new inflatable stand up paddleboards really are. I was a guest at Mistral's annual meeting in Germany last month and got to play around with their 2015 lineup. Mistral is making a serious push in the world of inflatables and the first thing I noticed was the crazy weight of their new designs.
Using a futuristic German technology and European manufacturing, the new Mistral inflatables have somehow combined light weight with extreme stiffness. These things are super rigid but still significantly lighter than the current batch of inflatable stand up paddleboards on the market.

Mistral is an historic brand that is, quite fittingly, headquartered in the Netherlands. The Mistral SUP division is leading the charge on a new generation of inflatables, so I'm pretty confident their gear will get me right through the 220 kilometres of the SUP 11 City Tour.
Charting my journey this year will be Steve West and his wife Mandy, who will be following my voyage and providing priceless moral support as well as timely news, photos and updates. Steve is the new International Brand Manager for Mistral and is also the guy who created plenty of debate here on SUPracer.com, thanks to his series of thought-provoking guest posts.
Steve will be tracking my journey each day (from the comfort of dry land…) and sending out daily dispatches and pics that summarise the spirit and adventure (as well as pain and suffering) of this great race. I'll also be providing my own insights from within the peleton that will hopefully give you a taste of what the SUP 11 City Tour is all about.
Plus you're going to be able to follow the race in real time every day, thanks to the live GPS tracking chips (something the SUP 11 City Tour has pioneered in our sport).

So there you go. I'm entering the 2014 SUP 11 City Tour. And I'm doing it on an inflatable.
I won't be the first person who's ever attempted the 11 cities on an inflatable, though I am quietly hoping to be the first blow up paddler to sneak into the top 10.
But no matter what happens, this year's SUP 11 City Tour is going to be a huge adventure. And thanks to the support of Mistral and the 11 cities organisers, we're going to be giving you an inside look at this epic adventure.
We'll have a lot more previews and info about the race in the build up to Stage 1 on September 3rd, but in the meantime: Who wants to join me?!