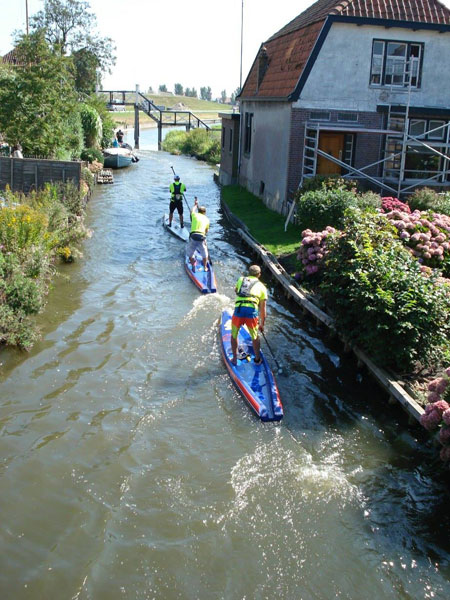 September 8, 2013
by Bart de Zwart
Bart De Zwart's "SUP 11 City Tour" Race Recap & Insights (Final Stage UPDATED)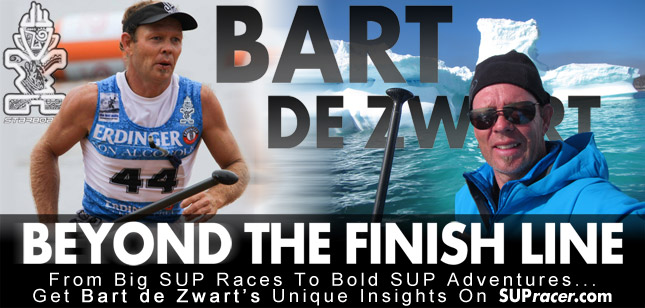 Boss Man's note: Bart de Zwart is currently competing in the longest Stand Up Paddle race on the planet: the 220km, five-day epic that is the SUP 11 City Tour in the Netherlands.
Bart has won this event the past three years in a row and is paddling hard for a fourth straight victory this week. There are five different stages between the 4th and 8th of September, and we'll be speaking with the champ as soon as he steps off his board each day. Keep reading to find out what Bart has to say about this gruelling endurance race…
*****
2013 "SUP 11 City Tour" Recap and Insights by Bart de Zwart

STAGE FIVE // Sunday 8th September // Dokkum – Leeuwarden // 30kms
Today's fifth & final stage was make or break for me. I began the stage three minutes down on Peter Bartl of Austria, meaning I had to do all the work today if I was to have any hope of defending my title.
I felt really good on Stages 3 and 4, where I felt just as strong as Peter, however the first two stages really cost me… I wasn't feeling good at the start of this year's Tour and, combined with Peter's smart and aggressive race tactics, I lost valuable time early on. Peter had the luxury of knowing he could just stick with me and he would win. That's the position I usually find myself in, such as last year when I put five minutes into Casper on the first stage before we stuck together the entire remainder of the Tour.
But this morning I was three minutes off the lead and had only 30kms to make it up (today's final stage was much shorter than the other four). I knew there were a few places on the course I could make a move and the weather was, thankfully, not so good (I much prefer racing in the wind and rain than in the heat). Usually I like to control the pace so I'm at the front when the time comes to make a move, but today I had no choice, as the Frenchman Cyril Coste, who has been locked in a very entertaining battle with my compatriot Martijn van Deth for the third and final podium spot, took off like a rocket from the start.
Cyril set a really high pace the first half of the stage. He knew he had to drop Martijn, who was six seconds ahead of him this morning, but it seemed like Cyril also wanted to get rid of Peter and myself and take the stage win. He was attacking relentlessly, just like yesterday, however this time it worked. It was hard for Peter and I to stick with him and impossible for Martijn, who quickly fell out of the lead group and by the end of the stage had lost over five minutes (and also, unfortunately, his dream of a spot on the podium).
The three of us (Cyril, Peter, myself) managed to stick together despite the high pace, which started to slow down in the second half when Cyril realised we weren't going to be dropped. From there the race came towards the final town of Leeuwarden, where the race began back on Wednesday. This was the finish of the stage and the entire Tour, and we all knew it would be a hard battle right to the end, with the final stage victory up for grabs.
The last five kilometres of the race was into a solid headwind, something I really like when I'm racing but unfortunately it was too little too late. I couldn't drop Peter and gain my three minutes, however I was able to control the final part of today's stage, keeping in front right up until the final kilometre, when we entered the town and started going through the narrow canals and under the low bridges.
It was hard to make a move as the water was very rough as the small waves from boats bounced off the solid canal walls. This allowed me to stay in front right until the final few hundred metres, when Peter and Cyril inevitably made a strong move to try and take over. In the end I was able to hold them off until the line, with Cyril crossing just behind me and Peter another 20 seconds or so behind us.
I was really happy to get a third stage win and finish the race on a positive, however unfortunately I wasn't able to make up anywhere near enough time on Peter, who is a deserving winner of the 2013 SUP 11 City Tour by over two minutes. Peter trains very hard back home in Austria, usually on his own, and was very committed to winning this race. He was third behind myself and Casper this year and has improved dramatically over the past twelve months. He's a great guy that's always smiling and excited to race, but is also very determined. It's great to see more European paddlers taking SUP racing so seriously, and I'm sure we'll see Peter's name on the podium in many more races to come.
The third place finisher overall, Cyril Coste, didn't have much name recognition in the SUP racing world before this week, however he has certainly turned a few heads here in the Netherlands. Cyril has spent a lot of time paddling on Maui but only got serious about racing this year. I know he took it very seriously though, training hard and showing up at the 11 Cities determined to perform well. He also paddled a prototype design that is 21-inches-wide, which he helped design himself. It was clearly a very fast board, though it's also quite impressive he managed to stay on it for five hours a day when it is so narrow and tippy.
I'm relaying this update to Chris right after we finished the stage, so the leading women are still out on the course. However I think Marie Buchanan from the UK had a big enough lead that she will claim the overall victory from Peter's compatriot, Melanie Brandstatter.
Personally I was quite happy with my result in the end but know the first two days really cost me. This was a Tour of two halves for me; on the first two days I felt weak and was hanging on while Peter gained lots of time. However on the final three days I felt we were very evenly matched and it became a great duel. But three minutes is a long time to make up against such strong opposition. So a big congratulations to Peter Bartl and to everyone that completed the 220kms, with some people paddling for a combined 35-40 hours over the past five days…
In 48 hours I will be back on Maui. I should have plenty of time to think about this race on the plane ride home, so maybe I can do another post through the week with my reflections on the 2013 SUP 11 City Tour.
Until then, I hope you've enjoyed these updates and I really encourage you to complete the 11 Cities one year. It's a great challenge both mentally and physically, plus you get to hang out with paddlers from all over Europe and around the world for the week. It's very tough but is also a very rewarding experience.
– Bart
*****
STAGE FOUR  // Saturday 7th September // Franeker – Dokkum // 45km
Today's 45 kilometre stage between the towns of Franeker and Dokkum felt good for me. I've been feeling better and better as this Tour progresses, so after a tough first two stages I'm now feeling strong again.
Stage four was interesting, I thought the start of the course would be easy but intsead the pace was very high. The Frenchman Cyril Coste, who was third at the start of today's stage and has been the surprise packet of this year's SUP 11 City Tour so far, was attacking relentlessly all morning. Maybe he was inspired by the bicycle race in his home country, the Tour de France, where "attacks" are a popular (and exciting) strategy, because today he tried several times to break away.
Cyril needed to break Martijn van Deth, the local Dutch paddler who was only 2 seconds behind in fourth place at the start of the day and with whom Cyril is locked in an exciting battle for the third and final podium spot.
Several times Cyril would gain ground on our lead group (each day the lead group has been the same; Peter Bartl, Martijn, Cyril and myself) but we knew he wouldn't be able to hold onto the lead on his own, so we didn't panic and waited for him to slowly come back to the pack.
However the pace was clearly taking its toll on Martijn, who is my compatriot and someone I would love to see reach the podium this year (he has competed in every single SUP 11 City Tour and has always dreamed of a top three finish). Martijn told me after the stage was finished that he almost lost it on four different occasions today. He said that just one more stroke at that pace and he would have fallen off the draft train and into no man's land, where his hopes of a podium finish would have disappeared. Martijn was in pure survival mode today and I'm impressed he hung on for the entire five hours
If you've ever done a long flatwater race, you'll know that losing connection with the draft train usually means you lose a lot of time very quickly. It's like a string snapping, you just disappear into no man's land on your own…
MORE >>> Get the latest SUP 11 City Tour RESULTS including overall standings after stage 4
So we all stuck together again today, however the end of the stage was quite tricky. Over the final 10 kilometres Peter and I stopped drafting off each other and paddled side-by-side. We were testing each other and both trying to see if the other one was strong enough to stay with any breakaway move. It ended up in a stalemate, both of us equally as strong and paddling side by side almost all the way to the finish. It was very interesting and this went on for about an hour, until we got right into the town of Dokkum where the stage would be finishing.
The final few kilometres had a lot of tight turns and narrow bridges. You can't paddle under the bridges, you literally have to get down on your knees and almost crawl through them… It becomes very difficult, especially if you are at the back of the draft train, because the wash from the guys at the front quickly bounces off the solid walls of the bridge and creates a lot of rough water. That's what happened to Cyril, who was sitting in fourth and found the final kilometre difficult to manage, as he is riding a narrow, 21-inch-wide board that can't handle choppy water very well. This allowed Martijn to gain a very small advantage on his podium rival; he only finished 8 seconds ahead today but that was enough to move into third place (and a virtual podium spot) overall, with a 6 second lead over Cyril heading into tomorrow's final stage.
Meanwhile Peter and I were locked in an evenly-matched battle for the stage win. It's funny that sometimes you don't know when the end of the stage is in this race, because all the bridges and canals look the same. You can be paddling along and suddenly the finishing buoys are just in front of you. But today we both knew exactly where the finish would be, so as we entered the final, low-hung bridge, we both tried to make a move. However we went under the bridge side by side and came out the other end at exactly the same time, so from there it was simply a 100 metre, all out sprint to the finish line, which I very narrowly won.
We have now both won two stages each, however Peter still has a very solid lead on me at around three minutes. I will have to make all of that up in tomorrow's fifth and final stage if I want to make it four wins from four years here at the 11 Cities.
The weather for Sunday is forecast to be windy and rainy, which is just what I want. We have had good weather most of the Tour this year, but I have an advantage when conditions are rough, so hopefully the wind is strong enough that it will break up the group and I can get away from Peter at some point.I know there will only be a few spots on the course where I can realistically make a move tomorrow, but I will definitely be trying. It's just like the Tour de France: You have to be very strategic and know exactly when to make a move.
The final five kilometres of tomorrow's stage (and therefore the final five kilometres of the entire race) should see a stiff headwind at a time when the course becomes tricky: solid concrete walls combined with boats on the canal make the chop bounce off in every direction, compared with the soft banks of the empty canals out in the countryside, where it is relatively calm. That could be my chance to make a move, but Peter is very strong this year and is proving difficult to shake. He has the luxury of only needing to stick with me and he will win comfortably, whereas I have to do all the attacking tomorrow to have any chance. I feel we are very equal in strength right now, but those first two days really cost me.
Also if I can I will try and help my compatriot Martijn hold onto his podium spot tomorrow. This is Martijn's fifth SUP 11 City Tour (he's done them all) and his dream has been to make the podium one year. Right now he's 6 seconds ahead of the fourth-placed Cyril and just needs to hold on for the final 30 kilometres to secure third place. I will obviously try and make a break and win the stage, but if the four of us are all together until the end, then I will try and help Martijn realise his dream.
MORE >>> Get the latest SUP 11 City Tour RESULTS including overall standings after stage 4
It's great to see the battles for the minor placings. It's really tight between Martijn and Cyril for third place, but the same thing is happening right down the leaderboard, with lots of paddlers having their own one-on-one duels no matter whether they're sitting in 1st or 31st.
Another great thing about this race is the respect we show for each other. We have a real gentleman's agreement that this race will be won by hard paddling and smart tactics, not by bad luck or anything sneaky. This was highlighted today when the Frenchman Cyril accidentally hit his fin going around a shallow corner. He hit it very hard, which knocked him off his board and almost broke his fin box. The three of us (Peter, Martijn and myself) who were in the lead pack with Cyril all waited for him to inspect his fin and hop back on his board. We don't want the race decided by something unlucky like this.
The same thing happens when we take our food break. Every hour or so, someone will yell out "food" and we'll stop paddling for 10 seconds while we each grab some power bars or energy gels. Nobody even thinks of sprinting off when their rival has food in their mouth, even though they easily could. It's this sort of respect and camaraderie that makes the race a little bit unique and also very rewarding to be a part of.
Well it's Saturday night here in Holland right now. I have to get some good rest before a big, and hopefully exciting final day tomorrow. I'll speak with you after the race and let you know how it all turned out!
Thanks for following the adventure so far, I hope these daily updates give you some insight into what is truly a unique event. The SUP 11 City Tour is a great race and hopefully some of you reading this will be inspired to join us in 2014. It's not easy but it's definitely very rewarding.
Aloha,
– Bart
MORE >>> Get the latest SUP 11 City Tour RESULTS including overall standings after stage 4
*****
STAGE THREE // Friday 6th September // Workum – Franeker // 43km
Today was much better for me. I was feeling a lot stronger and was able to control the race much more than in the first two stages.
For me at least, I feel you get stronger and stronger as this race goes on. You need to get into the rhythm and get used to the long days. I really didn't train as much as I would have liked in the lead up to this year's SUP 11 City Tour, so the first two days were very hard and I felt I was playing catch up. The first day especially, that was the hardest day of racing I've ever done. I was just surviving rather than controlling anything.

Video highlights of Stage 3 as the Tour passed through the town of Bolsward
But today it all turned around and I was able to take the stage win. I only made up 10 seconds on Peter Bartl so he still leads by almost three minutes, but it was good to be back in front at the end of the stage.
The pace was fast early this morning, with myself and Peter making a break from the two guys who have stuck with us the first two days: Martijn van Deth and Cyrl Coste. However a few kilometres down the canal those guys caught up as Peter and I slowed a little. For the remainder of the first half of the stage the pace wasn't so high. After the break (we stop in the middle of each stage for a quick food break) it picked up and by the end it was fast again.
The final stretch of stage three went through the town of Franeker, where the canals became very tricky to navigate. There were a lot of low-lying bridges and lots of 90-degree turns. This made it difficult for Cyril to keep up with us, as he is on a very narrow board and doesn't seem to be used to turning, so he dropped back by the finish. In the end I crossed the line a few seconds ahead of Martijn, with Peter a few seconds further back. Peter tried to make a move a couple of times in the final hour but we did't let him get away this time.
Today I had a plan, I stuck to it, and it worked, so I was very happy. I had plan the first two days as well, but unless you're feeling strong it's very hard to execute it…
It was also great to see my Dutch compatriot Martijn make up a lot of time today. He's now just three seconds behind Cyril and a place on the podium.
I still have three minutes to make up on Peter, so there is a lot of work to do Saturday and Sunday, but at least now I feel I have a chance to regain the lead. It won't be easy as Peter is super strong this year and is very tough to break away from, but I will continue looking at the weather and at places on the course to make my move.
The weather was too hot and training on the first two stages, at least for me. Today it was a little more overcast which I liked, while tomorrow it should be even worse, which is great! It's funny that I'm hoping for bad weather but that's just what I feel comfortable racing in. Plus I know my rivals probably don't like it if there's lots of wind and rain, so that could give me an advantage as well.
In the women's race today it was again a battle between Marie and Melanie, with Marie proving too strong and pulling away in the final kilometres. The Englishwoman seems to be a very tough and determined paddler, so Melanie will have a lot of work to do if she wants to make up the 8 or 9 minute gap in the final two stages.
Tomorrow (Saturday) is stage four and again it will take somewhere around 5 hours to complete. The first four hours goes through the countryside and we will probably see the top four guys stick together, however the final hour will again go through a town where it may be possible to split up the pack and gain some more time.
I'll keep you posted tomorrow. Time to recover now…
– Bart
*****
STAGE TWO // Thursday 5th September // Sloten – Workum // 42km
The second day was also hot, flat and long. Yesterday was 45kms and today was 42km, however the times were slower today which shows how draining this race can be.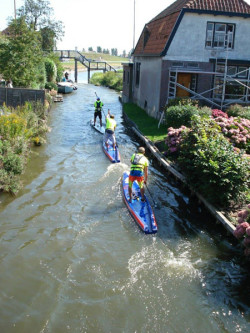 Again it was Peter who took the overall win and gained more time on myself and the other leading paddlers. He made his move about an hour from the end. I'm not feeling as strong this year as I was in 2012 and am hoping the conditions get worse for the remainder of the Tour, because I feel a lot more comfortable when we have head-wind or rough waters. But today it was Peter's day. I get the feeling Peter doesn't want to be caught in a sprint at the finish, so he is making his move in the final hour each day and trying to break the field before the final stretch.
Peter's advantage today was only one minute, but that still puts him three minutes ahead overall. This race is like the Tour de France: once you have a lead you only have to defend it. That's usually the position I find myself in, but now I'm behind and have to do all the work in the next three days.
In the women's race it was another Austrian, Melanie Brandstätter, who regained some time on the leader. Marie Buchanan is still six minutes ahead, but with two different winners in the first two stages, the women's race could go either way.
Tomorrow is Stage Three; 43 kilometres between the towns of Workum to Franeker. This will be an interesting day because it has a bit of everything: The first section goes through the fields and countryside like we are used to, but then we enter a big canal where the larger boats can create a lot of chop and rough water, which could mix things up and break the draft trains.
After that we enter a really tricky stretch through the town to the finish line. The canals are very narrow and there are lots of very low bridges, where you literally have to crouch down on your board to pass underneath. This also gives plenty of opportunity for someone to make a move and break up the draft train, so I think tomorrow we will see the times split up a little more.
Hopefully I can find the right spot to make a move and gain back some time on Peter. I realise now that I have to race a lot smarter.
The weather has been good but as I said, for me it is too good… When conditions are calm like this there are less tactics coming into play. The organisers seem very happy that we have warm, sunny days and no winds, but I would prefer the opposite! I will continue looking at the weather and hoping for some rougher conditions, which will play into my favour, and will also try to make a fast start and see if I can gain some early ground.
*****
STAGE ONE // Wednesday 4th September // Leeuwarden – Sloten // 45km
It was a hectic start to the first stage of the 2013 SUP 11 City Tour. A camera crew on the boat got into a bad position just as we started, which caused all sorts of little waves to bounce off in every direction in the narrow canal. A few guys fell off, including one of my biggest threats, Ryan James from the UK. Ryan has been sick the past two weeks and barely made it to the start line, but after the first few kilometres realised he was in no shape for a 220km marathon and decided to retire.
The weather was very good, but almost too good. It was hot (28-30 degrees C) and the winds were calm, which made the first 45km stage a long, tough grind. I prefer it when there are rough waters and headwinds, because I feel comfortable in these conditions when my rivals often don't, plus it breaks up the pack and makes it easier to get away from the group.
On the first stage I made a huge mistake by leading the pack for too long. There were four of us in the lead group drafting off each other, but I was spending too much time at the front. I usually like to be in front and control the pace, but that is only really an advantage when conditions are rough and I can make a move. When conditions are flat and calm like today it's easy for the pack to stick together, so I really should have made the others lead more. Yesterday I led for more than four hours, which really drained my energy and allowed Peter to make his move in the final leg.
Peter raced smart right throughout the first stage; spending most of the time behind me in the pack and waiting for the right time to make his move. On the large, wide lake about 10kms from the finish, he broke away from our four-man group and went really wide, so wide that we didn't want to follow him. The tactic paid off though, because at the end of the lake the Austrian had a significant lead and held onto it until the finish, gaining almost two minutes on myself, Cyril and Martijn (who fell back a little towards the end).
Cyril Coste – a Frenchman who has spent a lot of time on Maui – was very impressive. I didn't have him in my top 5 pre-race favourites but he is sitting in third overall and looking very fast. Cyril is paddling a 21-inch wide board (which he actually helped shape) and when he takes over the lead in the draft train you can clearly see how much faster the board goes. I'm not sure Cyril has the endurance to win but he definitely has the right equipment and has so far been the surprise packet of this Tour.
I realised I made a mistake by leading too much and will have to be smarter for the rest of the race. Peter Bartl is looking very strong this year, so I will really have to get tactical if I'm going to defend my title. The first stage this year was the hardest stage I have ever done in the 11 Cities, and this is my fifth year competing… The heat makes a huge difference, it's very draining.
I didn't get to see the battle in the women's race yesterday, but Marie Buchanan from the UK is looking strong and took a big lead on day one, ahead of Austria's Melanie Brandstätter (who I picked as my pre-race favourite).
See the full results from stage 1 plus overall standings: 11-Cities Tour Results.
At the end of each day all of the paddlers stay on the same boat in the canal. It's one of the best things about this race as we become something like a paddling family for the week; we stay together, we eat together and really get to know each other well.
Another great thing about the SUP 11 City Tour is that even though there are maybe only four or five guys and a few women who have a chance of winning the overall title, there are interesting battles right throughout the field. You know after day one more or less who you will be competing next to for the remainder of the week, so we start to see fun competition for the minor placings and between guys and girls who may be well down the order, but are having their own one-on-one battles.
This really is a great event and I hope it continues to grow in the future.
But for now I have to eat, rest and prepare for Stage Three tomorrow. We are only 87 kilometres down and there are still 133 kilometres to go, so lots of racing left to come… I'll keep you posted tomorrow.
– Bart
>>> MORE: Get the latest 2013 SUP 11 City Tour RESULTS