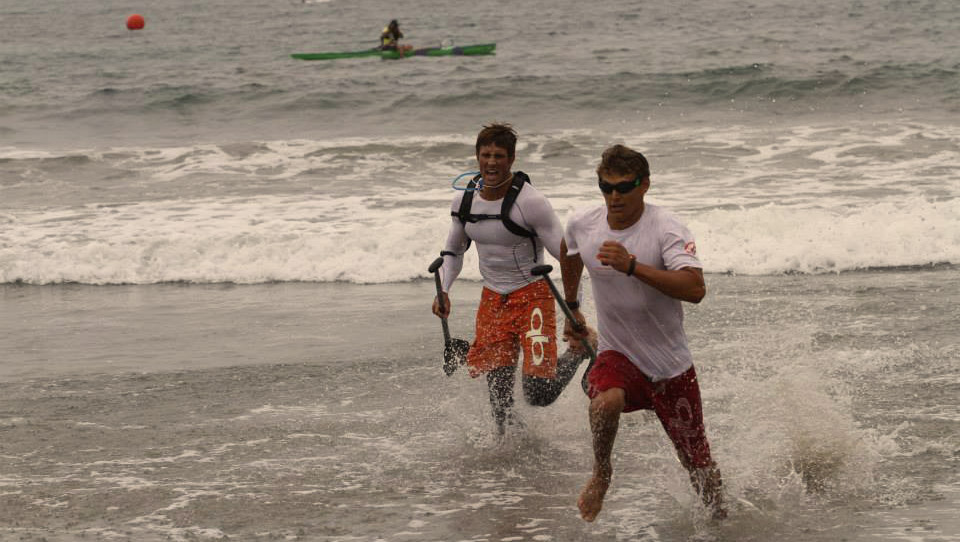 June 7, 2014
by Christopher Parker (@wheresbossman)
Jamie Mitchell, Shae Foudy Win The Santa Monica Pier Paddleboard Race
Jamie Mitchell and Shae Foudy have taken out the Pier Paddleboard Race in Santa Monica today, beating home a solid field of paddlers in what is fast becoming an iconic event in SoCal.
The Santa Monica Pier Paddle is the race responsible for *that* photo sequence in 2013, when the event was run in very solid surf and carnage was the order of the day. JM, a big wave surfer by trade, probably would have fancied his chances even more if there was a similar swell for this year's race, however conditions appeared to be a lot mellower and more welcoming for paddlers today.
The win extends Jamie's recent good form and it'll be interesting to see where he finishes at the next big race. We won't have to wait long: In just two weeks the 10x Molokai World Champ will be in Idaho for the Payette River Games, where he'll face off against Travis Grant, Kai Lenny and an all star cast.
Also great to see another win for youngster Shae Foudy, who is perhaps still on a high after her very brave performance in Nicaragua last month.
Coming home behind JM in the 5.5 mile (9km) distance race was Chase Kosterlitz. Jamie and Chase actually hit the beach on the same wave but, just as with that infamous race up at Tahoe, the Aussie outsprinted the Floridian through the shallow water.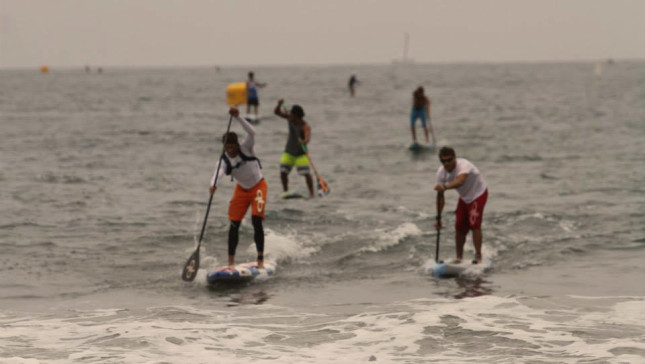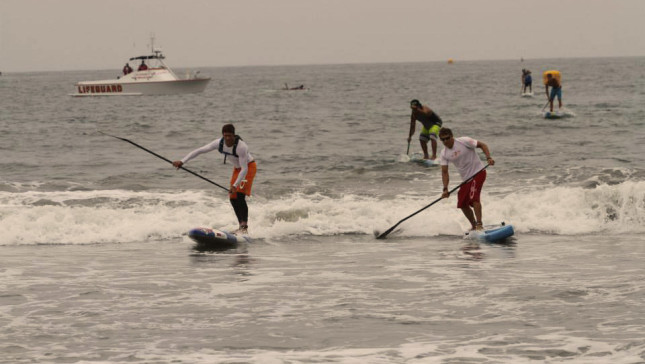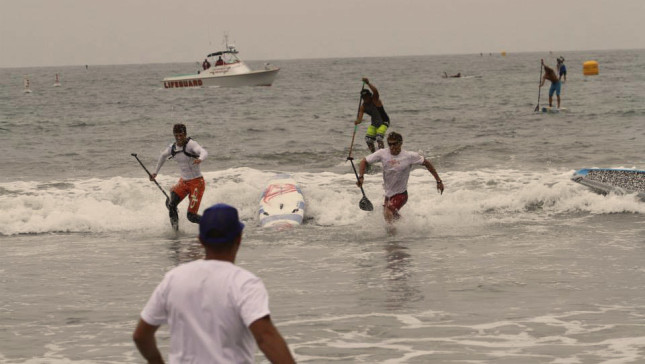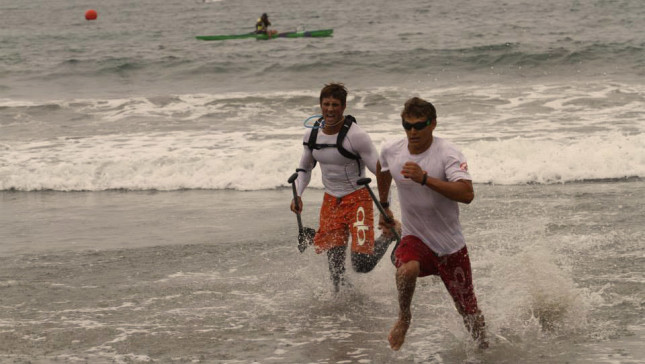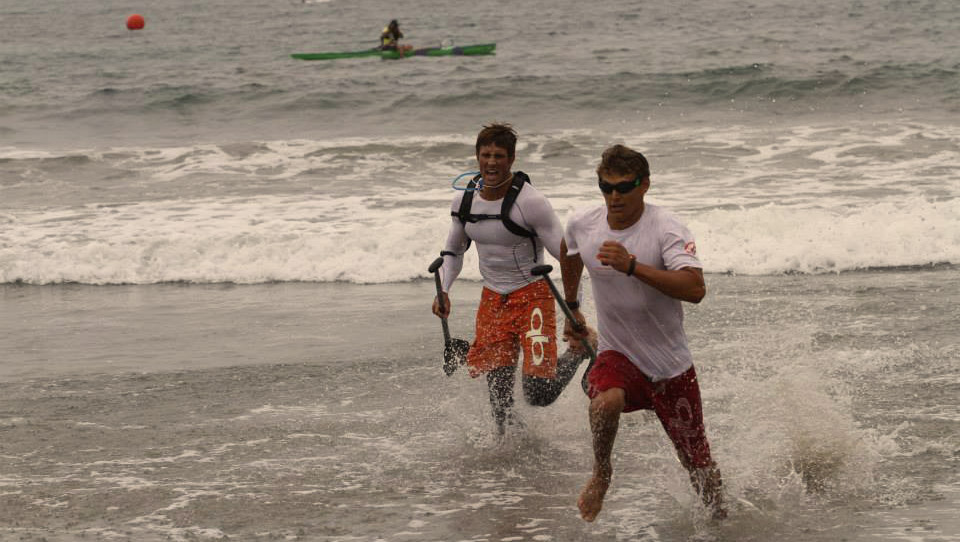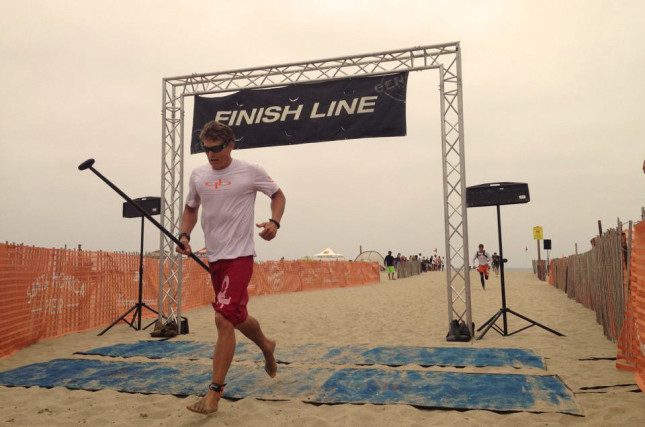 Rather fittingly, the guy that made the epic wipeout sequence last year, Mexico's Bicho Jimenez, returned to the scene and picked up a top 3 finish to continue his excellent run of form.
The distance race was followed by a SUP cross sprint event, which saw Mo Freitas and Candice Appleby salute ahead of Matt Becker and Shae Foudy respectively.
Full results and more pics from the Pier will be up in a few hours… FULL RESULTS BELOW
Plenty of pics on the official Facebook page.
Oh and there was this:
http://instagram.com/p/o8yqevRuof/
---
2014 Santa Monica Pier Paddleboard Race
Click "Class" or "Division" to sort results by gender, board class and age division
Click "Time" to reset the results

| # | Name | Time | Class | # | Division | # |
| --- | --- | --- | --- | --- | --- | --- |
| 1 | Jamie Mitchell | 0:58:56 | Men's 14' | 1 | Elite | 1 |
| 2 | Chase Kosterlitz | 0:59:02 | Men's 14' | 2 | Elite | 2 |
| 3 | Javier Jimenez | 0:59:08 | Men's 14' | 3 | Elite | 3 |
| 4 | Matt Becker | 0:59:36 | Men's 14' | 4 | Elite | 4 |
| 5 | Brennan Rose | 1:00:25 | Men's 14' | 5 | Elite | 5 |
| 6 | Fernando Stalla | 1:01:27 | Men's 14' | 6 | Elite | 6 |
| 7 | Mo Freitas | 1:01:54 | Men's 14' | 7 | Elite | 7 |
| 8 | Chance Fielder | 1:03:10 | Men's 14' | 8 | Elite | 8 |
| 9 | Brian Murphy | 1:03:15 | Men's 14' | 9 | Elite | 9 |
| 10 | Jeramie Vaine | 1:03:21 | Men's 14' | 10 | Elite | 10 |
| 11 | Karl Ring | 1:03:39 | Men's 14' | 11 | Elite | 11 |
| 12 | Dave Boehne | 1:04:18 | Men's 14' | 12 | Elite | 12 |
| 13 | Brendan Light | 1:04:20 | Men's 14' | 13 | Elite | 13 |
| 14 | Daniel Russell | 1:04:35 | Men's 14' | 14 | Elite | 14 |
| 15 | Byron Kurt | 1:04:55 | Men's 14' | 15 | Elite | 15 |
| 16 | Jared Vargas | 1:05:16 | Men's 14' | 16 | Elite | 16 |
| 17 | Jim Terrell | 1:05:24 | Men's 14' | 17 | Elite | 17 |
| 18 | Phil Coffman | 1:06:14 | Men's 14' | 18 | 40-49 | 1 |
| 19 | Peter Deavila | 1:07:07 | Men's 14' | 19 | 40-49 | 2 |
| 20 | Tyler Morgan | 1:08:19 | Men's 14' | 20 | Elite | 18 |
| 21 | Brian Haag | 1:08:30 | Men's 12'6 | 1 | 16-39 | 1 |
| 22 | Shae Foudy | 1:08:30 | Women's 12'6 | 1 | Elite | 1 |
| 23 | Max Fleming | 1:09:11 | Men's 14' | 21 | 16-39 | 1 |
| 24 | Merten Stroetzel | 1:09:33 | Men's 14' | 22 | 40-49 | 3 |
| 25 | Morgan Hoesterey | 1:09:34 | Women's 12'6 | 2 | Elite | 2 |
| 26 | Mace Camhe | 1:09:58 | Men's 14' | 23 | 40-49 | 4 |
| 27 | Dale Marnati | 1:10:41 | Men's 14' | 24 | 50-59 | 1 |
| 28 | Gene "Tarzan" Smith | 1:11:01 | Men's 12'6 | 2 | 50-59 | 1 |
| 29 | Brody Welte | 1:11:19 | Men's 14' | 25 | 16-39 | 2 |
| 30 | Scott Rose | 1:11:33 | Men's 14' | 26 | 40-49 | 5 |
| 31 | Mike Vaughan | 1:12:22 | Men's 12'6 | 3 | 40-49 | 1 |
| 32 | Kelsa Gabehart | 1:12:30 | Women's 12'6 | 3 | Elite | 3 |
| 33 | Jeremiah Murphy | 1:12:46 | Men's 12'6 | 4 | 40-49 | 2 |
| 34 | Michael Kelley | 1:12:59 | Men's 14' | 27 | 40-49 | 6 |
| 35 | Silvia Mecucci | 1:13:12 | Women's 12'6 | 4 | Elite | 4 |
| 36 | Francois Clausse | 1:14:16 | Men's 12'6 | 5 | 40-49 | 3 |
| 37 | Michael Sammis | 1:14:35 | Men's 14' | 28 | 50-59 | 2 |
| 38 | Ryan Knysh | 1:14:44 | Men's 12'6 | 6 | 16-39 | 2 |
| 39 | Daniel Davis | 1:15:00 | Men's 12'6 | 7 | 40-49 | 4 |
| 40 | Ian Light | 1:15:26 | Men's 12'6 | 8 | 16-39 | 3 |
| 41 | Tyler Bashor | 1:15:34 | Men's 12'6 | 9 | 16-39 | 4 |
| 42 | Bob Farrar | 1:15:46 | Men's 14' | 29 | 50-59 | 3 |
| 43 | Simon Swart | 1:15:49 | Men's 14' | 30 | 50-59 | 4 |
| 44 | Alleanna Clark | 1:15:58 | Women's 12'6 | 5 | 16-39 | 1 |
| 45 | Antoinette Cocco | 1:16:15 | Women's 12'6 | 6 | 16-39 | 2 |
| 46 | Kristin Thomas | 1:16:19 | Women's 12'6 | 7 | 50-59 | 1 |
| 47 | Taizen Pied | 1:16:33 | Men's 14' | 31 | 16-39 | 3 |
| 48 | Sarah Messina | 1:16:53 | Women's 12'6 | 8 | Elite | 5 |
| 49 | Eric Ackermann | 1:16:54 | Men's 14' | 32 | 40-49 | 7 |
| 50 | Matt Chabatoris | 1:17:24 | Men's 12'6 | 10 | 40-49 | 5 |
| 51 | Mick Vollmer | 1:18:12 | Men's 12'6 | 11 | 16-39 | 5 |
| 52 | Derek Turner | 1:18:33 | Men's 12'6 | 12 | 50-59 | 2 |
| 53 | Alex Yoffe | 1:19:19 | Men's 14' | 33 | 16-39 | 4 |
| 54 | Mark Pighini | 1:19:32 | Men's 14' | 34 | 50-59 | 5 |
| 55 | Paul Aro | 1:19:56 | Men's 12'6 | 13 | 40-49 | 6 |
| 56 | Pat Ryan | 1:20:20 | Men's 14' | 35 | 50-59 | 6 |
| 57 | Jon Ellis | 1:20:42 | Men's 12'6 | 14 | 40-49 | 7 |
| 58 | Mark Williams | 1:20:46 | Men's 14' | 36 | 50-59 | 7 |
| 59 | Gerry Wallfesh | 1:20:51 | Men's 12'6 | 15 | 40-49 | 8 |
| 60 | Andrew Krynen | 1:20:54 | Men's 12'6 | 16 | 40-49 | 9 |
| 61 | Armando Berriz | 1:21:15 | Men's 14' | 37 | 40-49 | 8 |
| 62 | Lexi Alston | 1:21:59 | Women's 12'6 | 9 | 16-39 | 3 |
| 63 | Joan Gossett | 1:22:00 | Women's 14' | 1 | 50-59 | 1 |
| 64 | Emily Bark | 1:22:04 | Women's 12'6 | 10 | 16-39 | 4 |
| 65 | Sofia Dewolfe | 1:22:04 | Women's 12'6 | 11 | 16-39 | 5 |
| 66 | Nathan Parmentier | 1:22:37 | Men's 14' | 38 | 16-39 | 5 |
| 67 | Kristy Morris | 1:22:39 | Women's 12'6 | 12 | 16-39 | 6 |
| 68 | Cory Staley | 1:23:18 | Men's Surfboard | 1 | Open | 1 |
| 69 | Rene Bruce | 1:24:42 | Men's 14' | 39 | 40-49 | 9 |
| 70 | Ben Smith | 1:24:47 | Men's 14' | 40 | 16-39 | 6 |
| 71 | Zack Schwartz | 1:25:17 | Men's 14' | 41 | 16-39 | 7 |
| 72 | Juerg Geser | 1:26:19 | Men's 14' | 42 | 40-49 | 10 |
| 73 | John Nordin | 1:26:27 | Men's 12'6 | 17 | 40-49 | 10 |
| 74 | Michael Kantor | 1:26:29 | Men's 14' | 43 | 40-49 | 11 |
| 75 | Christopher Chee | 1:26:49 | Men's 14' | 44 | 40-49 | 12 |
| 76 | Manya Clark | 1:28:30 | Women's 12'6 | 13 | 40-49 | 1 |
| 77 | Nathan Phillips | 1:32:45 | Men's 14' | 45 | 16-39 | 8 |
| 78 | Guerin Swing | 1:33:03 | Men's Surfboard | 2 | Open | 2 |
| 79 | Ted Canedy | 1:33:17 | Men's Surfboard | 3 | Open | 3 |
| 80 | Andrea Conrad | 1:35:28 | Women's 12'6 | 14 | 40-49 | 2 |
| 81 | Cliff Schumacher | 1:35:45 | Men's Surfboard | 4 | Open | 4 |
| 82 | Mimi Toberman | 1:36:34 | Women's Unlimited | 1 | Open | 1 |
| 83 | James Yanoschik | 1:36:57 | Men's 14' | 46 | 50-59 | 8 |
| 84 | Mike Reibord | 1:37:39 | Men's 14' | 47 | 40-49 | 13 |
| 85 | Neil Palmer | 1:39:58 | Men's 12'6 | 18 | 16-39 | 6 |
| 86 | Jane Culp | 1:41:44 | Women's 14' | 2 | 50-59 | 2 |
| 87 | Frank Perna | 1:43:20 | Men's 14' | 48 | 50-59 | 9 |
| 88 | Mark Rago | 1:46:43 | Men's 14' | 49 | 40-49 | 14 |
Santa Monica Pier Paddle: SUP Cross Results
1st: Mo Freitas (0:02:37)
2nd: Matt Becker (0:02:48)
3rd: Brennan Rose (0:02:49)
4th: Javier Jimenez (0:02:54)
5th: Fernando Stalla (0:03:00)
6th: Dave Boehne (0:03:13)
7th: Candice Appleby (0:03:16) [1st female]
8th: Jeramie Vaine (0:03:17)
9th: Shae Foudy (0:03:18) [2nd female]
10th: Brendan Light (0:03:19) [3rd female]
11th: Karl Ring (0:03:22)
12th: Chance Fielder (0:03:27)
13th: Jared Vargas (0:03:27)
14th: Jeremiah Murphy (0:03:28)
15th: Morgan Hoesterey (0:03:29) [4th female]
16th: Brian Haag (0:03:29)
17th: Byron Kurt (0:03:33)
18th: Max Fleming (0:03:37)
19th: Brody Welte (0:03:47)
20th: Kelsa Gabehart (0:03:54) [5th female]
21st: John Clark (0:03:57)
22nd: Silvia Mecucci (0:04:04) [6th female]
23rd: Michael Kelley (0:04:07)
24th: Alleanna Clark (0:04:16) [7th female]
25th: Kristin Thomas (0:04:20) [8th female]
26th: Lexi Alston (0:04:36) [9th female]
27th: Sarah Messina (0:05:54) [10th female]
Click here for the raw results