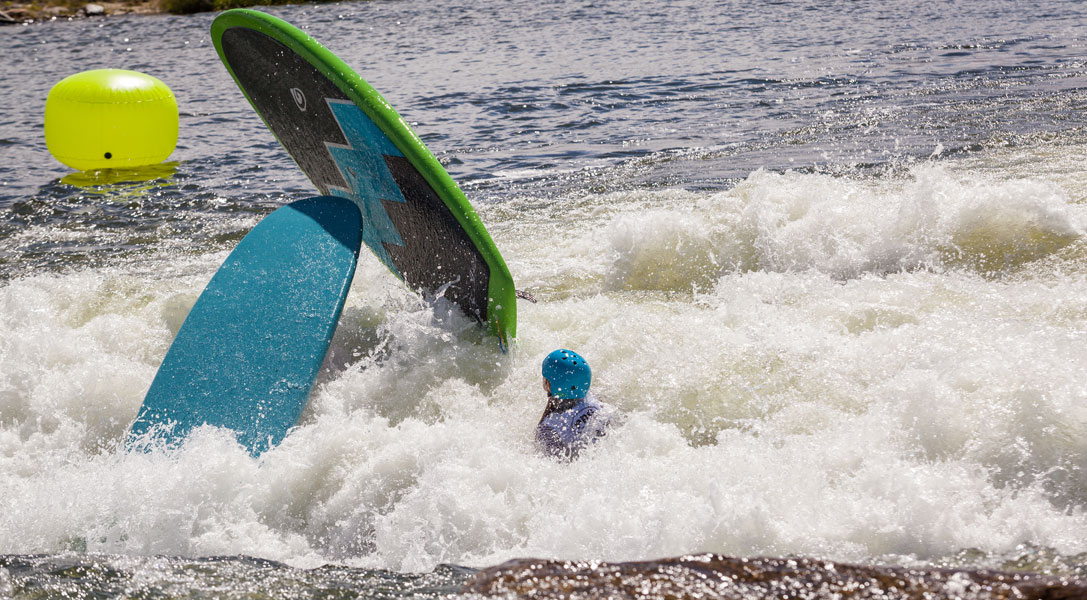 June 4, 2014
by Christopher Parker (@wheresbossman)
Countdown To Idaho: Travis, Kai, Candice, Slater And Jamie Set To Headline The Payette River Games
We're just 15 days away from what should be one of the most unique and entertaining (not to mention the most lucrative) SUP races of the year: The Payette River Games in Cascade, Idaho. The 2014 PRGs are happening June 20-22nd and, apart from the record-breaking prize purse, the weekend looks set to feature a pretty stacked lineup of paddlers.
Travis Grant, Jamie Mitchell, Kai Lenny, Candice Appleby, Slater Trout, Kody Kerbox, Kelly Margetts, Fernando Stalla, Gillian Gibree, Chuck Glynn, Jim Terrell, Dan Gavere, Dave Boehne, Fiona Wylde, Peter Bartl, Mike Tavares, Gaetene Sene, Anthony Vela and Nikki Gregg.
Those are just some of the names that'll be tackling this very unique SUP race course. Not a bad lineup.
In case you've been living under a rock (on the moon), the PRGs is the event that got everyone's attention when it announced a record-breaking $50,000 prize purse last September. That's the biggest prize purse ever seen in stand up paddling. By far.
However Stand Up Paddling is just one part of the Payette River Games: In addition to the elite SUP river race, SUP cross, amateur SUP race, kids' SUP race and longboard SUP race, there's also whitewater kayaking, river surfing (Kai you're not allowed to enter…) and raft cross (could be a real highlight).
That's what's happening on the water at least.
Off the water should be just as interesting: beach volleyball, dog fetch, lumberjack (I wanna see a Dave Boehne v. Slater Trout hipster-face-off in this one) and a whole bunch of other festivities that I never thought I'd see at a SUP race but which sound pretty rad. Check out the "Events" page on the official site for a full list. It's a full on festival.
In addition to the big names mentioned above, over 500 competitors have pre-registered for the various events (here's the rego link if you wanna join them) and all for a good cause: Proceeds will help establish a junior SUP club in this small Idaho town. A town which the host venue, Kelly's Whitewater Park, has apparently done a great deal to help revive in the past few years. As the official site puts it:
Your registration fees will help grow this event and support our bigger dream of turning Kelly's Whitewater Park into a place where children who ordinarily would not have a chance to do it on their own, can now learn the joys of SUP, kayaking and surfing for FREE of charge. Please see more on our website: http://www.kellyswhitewaterpark.com/school.html.
Competitors will get three free meals a day from the Boise Co-op (think: Whole Foods, only better), there's free camping, free hotel transfers and apparently organisers are trying their darndest to set a record for "World's Greatest Schwag Bag" as well.
The entire weekend will also have a live webcast that should be a slick production (I've heard there's a seven person film and production crew lined up… the Payette organisers obviously don't know how to do things by halves).
In short: The Payette River Games are gonna be just a little bit massive.
And as for that crazy prize purse: The $50,000 is split evenly between gender and the winners each take home $10,000. But that's for the SUPs. There's another $50,000 on the kayak event plus a bunch of prize money on the other, smaller competitions (there's even a $6,000 prize purse on the disc golf tournament. I'm not joking…).
Oh and on a cool little side note: Prize money checks are going to be presented to the winners (top 10 men and women) at the awards ceremony straight after the race. Paddlers will be able to go to the bank and cash them first thing Monday morning. Great to see such a high profile event doing it right…
So yeah, pretty big weekend coming up in Idaho. Should be a good time. Go check out the official site and hit register if you're keen to experience a unique new SUP event. The Payette River Games is clearly not your average SUP race…
---
NEXT READ THIS:
38 Awesome Photos That'll Make You Want To Compete In The Payette River Games