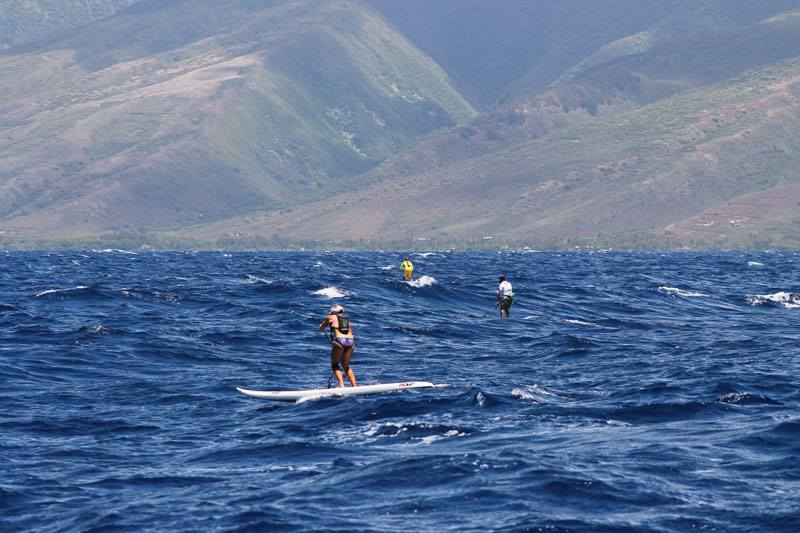 July 11, 2014
by Christopher Parker (@wheresbossman)
"World's Funnest Downwinder" Set For Tomorrow As SIC's Downwind Month Glides On
UPDATE: Race has just finished – check out the 2014 Maui 2 Molokai RESULTS
Maui 2 Molokai. It sounds a lot like Molokai 2 Oahu. And it is. Many miles of paddling across an open ocean channel from one Hawaiian island to another. Only difference is: Maui 2 Molokai is actually fun.
Known as the little brother of M2O, the M2M doesn't have the same level of prestige but certainly trumps it's older sibling when it comes to conditions. While Molokai 2 Oahu is usually a grinding affair, the Maui 2 Molokai race almost always scores an epic downwind run.
The 27 mile M2M (5 miles shorter than M2O) crosses the Pailolo channel, starting on Maui's west coast and finishing on the south side of Molokai. The bumps on offer in this part of the ocean are second to none, with the event having garnered the unofficial title of "World's Funnest Downwinder" in recent years.
The 2014 edition is happening tomorrow, smack bang in the middle of SIC Downwind Month and set to feature a very solid lineup of talent.
Connor Baxter has literally never lost this race, though he'll have some stiff competition this year…
Last year's M2M runner-up and reigning M2O champion, Travis Grant, is set to return. The guy who went toe-to-toe with Connor during this race two years ago, a certain Dave Kalama, will be back and looking for a good hit out ahead of M2O at the end of the month. Kai Lenny is also expected to jump in this year, so it looks like tomorrow will be a very interesting Molokai 2 Oahu preview/form guide.
There are plenty of other international names on Maui for the Downwind Month festivities, not to mention the always under-rated locals, so I think we can safely predict this'll be the most competitive Maui 2 Molokai race ever.
The briefing is scheduled for 9am on Saturday and Connor's 2013 finishing time was just over three hours. So… expect results to start dropping early afternoon Hawaiian time (that's early evening in the mainland and some ungodly late hour in Europe).
In the meantime if you wanna see just how good the bumps can be, check out Connor Baxter's recap of his win from twelve months ago, which includes some great pics of the action.
There's also an awesome photo gallery from the Maui-based StandUpMagazin.com.
---