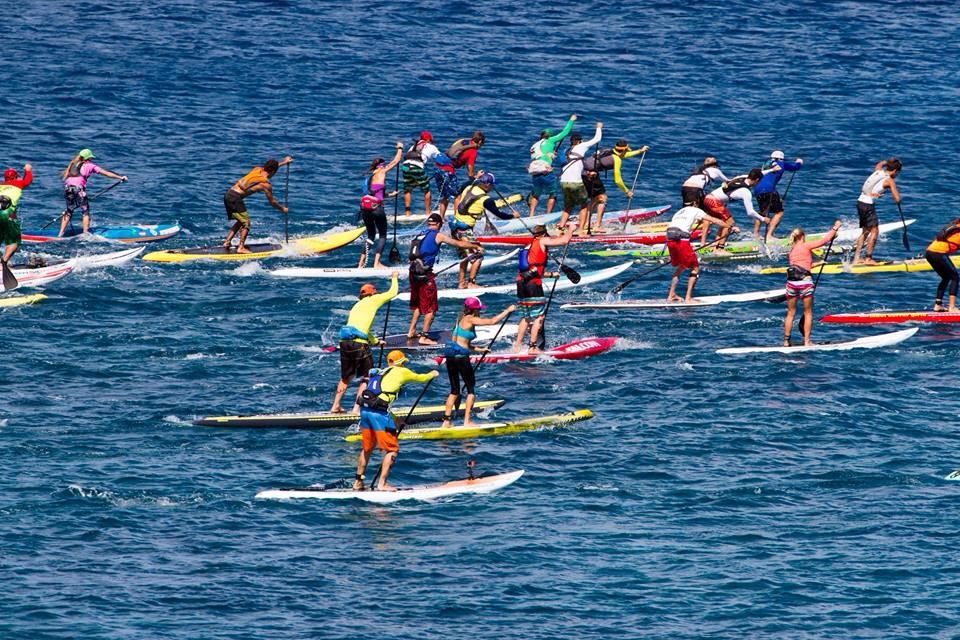 July 12, 2014
by Christopher Parker (@wheresbossman)
Connor Baxter Wins Maui 2 Molokai Ahead Of Kai Lenny, Dave Kalama And Travis Grant; Devin Blish Fastest Of The Women
Downwind Month glides on… Connor Baxter has just won the Maui 2 Molokai race yet again, beating an all star field and firing a shot across the bow ahead of the big one, Molokai 2 Oahu. This must be about the 6th or 7th time in a row that Connor has claimed the M2M title, however this year the win was more hard fought than ever. Connor edged out fellow Maui young gun Kai Lenny by a couple of minutes, while behind him was a who's who of the downwinding world including Dave Kalama, Travis Grant and Livio Menelau.
Very interesting to look at today's result in relation to the Molokai 2 Oahu race coming up in two weeks (and which we'll have live coverage of). Today's Maui 2 Molokai could be a bit of a form guide for the big one: All five of the top guys from today will be back in action on the 27th.
Connor showed he's in dangerously-good form while the other top finishers weren't looking too shabby either, setting us up for a mouthwatering clash across the Ka'iwi Channel in two weeks.
UPDATE: Take a look at Connor's Maui 2 Molokai race recap
Kai Lenny was very impressive today and is extremely hungry to claim his maiden Molokai 2 Oahu unlimited victory. Dave Kalama reminded us that he's still got it in the open ocean, his third place being even more impressive considering the first hour and a half of today's race offered little in the way of bumps. Travis Grant was also right there for the first half of the crossing, where the conditions were probably quite similar to what's in store at M2O.
Livio Menelau would have been loving the bumps in the second half – if the wind is right in two weeks time then he'll be another podium contender. Also a great performance today from Brazil's international star, Vinnicius Martins, who finished 6th overall and came home ahead of dozens of downwind specialists. Vini also happens to ride for Art In Surf, who were the presenting sponsor for today's race.
In the men's stock class Josh Riccio was the quickest, beating all the other 14 foot guys and only narrowly missing a top 10 overall finish.
In the women's race, the extremely under-rated Devin Blish put on a show and caused an upset by taking out the Downwind Queen Andrea Moller.  The 2012 Molokai champ, Talia Decoite, came home 3rd, just three and a half minutes behind Devin after the nearly four hour voyage. Angie Jackson had a great race to claim victory in the 14′ class as well as a 5th place overall against the unlimiteds.
While the Maui 2 Molokai race is known as the World's Funnest Downwinder, conditions weren't exactly firing today. The wind picked up for the second half of the 27 mile (43km) crossing but the first half was a bit of a side-wind slog. According to Travis Grant:
"The first half of the race was very tricky but it did get really fun in the second half, when the wind turned on and bumps started rolling. Dave, Kai and myself were all trading back and forth the first 25km while Connor was always slightly in front. It was good racing, very technical. After the conditions turned on in the back half of the race, Connor got a big lead on us before Kai pulled away from Dave, who in turn gapped me. Sounds like Kai made up some ground towards the end but Connor still won by a good couple of minutes. I was probably 10 minutes behind by the end."
Also very interesting to see the equipment being used out there today. Maui 2 Molokai isn't exactly your average SUP race and many competitors, from the weekend warriors right up to the international superstars, jump on specialised equipment when racing in Hawaii. We did a quick poll of the top finishers to find out their board and paddle of choice. I don't wanna get into a whole debate about brands (it's fairly common practice for team riders to use custom gear in these kinda events – it's the same thing that happens in the pro surfing world), I just figured it would be interesting to see what length and type of boards the pros are on.
Obviously it's no surprise to find SIC's unlimited boards dominating the podiums. The brand is synonymous with downwinding in Hawaii and almost completely swept the field once again. In the women's race, Devin Blish was on a 15′ custom SIC, Andrea paddled a 17′ production SIC Bullet and Talia was on a 16′ production SIC. On the men's side, Connor paddled his personal 17′ custom unlimited from SIC's head shaper Mark Raaphorst, Dave Kalama was on his 18'6″ rocket, which was custom-made at the SIC factory on Maui, while Livio was on a hollow 17′ SIC Bullet.
Meanwhile Kai Lenny was on a new prototype Naish unlimited (I believe it's 17'6″), which isn't available for us common folk to purchase just yet (and may never be), but clearly works for the young superstar. Travis Grant used his winning board from last year's Molokai, the Oahu-shaped unlimited board from Billy Robello that I believe is a 17 footer.
On a side note, Dave Kalama must be smiling right now: He might not have won the race but his paddle swept the podium. Four of the top five guys were using his signature Quickblade V-Drive paddle, the hold out being Travis Grant (who was using his own signature QB model).
Anyway the full results are below…
RESULTS: 2014 Maui 2 Molokai presented by Art In Surf
Course: 27 miles (43km)
Conditions: First half was a grind, second half was great fun
Click "Class" to switch between men's and women's results
Click "Time" to reset the results

| # | Name | Time | Class | # | Age |
| --- | --- | --- | --- | --- | --- |
| 1 | Connor Baxter | 3:04:31 | Men's Unlimited | 1 | Under 30 |
| 2 | Kai Lenny | 3:06:44 | Men's Unlimited | 2 | Under 30 |
| 3 | Dave Kalama | 3:08:58 | Men's Unlimited | 3 | 40-49 |
| 4 | Travis Grant | 3:14:13 | Men's Unlimited | 4 | 30-39 |
| 5 | Livio Menelau | 3:18:57 | Men's Unlimited | 5 | 30-39 |
| 6 | Vinnicius Martins | 3:24:38 | Men's Unlimited | 6 | Under 30 |
| 7 | Kody Kerbox | 3:25:12 | Men's Unlimited | 7 | Under 30 |
| 8 | Jerry Bess | 3:31:44 | Men's Unlimited | 8 | 40-49 |
| 9 | Armie Armstrong | 3:32:16 | Men's Unlimited | 9 | 40-49 |
| 10 | Mo Freitas | 3:36:16 | Men's Unlimited | 10 | Under 30 |
| 11 | Josh Riccio | 3:37:07 | Men's 14' | 1 | Under 30 |
| 12 | Tomoyasu Murabayashi | 3:38:59 | Men's Unlimited | 11 | 30-39 |
| 13 | Amir Arbel | 3:42:25 | Men's Unlimited | 12 | 30-39 |
| 14 | Bullet Obra | 3:43:24 | Men's 14' | 2 | Under 30 |
| 15 | Paul Jackson | 3:44:35 | Men's 14' | 3 | 30-39 |
| 16 | James Casey | 3:46:03 | Men's Unlimited | 13 | Under 30 |
| 17 | Alex Matero | 3:46:55 | Men's Unlimited | 14 | 40-49 |
| 18 | Ralph Sifford | 3:47:44 | Men's Unlimited | 15 | Over 50 |
| 19 | Gustavo Olivera | 3:48:21 | Men's Unlimited | 16 | 30-39 |
| 20 | Devin Blish | 3:48:37 | Women's Unlimited | 1 | Open |
| 21 | Phil Greggory | 3:48:50 | Men's Unlimited | 17 | Over 50 |
| 22 | Jimmy Fitt | 3:49:12 | Men's Unlimited | 18 | 30-39 |
| 23 | Andrea Moller | 3:50:03 | Women's Unlimited | 2 | Open |
| 24 | Talia Decoite | 3:52:18 | Women's Unlimited | 3 | Open |
| 25 | Kathy Shipman | 3:52:48 | Women's Unlimited | 4 | Open |
| 26 | Robert Lopes | 3:54:28 | Men's Unlimited | 19 | 40-49 |
| 27 | Steve Walker | 3:55:13 | Men's 14' | 4 | 40-49 |
| 28 | Noah Garfield | 3:55:25 | Men's Unlimited | 20 | 30-39 |
| 29 | Buzzy Kerbox | 3:56:35 | Men's Unlimited | 21 | Over 50 |
| 30 | Belar Diaz | 3:56:53 | Men's 14' | 5 | 30-39 |
| 31 | Justin Gordon | 3:58:58 | Men's Unlimited | 22 | 40-49 |
| 32 | Angela Jackson | 3:59:40 | Women's 14' | 1 | Open |
| 33 | Penelope Strickland | 4:00:04 | Women's Unlimited | 5 | Open |
| 34 | Ed Wheeler | 4:00:20 | Men's Unlimited | 23 | 40-49 |
| 35 | Karla Gilbert | 4:00:36 | Women's Unlimited | 6 | Open |
| 36 | Masao Fukayama | 4:00:48 | Men's Unlimited | 24 | 30-39 |
| 37 | James Martindale | 4:02:05 | Men's Unlimited | 25 | 40-49 |
| 38 | Anders Jonsson | 4:06:59 | Men's Unlimited | 26 | 30-39 |
| 39 | Americo Pinheiro | 4:07:00 | Men's Unlimited | 27 | 40-49 |
| 40 | Randy Royse | 4:08:20 | Men's Unlimited | 28 | Over 50 |
| 41 | Jeff Chang | 4:10:35 | Men's 14' | 6 | Over 50 |
| 42 | Meron Akman | 4:10:53 | Men's 14' | 7 | 30-39 |
| 43 | Jeff Okuna TEAM | 4:11:21 | Team | 1 | Team |
| 44 | Timmothy Wyers | 4:11:59 | Men's Unlimited | 29 | 30-39 |
| 45 | Gregg Leion | 4:12:24 | Men's Unlimited | 30 | Over 50 |
| 46 | Brett Staib | 4:16:37 | Men's Unlimited | 31 | 40-49 |
| 47 | Jeremy Willmess TEAM | 4:18:32 | Team | 2 | Team |
| 48 | Rob Walton | 4:18:47 | Men's 14' | 8 | 40-49 |
| 49 | Antonio Filho | 4:19:46 | Men's 14' | 9 | 30-39 |
| 50 | Mike Jucker | 4:21:13 | Men's 14' | 10 | 40-49 |
| 51 | Shep Nelson | 4:21:40 | Men's Unlimited | 32 | 30-39 |
| 52 | Gavin Ferguson TEAM | 4:21:59 | Team | 3 | Team |
| 53 | Craig Wright | 4:22:26 | Men's Unlimited | 33 | 30-39 |
| 54 | Martin Giroud | 4:23:12 | Men's 14' | 11 | 40-49 |
| 55 | Kieran O'Riordan | 4:26:22 | Men's Unlimited | 34 | 30-39 |
| 56 | Bailey Rosen | 4:26:34 | Women's 14' | 2 | Under 30 |
| 57 | Stephen Pugh TEAM | 4:26:55 | Team | 4 | Team |
| 58 | Brad Feldman | 4:28:40 | Men's Unlimited | 35 | Over 50 |
| 59 | Mahea Grambill TEAM | 4:30:35 | Team | 5 | Team |
| 60 | Sean Bicknell | 4:31:32 | Men's 14' | 12 | 40-49 |
| 61 | Kelsa Gabehart | 4:31:52 | Women's Unlimited | 7 | Open |
| 62 | Ed Price | 4:33:47 | Men's 14' | 13 | Over 50 |
| 63 | Lori Park | 4:34:04 | Women's Unlimited | 8 | Open |
| 64 | Victor Lopez | 4:34:26 | Men's 14' | 14 | Over 50 |
| 65 | Jennifer Lee | 4:37:51 | Women's Unlimited | 9 | Open |
| 66 | Candio Chuzoriansc? | 4:39:22 | Men's 14' | 15 | 30-39 |
| 67 | Alyssa Waltze TEAM | 4:41:17 | Team | 6 | Team |
| 68 | Carlo Prado | 4:41:42 | Men's Unlimited | 36 | 40-49 |
| 69 | Fabio Valango | 4:43:34 | Men's 14' | 16 | 30-39 |
| 70 | Warwick Gray | 4:43:47 | Men's 14' | 17 | Over 50 |
| 71 | Nicole Madosik | 4:46:16 | Women's 14' | 3 | Open |
| 72 | Nichole Klink | 4:47:11 | Women's 14' | 4 | Open |
| 73 | Bob From Brazil! | 4:48:04 | Men's Unlimited | 37 | 30-39 |
| 74 | Fabiano Faria | 4:49:25 | Men's 14' | 18 | 30-39 |
| 75 | Peggy King | 4:50:38 | Women's Unlimited | 10 | Open |
| 76 | Lara Claydon | 4:58:28 | Women's 14' | 5 | Open |
---