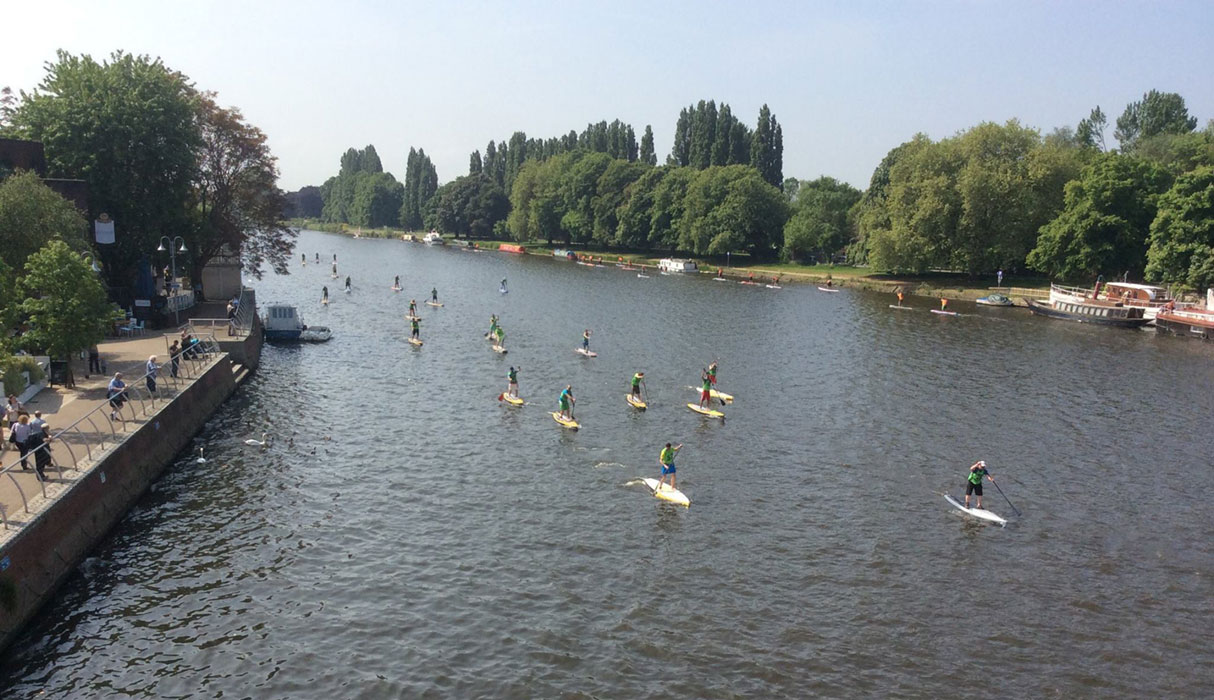 May 18, 2014
by Christopher Parker (@wheresbossman)
Over 100 Paddlers Hit London For The Battle Of The Thames
One of the biggest races in the UK, the annual Battle of the Thames race in London, drew over 100 paddlers to the capital on Saturday in another sign that SUP racing in Europe is growing strong.
The 16km course covered a stretch of the Thames river in Surbiton, just outside London city. Covering it the quickest was the UK's winningest paddler, Ryan James. The Starboard team rider took line honours on his 14, ahead of Ben Payne and Pete Holliday. In fact the entire top 10 were on 14 footers, with young gun Pete Kosinski the first of the 12'6 paddlers in 11th place.
Ryan's win sees his name inscribed on the BOTT Shield for the second time, after he saluted at the inaugural event in 2011. Pete Holliday (2012 winner) and Jamie Mitchell (2013) are the other men's names on the shield.
Over on the women's side this year it was Joanne Hamilton Vale, the only female to paddle from one side of Scotland to the other, taking the win while also finishing an impressive top 20 overall.
The Battle of the Thames was race #4 in the inaugural UK SUP Clubs race series. The association was launched by a group of top paddlers earlier this year in an attempt to unify the fragmented racing scene in Britain. So far it looks like it's been pretty successful.
The weekend just gone was also "Week #1" of our unofficial but totally rad "2014 NSP Euro Tour" promotion, where we'll be focusing on all the great SUP races, both big and small, happening across Euro land this summer.
But back to London: You can watch the highlights reel above, scroll down for full results and check out plenty more pics on Facebook.
---
2014 Battle of the Thames RESULTS
Men's 14′
1st – Ryan James
2nd – Ben Payne
3rd – Pete Holliday
Women's 14′
1st – Jo Hamilton Vale
2nd – Christine Anderson
3rd – Julia Haggis
Men's 12'6
1st – Pete Kosinski
2nd – Andy Joyce
3rd – Jamie Harman
Women's 12'6
1st – Fran Blake
2nd – Lindsey Frost
3rd – Belinda Smith
Overall results…
---