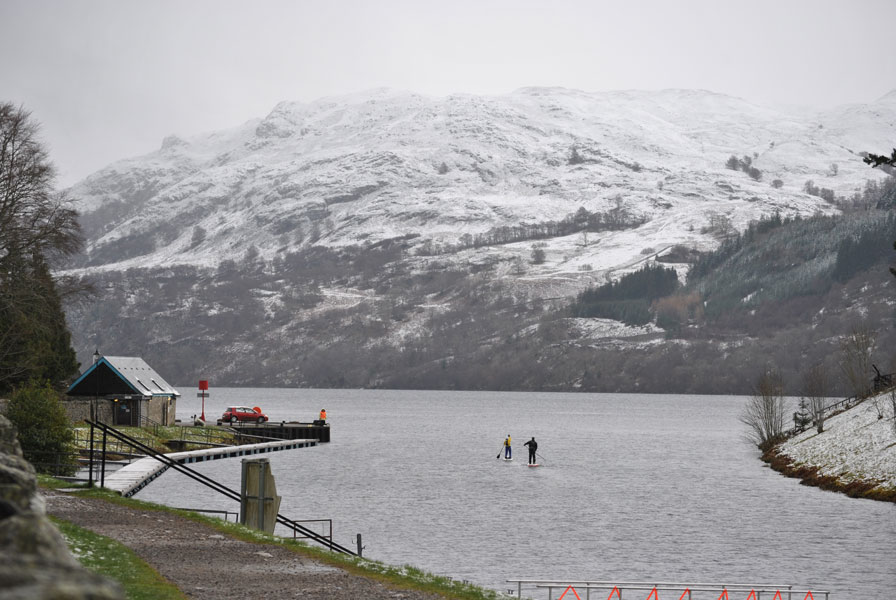 April 8, 2014
by Christopher Parker (@wheresbossman)
Epic Race: Small Band Of Brave Paddlers Complete The 93km 'Great Glen Paddle' In Freezing Cold Scotland
One of the longest races, most unique and most grueling races in the world of SUP racing happened last month, yet if you're not from the UK you probably didn't even realise it existed. On the 22nd of March (yeah I know, I'm a bit late as well), the 2014 Great Glen Paddle took place in the Scottish Highlands, with a small but VERY brave band of stand up paddlers tackling the course for the first time.
The Great Glen Paddle, which has been running for several years as a kayak race but opened up to SUPs this year, is like an ultra-marathon on the water. The course, all 93 kilometres (57 miles) of it, stretches from one side of Scotland to the other via a series canals and lakes (or lochs, including the most famous of them all, Loch Ness).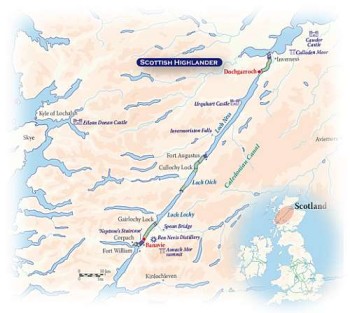 Paddlers have the option of either doing it in one day or stopping halfway and making it a two-day voyage. But in a show of true British stubbornness, every single one of the stand up paddlers decided to have a crack at the one day, 93 kilometre, non-stop course. That decision meant the first four or five hours were paddled in the dark. When temperatures were hovering just above zero. Oh and at one point it was snowing as well. WTF?
That's the equivalent of paddling from Molokai to Oahu (on a freezing cold night), then turning around and paddling straight back. This is also perhaps the longest, non-stop SUP race. There are one or two others slightly longer, such as the Muskoka River X, however those have the benefit of going down-river whereas the Great Glen Paddle has very little current to assist the paddlers. Either way you look at it, this is one hell of a tough race so my hats go off to the crew that took on this challenge.
Check out the fantastic recap from the eventual winner, Mark Slater, and you'll get an insight into this epic race.
For some strange reason, reading Mark's story and looking at the pics I'm actually getting inspired to go and do it myself. Who's up for a trip to Scotland next year? Oh and also seeing this was the first year SUPs were allowed to compete in the Great Glen Paddle, course records were up for grabs. So… who wants to have a crack at Mark's record of 11 hours, 17 minutes and 35 seconds in 2015..? Anyone? Bart de Zwart I'm looking in your direction.
The 2014 Great Glen Paddle
Race recap by Mark Slater
The Great Glen Paddle is an event which takes place in the far North of Scotland, crossing the country West to East via the Caledonian canal while also covering Loch Lochy and the mighty Loch Ness in the process.
This was the first year Stand Ups have been able to enter, with competitors having the option of doing the 57 miles (93km) straight through in one day or breaking it up over two. As if that wasn't enough to discourage you from registering, the dates for 2014, March 22-23, meant it was highly likely we'd get some very unpleasant and unpredictable weather during the race.
All of the SUP entrants decided they were going to give it a go in the non stop category, which meant a 2am start time for us!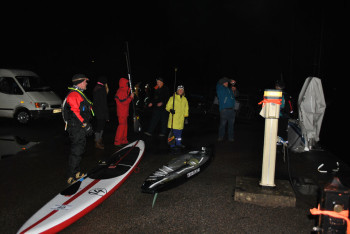 Forecast was 1°C (33 F) at night and climbing to a balmy 4°C (39 F) in the afternoon, with some heavy snow and rain just for good measure. The start was staggered with everyone setting off individually at about 30 second intervals. I was the last to start in the 2am time slot (some of the faster canoeists had the option of a 5am start), so I set myself the task of trying to make up some ground to get with some of the other stand up paddlers.
It was a clear night so visibility wasn't too bad and the snow on the sides of the canal also helped make it a bit brighter. Everyone set a good pace to the first portage 7 miles in, which involved climbing a steep, snow covered grass slope then a 500m walk/jog with the board past the lock, then back in the water.
Next on the agenda was crossing the big Loch Lochy. As we entered the Loch we were greated with the skies closing in and heavy snow, which made visibility a little tricky. I managed to make up a bit of ground and paddled with Scot Warren and Crispin Jones for a while, then tried to break away but promptly paddled into the side and ran a ground as I couldn't actually see where I was going. After that I decided to stick with Crispin and his board-mounted mega-torch until the visibility improved.
As we approached the end of the Loch the first glimpses of daybreak meant that we now had light. Crispin had his first food stop here, around mile 16, so I pushed on and set off into the next canal section just behind Rob Stewart who was setting a blistering pace, managing to just keep him in my sights. I had my first food stop at about the 22 mile mark and Rob stopped here too, so we had a quick chat, forced as much food down as we could and topped up our hydration packs. Just as we were setting off, Crispin came past and so the pace stayed fairly brisk as we pushed each other on to the start of the great Loch Ness, where Crispin stopped for another quick food break.
As we entered the Loch I jokingly shouted over to Rob saying that it would be great if we had a bit of a tail wind with us like we did on Loch Lochy, but as we got further into Big, Bad Nessie, it became apparent that we had far more than a little light breeze; the wind was funneling straight down through the Loch and blowing a good force 4-5, meaning I was just about to embark on an epic 20 mile downwind run 🙂
My board really came into it's own in these conditions and I had an amazing run for about the first 10 miles, but after this point I started to get a little less nimble on my feet as my legs were beginning to feel the strain of the days activities! I also had an unintentional little dip in Nessie and was now starting to get chilled from the cold wind on my back, so I made an executive decision, found a suitable spot to pull in to the side and quickly pulled my long john up and put a spray jacket on over my long sleeved rashie.
Back out again and the epic downwind run was starting to take its toll on mind and body; I had a few more falls and was really having to have a serious word with myself about keeping things together. I also started having a bit of a chat to the Great Nessie herself, asking her if she would be kind to little old me on my passage through this great Scottish Loch. Eventually, after what seemed like an eternity, the end of the Miss Ness was now in sight, along with my 2nd planned food stop, which meant about 48 miles had now been covered. Less than 10 miles to go!
So it was another quick stop on the rocky shoreline to force as much food into my depleted body as possible, then, with the end now in sight only 9 miles away, it was a last big push to the end of Nessie, down the canal and to the welcome sight of the finish line.
All of the other stand up paddlers who took part pushed themselves beyond belief in the harsh conditions and some amazing finish times were achieved, including Jo Hamilton Vale, who I believe was the fastest woman to finish the course on any craft in a very respectable time of 13 hours and 50 minutes. The eyes of our sit-down paddling cousins were well and truly opened after they saw the speeds that we were able to achieve on our strange breed of paddle craft.
All in all it was an amazing event and challenge to have been part of in a beautiful, untouched and rather remote part of the world. I must say a massive thank you to the following for making this little adventure possible:
– Ali Pereira and Mark May for being support crew extraordinaire
– Jo and Pete Vale for the lift there and for organising the fantastic accommodation (Pete also took on the mammoth task of single handedly driving the 1,450 mile round trip back to South England)
– Fanatic and K-66 for the fantastic new 2014 paddle and the amazing 14′ x 25″ Falcon open water, it was the perfect board to cope with the varied conditions en route
– ION for the super accessories and clothing, the neoprene beenie, open palm mits and 4 way stretch spray jacket were a godsend and made it really easy to regulate my temperature
– Pression Hydration for the H2ProHydrate hyration tablets
Will I be there next year? Who knows! 🙂
Results and times (hrs:mins:secs) for SUP are as follows:
Men
1st: Mark Slater 11:17:35 (Fanatic)
2nd: Crispin Jones 12:28:58 (Starboard)
3rd: Adam Chubbock 12:38:14 (Starboard)
4th: Rob Stewart 12:40:59 (Starboard)
5th: Adam Stiling 12:43:48 (Fanatic)
6th: John Siggs 14:05:56 (Inflatable)
7th: Russell Whittall 14:43:51 (Inflatable)
Unfortunately Scott Warren (Starboard) had to pull out due to injury
Ladies
1st: Jo Hamilton Vale 13:37:41 (Starboard)