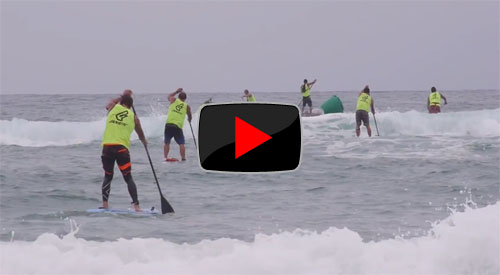 February 12, 2014
by Christopher Parker (@wheresbossman)
…And Here's The Action From Day 2 Of The '12 Towers' Race
You probably already saw the great 12 Towers downwind race video we posted yesterday? Well here's the recap from day 2 of the 12 Towers Ocean Paddle Festival, which featured a BOP race as well as a pretty awesome 'Dash For Cash' race.
The idea for the BOP race was simple: It was a BOP race. However the Dash For Cash was entirely unique and hopefully it's something that'll catch on at other events. It's definitely a fun and very novel way to finish off a weekend of racing.
Basically we all lined up about 500 metres out in the ocean and sprinted like mad back to the beach. The first guy and girl to run through the finish line won cash, however even for those that didn't win there was a consolation prize: a mad scramble through the sand to find buried treasure.
Yes, buried treasure. The organisers hid 15 tennis balls under the sand at the finish line. Each one was numbered and that number corresponded to a random prize (some of which were worth $600). Definitely a fun way to finish an exhausting couple of days.
---
Wanna see more standup paddling videos? Check out the SIC Showreel: