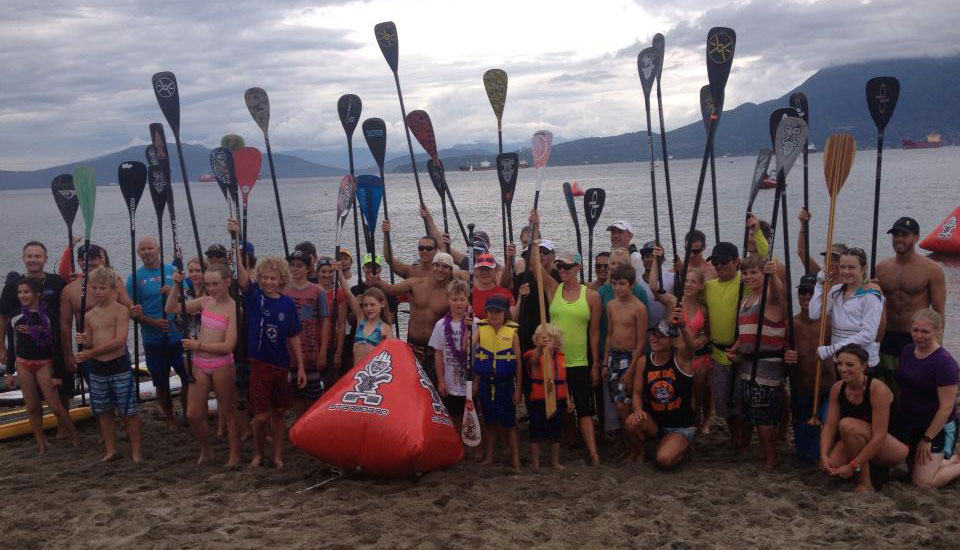 August 27, 2013
by Christopher Parker (@wheresbossman)
Vancouver SUP Challenge Rocks BC, Canada; SUP Racing Continues To Grow In The North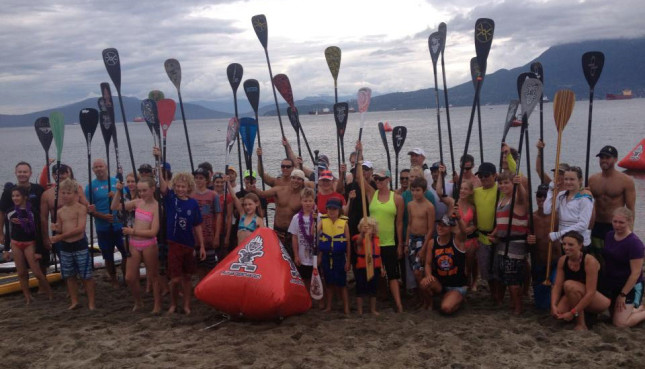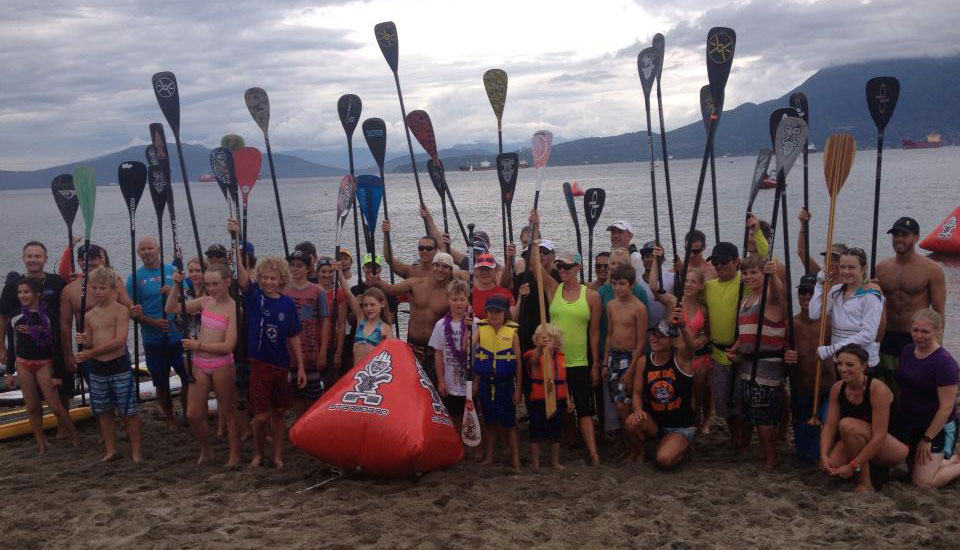 SUP racing continues to grow in the North, with two big races held in Canada on the weekend. While Kalama and the Mad Scientist were having fun in Edmonton, a whole bunch of Canada's best (and a few paddlers South of the border) were battling it out at the Vancouver SUP Challenge.
Check out the recap, results and pics of the day thanks to race organiser and one of Canada's fastest women (not to mention ISA World Championship medalist) Shannon Bell…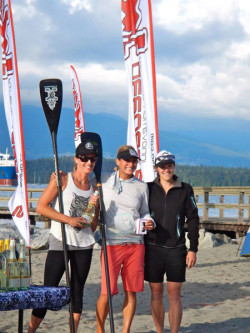 Exciting racing at the 3rd annual Vancouver SUP Challenge.
On the men's side it was Stuart Robinson who edged out Dan Gavere for the overall men's title. It was a close battle between Lina Augaitis and Shannon Bell on the women's side, with Lina, in good form from her wins in Tahoe and San Francisco, took the title.
The highlight of the day though was the kid's race with buoy turns, beach runs, leis and popsicles at the finish line.
Post race awards on the beach while listening to the surf tunes of the Swagmen finished off a great day of racing!
– Shannon
*****
2013 Vancouver SUP Challenge RESULTS
BC SUP Cup – 5km Race
Course: 5km
Boards: 14′
Click "M/F" to switch between Men's and Women's Results
Click "Time" to reset the results…

| Overall # | M/F | M/F # | Name | Time | Time + | Age |
| --- | --- | --- | --- | --- | --- | --- |
| 1 | M | 1 | Stu Robinson | 35:14.4 | 0 | 32 |
| 2 | M | 2 | Dan Gavere | 36:13.5 | +0:59.1 | |
| 3 | F | 1 | Lina Augaitis | 36:21.9 | +1:07.5 | 32 |
| 4 | M | 3 | Yannick Michaud | 37:15.2 | +2:00.8 | 38 |
| 5 | M | 4 | Ken Larsen | 37:17.5 | +2:03.1 | 33 |
| 6 | M | 5 | James Thesiger | 37:26.1 | +2:11.7 | 32 |
| 7 | F | 2 | Shannon Bell | 37:26.8 | +2:12.4 | 39 |
| 8 | M | 6 | Ben Wright | 37:46.8 | +2:32.4 | 33 |
| 9 | M | 7 | Dion Maxwell | 38:15.7 | +3:01.3 | 26 |
| 10 | M | 8 | Dave Billenness | 38:20.8 | +3:06.4 | 44 |
| 11 | M | 9 | Kelvin Humenny | 38:29.1 | +3:14.7 | 45 |
| 12 | M | 10 | Tim Quarles | 38:32.5 | +3:18.1 | 54 |
| 13 | M | 11 | James Bennett | 38:34.5 | +3:20.1 | 27 |
| 14 | M | 12 | Jeff Chandler | 39:17.1 | +4:02.7 | 35 |
| 15 | M | 13 | David Peabody | 39:20.6 | +4:06.2 | 23 |
| 16 | M | 14 | Dale Plant | 39:48.6 | +4:34.2 | 49 |
| 17 | M | 15 | Sacha Levandusky | 40:20.3 | +5:05.9 | 33 |
| 18 | M | 16 | Michael Hammer | 40:51.9 | +5:37.5 | 51 |
| 19 | M | 17 | Brian Smart | 41:15.4 | +6:01.0 | 46 |
| 20 | M | 18 | Paul McNamara | 41:21.3 | +6:06.9 | 52 |
| 21 | M | 19 | Paul Torriero | 42:25.3 | +7:10.9 | 46 |
| 22 | M | 20 | Warren Bruce | 42:57.2 | +7:42.8 | 57 |
| 23 | M | 21 | Todd Horn | 43:10.5 | +7:56.1 | 32 |
| 24 | M | 22 | Richard Cleland | 43:21.7 | +8:07.3 | 40 |
| 25 | M | 23 | Ian Green | 43:30.3 | +8:15.9 | |
| 26 | M | 24 | Peter Alfred | 43:31.9 | +8:17.5 | 45 |
| 27 | M | 25 | Kevin O'Brien | 44:09.4 | +8:55.0 | 46 |
| 28 | M | 26 | Harry Saini | 44:16.7 | +9:02.3 | 39 |
| 29 | M | 27 | Scott Burton | 44:36.7 | +9:22.3 | 37 |
| 30 | M | 28 | Chris Dobrovolny | 44:58.7 | +9:44.3 | 46 |
| 31 | M | 29 | Shane Martin | 45:18.7 | +10:04.3 | 35 |
| 32 | M | 30 | Taylor Fulde | 45:45.7 | +10:31.3 | 42 |
| 33 | F | 3 | Leanne Stanley | 47:40.7 | +12:26.3 | 32 |
BC SUP Cup – 3km Race
Course: 3km
Boards: 12'6
Click "M/F" to switch between Men's and Women's Results
Click "Time" to reset the results…

| Place | M/F | M/F # | Name | Time | Time + | Age |
| --- | --- | --- | --- | --- | --- | --- |
| 2 | F | 1 | Lina Augaitis | 26:27.1 | +0:11.4 | 32 |
| 17 | F | 2 | Lysanne Lavigne | 29:58.9 | +3:43.2 | 30 |
| 21 | F | 3 | Jennifer Lawson | 31:04.9 | +4:49.2 | 32 |
| 23 | F | 4 | Leanne Stanley | 31:36.8 | +5:21.1 | 32 |
| 27 | F | 5 | Cindy Wright | 34:19.5 | +8:03.8 | 46 |
| 29 | F | 6 | Chantelle Kshyk | 37:13.6 | +10:57.9 | 28 |
| 30 | F | 7 | Kathleen Saini | 41:07.8 | +14:52.1 | 37 |
| 1 | M | 1 | Stu Robinson | 26:15.7 | 0 | 32 |
| 3 | M | 2 | Shannon Bell | 26:55.8 | +0:40.1 | 39 |
| 4 | M | 3 | Gary Parsons | 27:28.1 | +1:12.4 | |
| 5 | M | 4 | Ken Larsen | 27:37.1 | +1:21.4 | 33 |
| 6 | M | 5 | Dave Billenness | 27:40.3 | +1:24.6 | 44 |
| 7 | M | 6 | Kelvin Humenny | 28:01.1 | +1:45.4 | 45 |
| 7 | M | 7 | James Thesiger | 28:01.1 | +1:45.4 | 33 |
| 9 | M | 8 | Yannick Michaud | 28:32.4 | +2:16.7 | 38 |
| 10 | M | 9 | David Jianu | 28:35.2 | +2:19.5 | 42 |
| 11 | M | 10 | Tim Quarles | 28:47.2 | +2:31.5 | 54 |
| 12 | M | 11 | David Peabody | 29:09.1 | +2:53.4 | 23 |
| 13 | M | 12 | Michael Hammer | 29:19.0 | +3:03.3 | 51 |
| 14 | M | 13 | Jeff Chandler | 29:29.0 | +3:13.3 | 35 |
| 15 | M | 14 | Dale Plant | 29:42.2 | +3:26.5 | 49 |
| 16 | M | 15 | Jason Lexa | 29:46.9 | +3:31.2 | 38 |
| 18 | M | 16 | Harry Saini | 30:10.2 | +3:54.5 | 39 |
| 19 | M | 17 | Liam Cursley | 30:46.8 | +4:31.1 | 13 |
| 20 | M | 18 | Ben Wright | 30:55.1 | +4:39.4 | 33 |
| 22 | M | 19 | Eli Fischbuch | 31:34.4 | +5:18.7 | 15 |
| 24 | M | 20 | Glenn Woodruff | 31:53.5 | +5:37.8 | 53 |
| 25 | M | 21 | Ian Green | 32:10.9 | +5:55.2 | |
| 26 | M | 22 | Jason Bennett | 32:25.5 | +6:09.8 | 27 |
| 28 | M | 23 | Neal Gregory | 36:36.7 | +10:21.0 | 40 |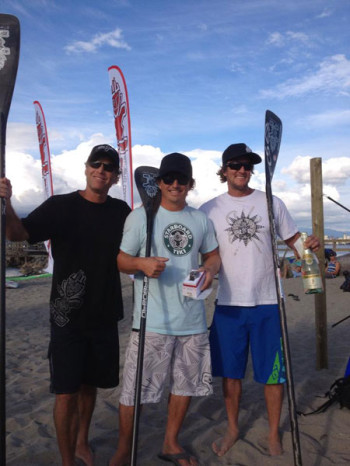 Men's Sprint Race Final
1st: Stu Robinson / 2:36
2nd: Dan Gavere / 2:42
3rd: Gary Parsons / 2:53
4th: Ken Larsen / 2:55
5th: Yannick Michaud / 3:05
6th: Tim Quarles / 3:06
7th: Dave Billenness / 3:10
8th: David Peabody / 3:13
9th: Kelvin Humenny / 3:19
10th: Kevin O'Brien / 3:32

Women's Sprint Race
1st: Lina Augaitis / 2:44
2nd: Shannon Bell / 2:56
3rd: Lysanne Lavigne / 3:06
4th: Jennifer Lawson / 3:13
5th: Leanne Stanley / 3:28
6th: Cindy Wright / 3:38
7th: Chantelle Kshyk / 3:51
8th: Claire Clarkson / 4:20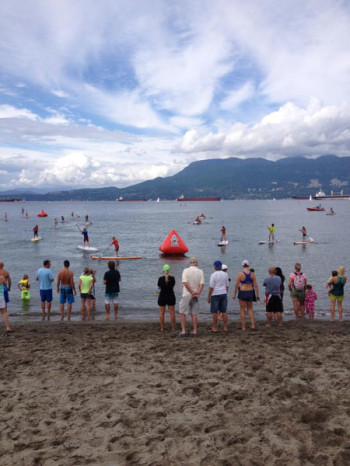 2km Recreational Race
1st: Mitchell Santaga / M / 19:33.0
2nd: Warren Bruce / M / 19:43.3
3rd: Chris Dobrovolny /M / 20:24.2
4th: Glenn Woodruff / M / 20:37.1
5th: Shane Martin / M / 21:46.9
6th: Taine Fischbuch / M / 22:29.9
7th: Georgina Casey / F / 23:27.9
8th: Mia Wheatley-Maltais / F/ 23:42.3
9th: Claire Clarkson / F / 25:20.0
10th: Juan Serrano / M / 25:58.8
11th: Melanie Ailey /F / 27:01.6

Kids' Race
1st: Mia Wheatley-Maltais / Girls / 12 / 07:34.1
2nd: Kealin Sacre / Girls / 12 / 08:01.4
3rd: Owen Wright / Boys / 9 / 08:40.8
4th: Ocean Bell Parsons / Boys / 7 / 08:57.8
5th: Teagan Sacre / Girls / 9 / 09:04.0
6th: Isabelle Humenny / Girls / 10 / 09:14.2
7th: Kyler Gorza / Boys / 11 / 09:29.3
8th: Ethan Fagrie / Boys / 11 / 10:13.6
9th: Bowen O'Brien / Boys / 10 / 10:23.3
10th: Gavin Fagrie / Boys / 8 / 10:55.6
11th: Reese Kington / Girls / 6 / 11:38.6
12th: Skye Higgins / Girls / 10 / 12:32.7
13th: Holly McNamara / Girls / 8 / 13:17.5