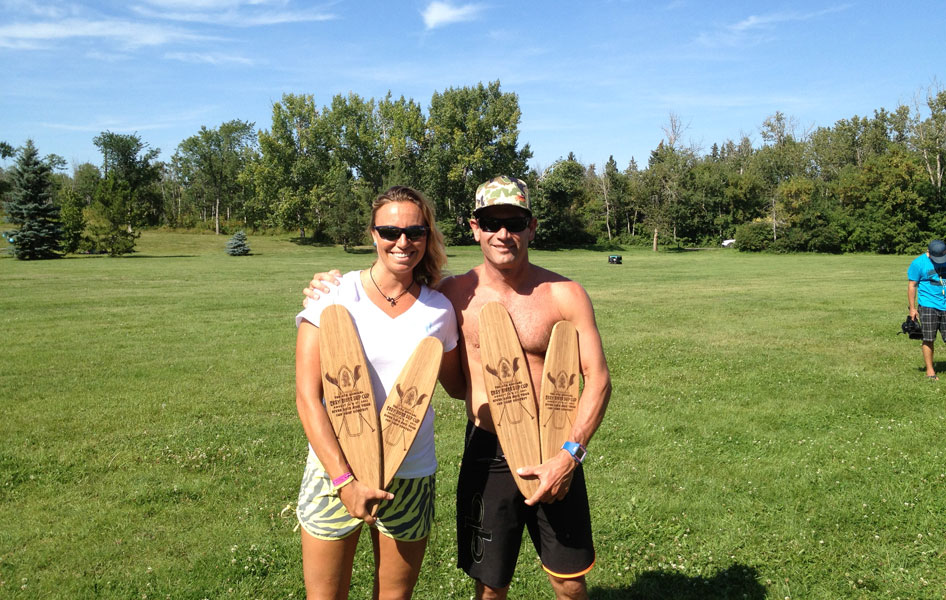 August 26, 2013
by Christopher Parker (@wheresbossman)
Fun Times In Canada, aka Results From The 6th Annual Easy Rider SUP Cup (UPDATED RESULTS)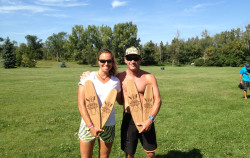 Early results are in from the 6th Annual Easy Rider SUP Cup in Edmonton, Canada, which saw a 15km down-river race and an indoor SUP surfing contest. Quite possibly the only SUP contest held in a mall…
Team Quickblade cleaned up, with the Mad Scientist himself, Jim Terrell, taking out the men's race, while Italian QB team rider Silvia Mecucci took out the women's.
Runner-up in the men's was Olympic Gold Medalist Larry Cain, which made for a fitting 1-2 given the history Jim and Larry share in the world of sprint canoeing.
Sounds like it was a fun weekend. We'll have full results (UPDATE: full results below) and pics shortly, but in the meantime here's how Jim summed up the event:
This weekend was simply AWESOME!!
All the people were great fun and Warren put on a 10 of a show. Good clinic Friday – two sold out sessions with 10 paddlers and four hours each, back to back. Unreal down river race on the beautiful Saskatchewan – 15 kms with some shallow river current challenges. I was the first overall male and Silvia first overall female, Larry was 2nd. Board shuttle and bus shuttle provided! Nice BBQ following the race, then an evening party screening the H2o Indo and Driftwood movies! Both awesome!
The highlight though was this morning's SUP surf in the wave pool. We had it all to ourselves. There was a pro heat, which was won by Kalama (doing 360's and all!). Diane Wenzel won the open women and, somehow (shockingly), I won the open men's. Must have been the predictability of where the peak is haha.
Super fun time, I want to come back next year for sure!
*****
2013 Easy Ride SUP Cup RESULTS
Race Division
Click "M/F" to switch between Men's and Women's Results
Click "Class" to show results from the different Board Classes
Click "Time" to reset the results…

| Overall # | M/F | M/F # | Name | Time | Class | Class # |
| --- | --- | --- | --- | --- | --- | --- |
| 1 | M | 1 | Jim Terrell | 1.11.17 | M Utld | 1 |
| 2 | M | 2 | Larry Cain | 1.11.23 | M Utld | 2 |
| 3 | M | 3 | Mike Darbyshire | 1.11.25 | M Utld | 3 |
| 4 | M | 4 | Ryan Knysh | 1.16.18 | M Stock | 1 |
| 5 | M | 5 | Kristian Pearson | 1.16.24 | M Utld | 4 |
| 6 | M | 6 | Dave Boehne | 1.16.29 | M Utld | 5 |
| 7 | M | 7 | Dave Kalama | 1.16.47 | M Stock | 2 |
| 8 | M | 8 | Delmer Wowk | 1.16.51 | M Utld | 6 |
| 9 | M | 9 | Corey Jespersen | 1.19.37 | M Stock | 3 |
| 10 | F | 1 | Silvia Mecucci | 1.20.10 | F Stock | 1 |
| 11 | F | 2 | Catherine Bruhwiler | 1.20.50 | F Stock | 2 |
| 12 | M | 10 | Warren Currie | 1.21.01 | M Utld | 7 |
| 13 | M | 11 | Murray Makowsky | 1.21.45 | M Ultd | 8 |
| 14 | F | 3 | Karly Cox | 1.21.50 | F Stock | 3 |
| 15 | M | 12 | Rob Hobbs | 1.22.15 | M Stock | 4 |
| 16 | M | 13 | Matt Knysh | 1.23.36 | M Stock | 5 |
| 17 | F | 4 | Diane Wenzel | 1.24.14 | F Stock | 4 |
| 18 | M | 14 | Alex Pricope | 1.24.20 | M Utld | 9 |
| 19 | M | 15 | Gregory Reeb | 1.24.24 | M Stock | 6 |
| 20 | M | 16 | Kelly Rogers | 1.24.47 | M Stock | 7 |
| 21 | M | 17 | Eric Cherrington | 1.25.04 | M Inflate | 1 |
| 22 | M | 18 | Brock Shabada | 1.25.21 | M Stock | 8 |
| 23 | M | 19 | Rob MacLeod | 1.25.34 | M Stock | 9 |
| 24 | M | 20 | Trevor McKay | 1.26.42 | M Stock | 10 |
| 25 | M | 21 | Karl Schuller | 1.27.07 | M Surf | 1 |
| 26 | M | 22 | Trey Currie | 1.27.13 | M Inflate | 2 |
| 27 | M | 23 | Rob Borrelli | 1.27.58 | M Stock | 11 |
| 28 | M | 24 | Jens Pederson | 1.28.15 | M Stock | 12 |
| 29 | M | 25 | Rob Jeske | 1.28.25 | M Surf | 2 |
| 30 | F | 5 | Karen MacLeod | 1.29.01 | F Stock | 5 |
| 31 | M | 26 | Stephen Wright | 1.30.27 | M Surf | 3 |
| 32 | M | 27 | Grant Schaffer | 1.30.52 | M Surf | 4 |
| 33 | M | 28 | Keith Freeman | 1.33.29 | M Surf | 5 |
| 34 | M | 29 | Robin Chapelsky | 1.34.08 | M Ultd | 10 |
| 35 | J | 1 | Griffin Currie | 1.34.31 | Junior | 1 |
| 36 | M | 30 | Andrew Palyniak | 1.34.37 | M Surf | 6 |
| 37 | M | 31 | Martin Plut | 1.35.02 | M Inflate | 3 |
| 38 | M | 32 | John Bohaychuk | 1.35.23 | M Stock | 13 |
| 39 | F | 6 | Delaney Hobbs | 1.35.27 | F Surf | 1 |
| 40 | M | 33 | Aaron McQuaid | 1.35.32 | M Surf | 7 |
| 41 | M | 34 | Mark Palyniak | 1.35.56 | M Surf | 8 |
| 42 | M | 35 | James MacLeod | 1.36.31 | M Inflate | 4 |
| 43 | F | 7 | Kim Sosnick | 1.38.27 | F Surf | 2 |
| 44 | F | 8 | Deanna Thompson | 1.38.54 | F Surf | 3 |
| 45 | M | 36 | Jason Wetsch | 1.40.22 | M Utld | 11 |
| 46 | F | 9 | Leah Cherington | 1.42.01 | F Inflate | 1 |
| 47 | M | 37 | Leon Marciak | 1.44.02 | M Surf | 9 |
Touring Division
1 Brett Potter M
2 Dave Potter M
3 Kyle Regan M
4 Amanda Bell F
5 Tina Freeman F
6 Tyler Nieckar M
7 Ashley Orr F
8 Michelle Manovich F
9 Kira Holm F
10 Chris Holm M
11 Laura Holm F
12 Tommy Jespersen M
13 Geoff Bell M
14 Shannon Fitzsimmons F
15 Fred Schulte M
16 Sonja Hoyte F
17 Mike Peck M
18 John Peck M
19 Amanda Peck F
20 Dennis Djugovic M
21 Christina Chapelsky F
22 Jeniffer Poirier F
23 Marc Poriier M
24 Gavin Berg M
25 Leigh Berg F
26 Antoine Morin M
27 Annette Morin F
28 Scott Currie M
29 Angela Currie F
30 Desmond Ross M
31 Kathy Rispler F
32 Koah Ross M
33 Larry Drinkle M
34 Sara Pretzlaff F
35 Ron Pretzlaff M
36 Matt Bosch M
37 David Bosch M
38 Sherri Landsman F
39 Steve Ennis M
40 Stuart Johnston M
41 Maren Johnston F
42 Andi Russell F
43 Sheldon Bekolay M
44 Charley Bekolay F