April 1, 2013
by Christopher Parker (@wheresbossman)
"US SUP Tour" Set To Begin Next Week, Sets Stage For A Strong Team USA At 2014 World Champs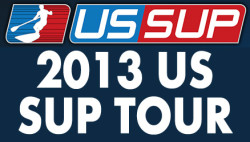 After months of speculation and the saga surrounding Peru, the 2013 U.S. SUP Tour is now official, with three events set to determine the "US SUP Team" and a squad for the 2014 ISA World SUP Champs.
Between April and June, the US SUP Tour will stop twice in California and once in New Jersey, with each event including both SUP Races and a SUP Surfing competition. Results will be combined and the overall Tour champions will earn the right to represent Team USA.
The United States were a big omission from the ISA World Champs in Peru earlier this year (they did field a small team at the last minute, but the absence of a full squad was pretty noticeable), so the news of an official, structured tour that'll provide a pathway for World Championship qualification is very exciting.
The US SUP Tour was formed by Surfing America, which is the ISA-affiliated organisation in the USA. According to the official site, the Tour is the brainchild of Ian Cairns, the team manager of Surfing America (and founder of the ASP). The WPA (World Paddle Association) will also be lending their experience to the US SUP Tour, with head honcho Byron Kurt and his team helping to organise the SUP Racing events at each stop.
All three events on the US SUP Tour will include both an Open Race and an Elite Race, as well as a SUP Surfing contest and Stand Up Paddle clinics. It looks like the Elite Race will be a Battle of the Paddle-style course, at least if the Huntington Beach course map is anything to go by.
Apart from bragging rights and the opportunity to represent their country, racers will also be chasing $4,000 in each of the Elite Races, while the board classes have been set at 14′ for men and 12'6 for women.
It'll be very interesting to follow the US SUP Tour over the next few months, and hopefully we'll see a very strong Team USA at next year's ISA World Champs. Apart from being used as a qualification series, the US SUP Tour will also help fundraise for the team, with $5 from each entry at each event going to the US SUP Team travel fund.
2013 US SUP Tour DATES:
Event #1: Huntington Beach (California), April 12-14
Event #2: Seaside Heights (New Jersey), May 17-19
UPDATE: The New Jersey event has been cancelled..
Event #3: San Onofre (California), June 14-16
>>> MORE INFO on the official site as well as the Tour's Facebook page.